Have you been struggling to find the best WooCommerce dropshipping plugins for your online store? Well, worry no more, because we've got you covered!
In this blog post, we will be sharing 7 of the best WooCommerce dropshipping plugins – both free and paid – that will help you streamline your dropshipping business.
If you're wondering why you need these plugins, here are some stats and facts to convince you. According to a recent survey, dropshipping sales are expected to reach $557.9 billion by 2025.
That's why it's important to choose the right plugins that can save you time and money while also improving your overall dropshipping process.
In this article, we will be discussing the 7 best WooCommerce dropshipping plugins that you can use to boost your online store's efficiency and profitability.
These plugins have been handpicked based on their popularity, features, and overall performance in the market. So, without further ado, let's dive into the world of dropshipping plugins!
Best Dropshipping Plugins for WooCommerce
If you're running a WooCommerce-based online store and looking to streamline your dropshipping process, then you're in luck.
Our team has compiled a list of the 7 best dropshipping plugins for WooCommerce that will help you automate your business and save you time. Check out the following products to learn more and find the perfect plugin for your needs.
Product Importion From Big Stores To WooCommerce Plugin
WooShark WooCommerce Dropshipping is a fantastic plugin that allows you to use dropshipping effortlessly. It simplifies the entire process of receiving orders by using Amazon, Aliexpress, eBay, and Etsy as its dropshipping partners.
This plugin helps improve order fulfillment by redirecting the customer to the dropshipper's checkout page, making the ordering process faster and more efficient.
Besides just using the settings provided, the plugin also offers other features that let you customize products to your liking. You can bulk import entire categories into your store and immediately start selling products.
The plugin's functionality is straightforward to use and easy to understand. Once you have mastered the plugin, managing your store will be a breeze, and you will be able to effortlessly customize every single element of your products.
It is popular because it provides automated fulfillment that redirects checkout to the dropshipper's website. It is compatible with a variety of well-known companies, including Amazon, Aliexpress, eBay, and Etsy.
You can easily customize product listings and prices according to your business needs. Also, with the help of a bulk import tool, you can quickly create lists in large numbers.
Key Features:
Provides complete product customizations
Allows you to easily control every product element in detail.
Automated fulfillment with checkout redirect
Compatible with notable dropshipping companies
Easily customize your product listings and pricing to your liking
Bulk import tool to create lists in large numbers
Orders Sending to AliExpress Suppliers Plugin
AliDropship WooCommerce Dropshipping Plugin is the ultimate solution for managing your dropshipping store in a comprehensive manner. With its extensive features, you can easily import products and monitor your store's performance and order progress.
This plugin allows you to determine how much markup should be applied to your products and across your entire store based on the rules you define.
Your customers will have access to tracking updates when their orders are completed. Plus, the plugin offers free ePacket delivery to give your customers an option to receive their orders quickly and efficiently.
This AliExpress dropshipping plugin allows you to import products of any type and niche directly from AliExpress to your dropshipping store.
One of the most significant benefits of using this plugin is that it allows your customers to leave reviews directly on your website, helping to boost your sales and credibility.
Plus, you will have access to a vast catalog of dropshipping products available on AliExpress with this plugin. It is effortless to share order information directly with your suppliers with just a few clicks. Therefore, you can boost your revenue with minimal effort and time.
The plugin is compatible with the majority of WooCommerce themes, and you can choose the ideal items for your store using several filters from AliExpress. Tracking orders is automatic, and you can receive email notifications.
This plugin also has a built-in image editor, which allows you to modify images for your store. Finally, product imports can be performed manually or automatically, and store information is always up-to-date through automatic ordering and synchronization with AliExpress.
Searching And Building Products from Amazon Store Plugin for WordPress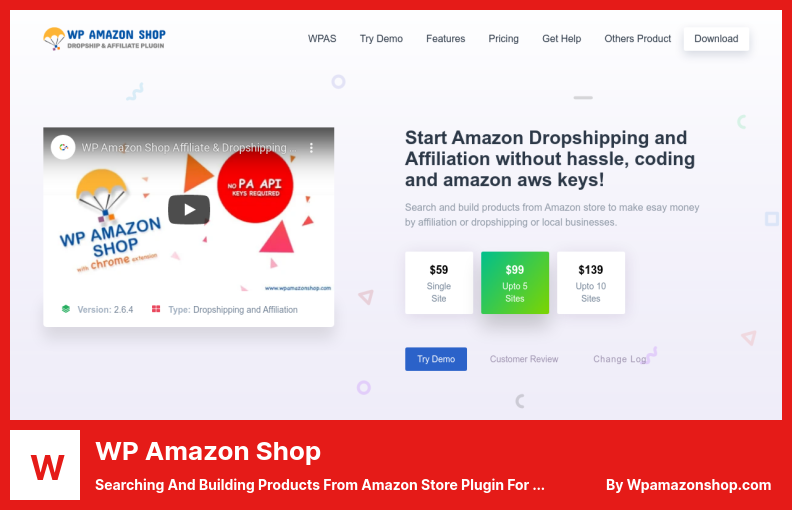 There is a plugin called WP Amazon Shop that makes it possible for you to advertise your WooCommerce store using Amazon affiliate products that are available on Amazon.
In addition to having access to millions of products, you are able to quickly import your inventory by using CSV files, making the process quick and easy. This saves you time by not repeating tasks or reducing productivity.
With the plugin, you will automatically be updated on the latest Amazon prices and stock availability, preventing fluctuations and ensuring that you will always be aware of the most current information.
The comparison feature allows your customers to compare all Amazon products in one place, including the price, reviews, and features that all have been taken into consideration.
WP Amazon Shop uses affiliate IDs for each sale, and you can apply a profit margin, ensuring that your efforts are worth it. The tooltip feature allows you to display Amazon products on your website easily.
Key Features:
Ajax 'load more' option for extra interest.
Easy product import and price changing
Granular product control
Works with Amazon affiliate network and program
Hassle-Free Dropshipping For WooCommerce Plugin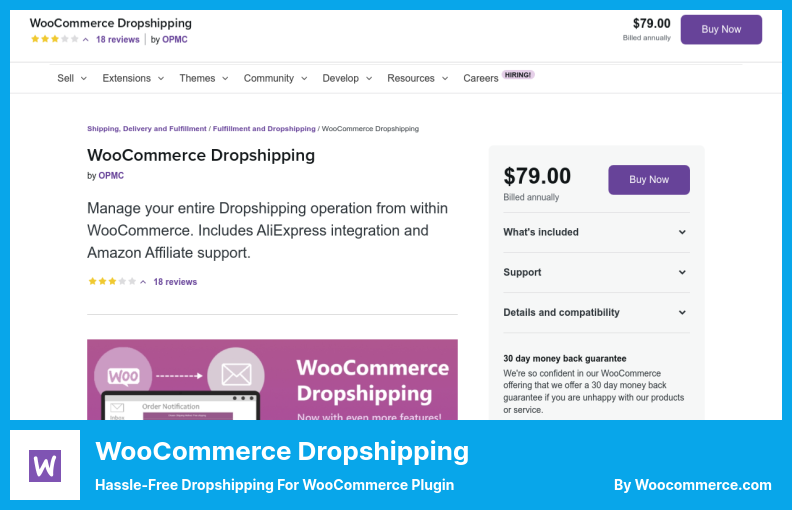 WooCommerce Dropshipping is a popular WordPress plugin that simplifies and streamlines the dropshipping process, allowing users to offer a wide range of products directly on their website through dropshippers like Aliexpress and Amazon.
Whether you're selling to local suppliers or on major online marketplaces, this plugin gives you everything you need to start a successful dropshipping business.
The ease of use of the plugin makes it awesome. You can import products directly from the plugin, from a Chrome extension, or you can upload a CSV file. It even imports product images, descriptions, and profit margins, so you can get started right away.
To further enhance the user experience, the plugin also provides suppliers with access to a separate account section where they can log in and access relevant order information anytime they wish. The plugin will even send them email notifications whenever a new order is received.
Some other notable features of WooCommerce Dropshipping include the ability to easily customize default settings, compatibility with a variety of dropshippers (including AliExpress and Amazon), automatic supplier notification with every sale, and PDF packing sheets for every order.
Key Features:
Accessible supplier account section for order tracking
Compatibility with various dropshippers
Default settings that are easy to customize
Automatic supplier notification with every sale
PDF packing sheets for every order.
Amazon Affiliate and Dropshipping Plugin for WooCommerce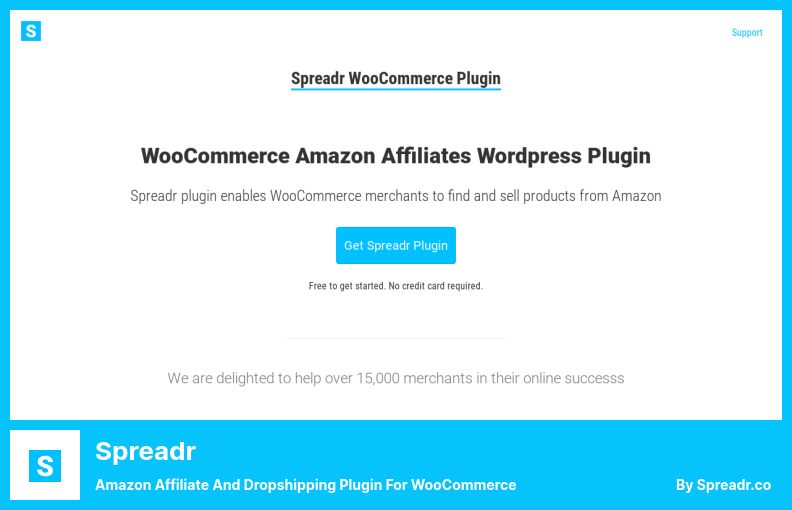 Spreadr is a dropshipping plugin that helps website owners add an Amazon store to their existing site using WooCommerce. It's an ideal solution for those who do not want to start a full-fledged eCommerce store, but rather add a store to their existing website.
With the plugin, you can add Amazon products to your WooCommerce store with just a few clicks, and earn money when someone purchases a product from your store.
One of the most significant benefits of using the plugin is that Amazon handles shipping, returns, inventory, and customer service, making it effortless to earn revenue and grow your business.
It also lets you earn a minimum commission by selling on Amazon as an affiliate or shipping third-party products to get a bigger commission by shipping third-party products. Amazon lets you create whole new categories and products to complement your existing brands.
The plugin offers a bulk import tool that allows you to add entire categories at once. The plugin is best suited to existing websites rather than new ones, and listed products are not limited to Amazon Prime.
It offers two options for users: affiliate marketing and dropshipping. Also, Spreadr provides access to products with decent commissions, making dropshipping an excellent option for website owners looking to earn more revenue.
Key Features:
Easy bulk import tool for adding entire categories
Suitable for existing websites, not for new ones
Products listed are not limited to Amazon Prime
Offers affiliate marketing and dropshipping options
Products with decent commissions are available.
Dropshipping Business Automation Plugin For WordPress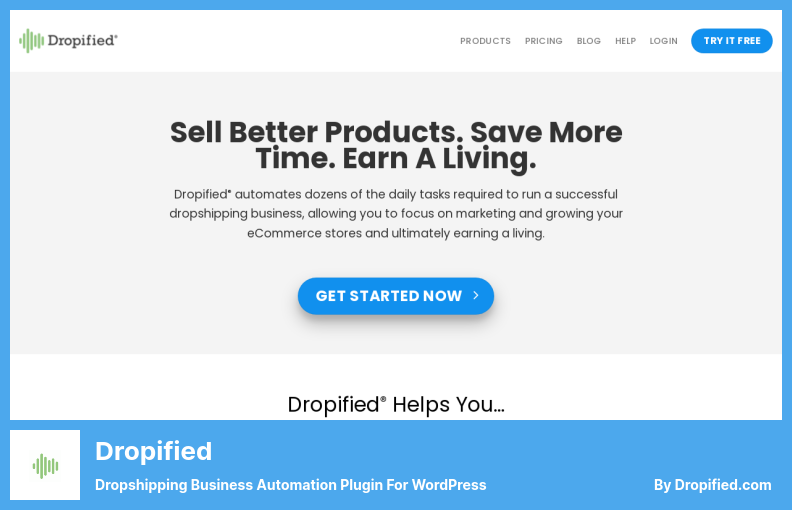 Dropified is a powerful plugin that enables you to easily add products from AliExpress, Amazon, as well as other providers to WooCommerce.
It automates the order fulfillment process, saving valuable time, and allows you to customize even the image details to fit your requirements. With this plugin, you can simply import product reviews, browse and research products, and list them instantly.
One of the standout features of the plugin is its Profit Dashboard, which provides you with the ability to understand where your money goes and where it comes from by utilizing a powerful research tool referred to as AliExtractor.
Plus, this plugin is compatible with nearly a hundred dropshipping vendors, allowing you to provide dropshipping support to a broad range of customers.
Adding products is quick and easy thanks to various methods, and automating fulfillment is a simple process that requires only a few clicks of the mouse. It is essential to note that Dropified does not have compatibility with eBay products, Amazon, or Costco.
Key Features:
Profit Dashboard with AliExtractor tool for better financial understanding
Customizable image details for AliExpress and eBay products.
Ability to import product reviews and provide more insight into products
Compatibility with a broad range of dropshipping vendors
Quick and easy addition of products through various methods
Automating the fulfillment process with just a few clicks of the mouse
AliExpress Dropshipping Business WordPress Plugin
WooDropship is an advanced plugin that adds inventory to your WooCommerce store while browsing AliExpress. This plugin comes with a convenient Chrome extension that allows you to add inventory to your store without making any changes.
The plugin enables you to choose from the largest collection of products on Dropshipping Business and sell them passively to generate passive income. With the plugin, you can enjoy a two-fold return on investment that significantly increases the return on investment for your Dropshipping business.
It has features that are similar to those in AliDropship, such as finding products on AliExpress and adding them to your store. You can even set the price and profit margin and customize the front end of your store to your preferences.
Having the right tools at your disposal makes selling globally easier than ever. You can import AliExpress images, edit images, add descriptions, and control how your products look on your site with this plugin for WooCommerce. You can make good money with this plugin and grow your business quickly.
WooDropship enhances your dropshipping experience by offering features such as a smart extension to add products to Chrome, fulfillment of orders with a single click, and control over how products appear and are presented.
The plugin also allows suppliers to sell to anyone, anywhere, with worldwide shipping. The built-in image editor lets you easily edit images and customize plugins to fit your needs. It's an easily navigable and user-friendly plugin that you wouldn't want to miss out on.
Key Features:
Smart extension to add products to Chrome
Fulfillment of orders with a single click
Control over how products appear and are presented
Worldwide shipping allows suppliers to sell to anyone, anywhere
Built-in image editor for editing images and customizing plugins
User-friendly and easily navigable.
Frequently Asked Questions
What is dropshipping and how does it work with WooCommerce?
Dropshipping is a business model where a store owner doesn't keep the products they sell in stock but instead purchases them from a third-party supplier who ships the products directly to the customer.
With WooCommerce, dropshipping plugins allow store owners to source products from a marketplace and sell them in their stores without having to handle the products themselves.
What are the benefits of using a dropshipping plugin for WooCommerce?
Using a dropshipping plugin for WooCommerce can save time and money by eliminating the need for inventory storage and management. It also allows store owners to offer a wider range of products without having to stock multiple items.
Additionally, with a dropshipping plugin, suppliers handle the shipping and returns, making it easier for store owners to focus on other aspects of their business.
Are there any paid dropshipping plugins for WooCommerce and what are their features?
Yes, there are several paid dropshipping plugins available for WooCommerce. These plugins offer additional features such as product price automation, advanced inventory management, and automatic order fulfillment.
It's important to evaluate the cost and benefits of each plugin to determine which one is best for your business needs.
Conclusion
In conclusion, we have discussed the 7 best WooCommerce dropshipping plugins that can help you streamline your dropshipping business. From our exploration, we found that these plugins offer unique features and functionalities that cater to different business needs.
By implementing these plugins, you can improve your customer experience, reduce the workload on your team, and increase your revenue.
To stay updated with more tutorials and guides on WordPress and WooCommerce, be sure to check out the BetterStudio blog. We cover a wide range of topics that can help you enhance your website and boost your online presence.
Don't forget to follow BetterStudio on Facebook and Twitter to stay up-to-date with the latest WordPress trends and news.
Thank you for reading this article. If you have any questions or problems regarding this topic, please feel free to leave us a comment, and we will get back to you as soon as possible.