We were recently asked by one of our users which plugin is best for using AliExpress on WordPress.
To assist you, we checked many plugins and chose the best WordPress plugins for AliExpress. Therefore, we have integrated all the plugins optimized for speed, well-coded, visitor friendly, have five-star support, and are SEO-optimized. They are also compatible with all the top WordPress themes.
Plugins I designed for AliExpress sites. Also suitable for WooCommerce Dropshipping, AliExpress Dropshipping, Dropshipping Suppliers, and other relevant dropshipping needs.
📌 Note: To improve the look and functionality of your site, you should choose a modern WooCommerce theme that includes the features you need with a beautiful design. Also, for more information on advanced WooCommerce plugins, please refer to our article on best WooCommerce plugins.
Let's check out our top 10 AliExpress WordPress plugins for 2022:
a WooCommerce Dropshipping Plugin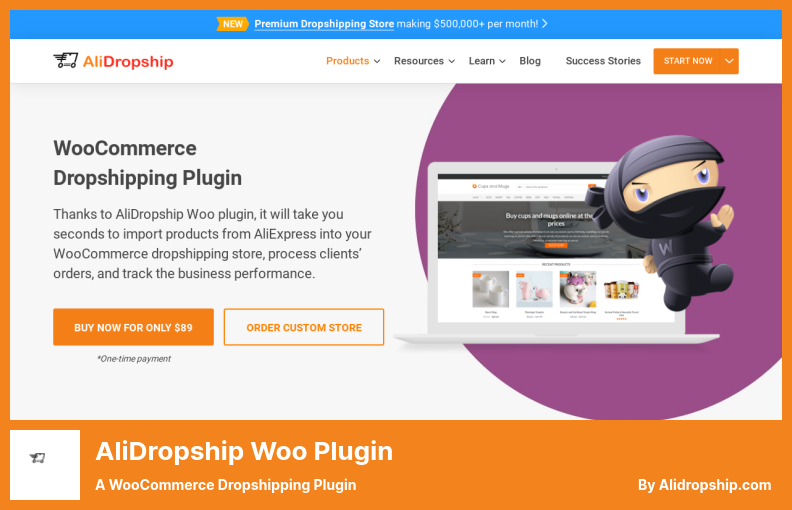 The AliDropship Woo plugin allows users to dropship from AliExpress and WooCommerce simultaneously. This plugin allows you to access all of AliExpress's products to find what you are looking for.
This plugin also contains filters for narrowing down the vast range of products more easily when searching and importing them from AliExpress.
With this plugin, you can not only benefit from the one-click import feature while browsing AliExpress, but you can also access the site's search features.
As an added benefit, this plugin allows you to browse more than 50,000 AliExpress products to find items you might be interested in importing.
In this plugin, using the order button on your dropshipping store after a customer makes a purchase, you can easily send sales to suppliers on AliExpress.
Additionally, this plugin offers free and premium WordPress themes, and its auto-updating feature ensures that your store's product descriptions and prices are always consistent with AliExpress's.
💵 Support is available 365 days a year. You can ask for help when you purchase the plugin since the $89 plan of the template includes 12 months of free support.
Key Features:
Several integrated filters can be used to locate AliExpress products you are looking for
Ensures that your product information is accurate and up-to-date
A built-in image editor is available
Ordering products manually is no longer necessary
Products can be imported individually or in bulk
A Breakthrough Product for AliExpress Dropshipping
As a dropshipping plugin, the DropshipMe plugin facilitates the management of dropshipping businesses by allowing them to ship only the most popular products.
In this plugin, AliExpress and WooCommerce are connected; however, AliExpress is connected via AliDropship rather than AliExpress directly.
There are no complicated steps involved in using this plugin. Installing the plugin lets you view what is trending on AliExpress immediately.
You can import all the hottest products on the market in just a few clicks. There are currently over 50,000 products listed, with more being added daily.
Using this plugin can save time and stress by eliminating the need for product research. These products can also be sold immediately after importing them without needing to edit them.
When making a decision, it is not just about deciding which product is best for you but also about observing the pictures and reading the reviews to assist you in making that choice.
💵 There is no charge for this plugin.
Key Features:
Reviews and ratings of products are imported.
Offers only products from reputable dropshipping suppliers
Guides in determining the ideal amount of product to sell
There are no payments or subscriptions to worry about
Ensures seamless profit generation without any hassles
Random Reviews:
When I installed Dropshipme on my site, it did not add free imports to my store. I immediately contacted support, who helped me resolve this issue by looking at my store. Thanks! Now that imports have been added to the plugin, I love its simplicity and design.
Create Your Own Dropshipping Business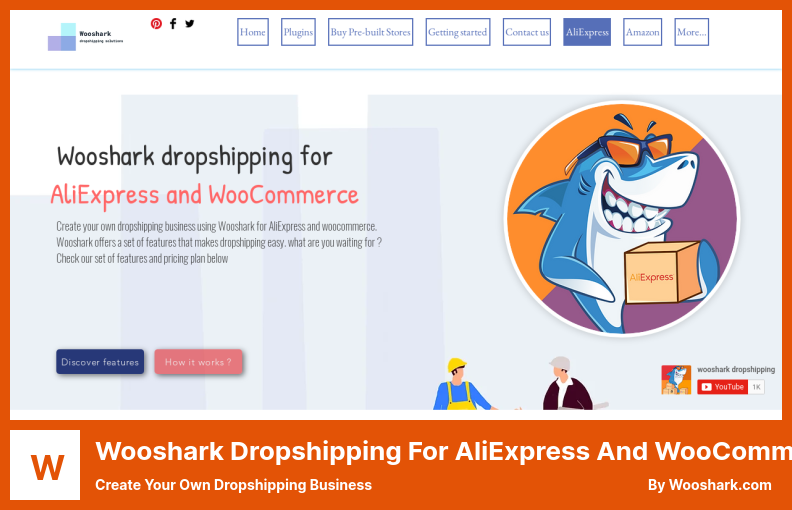 With the Wooshark dropshipping for AliExpress and WooCommerce plugin, by enabling a global import preference, you will be able to bulk import products from AliExpress. The plugin also provides a user-friendly interface for finding products on AliExpress and importing them.
As an additional feature, this plugin allows you to import images, ratings, and categories. This plugin also allows you to customize all of these settings.
By using this plugin, you will be able to synchronize the changes to your store immediately once your suppliers update the prices and stocks of the products. This plugin automatically calculates the appropriate price for each product using a profit margin formula.
The plugin can be installed on as many stores as you desire, depending on how many licenses you purchase for two, five, or ten stores.
Additionally, compared with most other AliExpress plugins, it saves you money since you do not need to purchase multiple licenses for each AliExpress store.
💵 If you purchase this plugin from $29, you'll get 12 months of support.
Key Features:
AliExpress products may be imported in an unlimited number
AliExpress images can be imported from a variety of sources
Category selection is available for WooCommerce
Links to the original product URL are available on the WordPress product page.
Variations and specifications can be imported.
Start Your AliExpress Dropshipping Business
Undoubtedly, the WooDropship plugin for AliExpress should be among your top choices for AliExpress plugins for WordPress. There is the possibility of adding imported products if they are available with descriptions and images that can be edited.
Installation of this plugin is straightforward. You simply need to connect your WooCommerce store to the WordPress dashboard. In the plugin dashboard, clicking the fulfill orders button prompts your WooCommerce store orders to be immediately sent to AliExpress.
One of the features of this plugin is its ability to synchronize stock levels, price updates, and product details for automatic auto-updates, as well as its built-in image editor.
There is an image editor that includes a unique watermark removal tool that allows you to remove the store's watermark from the images you edit. Also, this plugin can be used with the Chrome Extension, which makes it possible to import products as you browse the web.
💵 The WordPress plugin has one-year updates and support. It costs $49.
Key Features:
AliExpress products can be added to your store and sold
Products from AliExpress can be edited and published
Auto-fulfilling orders can save you a lot of time and effort
You can customize product information and prices
Dropshipping and Fulfillment for AliExpress
Through the use of the ALD plugin, shop owners can directly import products from AliExpress into their WooCommerce stores.
This plugin allows shop owners to easily organize AliExpress products on their E-Commerce websites in an easy-to-use manner so that they can easily manage their own online business on their websites, resulting in increased revenue for their businesses.
In addition to importing products from AliExpress into one WooCommerce store, the plugin also allows you to import multiple products into multiple WooCommerce stores simultaneously.
The plugin uses WooCommerce REST API authentication instead of the extension authentication, so you will not receive errors when you attempt to use your extension. To authenticate, you must disable the Coming Soon, Under Construction, and Maintenance settings.
In this plugin, it is also possible to establish general rules for importing all products within a set of products.
💵 In addition to the accessible version of this plugin, you can also buy the Premium version, which costs $33.
Key Features:
Provides the ability to import products from AliExpress
Integrates with the Dokan plugin
All prices can be set according to your own rules
It is possible to configure rules for all imported products
Separates variations according to their respective products
Random Reviews:
AliExpress does not pull the correct prices. I have already tried different products, but they all differ.

This is a good drop shipping service. It's easy to use with its plug-in and Chrome extension.
An AliExpress Dropshipping Plugin
If you wish to launch a WooCommerce dropshipping store using WooCommerce, the Ali2Woo plugin offers an easy solution. Through this plugin, you can import an unlimited number of different variants of products from AliExpress.
As an AliExpress customer, you have the option to place orders on the site automatically as often as you wish with this plugin. It is also possible to automate dropshipping and other tasks related to drop shipping.
This plugin is also integrated with the AliExpress Affiliate Program, enabling you to generate additional revenue by selling affiliate products on AliExpress.
With the plugin, users can search AliExpress products and add an extension for Chrome that allows them to search products on AliExpress.
Additionally, this plugin allows importing AliExpress products from various categories or store pages. After installing the plugin, you can use the AliExpress product ID or AliExpress product URL for those who wish to import just one product.
💵 It comes with Lite (Free) and Pro ($35) versions.
Key Features:
All imported products can be configured.
The built-in image editor allows you to modify product images
You can earn more with the AliExpress Affiliate program
Global pricing rules can be set up for all products
It is possible to set options related to the fulfillment of orders
Random Reviews:
A company's customer support is as important as any product they develop. Ali2Woo was able to resolve all my issues within only 12 hours. They have a great product as well.
Create Your Own Dropshipping Business
The TheShark dropshipping for AliExpress and WooCommerce plugin provide everything you need to run an AliExpress dropshipping and fulfillment business effectively.
The plugin also offers many features to facilitate a dropshipping business using Aliexpress. This plugin comprises a WordPress plugin and an extension for the Google Chrome browser.
Aliexpress out-of-stock products are configured for draft every 24 hours in this plugin. Once set up for the draft, they will appear in a separate tab for out-of-stock items. You can then remove them from that tab.
When users pay for their order, the shipping cost and method can be displayed on the plugin's checkout page. By enabling this feature, users can create separate shipping for each product within their store; it is useful for users that do not wish to create separate shipping.
💵 For the Premium version, this plugin costs $29, and for the Free/Lite version, it costs $0.
Key Features:
The title and description can be edited by replacing all text occurrences
Reviews can be created and inserted into existing products
Auto-updating of prices and stocks is available
There is the option to import shipping methods and shipping costs
Importing a product into a particular category is possible
Random Reviews:
The prices get screwed up on my site every time the product pricing is refreshed. The default is $1.12 for single-price items and $1.12 for products in lower price ranges. This is for products that should be hundreds of dollars. I can't figure out how to stop it.

It's a great plugin. There haven't been any problems, and the support staff is always available.
a Reliable Extension of WooCommerce
AliExpress for WooCommerce is the official plugin for WooCommerce that integrates AliExpress. This plugin allows sellers to maintain synchronized product catalogs regardless of whether they have simple or variable products.
With this plugin, you can sell your products quickly with only one click and sync your categories between AliExpress and WooCommerce.
Using this plugin, you can download AliExpress orders, manage shipments, and assign tracking numbers to orders so that AliExpress will be notified that they have been shipped.
In syncing all orders from AliExpress into WooCommerce, you can manage the shipping process directly from WooCommerce. When shipping a product, you can mark it as 'Finished' and enter the tracking information so that AliExpress will notify your customers when the item has been shipped.
In addition to syncing AliExpress categories with WooCommerce categories, you can specify a percentage for each item sent using this plugin.
💵 Using the free version is free, but upgrading to the Pro version costs $99.
Key Features:
Allows for the creation of variations of the products in different colors
It is possible to track your shipment by assigning a tracking number to it
All categories can be set to have default measurements and weights
Provides sellers with the ability to synchronize their product catalogs
The sale of your products will be made easier
Random Reviews:
Despite trying to fix critical bugs for months, new ones appear, and support is unresponsive and does not fix issues. Orders don't create correctly in Woocommerce with native states, which means other integrations don't work. Page 1 only shows orders. It doesn't paginate well.

A very intuitive plugin has a reasonable price and excellent customer support.
Never Worry About Shipping, Packaging, or Holding Inventory
The Dropified plugin allows you to dropship from both AliExpress and WooCommerce independently. This means that you will need to link AliExpress and WooCommerce in the plugin dashboard to use both at the same time.
To import AliExpress products into your WooCommerce store, you will need to install Dropified REST API first. Once it is installed, you can use it to integrate this plugin with your WooCommerce store. This process is relatively straightforward and might only take a few minutes.
Several features are available, such as bulk edits for imported products, imports for product reviews, and uploads for videos. Furthermore, finding FOB suppliers in the United States is made easier by an American supplier database.
As part of this plugin, you can easily check if the product you are looking for is available or out of stock and manage price changes on your website with the Price Change Auto Update feature.
💵 For $39/month, you can purchase the plugin.
Key Features:
Provides an easy method of changing vendors without altering your listings
An intuitive dashboard allows you to manage multiple stores at the same time
Displays availability and out-of-stock information for products
AliExpress products can be browsed and added to WooCommerce
It is possible to source products from suppliers who offer to track information
A Free AliExpress Dropshipping Plugin
There is no doubt that Automizely Dropshipping is the best WordPress plugin for launching a new dropshipping business or scaling up your existing dropshipping business rapidly and effectively. You can sell high-quality, fast-tracked products to American consumers through the plugin.
By using this plugin, you will receive automatic updates to your key metrics and purchase and tracking information. You can access it through your store.
Using this plugin, you can set up your drop shipping business in the most effective manner. You can offer your customers branded products that sell well and express shipping options.
The plugin provides a wide selection of dropshipping products, which can be accessed within minutes, thereby creating social proof and increasing sales. It is also capable of taking care of all inventory management concerns.
Furthermore, the tracking number will be provided to your WooCommerce store once your order has been dispatched. This will enable you to keep track of everything in your WooCommerce store simultaneously.
💵 Download and installation of this plugin are free.
Key Features:
Your brand logo can be printed on the packaging for your orders
There is a one-click import function for WooCommerce stores
You can edit bulk products using the bulk product editor
Allows you to observe a significant increase in your profits
Offers thousands of top-selling and high-quality products for import
Random Reviews:
In my experience, this has been a cost-effective switch for me since the plugin is relatively easy to use.

Thanks to Lovish, I got excellent service quickly and efficiently.

My questions were answered, and I appreciate your help.
To conclude, I would like to mention the following
Although we reviewed the best WordPress AliExpress plugins, you should still consider your site priorities. Everyone can use these plugins.
📌 Note: We suggest you check our articles on the best WordPress blog themes and best WordPress plugins for bloggers.
We hope these plugins will help you increase your site's visibility to your customers.
Feel free to leave a comment or send us an email if you have any questions. If you like this article, please share it on Facebook, Twitter, or another social media platform.