Looking to spruce up the typography on your WordPress website? Well, have no fear, because I'm here to help you find the best WordPress font plugins! You might be wondering, "Why do I even need a font plugin for my website?" or "How can these plugins benefit me?" Don't worry, we'll delve into all of that in this article.
Here is a review of the five best font plugins for WordPress that are available as both free and paid versions, so let's dive right into it. In this article, we're going to take a look at both of them.
Whether you're a typography enthusiast or just someone looking to improve the readability and aesthetics of your website, these plugins will surely come in handy. But wait, what's so special about these plugins? Well, let me give you a glimpse of what's to come in this article.
We'll be taking a look at the features, functionality, and ease of use of each font plugin. We'll also discuss the benefits of using these plugins, such as enhancing the overall user experience, increasing engagement, and even boosting your website's SEO.
Additionally, we'll provide you with some useful stats and facts to give you a better understanding of why these plugins are worth considering. Excited to learn more? Well, let's get started!
Best Font Plugins for WordPress
During this post, we will be taking a look at some of the best font plugins available for WordPress which can help you increase the readable quality of your fonts on your website in order to enhance its visual appeal.
Get ready to take your website's design to the next level with these amazing options. Don't miss out on the incredible features and benefits they have to offer – check them out now!
Add Custom Google Fonts To Any WordPress Theme
Easy Google Fonts is a fantastic plugin that allows you to take complete control over the fonts on your WordPress website. It makes it incredibly easy to incorporate over 800 different fonts into your site, all without needing to have extensive coding knowledge.
One of the best features of the plugin is its customization options. With this plugin, you can easily customize the font control right from the administration section of your website.
Once you've added a font, it becomes immediately accessible in the customizer, allowing you to preview and try out different fonts before implementing them. It's like having a virtual font playground right at your fingertips!
This plugin works with any WordPress theme, which is another awesome thing. This plugin seamlessly integrates and adapts to any theme you choose for your website to make sure that the fonts you chose look great on all screens and devices. It doesn't matter if you're using a free or premium theme.
It lets you make font changes on your website completely customizable, which is what sets it apart from others. The fonts on your site can be customized, so your typography is always consistent. It lets you see real-time previews of font changes, so you can figure out what you're looking for.
It also takes the hassle out of using Google fonts on your website. It can instantly enqueue all the necessary stylesheets for the Google fonts you've selected, so you don't have to manually add them yourself. This saves you time and effort and ensures that your chosen fonts load quickly and efficiently.
The plugin is awesome because you can design a custom theme font right from the admin. This means you can make your website look the way you want it, no matter what your level of CSS skill. Just a few clicks and you'll have a font that's unique and fits right in with your logo or website.
Using Easy Google Fonts doesn't require you to change your theme's CSS to use Google fonts. It's super easy to install, just pick your favorite fonts, and your website will have great typography. It's a time saver, and there's no risk of breaking your website's layout.
Key Features:
Customizable font restrictions and rules
Compatible with any WordPress theme
Real-time font preview
Total control over website fonts
Instant enqueuing of Google font stylesheets
Custom theme font design within the administration settings
Serve Your Google Fonts in A 100% GDPR Compliant Way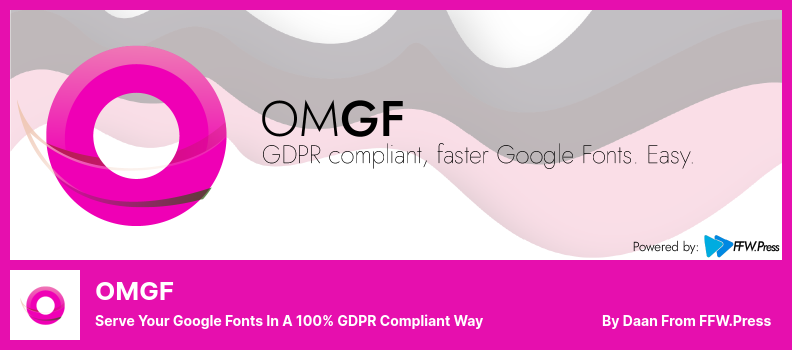 OMGF (Optimize My Google Fonts) is a WordPress plugin that allows you to easily host Google fonts on your computer's hard drive. It works by scanning your files for Google Fonts API requests and redirecting them to your central server, eliminating DNS calls and streamlining the process.
It is very easy to optimize your website's performance by using this plugin, so you will not need to possess any technical knowledge whatsoever to optimize your website's performance.
One of the key features of the plugin is its ability to optimize your website. By hosting Google fonts locally, you can reduce the number of external requests and improve your page load speed. This can have a significant impact on the user experience and help your website rank higher in search engine results.
This plugin has a font-display feature, which lets you control the way fonts load, so your visitors have a smooth and consistent experience. This feature can be tailored to meet your needs, so you can control your website's look exactly the way you want.
In addition to its simplicity, OMGF is easy to use. It doesn't require you to be a technical expert to install and use it. The plugin seamlessly integrates with your WordPress website and identifies which Google Fonts your theme is using. It's really easy to make your website's typography look great with this.
Key Features:
Website optimization assistance
Font-display customization
Manual operation for customization
Automatic detection of Google Fonts
Remarkable page load speed improvement
Easily Embed Custom Fonts Files
Custom Fonts is a WordPress font plugin that simplifies the process of importing custom font files to your WordPress site. With this plugin, you can easily embed font files such as SVG, TTF, WOFF1, WOFF2, and EOT onto your website, giving you the freedom to choose from a wide range of fonts.
One of the best things about the plugin is its compatibility with any other WordPress page builder. Whether you're using Elementor, Divi, or any other page builder, this plugin seamlessly integrates with them, making it a breeze to enhance the user experience with beautiful fonts and styles.
Not only does the plugin offer a wide variety of fonts to choose from, but it also helps make your company's brand uniquely identifiable. By using custom fonts, you can create a cohesive and visually appealing design that reflects your brand's personality and style.
What sets the plugin apart is its user-friendly interface, making it accessible for both beginners and experts. Even if you don't have technical knowledge, you can easily navigate the plugin and upload your preferred font formats without any difficulty.
By incorporating custom fonts into your website, you can make a significant impact on your overall design. Fonts play a crucial role in creating an engaging and visually pleasing website that captures your audience's attention. With the plugin, you have the power to make your website stand out from the crowd.
When it comes to font formats, Custom Fonts has you covered. You can upload fonts in various formats, including EOT, WOFF2, SVG, and TTF. This flexibility allows you to choose fonts that best suit your website's design and aesthetic.
Key Features:
Compatible with any WordPress page builder
Elevates the user experience with beautiful fonts and styles
Helps make your brand uniquely identifiable
Makes a significant impact on your website design
Provides a wide variety of fonts to choose from
Easily accessible in the WordPress plugins repository
Upload Any Custom Fonts You Wish And Give Your Site An Elegant Look
Use Any Font is a WordPress plugin that allows you to upload and use custom fonts on your website without any technical skills. It is highly compatible with most WordPress themes and other plugins, making it an excellent option for any website.
Installing and configuring this plugin is a breeze, and it works seamlessly on all platforms and browsers. So, no matter what browser your visitors are using or what device they're on, your website will look and function perfectly.
The best part about the plugin is that it gives you the freedom to choose any font for your site. You can easily upload font files in formats like OTF, TTF, and WOFF, and use them directly from the WordPress editor. Plus, there is no limit to the number of custom fonts you can use.
Some key features of Use Any Font include compatibility with WPML and Polylang, the ability to upload files up to 25 MB in size, and support for all major browsers and operating systems. It's also free and open-source, making it an affordable choice for any website owner.
Key Features:
Upload files

up to 25 MB in size

Compatible with WPML and Polylang
Use custom fonts directly from the WordPress editor
Supports font formats like OTF, TTF, and WOFF
Quick and easy installation process
Compatible with all major browsers and operating systems
Give The Visitors Of Your Site The Option To Change The Font Size Of Your Text
Zeno Font Resizer is a WordPress plugin that allows your website visitors to easily modify the font size to their preference using their web browser. Unlike what the name suggests, it does not actually resize the fonts on your website.
Compatible with WordPress versions higher than 3.7, this plugin ensures that your text appears fantastic across all browsers. It's a fantastic tool that allows visitors to swiftly and effortlessly adjust the font size on your website using JavaScript and JQuery.
Additionally, the reader's preferences are saved in a cookie, so even if they return to your site again in the future, they will see the same font size when they make their next visit to your website.
With the plugin, you have the option to include a standard widget or code it into your theme. This ensures that your viewers will see the same font size when they return, thanks to the settings being preserved in a cookie.
This is something that you can control directly from the administration page, so you can easily customize the font size for your visitors in order to make their experience enjoyable.
Despite being a free plugin, Zeno Font Resizer offers exceptional value. It's a user-friendly tool that caters to your readers' preferences, enhancing their experience on your website.
Key Features:
Font size settings are saved in a

cookie for returning viewers
Standard widget or theme integration option
Convenient administration page for content resizing control
Offers exceptional value despite being free
Frequently Asked Questions
What are WordPress font plugins?
WordPress font plugins are tools that allow you to easily customize the typography on your WordPress website. They provide a range of options to change the font styles, sizes, colors, and other visual aspects of the text displayed on your site.
Why should I use font plugins for my WordPress site?
Using font plugins can enhance the overall aesthetics and readability of your WordPress site. They allow you to stand out from generic default fonts and add a personalized touch to your content.

With font plugins, you can easily create a visually engaging website that leaves a lasting impression on your visitors.
What are the benefits of using paid WordPress font plugins?
Paid WordPress font plugins often provide more extensive font libraries with unique and premium font options. They may also offer advanced customization features and dedicated customer support.

Investing in a paid font plugin can give you access to a wider variety of fonts and enhanced functionality, allowing you to create a more bespoke and professional-looking website.
Conclusion
To recap, we've discussed the top five WordPress font plugins, both free and pro options, in this article. We explored the features and benefits of each plugin, helping you make an informed decision for your website.
For more related tutorials and helpful resources, we recommend checking out the BetterStudio blog. They have a wealth of information to enhance your WordPress experience and keep you up to date with the latest trends.
Stay connected with BetterStudio by following them on Facebook and Twitter. By doing so, you'll be the first to know about their latest tutorials, tips, and tricks. It's a great way to stay in the loop and further enhance your website.
Thank you for taking the time to read this article. If you have any questions or encounter any problems related to the topics discussed, please feel free to ask in the comment section below. We're here to help and provide the support you need. So don't hesitate to reach out and share your thoughts. Happy font plugin exploring!