Searching for the best WordPress font and typography plugins?
This post presents a list of the best WordPress plugins for Fonts. They also speed optimized and have good support. In the end, WordPress plugins are compatible with all of the latest WordPress themes.
We have curated the following bundle of Font plugins that will assist you in choosing the best Font plugin. The WordPress plugins below can also be used for Google Fonts, Typography, Easy Google Fonts, and others.
Best Font Plugins for WordPress 🥇
Following are the hand-selected top WordPress Font plugins for 2022:
Add Custom Google Fonts To Any WordPress Theme
Using the amazing Easy Google Fonts plugin, it's very simple to get control over the fonts on your website. Using it, you can easily put up to more than hundreds of various fonts into your website without having to have high skills in coding and programming.
With the aid of the WordPress Customizer, you can also see how your fonts will look on your live site before implementing them, which is very cool.
It allows you to customize the font control in the administration section. Once you've added a font, it will be immediately accessible in the customizer for you to examine and try out.
After you've installed it, you'll have access to hundreds of styles that you may use wherever on your website, independent of what theme you've chosen to work with.
💵 Free of charge, this plugin can be downloaded.
Key Features:
It gives you the ability to design your own font restrictions and rules
Adaptable with any WordPress theme that is currently available
You may get a preview of a font change in real-time if you choose
It allows you to have total control over the font on your website
Easy Google Fonts can instantly enqueue all stylesheets for the Google fonts that have been chosen
You have the option to design a custom theme font right on the administration settings page
You may use Google fonts on your website without needing to make any changes to the core CSS of your theme
Random Reviews:
There is a Trojan error in wp-content/plugins/easy-google-fonts/src/dist/preview.js Easy Google Fonts needs to resolve this issue, until then, I do not recommend this plugin.

As the plugin's title says, it is not as easy to install as the plugin claims.

My first time using WordPress, and this plug-in was super easy to use and allowed me to switch fonts easily. Support also gave me a CSS selector (I have no clue how to use CSS…) to change the navigation font. Great job!
Serve Your Google Fonts in A 100% GDPR Compliant Way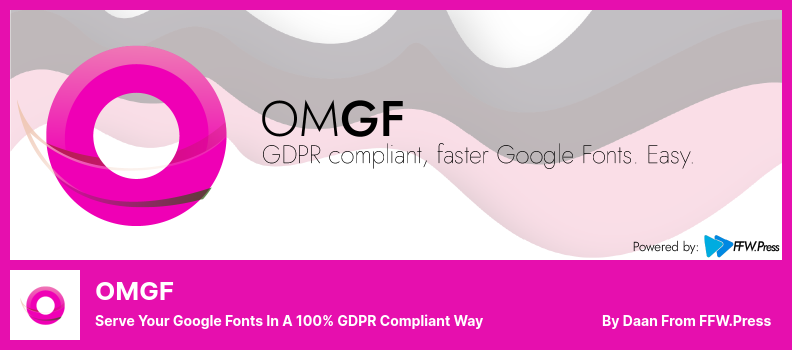 OMGF is a fantastic WordPress plugin that is easy and fun to use. As the name suggests, the name is the short form for Optimize My Google Fonts, and it clearly states that you may use this plugin to utilize Google Fonts that have been optimized for your WordPress website.
You may easily host Google fonts on your computer's hard drive. This plugin, like many other WordPress plugins, does not need you to be technically knowledgeable to use it. With OMGF, you have the freedom to make use of the browser cache and eliminate DNS calls in order to streamline the process.
Google Fonts API requests, which are the method by which websites access the Google Fonts collection, are searched for by this plugin, which then scans your files for them.
When a web page is loaded for the first time, the plugin redirects requests to your central server and transfers the fonts to your web server. OMGF then compiles CSS files for the Google Fonts that are currently active.
💵 Installing this plugin is free. It is available for download for free.
Key Features:
OMGF is protected by a high level of security
It can assist you with optimizing your website
It is equipped with a font-display feature
It may be operated manually, allowing you to customize its operation to meet your specific demands and requirements.
It instantly determines which Google Fonts are being used by your theme

You can get remarkable page load speed for your website
Random Reviews:
In addition to the plugin's good value, I consulted the developer when I had trouble and he helped me quickly and friendly. Thank you! This topic was modified 2 weeks ago by butter.

OMGF Pro has made me wildly happy! I just installed it on my 600+ page staging site, and it worked perfectly. Now I'm looking forward to using it on the live site. THANK YOU!
Easily Embed Custom Fonts Files
You can easily embed custom font files such as SVG, TTF, WOFF1, WOFF2, and EOT on your WordPress website thanks to the Custom Fonts plugin, which works with all of the significant font formats.
A WordPress font plugin is easy to use and accessible in the WordPress plugins repository for download. Using the Custom Fonts plugin, importing individual font files to your WordPress site has become much more straightforward.
Many free WordPress fonts and styles plugins are available, and this is one of them. It allows you to utilize a variety of fonts depending on your needs.
💵 Here is a link to download this free plugin.
Key Features:
It may be used with any other WordPress page builder with relative ease
Custom Fonts assist you in elevating the user experience via the use of gorgeous and various fonts and styles
It helps to make your company's brand uniquely identifiable
Completely usable even if you do not have technical knowledge
It amazingly assists you in making a significant effect on your website
It enables you to upload any font format with no difficulty
Fonts in EOT, WOFF2, SVG, and TTF formats may be uploaded as custom fonts
Random Reviews:
I cannot upload the fonts from the plugin to my Media Library. It may be an issue with another plugin controlling the Library, but I don't have the time to investigate.

Simple and works perfectly with Elementor.

Worked with some themes but not all of them
Upload Any Custom Fonts You Wish And Give Your Site An Elegant Look
Use Any Font gives you the freedom to choose any font for your site. A typography plugin with an incredibly high number of installs is one of WordPress's most popular typography plugins.
Using the WordPress editor, you may upload your fonts straight to your website. A plugin is an excellent option for almost all current WordPress themes and other sophisticated plugins because it is highly compatible with them all.
Utilizing it will not need the possession of technical skills on your part. It makes it simple to add custom fonts to your WordPress website without any technical knowledge.
It is pretty simple to install and configure this WordPress plugin on your website. Your website will look and function correctly on every platform, regardless of your visitors' browser.
💵 Free progressive plugin Use Any Font is available at Use Any Font.
Key Features:
You may quickly and easily upload a file up to 25 MB in size
It is free and open-source
The custom fonts that have been uploaded may be used straight from the WordPress old editor as well as the WordPress Gutenberg editor
It is compatible with font formats such as OTF, TTF, and WOFF, among others
It takes just a few minutes to get this WordPress plugin up and running
You are allowed to use as many custom fonts as you like on your website
Compatible with all major browsers, including Firefox, Chrome, Safari, Android, iOS, IE, Edge, Opera, and others. It is also compatible with all major operating systems, including Windows, Mac, and Linux
Random Reviews:
This is exactly what I've been looking for/ trying to find for a while that would allow me to alter the typeface beyond those that are generically added to websites. Fantastic! Just stumbled upon this and thought everyone would find a good reason to improve their site.

It always works without any issues! Thank you!

The fonts added were very simple, and worked great!
Give The Visitors Of Your Site The Option To Change The Font Size Of Your Text
It will not perform the function you are guessing by its name. Unlike what you may have expected, the Zeno Font Resizer plugin does not really enable you to resize your WordPress site's fonts.
It allows your visitors to modify the font size of your website to suit their preferences using their web browser. Adding a font resizer widget to your sidebar will be an excellent way to let your users do this task.
Zeno Font Resizer is a fantastic plugin that allows your visitors to swiftly and effortlessly resize the fonts on your website. The font size may be customized with the use of JavaScript and JQuery. Because the preferences are recorded in a cookie, the reader will see the same font size even if they return to your site in the future.
This plugin is compatible with any WordPress version higher than 3.7. Using this technique, you can be confident that your text will appear fantastic across all various browsers.
💵 There is no charge for using this plugin. It is FREE.
Key Features:
You can include a standard widget or code it into your theme
your viewers will see the same font size when they return since the settings are preserved in a cookie
Content resizing may be controlled from the administration page
Offers exceptional value despite being free
Random Reviews:
It was easy to install and worked well. Many options would suit most themes or applications. The forum support was excellent. It helps with WCAG 2.0 level AA compliance. Thanks!
As a last note, we want to mention
We will be evaluating many Font plugins in this article. These plugins will help make your website more attractive.
📌 Note: By regularly publishing articles on the best WordPress blog themes and best WordPress plugins for bloggers, we receive votes, referrals, and shares from our audience.
We hope this article was helpful to you.
Please leave your comments below, and follow us on Facebook and Twitter for our latest articles!