Have you ever heard of orphaned content on your WordPress website? If not, don't worry, you're not alone.
Many WordPress users are unaware of the existence of this type of content and the impact it can have on their website's performance. But fear not, we're here to help!
In this article, we'll explain what orphaned content is, how it affects your website's SEO, and most importantly, how to find and fix it. With over 40% of websites using WordPress, it's essential to keep your website in tip-top shape to ensure it performs at its best.
Did you know that orphaned content can negatively affect your website's search engine rankings, leading to a decrease in traffic and potential revenue loss? According to research, approximately 90% of all pages receive no organic search traffic from Google. By removing or fixing orphaned content, you can free up server space and improve your website's overall performance.
So, whether you're a blogger, business owner, or simply passionate about keeping your WordPress site running smoothly, read on to learn how to identify and remove orphaned content effectively.
What is Orphaned Content?
Orphaned content is defined as content that receives no links from other articles or pages on the same website. As a result, neither Google nor website visitors can find this content.
Each article and page need an internal link in order to integrate into the site's structure and be quickly accessed by visitors.
In this case, the term 'links' refers to contextual links. If other content is linked from the homepage sitemap or categories and tag pages but does not have text links, it is still regarded as orphaned.
Text links have the advantage of providing both users and search engines with context, providing a greater value to both.
Note: If you are more interested in internal links you can check our article for the best internal link-building plugins for WordPress.
Does Orphaned Content Affect WordPress SEO?
Google requires information about your content to rank it. Whenever a search engine follows a link, it saves all the content it finds on the page in its index. There are few relevant internal links to it from other pages or posts in orphaned content.
As a result, Google will regard such information to be less critical than content with many links going to it.
It is, therefore important for you to make it known to Google and your visitors that the article is important to you. You have to link to the article directly from other relevant content if it is important for you.
How to Find Orphaned Content in WordPress?
In this part, we will show you three ways to identify orphaned content in WordPress:
Method 1: Find Orphaned Content Using Link Whisper
You should consider Link Whisper as a great tool for suggesting internal links as you write and identifying old posts that lack linking as well as fixing broken links.
As we checked Link Whisper is the best internal link-building plugin for WordPress and there is no any other plugin with the options of this plugin.
NOTE: BetterStudio users get an exclusive $15 discount for LinkWhisper by using this link!
Follow these steps to use it:
Step 1: Install and activate the plugin, then open the dashboard.
Step 2: To see all the pages and posts that lack internal linking, navigate to the Orphaned Posts area.
As a result, you will be presented with a list of orphaned pages.
Step 3: Choose the one you want to optimize.
Using this tool, several internal links will be recommended that the tool believes to be relevant to the blog post or page in question.
You can also edit the sentence in which the connection appears. It's from the article where you linked to your orphaned page.
Step 4: Click on the Edit Sentence button to edit it. 
Step 5: It's as simple as clicking the small blue drop-down arrow to add suggested sentences to your post and link to them.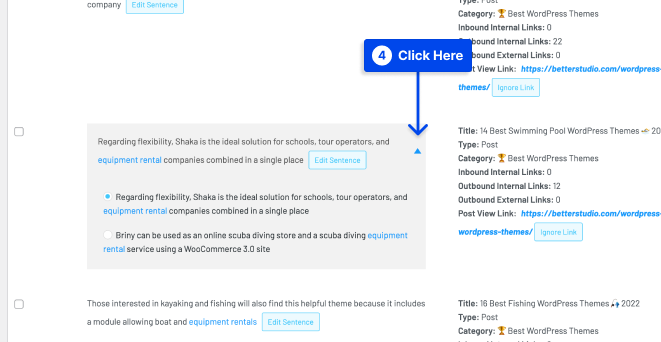 Step 6: Check the left-hand box and click on the Add option.
When you have done this, let the tool work its magic on your page, and you will no longer have an orphan page.
Method 2: Find Orphaned Content Using YoastSEO
Only in Yoast's premium plan are orphaned content identifiers available. It is possible to view the Orphaned tab by accessing the posts option.
To use Yoast SEO to discover orphaned material on a website, follow these steps:
Step 1: Go to Posts or Pages in your WordPress dashboard. 
Step 2: Click on the All Posts or All Pages option.
At the top of the page, you will find an option for Orphaned content.
Step 3: To scan your website for content that lacks internal linkage, select the Orphaned content menu icon.
Step 4: Click on the Click here button.
Following this, Yoast will begin scanning all of the pages on your website for orphaned content. A list of orphaned pages is now available for you to review.
You can then find out which of these old pages and posts should be optimized once you have identified all the orphaned content on your website. Therefore, it would be a good idea to prioritize based on the ranking possibilities to save time.
Method 3: Find Orphaned Content Using Semrush
Semrush lets you identify pages on which interlink links are necessary to rank higher. Follow these steps to use this service:
Step 1: Sign in to the site and click on the Site Audit option.
Step 2: Enter the domain name you want to crawl and click on the Start Audit button if you're using Semrush for the first time. Otherwise, create a new project.
Step 3: Tweak and make all necessary changes to the crawl and then click on the Start Site Audit button.
Step 4: Click on the project to see the full report after the audit is done.
Step 5: Go to the Issues tab and search orphaned in the search bar.
Step 6: Click on the "Why and how to fix it" option.
Semrush will then provide you with a solution for orphaned pages. It is critical to detect orphaned links on your website so that you can determine which ones need to be fixed.
How to Fix Orphaned Pages in WordPress?
If you are experiencing orphaned content issues in WordPress, there are three main solutions. Content can be erased, redirected to new content, or resurrected.
If the post or page has become orphaned, you should choose the technique based on why it was created.
Each approach is straightforward to implement. We will now go over each one in greater detail:
Method 1: Delete Orphaned Pages in WordPress
This is the simplest way to remedy the problem if it is done on purpose. To use it, follow these steps:
Step 1: Go to Posts or Pages in your WordPress dashboard. 
Step 2: Click on the All Posts or All Pages option.
Step 3: Locate the post or page you want to delete.
Step 4: Hover over it and click on the Trash option.
Once this has been completed, the content will be removed from your website and is no longer viewable. However, it may take some time for search engines to recognize this change.
It's simply a matter of removing anything without a link. Otherwise, they must be redirected. If you want to speed up the process, you should resubmit your sitemap to Google frequently.
Method 2: Redirect Orphaned Pages in WordPress
There is a good chance that you might have a newer piece of content that you would like visitors to see. As a result, all that needs to be done is to set up a 301 redirect from the orphaned page to the newer page.
By using a 301 redirect, search engines will be informed that they should not index this page, but instead should index the newer version in place. This will prevent the page from becoming orphaned in the search results.
Follow these steps to use this method:
Step 1: Install and activate a redirection plugin.
Step 2: Set up a 301 redirect.
To reflect the changes, you will most likely need to resubmit your sitemap to Google.
Method 3: Revive Orphaned Pages in WordPress
If you were unaware that the content had been abandoned, you can quickly address the issue by adding internal links.
To create internal links with anchor text, you can utilize the premium version of the Link Whisper plugin that we previously used. Check out the Link Whisper plugin we previously utilized if you're seeking for a solid choice. This plugin is designed to generate internal links.
Aside from keeping it simple, make sure the internal links you establish are sensible. Simply putting links into your article in a rush may have detrimental implications.
It will not be successful if you want your visitors to follow a link from a yarn post to a hardware post. Make sure that your internal links make sense. Therefore, take your time when creating them.
To accomplish this, you can search your website for similar content. It is possible to link to orphaned content within those posts or pages if there is a logical place to place a link within those posts or pages. It is sufficient to ensure that the link is relevant.
Conclusion
In this article, we've covered the basics of identifying and fixing orphaned content on your WordPress website. We discussed what orphaned content is, how it can harm your website's performance, and provided step-by-step instructions on how to find and fix it.
If you're looking for more tutorials on WordPress optimization and maintenance, be sure to check out the BetterStudio blog. Our team of experts regularly publishes informative articles on a variety of topics related to WordPress.
To stay up-to-date on the latest tutorials and tips from BetterStudio, be sure to follow us on Facebook and Twitter. You'll be among the first to know when new articles are published, so you can keep your WordPress website running smoothly.
Thank you for taking the time to read this article. If you have any questions or problems related to finding and fixing orphaned content on your WordPress website, please don't hesitate to ask in the comments section below. We're here to help!