Are you a WordPress website owner looking for the best currency converter plugins for your site in 2023? If so, you've come to the right place! In this blog post, we will explore the top five currency converter plugins available for WordPress, both free and pro versions.
Whether you're a beginner or an experienced user, we've got you covered with options that will meet your needs. Now, you might be wondering why you need a currency converter plugin for your WordPress site.
Well, if your website offers products or services to customers from all over the world, having a currency converter can greatly enhance the user experience. It allows your visitors to view and make purchases in their preferred currency, eliminating any confusion or conversion calculations on their part.
With the right currency converter plugin, you can easily cater to a global audience and increase your chances of making sales. So, let's dive into the five Best WordPress Currency Converter Plugins for 2023. We'll discuss their features, advantages, and any limitations they may have.
Whether you're looking for a free or pro version, we've got options that will suit your budget. Stay tuned to find the perfect currency converter plugin for your WordPress site!
Best Currency Converter Plugins for WordPress
If you are looking to add a currency converter to your WordPress website, look no further! In this article, we've compiled a list of the five best currency converter plugins for WordPress, both free and paid options.
So, whether you're looking for a simple solution or advanced features, we've got you covered. Keep reading to find the perfect plugin for your website.
The Most Complete Plugin to Show Financial Information
Financial Pack is a WordPress trading plugin that allows you to easily add financial and economic information to your website. No complicated configuration is required, as you can simply drag and drop the plugin into your website using popular page builders like Elementor or Beaver Builder.
With the plugin, you can display the latest economic and financial news on your website, keeping your visitors updated with the latest information. It also allows you to display cryptocurrency and stock market data through various widgets, making it easy for your audience to stay informed about market trends.
One of the standout features of the plugin is its wide range of widgets and shortcode styles. With over 110 different styles to choose from, you can customize the appearance of the financial information on your website to fit your design preferences.
While Financial Pack does not have a free version, it offers a comprehensive set of features that make it worth considering for serious website owners who want to provide their audience with up-to-date financial information.
Key Features:
Compatible with

popular page builders

like Elementor and Beaver Builder

Supported data sources include a wide range of financial information
Widgets for cryptocurrency events, currency converters, and more
Inline results are available for use between posts

Customizable design options and settings for each widget

Provides a comprehensive set of financial and economic information
A Universal Currency Converter and Rate Display
CBX Currency Converter is a fully customizable plugin that allows you to enhance the appearance of your website. It offers four different display layouts, giving you the flexibility to choose the design that suits your needs.
One of the standout features of this plugin is its ability to automatically update the exchange rates. You can even set the frequency of the updates to ensure that your rates are always accurate.
With Ajax integration, this plugin ensures that your customers don't need to reload the page to see the converted currency results. This makes for a seamless user experience. Additionally, the plugin allows you to display decimal points after a currency, adding a touch of sophistication to your site.
While this plugin supports 94 different currencies and displays up to 10 exchange rates, it's important to note that the API request may fail if there are too many currencies being displayed. This could be a drawback for websites that require a wide range of currency options.
If you're looking to take your currency converter to the next level, it also offers a premium version. With the premium upgrade, you'll have access to Bitcoin currency integration. This is particularly useful if you cater to customers who prefer to use cryptocurrencies.
In terms of compatibility, the plugin plays well with popular plugins like Gutenberg, WooCommerce, Elementor page builder, and WPBakery. It also provides support for both widgets and shortcodes, making it easy to integrate the converter into your website's layout.
Key Features:
Compatible with Gutenberg, WooCommerce, and major page builders
Ability to automatically update exchange rates with customizable frequency
Ajax integration for seamless currency conversion without page reload
Option to display decimal points after a currency for added precision
Supports both widgets and shortcodes for easy integration
Four different display layouts to customize the look of your website
A Simple But Versatile Currency Converter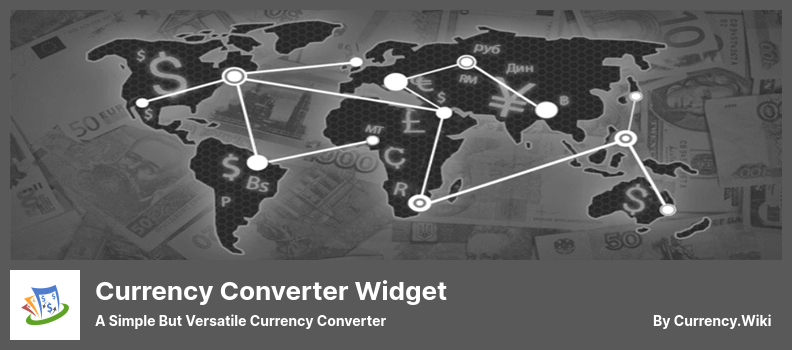 Currency Converter Widget is a versatile WordPress plugin that allows you to display currency exchanges anywhere on your website using shortcodes. With this plugin, you can easily customize your site's fonts, text, and background colors to match your theme without any coding expertise.
One of the key features of the plugin is its ease of use. Whether you're a beginner or an experienced website owner, you can easily set up and configure this plugin to display the current exchange rates for various currencies in the sidebar of your site. This makes it convenient for your visitors to check the latest rates without navigating to other pages.
Not only is the plugin user-friendly, but it also offers a wide range of customization options. You can personalize the appearance of the currency converter to seamlessly blend with your website's design.
Choose from multiple currency pairs and select the most popular ones, such as USD/EUR, to provide your visitors with the most commonly traded rates. Another great aspect of this plugin is its multi-language support.
With just a few clicks, you can switch between eight different languages, making it accessible to a global audience. This feature is particularly useful if your website caters to an international audience or if you have visitors from various parts of the world.
Key Features:
Show exchange rates anywhere on your site
Multiple currency pairs are available
Extensive customization options
Eight different languages supported
Shortcode and widget support provided
Current and accurate exchange rates
Convert Currencies Whenever You Want
Open Currency Converter is a convenient plugin that allows you to easily display currency conversions on your UK-based website. With this plugin, all currencies are automatically displayed in British pounds, but you also have the option to show equivalent values in US dollars for visitors from the United States.
One of the main advantages of using it is the ability to instantly convert currencies within your posts or pages. This feature is especially useful if you frequently have content that requires currency conversions. By using this plugin, you can save time that would otherwise be spent manually calculating conversions.
Another great feature of the plugin is that it is completely free to download, and use, and it is ad-free. You won't have to worry about wasting your time and money on unnecessary charges. Simply install the plugin and start enjoying the benefits of easy currency conversions.
To ensure that the plugin functions correctly, it is important to review the Options screen and adjust any necessary settings before attempting to convert currencies. Additionally, you will need to enter an App Key in the designated field in order to perform your conversions.
With these features, Open Currency Converter makes it simple and efficient to display currency conversions on your WordPress website. Whether you have a large number of international visitors or simply want to provide an easy way for your US-based audience to view values in dollars, this plugin has you covered.
Key Features:
Benefit from caching results, which reduces resource consumption
Easily add currency conversion features to your theme using a PHP function
Have control over the output of currency conversion results
Define default settings and view current exchange rates
Embed your posts and pages using a shortcode
No need to manually update exchange rates
A Multi-Currency for WooCommerce
CURCY is a fantastic currency converter plugin designed specifically for WooCommerce websites. It allows you to effortlessly sell your products to customers all over the world by accepting payments in multiple currencies.
It stands out from the rest, including the popular currency converter for Elementor and currency converter calculator plugin. One of the key features is its ability to automatically detect your visitors' location and display the prices in their local currency.
This makes the payment process much more convenient and seamless for your customers. To further streamline the process, you can integrate payment gateways like PayPal and Stripe.
With this plugin, your customers have the freedom to change currencies easily, giving them full control over their purchasing experience. You also have the option to set the exchange rate manually or let the plugin automatically fetch the latest rates from Google Finance.
Displaying your supported currencies on the front end of your website is made easy with the help of shortcodes. You can choose to show them as widgets or currency bars and even customize their appearance using CSS.
Key Features:
Manual Exchange Rate Management
Price Format Selection
Custom CSS is provided
Automatic Currency Detection
Shortcode Support is provided
Frequently Asked Questions
What are currency converter plugins?
Currency converter plugins are tools that can be added to a WordPress website to provide real-time currency conversion rates. These plugins allow users to easily convert prices and currencies on the website, making it convenient for international visitors and customers.
Why should I use a currency converter plugin for my WordPress website?
Using a currency converter plugin can greatly enhance the user experience on your WordPress website, especially if you have an international audience or sell products/services in different currencies.

It allows your visitors to easily view prices in their preferred currency, increasing their trust and making it more likely for them to make a purchase.
What features should I look for in a currency converter plugin?
When choosing a currency converter plugin for your WordPress website, some important features to consider are real-time currency conversion rates, support for multiple currencies, customizable design to match your website's aesthetics, compatibility with eCommerce platforms, and ease of use for both you and your visitors.

It's also a good idea to read reviews and see what other users have to say about the plugin's performance and reliability.
Conclusion
In conclusion, we have explored the top five WordPress currency converter plugins, both free and pro options. We have discussed the features, benefits, and installation process of each plugin, giving you a comprehensive understanding of their functionalities.
Whether you are looking to add currency conversion capabilities to your eCommerce site or simply want to provide convenience to your international readers, these plugins have got you covered.
If you're hungry for more WordPress tutorials and helpful articles, be sure to check out the BetterStudio blog. We regularly publish in-depth guides and tutorials that cover a wide range of topics related to WordPress, including plugin recommendations, website optimization, design tips, and much more.
To stay up to date with the latest tutorials and WordPress news, make sure to follow BetterStudio on Facebook and Twitter. By following us on social media, you'll never miss out on our latest tutorials and helpful resources.
Thank you for taking the time to read this article. We hope you found it informative and useful. If you have any questions or need further assistance with implementing a currency converter plugin on your WordPress website, please feel free to leave a comment below. We're here to help!