Have you been trying to find a way to increase sales and traffic on your WordPress website? Perhaps you're considering using WooCommerce to sell t-shirts, but you're not sure where to start.
The good news is that there are plenty of plugins available to help you create a high-quality t-shirt design that will attract customers.
In this article, we'll be taking a closer look at the 7 Best WooCommerce T-Shirt Designer Plugins for 2023, both free and pro options. If you're looking for a way to create custom t-shirt designs that stand out, then this is the guide for you. With our help, you'll be able to choose the right plugin for your needs and start driving more sales and traffic to your website.
Before we dive into the details of each plugin, let's take a quick look at some of the stats and facts surrounding t-shirt design and sales. Did you know that the global custom t-shirt printing market size is expected to reach $10.2 billion by 2025?
Furthermore, e-commerce platforms like WooCommerce make it easier than ever before to design and sell custom t-shirts online.
Personalize Shopping Experiences By Adding Extra Options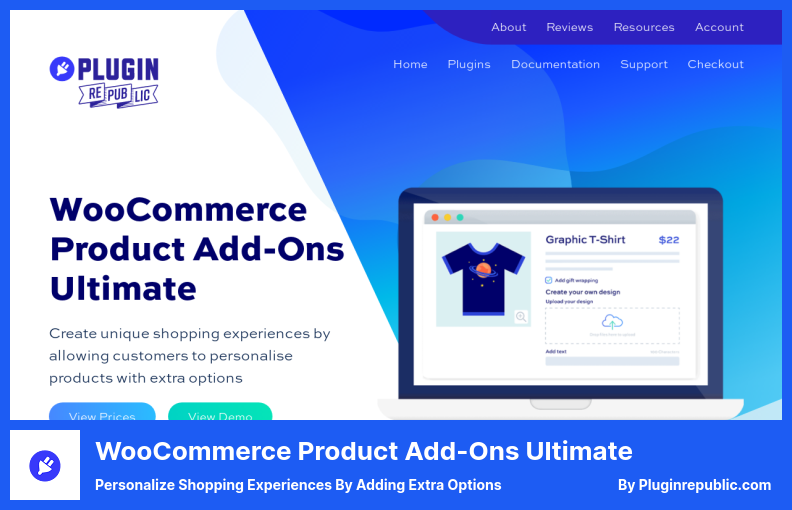 You will need the WooCommerce Product Add-Ons Ultimate plugin if you wish to add swatches and add-on fields to your WooCommerce products. Your customers can customize t-shirts and other products directly from the front end of your store using this plugin.
With the WooCommerce Product Add-Ons Ultimate plugin, you can display 16 add-on fields for t-shirts, allowing your customers to choose from various options. This will include opportunities for image swatches, checkboxes, dropdowns, color pickers, and uploads.
WooCommerce Product Add-Ons Ultimate Pro plugin may be an excellent choice if you wish to design t-shirts for your WooCommerce store with the ultimate creativity.
As well as the additional fields, the pro version of the plugin offers other child products and image swatches for t-shirt design.
Custom pricing options can also be set up for various add-ons so that the t-shirt is priced automatically by the complexity of the design. You can, for example, set a price per character in the text field on the website.
This will result in a charge based on the number of characters a customer adds to their t-shirt. Also, if you would like to offer specific discounts on certain add-ons, you may do so.
You can design unique t-shirts using WooCommerce Product Add-Ons Ultimate's variation-specific fields and conditional logic. Users will see a text field on the product page if they select small print.
Key Features:
Add different options to your products
Customers can add slogans or custom text
Allow customers to upload their designs
Allow customers to choose the base color
Offer customers extra options to personalize products
Add-on fields include checkboxes, dropdowns, and text fields
The use of conditional logic in advanced features
Most Complete Content Protector Plugin for WordPress
WPShield Content Protector is the best WordPress content protector plugin that can help protect your site's images and t-shirt designs from downloading, thus keeping them unique to your shop and increasing your sales.
With this plugin installed, you can be confident that your images won't be shared or stolen without your permission. Additionally, WPShield Content Protector can prevent users from sharing the t-shirt designs image link with others, ensuring that only authorized viewers can access the designs on your site.
One of the most impressive features of WPShield Content Protector is its compatibility with all major video hosting sites like YouTube, Vimeo, and Wistia. You can easily embed videos from these platforms onto your WordPress site using WPShield Content Protector and still enjoy all the benefits of the plugin's protection features.
Another useful feature of this plugin is its ability to stop users from accessing your website's source code. By using a hotkey or any other means, WPShield Content Protector ensures that skilled users cannot open and copy your website's source code.
This exclusive feature ensures that the content of the page is cleared if a user tries to open Developer Tools, making it impossible for anyone to steal your valuable content.
WPShield Content Protector also includes a Disabled JavaScript Protector. With this feature, you can prevent users from accessing your website if they disable JavaScript on their browser. This protector clears the page content and displays an empty page or a customized message if the browser Javascript was disabled.
Key Features:
Protects audio files and music downloads from piracy
Removes the audio download button and hides the location of the audio file
Increase engagement by making content exclusive to website visitors
Offers protection against spammer bots for email addresses and phone numbers
15 built-in protectors for all types of content, including text, video, audio, and source codes
Option to disable right-click menu and limit right-click menu items
Comprehensive step-by-step documentation for setup and content protection
Improves website security and reduces the risk of content theft
User-friendly interface with easy installation and customization options
Regular updates and customer support available for continued protection and assistance
Random Reviews:
I use this photo protector for my photography and it kept all my photos from being downloaded. In the first week after I started using it, I received many emails from bloggers asking for image files, when I had not received even one email for a year before.

I sell courses on my website and I did not want someone to be able to easily copy/paste my content using a right-click. This plugin did this as advertised. I recommended using right click limiter to allow visitors to right-click on links for opening in new tab. it disables the view source and copy in menu.
a Complete Toolkit for Designers of Web-to-print Products
The Allada T-shirt Designer plugin for WooCommerce allows you to manage your t-shirt business from the convenience of your dashboard. It includes images representing some of the most recognized brands in the world, as well as information on colors and sizes.
This plugin allows customers to create their own shirts by typing text, changing fonts, changing styles and colors, etc. The plugin has several helpful help options, including deletion, rotation moving, and aligning. Customers can easily create their desired shirts utilizing these options.
A collection of more than 600 Google fonts is available for customization. Additional fonts not already included in the plugin can also be added to increase the number of fonts available.
In addition to images that can be found under various categories, Allada also offers messages that can be customized on your website. If you wish to increase your order total, you can categorize clip art so that your customers can select the art that best meets their needs.
The design process is simple for customers, who can make their designs available in various sizes and colors in just a few clicks. If the client wants to save their T-shirt design, they can return to it later to finish it.
Key Features:
Customers can change the text color, font, and style
An extensive collection of fonts that are easy to use
Provides outputs up to 48 inches at 300dpi
Organizes images by models, colors, and references of popular t-shirts
Categories of clipart with prices organized by category
Designing Products With All Purposes in Mind Plugin
The Fancy Product Designer allows customers to create and design hundreds of customizable items for their businesses. There are hundreds of customization options. One plugin will enable customers to create a wide variety of products.
With the layer system built into the plugin, a client can have various levels of control over the product development process.
The client can see what graphic options, images, and text options have been applied. Layers can quickly move up and down, and specific layers can be locked to construct items.
Your client can customize specific product parts by adding interactive Upload Zones. Each element of the product will be marked with a custom placeholder. This area can also serve as a boundary for additional features your clients may wish to include.
Customers can add images from various sources to the product designer with a few clicks, including Instagram, Facebook, and other social media accounts.
Additionally, customers can choose from multiple design categories and upload images from desktop computers or mobile devices to the product designer.
You may provide customers with a wide range of colors or allow them to select what colors should be included on each layer. If one element is changed in color, it will also affect all other aspects of the design. Clients may also deactivate confident color choices.
Key Features:
Integrating social media into your business
Provides the minimum dimensions required for the upload
Editing colors in the SVG format
Creating products using SVG, JPEG, and PNG
Adding custom files to the upload process
Options for saving for a later time
Complete Business Solution for Selling Custom Printing Products
With the wooCommerce Product Designer plugin, business cards, cups, t-shirts, and other items can be customized with text and images. Users can use the plugin to create custom artwork and incorporate it into their final products.
Merchants can charge additional fees to customize the products to generate additional revenue. A wide range of product categories is available for users: stickers, flags, badges, etc.
With this helpful tool, your clients can draw pictures themselves and customize them with effects, shapes, clipart, and text. It allows them to design their final product and create their final product.
You will benefit from providing carving, embossing, and printing facilities for these items so that your clients can sell those items at a reasonable price. You and they will benefit from getting what they want to sell and gaining a lot of money.
If you add clipart to the plugin, you can add letters, animals, signs, symbols, and images, allowing your customers to customize their products. Customers can upload any clipart item they wish to put on their products.
Key Features:
Clients can choose font size and text style
Adding clipart to final designs
Customers can select colors for text
Adding effects like blur, emboss, greyscale, invert, or sharpening
Upload your unique designs
Text can be added to products by clients
Adding Quantity to Cart Through The Design Panel
Your customers will have a wide range of options when designing shirts when you use the WooCommerce Custom T-Shirt Designer plugin. This includes aligning the shirt size, color, font, and other attributes, such as a logo.
In addition to selecting from the samples, the client may upload a design of their own. Text can be rotated and curled and viewed from both sides as the shirt is customized.
Menu templates can be customized for background color, text color, border radius, and hover fonts. The default template color and default content color can also be changed.
You may change the selected text in any international language from the File menu by selecting the Localizations menu from the File menu.
You can also edit the Help text sections using the WordPress admin interface. The WooCommerce T-Shirt Designer plugin provides sample images, but you can upload more photos if you wish.
The site administrator can manually activate or deactivate specific product design panels based on user feedback. They can also charge extra for customized design packages according to individual user demands.
Key Features:
Admin can customize 'Customization Cost Text.'
'Localizations' allows the admin to change all plugin texts
A custom design fee can be set in the admin meta box
Set the plugin's 'Help' text with HTML
The design panel can be enabled or disabled by the admin
The Most Advanced Product Options Plugin On The Market
The WooCommerce product options plugin is one of the best WooCommerce t-shirt designer plugins. It provides customers various options when designing t-shirts, making it a valuable addition to any web-to-print store.
You can effortlessly customize your customers' designs with WooCommerce Product Options. Customizing is entirely automated, so customers need not provide you with any details about their design preferences.
In addition to offering a variety of user-friendly features, WooCommerce Product Options will also increase sales. A customer may upload a logo or image in the File Upload field, which will appear on both the front and back of their T-shirt.
The option is to upload as many files as the customer wishes to that field. The customer can include their design in multiple places on the t-shirt, including the front, back, sleeves, and even the label.
Key Features:
A field for radio buttons and a

color swatch for each field
An easy way to set up groups of options
Organize your product options with variable attributes
Options for text fields and fonts
Show only specific fields based on other selections on the t-shirt designer page
Conclusion
In this article, we have presented the seven best WooCommerce T-Shirt Designer plugins that can help improve your WordPress website's sales and traffic.
These plugins come in both free and pro versions, allowing you to choose one that suits your budget and needs.
If you want to learn more about using WordPress and improving your website, be sure to check out BetterStudio's blog for more tutorials and valuable resources.
Don't forget to follow BetterStudio on Facebook and Twitter to receive the latest updates and tutorials, so you never miss a thing.
We hope you found this article helpful in choosing the right T-Shirt Designer plugin for your website. If you have any questions or need further assistance, feel free to leave a comment below.
Thank you for reading!