Are you looking for the best WooCommerce multistep checkout plugins to make your online store easier and faster for customers? 
With the growing number of online shoppers, it's crucial to have a checkout system that is both secure and efficient. That's why we've rounded up the top 10 multistep checkout plugins for WooCommerce stores.
It has been found that there are several WooCommerce multistep checkout plugins available that can simplify the entire purchase process within WooCommerce by breaking it down into more manageable steps during the checkout process.
Customers will be able to view their shopping carts, enter their payment information, and then complete their purchase by utilizing these plugins in a very quick and easy manner with just a few clicks by using them. Also, there are several of these stores that offer additional features such as order tracking and customer reviews as ways to enhance the shopping experience for their customers.
Our objective in this article is to provide an overview of the top multistep checkout plugins for WooCommerce stores. You can also find out what features each plugin has and what it costs. You will be able to enhance your store and give your customers a better shopping experience by browsing through our comprehensive plugin list. Furthermore, you will always be able to find the right plugin for your store.
a WooCommerce Page Builder Elementor Addon
Using a plugin like WooLentor, which offers a multi-checkout capability along with making the checkout process simpler for customers, it is possible to build an Elementor checkout page that looks seamless and slick while also incorporating a multi-checkout functionality.
Elementor's multi-step checkout builder has the advantage of allowing you to add multiple checkouts to your website. Multi-step checkouts for WooCommerce can help increase sales as they simplify the process so customers can quickly complete their purchases.
When a customer wants to make a purchase from your store, you can use the premium Woocommerce page builder plugin to provide them with a link that skips the login process, allowing them to finish their transaction much more quickly and easily.
As well as that, customers can view their order details, choose a payment method, and confirm their order online—all through a secure website.
With just a few mouse clicks, you can design a stunning layout for each WooCommerce page using the plugin's many helpful features.
Also, by using WooLentor's Email Customizer Module, users can edit WooCommerce email templates without requiring any prior programming experience.
Key Features:
Use WooCommerce page builder to create Shop Cart Checkout pages
Easy, up-to-date size charts for WooCommerce products
Customize archive pages for specific product categories

A

partial payment option

is available with WooLentor

Filter products horizontally/vertically and control their style and layout
Simplify and Beautify Your Checkout Process to Improve Conversions

It is now possible to simplify the checkout process with the help of the WooCommerce multistep checkout wizard WordPress plugin, making the process more accessible and convenient.
Making the checkout process as simple and pleasant as possible for your customers will increase the success and profitability of your store. This WooCommerce checkout plugin will assist you in doing this.
The plugin provides multistep checkout hooks so that developers can change or extend the functionality of this plugin to add more functionality. Thus making it an excellent plugin to use.
Using this plugin will help you to make the process of closing the deal faster since it will assist you to make the process of closing the deal as easy as possible for your customers; this will make the process of making their purchase through your website a more enjoyable experience for them.
Users can enhance their shopping experience and make it much more manageable by streamlining and improving the checkout process, allowing them to enjoy their shopping experience. In addition, this template separates different sections of the default WooCommerce checkout page, which facilitates easy shopping.
In most cases, you most likely want to collect as much information as possible on the checkout page, even when it's not necessary, so the default WooCommerce checkout page isn't optimized for conversions.
Unfortunately, we are aware of the fact that long checkout pages will turn customers away. The multistep checkout plugin for WooCommerce works regardless of your customers' language.
It is fully responsive and WPML compatible. You may also customize the hooks generated by the plugin to ensure that the checkout process is smooth and error-free at every step.
Key Features:
Compatibility with all major browsers
Multiple styles are provided to the user
Validation of the form at every step of the process
With the ability to be oriented vertically as well as horizontally
Plugin hooks are available for full plugin extension
Simple Steps to Simplify WooCommerce Checkout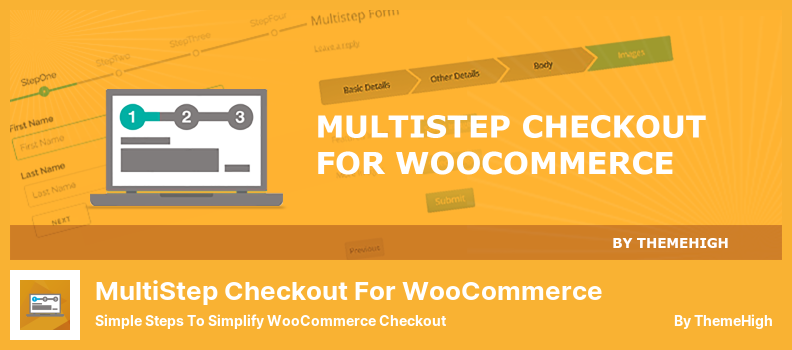 Multistep Checkout for WooCommerce allows store owners to navigate complex checkout procedures more easily by following multiple steps simultaneously during checkout.
This plugin allows you to customize the check-out form according to your needs. Checkout is divided into five steps: logging in, billing, shipping, and completing your order.
In addition to the versatility of these plugins, you will be able to change the background color, the text color, and the tab position, among others. Furthermore, shop owners can also use these plugins for accurate customer records.
A plugin like this will make the checkout process easier and simpler for you and increase conversion rates by providing you with a handy editor for modifying the WooCommerce checkout fields on your site.
Using WooCommerce Multistep Checkout, you can simplify the checkout process by segmenting it into many manageable steps in the WordPress admin area.
As each process section is validated independently, the plugin's step validation feature ensures that all field values are correctly entered, and the process is completed.
Multistep Checkout is a WooCommerce accordion checkout plugin you can customize according to your preferences. There are four layouts: Timeline Layout, Horizontal Box Layout, Vertical Box Layout, and Accordion Layout
Key Features:
Actions can be displayed according to your preferences
Specify the position in which the coupon will appear
A single click returns you to the cart
Steps in the billing and shipping process can be combined
Review order & payment steps are separate from each other
Make the checkout process include a login step
Adding more steps to checkout
A reliable step-by-step checkout validation for WooCommerce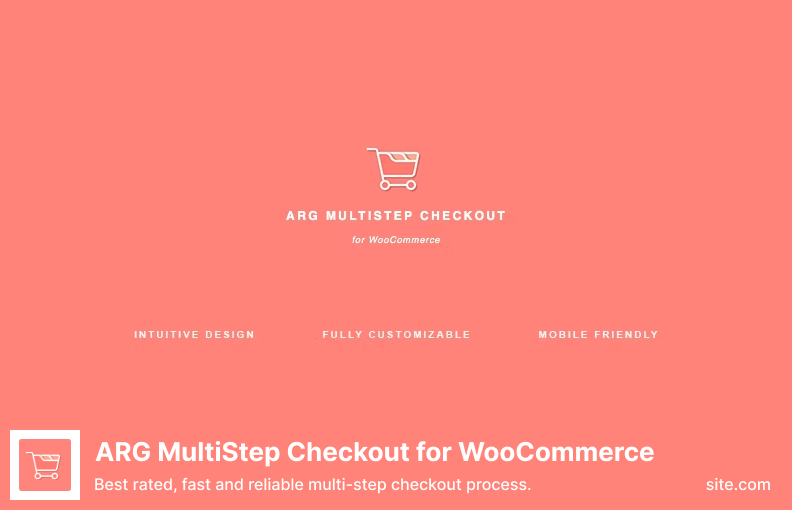 The sleek and intuitive design of ARG Multistep Checkout for WooCommerce makes it one of the most potent multistep checkout processes for WooCommerce.
The ARG Multistep Checkout is a Web-based process that streamlines the main steps of the standard WooCommerce checkout process, so the customer can have a more pleasant checkout experience.
With WooCommerce's multistep checkout layout, users can customize their own checkout process to suit their needs; in addition, it has a simple design with fluid animations to make the process as simple and convenient as possible for them.
It is ideal for users who wish to create mobile checkout experiences rapidly. It is an organized, clean, and well-designed WooCommerce checkout multistep layout.
This plugin has received high user ratings, ensuring a positive shopping experience for mobile customers during checkout.
Using ARG Multistep Checkout for WooCommerce, you can move the coupon to the next step in the checkout process. It also supports JQuery for better form validation.
As WordPress Commerce facilitates a multistep checkout process, it decreases the amount of shopping cart abandonment and raises the conversion rates by simplifying the process.
This module gives you the ability to customize the process of checking out for your customers by using the easy-to-use user login and registration and order review procedures. Additionally, you can add, remove, or combine various phases within the check-out procedure.
Break up the checkout process to make it more user-friendly
Yith WooCommerce Multistep Checkout decomposes the checkout process into multiple steps, simplifying it and reducing the probability that the customer will abandon the process by breaking the procedure down into different steps and making it as hassle-free as possible.
In order to simplify the shopping experience of your customers through Yith's multistep checkout process, we have made it very easy for you to capture all the information about them, including billing, shipping, and payment.
Suppose your checkout process consists of several steps. In that case, you can set up each step to include a custom field for gathering customer data.
Adding personalized labels to the previous and next buttons during checkout will further individualize them and improve the user experience.
By adding this plugin, your customers will save time since the checkout process will be shortened, the requisite steps will be reduced, and the entire process will run more smoothly.
The checkout containers and breaks between steps can be customized on your order receipt and account to appear as you wish.
Key Features:
Reducing steps by merging Billing, Shipping, and Payment
Create multi-step checkout timelines in 10 different layouts
Create a timeline that fits every theme and style
Keeping your checkout simple and neat will reduce cart abandonment
Choose between icons and numbers when checking out
Shopify and WooCommerce combine for seamless shopping
For the checkout process to be as easy and efficient as possible, it is highly recommended that you use CheckoutWC for WooCommerce, as this plugin greatly streamlines and makes the checkout process as simple and as efficient as possible while making your experience more than enjoyable.
Checkout templates designed by this plugin ensure that customers don't get sidetracked and that checkouts get done quicker.
In addition to the well-known plugins like shipping providers and payment gateways, there are many other options available to customers so they can customize the process to meet their needs.
With it, the checkout process is streamlined, creating an account is simpler, and payments are seamlessly integrated for customers to complete their purchases.
Providing customers with a better experience during the checkout process of WooCommerce is one of the objectives of the company turn results in higher sales.
A customer must provide various personal information preceding the placing of an order, including a review of their order and a selection of a payment method.
A CheckoutWC account can be created in seconds by focusing solely on the form fields, and passwords can be automatically created. With a simple three-step process, even the most novice customer can place an order in minutes.
Key Features:
Shopify simplicity combined with WooCommerce power
Boosting your order conversions with order bumps
Changing your settings is as easy as clicking a button on the side cart
Easily customize the checkout template to suit your needs
The shipping progress bar is optional for free shipping
Using the Express Checkout buttons on the checkout page
Conclusion
Thanks for reading this blog post about the best WooCommerce multistep checkout plugins. We discussed the features, benefits, and drawbacks of each plugin, so hopefully, you now have a much better idea of which plugin fits your needs.
For more tutorials related to this topic, check out the BetterStudio blog, which has great posts that will help you become an expert WooCommerce developer in no time.
Additionally, you may wish to follow BetterStudio on social media websites in order to stay up-to-date with any new tutorials and offers that BetterStudio might come up with.
It would be my pleasure to answer any questions or troubleshoot any problems you may encounter while reading this. Thank you so much for your interest!!