Are you having trouble finding the right plugin for WooCommerce Save Cart for Later?
The best WordPress plugins for WooCommerce Save Cart for Later will be discussed in this post. With these plugins, you'll stand out from the rest, and they'll be supported across all the top WordPress themes.
To assist you in choosing the best WooCommerce Save Cart for Later plugin, we have compiled a list of WooCommerce Save Cart for Later plugins along with WooCommerce Clear Cart After Time and WooCommerce Save Cart for WooCommerce plugins.
📌 Note: Use an advanced WooCommerce theme that provides the features you need with a beautiful design to improve the appearance and functionality of your store. Also, for choosing advanced plugins for your store, check out our article about top WooCommerce plugins.
This is the collection of the best WooCommerce Save Cart for Later WordPress plugins for 2022:
Allow Your Customers to Save Items and Purchase Them Later
With YITH WooCommerce Save Cart for Buy Later, your customers can easily postpone their purchase to a later date by managing their products in the cart with the ease and efficiency they deserve.
When your customers decide to postpone their purchases, they may permanently remove items from their carts and move them to a specific list on the same page if they wish to do so in the future.
Many customers add multiple items to the shopping cart but only purchase a few. You will lose the conversion if you remove an existing item from the shopping cart. To avoid this, add a save cart for WooCommerce with an option for customers to purchase later.
If the customer does not plan to purchase everything at the moment, he or she can move the product to a list and complete the purchase later. In your online shop, you allow your customers to save products they will not purchase to a list they can use later.
It is beneficial to be able to translate your website into multiple languages once you have installed and activated the plugin. The save for later cart button can also be displayed anywhere on your website using a shortcode.
Every time your website visitors add an item to their cart, they will be reminded of the products they have saved to their carts, regardless of how long it takes them to save the items for future purchases. Your website's unmissable 'call to action can significantly increase traffic.
💵 The price is $€49.99 with 12 months of support included.
Key Features:
Support for YITH WooCommerce Wishlists
Check out the new list and add products easily
Toggle products between cart and 'Save for later
A variable product management system
Products can be saved for later and added to the cart
Show your users their saved products with a shortcode
Streamline Session and Cart Clearance for Better Cart Management
With a WooCommerce straightforward cart plugin, you can manage your customers' carts and sessions. This plugin can delete your customers' carts and sessions after a pre-set period.
With the Cart Clear plugin for WooCommerce, you can easily remove inactive cart sessions within a few minutes, hours, or even days, depending on your requirements.
This way, the WooCommerce clear cart after time plugin will automatically clear the cart based on the session duration you have defined in minutes, hours, or days. For example, if the session is one hour, all products will be cleared from the cart.
The WooCommerce clear cart button allows your customers to clear the cart with a single click to start shopping again once the cart has been cleared.
The customer's cart can be cleared in WooCommerce, and the customer is redirected to the shop page or any of your custom pages. This allows them to view additional products, deals, or discounts by visiting the store page.
💵 A robust author put together the plugin for $29.00.
Key Features:
A single click removes all products from the cart
Complete control of customer sessions and carts
Changing the clear cart button color and text
Customers can view their empty carts on the cart page
Promote your page to customers
Admins and Vendors Can Save Products With a Click of The Mouse
In addition to providing your customers with the ability to create a cart that can be saved, the Save Cart Later for WooCommerce extension also helps to minimize cart abandonment and increase conversions.
It is a feature that allows shoppers to save items they want to purchase later without completely removing them from their shopping carts.
Both logged-in and non-logged-in shoppers will be able to utilize one-click saving. This cart enhancer reduces the amount of cart abandonment for store owners.
There is also a unique feature that allows you to specify whether or not the 'Save for later feature should include or exclude products. The 'Save for the later button can be enabled for all your products or disabled for specific products.
💵 It doesn't matter if you are a beginner or a programmer. The Save Cart Later plugin is easy to use. It can be purchased for a fee like $49.00.
Key Features:
Customized buttons are available for purchase
Ability to save products
Choose a category and product to filter the results
A guest user can be selected
Saved favorites can be retrieved at any time
WordPress Monetization Site With Secure Memberships
Using MemberPress is a great idea when selling online courses, especially if you intend to sell your products online.
This plugin will simplify the process of selling your products online, and you will be able to sell your products more efficiently. This plugin contains several features that will significantly simplify your work.
Although this is true, it is only valid for the sale of digital products, such as eBooks, and cannot be used for physical products. MemberPress is now equipped with a wizard and multiple rules for creating online courses.
As well as restricting access to your courses, your visitors can limit access to your child pages and virtually every other aspect of your website, depending on their membership status or previous purchases.
It is possible to create a coupon code that can be used for the community from the backend. Almost all the features are available, so your coupon can be customized to meet your needs.
💵 It comes with all the features and functions above, and if it isn't enough for you, you'll get 12 months of free support. It costs $179.50.
Key Features:
Tables of pricing for various products
Community with a strong sense of belonging
A variety of integrations are available
Codes for discount coupons
Payment gateways with multiple options
Adding content to a drip feed
Sharing and Saving Orders Via Facebook, WhatsApp, Twitter, and LinkedIn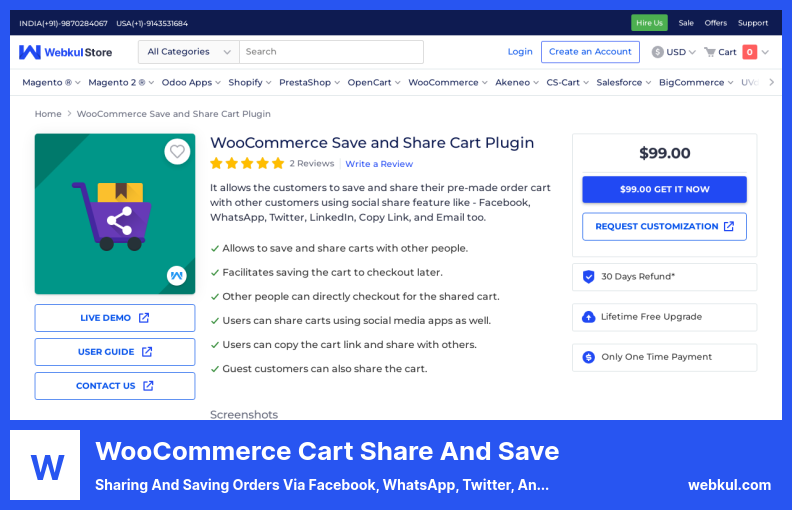 The WooCommerce Cart Share and Save plugin from Wecreativez enables your customers to save items in their carts as they browse your website. The plugin is available in both full and free versions.
There is a unique feature of this site that allows customers to share their saved carts with friends. This will help you increase sales and revenue by attracting new customers to your website to shop and purchase products.
A share button on the cart page opens a pop-up window allowing customers to share their cart via various social media networks, including Facebook, Twitter, WhatsApp, and e-mail.
💵 This complete, documented plugin can be yours for $99.00.
Key Features:
Allows the customer to save the cart and share it with other customers
Share your social media posts via Facebook, Twitter, and Instagram
Various payment gateways with a wide variety of options are available
Designed to work with WooCommerce and any add-ons it may contain
Customized Cart and Checkout Messages Increase Conversions
The WooCommerce Cart Messages plugin helps you show your customers custom messages to increase sales on the cart page. It is 100% optimized for speed and performance. The plugin is also WPML compatible.
You can use WPML, a multilingual WordPress plugin, to translate your website into multiple languages, reaching your target audience in the broadest possible way. Use both plugins to increase sales and referrals to your website.
The WooCommerce Cart Messages feature lets you display custom messages on the basket page when certain conditions are met.
For instance, a message can appear on the basket page in response if another user refers a user. When a limited-time offer is being offered, a counter message can appear.
Your online store can generate more sales quickly with less scarcity. There are six layout options you can customize to match your online store's design.
💵 Users of this plugin will find it very user-friendly, and you can purchase it for $€59.99.
Key Features:
Modifications to the message
Setting up the schedule for messages
Creating custom layouts for your website
Set a deadline for sending messages
Restrictions on messages sent to users
In summary
We conclude our list of the best WooCommerce Save Cart for Later plugins. These plugins can make a big difference.
📌 Note: Additionally, you may find our list of top WordPress security plugins helpful in enhancing the security of your website. We also recommend you look at our expertly selected WordPress hosting providers.
We hope this article has helped you find the best WordPress plugin for WooCommerce Save Cart for Later.
Comment and share your thoughts about the list in the comments section. Tell your friends about the list on Facebook and Twitter if you like it.