Nowadays, a lot of business websites are using WooCommerce. This platform has become one of the most successful eCommerce platforms. Therefore, there are a lot of plugins and addons designed specifically to add functionality to WooCommerce.
In this article, we would like to introduce WooCommerce shipping plugins to add FedEx, UPS, USPS, and many other shipping services to your WooCommerce website.
We also suggest you check our article for an overview of some of the most useful WooCommerce plugins that can enhance the functionality of your online store.
Moreover, we are highly recommending our list of free WordPress WooCommerce themes.

The first WooCommerce Shipping plugin on our list is ELEX EasyPost. This plugin is perhaps the easiest and most efficient way to add FedEx, USPS and UPS shipping rates to your WooCommerce online store. This plugin can automate WooCommerce UPS, USPS, and FedEx shipping by using EasyPost APIs.
ELEX EasyPost is a premium plugin that goes for $69 for a single website. Once you have purchased the plugin, simply install it the usual way. In our previous article, we have explained in details how to upload a plugin zip file to WordPress if you have forgotten how to do so, feel free to read it before continuing with the installation process.
Once the plugin is installed and activated, customers see FedEx, UPS, USPS shipping rates automatically based on their cart right before placing their order. Then, within the WooCommerce order page itself, you can pay postage, print label, and even generate tracking information for the goods the customers have purchased.
ELEX EasyPost comes with live shipping rates for FedEx, USPS, and UPS. In addition, it can print a label and generate tracking information for the goods and supports WordPress print plugins. Furthermore, you can enable EasyPost shipping insurance. This plugin is considered to be the best premium WooCommerce shipping plugin currently available.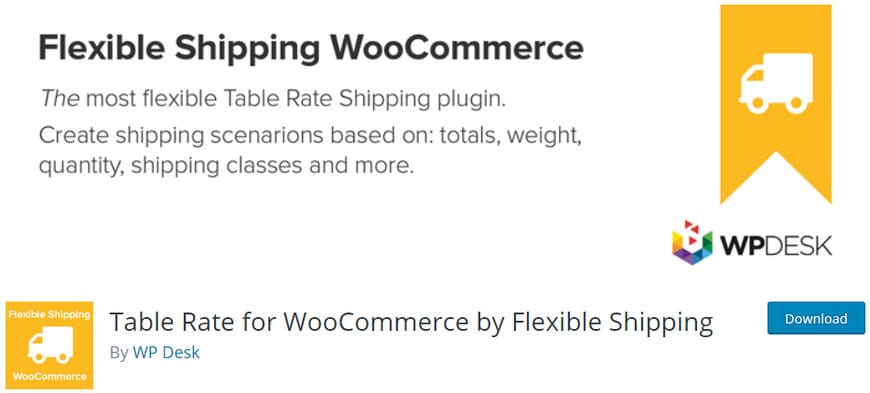 Flexible Shipping could be the most advanced free WooCommerce Shipping plugin on our list. It currently has over 40,000 active installations and it's fully compatible with the latest version of WordPress. This plugin allows you to calculate shipping costs based on the weight or cart of a client.
However, this plugin is also available in the premium version and if you upgrade it to the premium version it will be the only plugin you will ever need. Flexible Shipping comes with unlimited shipping methods and cost rules, titles, and descriptions for your shipping methods, minimum and maximum values for cart, and it fully supports WPML and Polylang.
The premium version comes with additional methods of calculation, coupons for free shipping, canceling a rule, etc. The premium package starts from $89 and goes up to $249.

WooCommerce FedEx Shipping Plugin is a WordPress plugin that helps with your WooCommerce shipping rates. The plugin enables you to get direct and real-time shipping rates directly from your FedEx account. Yes, you will need to have a FedEx account to work with this plugin.
The plugin works with product weight & dimensions, shipper's address, customer's address, and shipping rates that have been configured to your FedEx account. The plugin is available in both free and premium version and as always, the premium version unlocks more features for you. However, the free version is probably more than enough for small WooCommerce businesses.
The premium plugin supports FedEx Ground & Home Delivery, dangerous goods shipping, and supports alcohol or wine shipment, FedEx holds at a location, multi-vendor shipping, etc. The premium version starts at $69 for a single website license and if you need this plugin for more than one website you will have to purchase several licenses.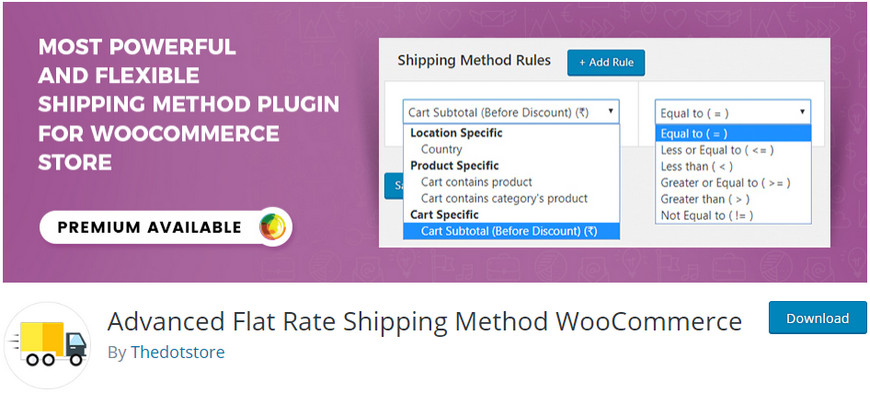 Advanced Flat Rate Shipping Method WooCommerce is the next shipping plugin on our list. With this plugin, you can create your own website-based rules for shipping methods. By using this plugin, you can create unlimited shipping methods based on the rules you have created.
This plugin allows you to create specific shipping methods for specific countries, create a shipping method based on specific user roles, etc. This plugin is fully compatible with the latest version of WordPress and it currently has over 5000 active installations.
The next WooCommerce Shipping Plugin on our list is the WooCommerce Advanced Free Shipping plugin. Much like the previous plugin introduced above, in this plugin, you can also create your own rules and determine when a free shipping rate should be available for your customers.
This plugin gives you full control over your WooCommerce rates. In each shipping rate, you can have multiple OR conditions and multiple AND conditions. Besides, this plugin is translated into Spanish, Italian, Portuguese, and Greek.
The default shipping conditions that come with the plugin are country, shipping class, category, weight, volume, zip code, etc. In addition, this plugin is fully compatible with the latest version of WordPress and has over 30,000 active installations.