The ability to allow customers to write reviews for a product can encourage customers to purchase the product. Users look at many unique features before finalizing their order and purchasing the product.
WordPress websites tend to use plugins to allow their customers to write reviews on different products.
One of the features users looks for when deciding to make a purchase is the reviews related to that specific product and in some cases the website itself.
We also have another article to assist you in selecting the best WooCommerce plugins for your online store to function smoothly. They will enhance your store's capabilities and make it more powerful and efficient.
Also, We offer additional inspiration as it provides a complete list of free WooCommerce themes for WordPress.
In this article, we would like to introduce the best WooCommerce reviews plugins. In addition, if you have forgotten how to upload a plugin to WordPress, look at our previous article.
How Do Reviews Affect Sale?
Nowadays, most people purchase their items online. Therefore, the competition between websites is very fierce and many companies are at war in picking the right marketing strategy.
In this competitive market, users look at reviews and compare products with one another and make decisions based on that.
Customers have more trust in products that include reviews. Thus, having a review section dedicated to your product can help increase the number of sales.
The YITH WooCommerce Advanced Reviews Plugin
One of the best plugins in managing and publishing reviews in WooCommerce is YITH WooCommerce Advanced Reviews. This plugin allows users to rate products. Advanced Reviews also sends an email to users and ask them for feedback.
This plugin can filter reviews based on rating and it allows users to communicate with one another. In addition, users can edit their comments or add pictures to them.
Reviews placed on certain products by users need to be approved by an admin before getting published on the website.
To download and install the plugin, follow the instructions below.
How to Install and Configure the YITH WooCommerce Advanced Reviews Plugin
Below, we will discuss how to install and configure the YITH WooCommerce Advanced Reviews plugin:

To install the plugin, from the Plugins tab in the WordPress Dashboard click on Add New.
In the search box type in the plugin's name and press enter.
Install and activate the plugin.
Now from the left-hand side menu click on YITH.
Now you are in the plugin's settings.
The first option you see in the settings is the 'Show title' option. By checking this option, you can add titles in reviews. This means each user gets to add a title to their reviews if they choose to do so.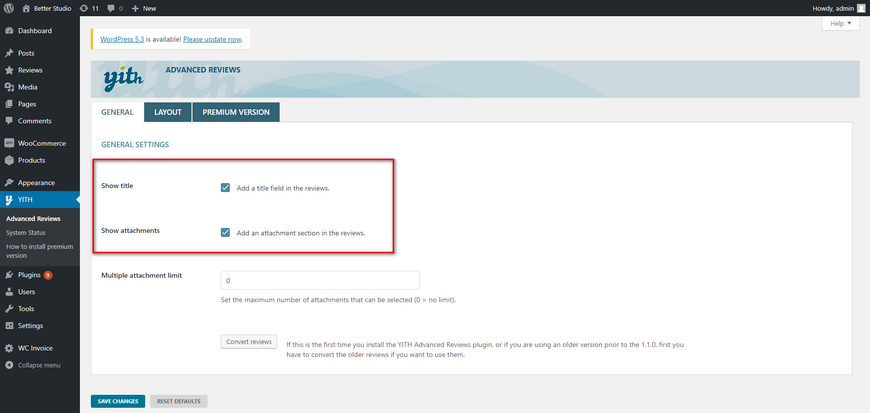 The second option is Show attachments which allows the users to add pictures to their reviews
The last option in the general tab is the Multiple attachment limit, you can use this option to increase or decrease the number of attachments each user can add to their comments.
At the bottom of the page, you can see the Convert reviews button. By clicking on this button, you can add old reviews or migrate reviews from older versions.
The second tab in the plugin is the Layout settings. In this tab, you can customize the appearance of the plugin.
To check how this option works, head over to your WooCommerce product . Then, in the reviews section, you can see the following results.
The Yotpo Social Reviews Plugin
Yotpo Social Reviews is another great WooCommerce Reviews plugin on our list. One of the features of this plugin is the ability to send reviews to customers via email. This email motivates customers to return and make another purchase.
Users can use this plugin to share their reviews on social media.
To download and install this plugin follow the steps below:
Log in to your WordPress dashboard.
Hover over Plugins and click on Add New.
In the search box on the top right corner type in Yotpo Social Reviews
Click on Install Now and then Activate.
The Photo Reviews Plugin
Using the Photo Reviews plugin, costumers can upload the picture of the product they have purchased from you along with their comments below the product. When users see that another user has purchased the product, it convinces them that the website is trustworthy.
Much like other best WooCommerce reviews plugins mentioned in this article, this plugin sends an email to users. Besides, this plugin sends a thank you email to your customers after they have purchased a product.
With this plugin, you have the ability to send a coupon to users who have submitted reviews on your website.
This plugin also allows users to filter reviews.
The WooCommerce Product Reviews Pro Plugin
By using the WooCommerce Product Reviews Pro plugin, users can submit videos and images alongside their reviews. Besides, this plugin allows you to filter ratings and reviews submitted by users.
By using this plugin, you can add a call to action button in user sign up, login page, product page, etc.
The Ultimate Reviews Plugin
The Ultimate Reviews is yet another great WooCommerce review plugin on our list. This plugin allows you to approve reviews before submitting them on the website. By using this plugin, you can create a review form for the product's appearance, price, quality and etc.
In addition to sending an email to users, you can remind users who have made a purchase on your website to submit their reviews for their recent purchase.
Conclusion
In this article, we introduced the best WooCommerce review plugins that you can use on your WordPress website. Having reviews on your website is a great marketing strategy.
You can ensure new visitors that you are a legitimate business and people are already purchasing products or services from your website.