Ever wondered how you can monetize your WordPress website? Are you looking for a way to provide your readers with a way to support your content? Look no further! In this blog post, we will explore the five best WordPress Tip Jar Plugins, both free and paid, to help you add a donation feature to your website.
If you're a WordPress website owner, you may be familiar with the concept of a tip jar. It's a way for your audience to show their appreciation for your hard work and dedication by leaving a small donation. But with so many plugins out there, it can be overwhelming to choose the right one for your needs.
In this article, we will provide you with a comprehensive list of the top five WordPress Tip Jar Plugins, along with some interesting statistics and facts to help you make an informed decision.
Whether you're a beginner or an experienced website owner, there's something here for everyone. So, let's dive in and find the perfect plugin for your tip jar needs!
Best Tip Jar Plugins for WordPress
If you are looking to monetize your WordPress blog and receive tips from your loyal readers, look no further! In this article, we'll be highlighting the best tip jar plugins for WordPress that can help you easily set up a donation system on your website.
So, if you're ready to start earning extra income and connect with your audience in a whole new way, keep reading to discover these amazing plugins!
Accepts Tips On Your WordPress Website
Tip Jar WP is a WordPress plugin that allows you to accept recurring payments, like donations, on a weekly or monthly basis. It is compatible with all WordPress page builders, making it easy to integrate into your website.
With a user-friendly interface, you can place the tip jar in the sidebar or footer of your site, ensuring it is visible and accessible to all visitors. One of the great features of this plugin is its flexibility.
You can add the tip jar form to any post or page using WordPress' block editor, or simply place it in the sidebar. This gives you the freedom to customize the placement and appearance of your tip jar to fit your website's design.
Another standout feature is the plugin's integration with Stripe, a popular payment processing platform. You'll be guided through the process of creating your WooCommerce donation pages, making it easy for your donors to contribute. Plus, it supports multiple currencies, giving your users the option to donate in their preferred currency.
While it may not offer all the advanced functionalities of premium plugins like GiveWP and WPForms, Tip Jar WP provides bloggers with a simple and effective way to build tip jars. It allows you to create a personalized tipping experience for your readers, enhancing their engagement and support.
Key Features:
Compatible with Gutenberg, Classic Editor, and Page Builder
Option for users to pay what they want for file downloads
Multiple currency support
Recurring tipping option
Payment integration with Stripe
Donation Plugin and Fundraising Platform
GiveWP is a WordPress plugin that allows website owners to easily collect donations from their audience. It offers a range of features to make the donation process seamless and convenient.
One of the standout features is its compatibility with multiple payment gateways, including popular options like Stripe, PayPal, and Authorize.Net. This means that donors can choose the method that is most convenient for them, making it more likely that they will follow through with their donation.
Additionally, it allows you to set fundraising goals, giving you a clear target to aim for. Once you reach your goal, you can offer something new to your audience as a way of thanking them for their support. This creates a sense of excitement and accomplishment, motivating donors to contribute.
Another benefit is its wide range of compatible add-ons. With the Pro plans, you have access to premium add-ons that enhance the functionality of your website. For example, you can integrate the Elementor Tipjar add-on to further customize your donation process and make it even more user-friendly.
In terms of international support, it allows donors to make contributions in their local currencies. This eliminates any barriers that might prevent people from donating due to currency conversion issues. Additionally, GiveWP accepts recurring donations, making it easy for donors to support your cause on an ongoing basis.
Key Features:
Accept credit card donations
Worldwide donations via PayPal
Option for donors to pay through Venmo
Ability to receive checks or physical donations
Test Gateway is available for testing purposes
Makes It Easier for You to Accept Donations
Buy Me a Coffee is a plugin that allows you to easily accept donations and payments from your website visitors. It has a sleek and customizable design, giving you control over the color and text of the plugin right from your WordPress dashboard.
With this plugin, you can set up one-time and recurring donations, making it easy for your supporters to contribute to your cause. One of the great features of the plugin is its versatility.
It not only enables you to accept donations but also offers the option to sell memberships and extras. This means that you can offer exclusive content or even sell digital products as part of your fundraising campaign, giving your supporters even more ways to support you.
Although the plugin is a powerful tool, it is important to note that it comes with limited documentation. Some users have reported difficulties in contacting customer service for assistance. However, once you familiarize yourself with the plugin, it is relatively straightforward to set up and use.
Accepting payments through it is convenient for both you and your supporters. It allows you to receive donations online through popular payment methods such as PayPal, Credit Cards, Apple Pay, and Google Pay. This means that your visitors can make payments without leaving your website, providing a seamless user experience.
To access the Buy Me a Coffee plugin, you will need to register for an account on their website. The plugin itself is completely free to download and use. This makes it a cost-effective option for website owners who want to incorporate a tip jar or donation feature without breaking the bank.
Key Features:
Accept payments without redirecting visitors away from your website
Ability to accept donations through your blog or website
Offers the option to sell memberships and extras
Free pages that you can create to showcase your content or products

Support for popular payment methods like PayPal, Credit Cards,

Apple Pay

, and Google Pay

Easy set-up and customization from your WordPress dashboard
Adds a Paypal Donation Shortcode and Sidebar Widget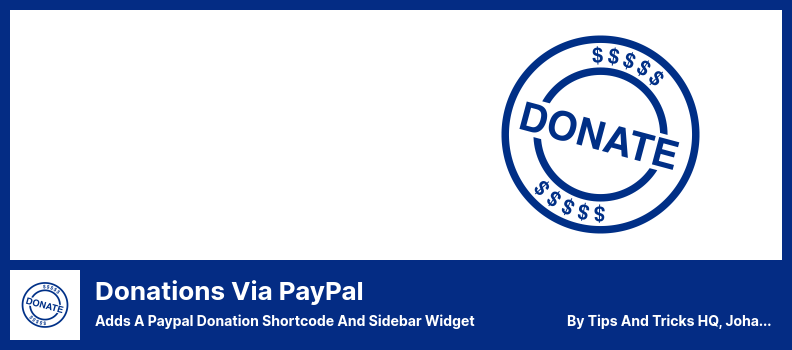 Donations via PayPal is a WordPress plugin that allows website owners to easily accept donations from their visitors using PayPal. You have the freedom to select the currency and donation amount that you would like to receive. You can even specify a thank you page for donors to access after they make a donation.
One great advantage of this plugin is that it can be used for free, making it perfect for those who don't expect to receive many donations from their visitors. The installation process is simple, and the plugin is user-friendly, making it easy for anyone to set up and start accepting donations.
The plugin provides a PayPal donation shortcode and a sidebar widget, giving you multiple options for displaying the donation button on your website. You can choose from a variety of donation buttons, allowing you to customize the look and feel of your tip jar.
It's important to note that this plugin only accepts donations via PayPal. If you're looking for a plugin that supports other payment processors, you may need to explore other options.
Key Features:
Multiple translations are available for international users
Provides a PayPal donation shortcode and sidebar widget for easy integration
Generates XHTML Transitional and Strict code in a valid format
Allows for easy insertion of the donation button into pages or posts using a shortcode
Provides a selection of donation buttons for customization
Bitcoin & Crypto Donations for WordPress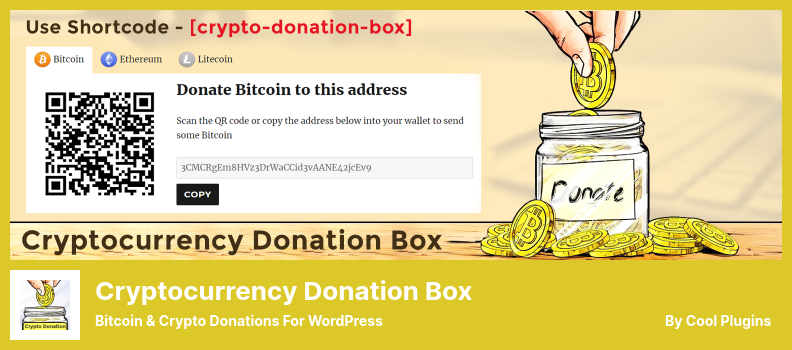 Cryptocurrency Donation Box is a user-friendly WordPress plugin that allows website owners to easily accept donations in cryptocurrencies. By simply entering your preferred cryptocurrency wallet addresses, you can provide your supporters with the option to scan QR codes instead of manually copying and pasting addresses.
With this plugin, adding the donation functionality to any page, post, or sidebar is a breeze. The plugin offers a shortcode that can be placed anywhere on your website, providing a seamless integration experience.
One of the standout features is its extensive cryptocurrency support. You can accept donations in over 20 different cryptocurrencies, including popular options like Bitcoin, Ethereum, and Litecoin. This ensures that you can cater to a wide range of cryptocurrency enthusiasts and maximize your fundraising potential.
Integration with trusted sources like MetaMask further enhances the plugin's capabilities. By leveraging MetaMask, you can attract even more donations and ensure a secure and reliable donation process.
Another convenient feature of the Cryptocurrency Donation Box is the ability to convert your coin payment address into a QR code. This not only simplifies the donation process for your supporters but also adds a professional and modern touch to your website.
Key Features:
Hassle-free integration with MetaMask for secure donation acceptance
Flexible shortcode placement on pages, posts, or sidebars
Support for over 50 cryptocurrencies, including Bitcoin, Ethereum, and Litecoin
Trusted sources such as MetaMask enhance donation capabilities
QR code conversion for easy donation processing
Frequently Asked Questions
What is a tip jar plugin?
A tip jar plugin is a tool or feature that can be added to a WordPress website to allow visitors and users to show their appreciation and support by leaving tips or donations.

It provides an easy and convenient way for content creators and website owners to receive monetary contributions from their audience.
Why should I use a Tip jar plugin on my WordPress website?
Using a tip jar plugin on your WordPress website can be beneficial for several reasons. Firstly, it allows you to monetize your content and receive financial support from your audience, which can help in covering the costs of running and maintaining your website.

It also provides an additional income stream for content creators. Secondly, it allows your audience to express their appreciation and support for your work, which can be a great motivation boost.
Lastly, it offers a convenient way for your audience to contribute financially without the need for complex payment gateways or setups.
Are tip jar plugins easy to install and use?
Yes, tip jar plugins are typically designed to be user-friendly and easy to install. Most of them can be installed like any other WordPress plugin, with just a few clicks.

Once installed, they usually provide a settings page where you can customize the appearance, payment options, and other features according to your preferences.

In general, these plugins aim to make the process as seamless as possible for website owners and visitors alike.
Conclusion
To recap, in this article, we discussed the top five WordPress Tip Jar plugins, both free and paid options, that can help you monetize your WordPress website. We explored their features, pros, and cons, allowing you to make an informed decision.
For more tutorials and tips related to WordPress plugins and website monetization, be sure to visit the BetterStudio blog. There, you'll find a wealth of information to enhance your WordPress experience.
If you don't want to miss out on any of our latest tutorials, make sure to follow BetterStudio on Facebook and Twitter. We regularly share useful tips, tutorials, and updates to keep you in the loop.
Thank you for taking the time to read this article. If you have any questions or encountered any problems while implementing these plugins, please feel free to leave a comment below.
Our team and fellow readers will be more than happy to assist you and provide the necessary guidance. Happy WordPress website building!