Are you a WordPress website owner in search of a reliable WooCommerce license manager plugin? Look no further, as we've compiled a list of the four best options available, both free and pro! In this blog post, we'll explore these plugins to help you find the perfect one for your needs.
Now, you might be wondering why you even need a license manager plugin for your WooCommerce site. Well, here's where the stats and facts come in. Did you know that using a license manager plugin can help you securely distribute, track, and manage licenses for your digital products?
Not only does it protect your intellectual property, but it also ensures that only authorized users have access to your products. With the right plugin, you can streamline your licensing process and focus on growing your business.
So, without further ado, let's dive into the top four WooCommerce license manager plugins. We'll discuss their features, pricing options, and their suitability for different types of websites.
Whether you're just starting out or have an established online store, we've got you covered. Buckle up, because this article will equip you with the knowledge you need to make an informed decision and take your WooCommerce site to the next level.
Best License Manager Plugins for WooCommerce
If you are looking for the perfect WordPress plugin to manage licenses on your WooCommerce website, look no further! In this article, we've handpicked the four best license manager plugins for WooCommerce, both free and premium options, to help you easily handle and protect your digital products.
Let's dive right in and take a look at these fantastic plugins that will help simplify your license application process as well as enhance the functionality of your business website!
License Key Activation For WordPress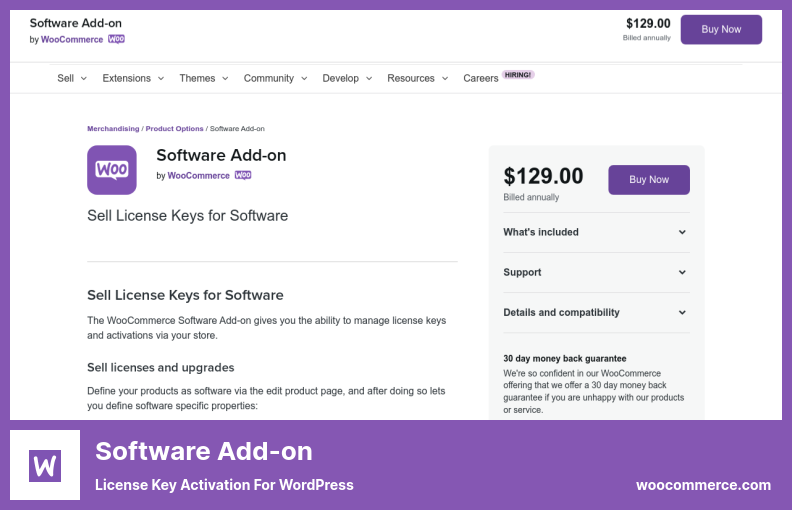 The Software Add-on plugin is a powerful and reliable license management tool for WooCommerce websites. With this plugin, you can easily manage and track license keys and serial numbers directly from your store website.
One of the standout features of the plugin is its ability to resend activation emails to customers. If a customer needs their activation email resent, you can simply select the "Send" button on the orders page. This functionality is incredibly user-friendly and makes it a great choice for any type of online store.
When a customer makes a purchase, the plugin automatically generates and sends the license key and order completion email to you. This ensures a seamless and efficient process for delivering software licenses to your customers.
Another convenient feature of the plugin is the ability to update software directly from your store. This means you can easily manage and sell software license keys and activations through WooCommerce.
To provide a smooth experience for your customers, the plugin sends a confirmation email after purchase. This email includes the activation email, license key, and any remaining steps to activate the software.
The plugin also offers a report feature, accessible within the WooCommerce Reports section. This feature allows you to track software sales and see how many licenses have been activated. It's a handy tool for monitoring the success of your software products.
Key Features:
Use a single API Key for all API Resources purchased
Add labels with the sales count
SmartCache feature for efficient data processing
Display listing statistics

and product statistics

Display the counter only if the count is less than a certain number
Remove the number from a particular product
Serial Number Generator & License Key Manager Plugin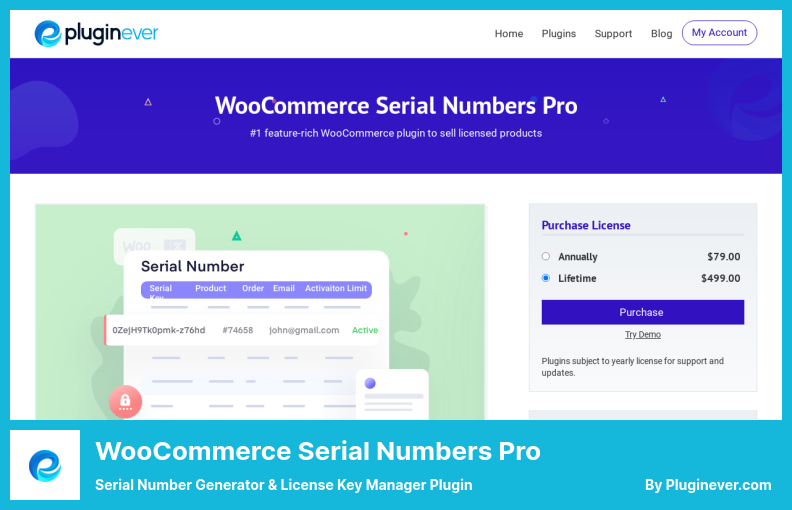 WooCommerce Serial Numbers Pro is a WordPress plugin designed to simplify the management of license keys purchased from customers. With this plugin, you can easily handle and sell licensed products, including lottery tickets, secret keys, e-books, and software programs.
One standout feature of this plugin is the WordPress Serial Numbers Pro extension, which allows you to work with existing product license keys in your store. This prevents the creation of new products if you already have products with license keys, reducing potential bugs.
The plugin offers a key generator that provides hundreds of different codes for you to use as you please. You can also manually add serial numbers or have them automatically generated. This flexibility allows you to customize your product offerings and manage your license keys effortlessly.
Another convenient feature is the ability to export specific products as CSV files from the plugin's Export page. This makes it easy to manage your data and keep track of your license keys.
To ensure the security of your data, the plugin encrypts the information in the database, preventing unauthorized access. This gives you peace of mind knowing that your license keys are protected.
The plugin supports a wide range of products, making it suitable for various types of businesses. Whether you sell digital products or physical goods that require license keys, this plugin can handle it all.
In terms of importing pre-existing license numbers, the plugin offers support for several file formats, including CSV and TXT. This makes it convenient to bulk import license information and streamline your workflow.
Key Features:
Encrypted database for secure data storage
Manage license keys manually through the order page
Export specific products as CSV files
Automatic generation of serial numbers
Ability to manually add serial numbers
Support for a variety of products
License Manager for WordPress Plugins
In License Manager for WooCommerce, you can add license-specific information to your products, including variations, so that you can manage licenses easily. You can manage licenses with this plugin, whether you sell software, themes, or plugins.
One of the key features of the plugin is the ability to generate licenses automatically as orders are completed. This ensures that each customer receives a unique license key for their purchase. You can also customize the length of the license key, as well as add a prefix or suffix to make it more personalized.
Managing product variations with license-related data is also made easy with this plugin. You can display specific license information for each variation, allowing you to provide different licensing options for different variations of your product.
Another useful feature of the plugin is the ability to notify users with valid licenses of product updates. This ensures that your customers always have the latest version of your product.
Renewing older licenses is also supported by this plugin. You can set expiration dates for licenses and offer renewal options for customers who want to continue using your product.
In addition, the plugin allows you to set activation requirements for licenses. You can specify that licenses can only be activated if they meet certain product requirements, ensuring that your product is being used as intended.
This plugin allows you to create custom license formats so that you can have total control over how your licenses look. It makes it a breeze to create licenses with a custom format and give them a customized appearance.
Key Features:
Override product variations with license-related data
Notify users with valid licenses for product updates
Automatically generate license keys after an order is placed
Renew older licenses
Set license expiration dates and activation requirements
Use custom license formats for personalized licenses
License Keys, Pin Codes, Gift Card Selling Plugin For WordPress
WooCommerce License Manager is a powerful plugin that is perfect for WordPress website owners looking to sell products with license keys. This plugin takes care of all the hassles related to managing license keys, ensuring a seamless payment process for your customers.
With the plugin, you can sync license keys in WordPress and automatically restore expired keys. This means you can focus on selling your products while the plugin handles the behind-the-scenes license management.
One of the standout features of this plugin is its ability to automate license delivery for WooCommerce. This means that once a customer makes a purchase, the license key is automatically delivered to them, saving you time and effort.
The plugin also offers encryption of database data, ensuring that your license codes are securely stored. This is particularly important when dealing with sensitive information such as license keys.
If you sell different types of products, the plugin allows you to assign different license keys to each product. This makes it easy to track and manage the licenses on your dashboard, giving you full control over your inventory.
Another handy feature of the WooCommerce License Manager is the option to replace license keys on the order page. This means that if a customer needs a new license key, you can easily replace it without any hassle.
Key Features:
Backorder support for seamless inventory management
Complete control over license key delivery
Compatibility with plugins for product bundles
Bulk import/export of license codes or keys for text or image formats

License keys are sent as images, similar to

physical gift cards
Database encryption for secure storage of license codes and keys
Frequently Asked Questions
What is a WooCommerce License Manager Plugin?
A WooCommerce License Manager Plugin is a tool designed to help you manage licenses for your WooCommerce products. It allows you to easily generate and assign license keys to your customers, track license activations, and control access to your products.
Why do I need a License Manager Plugin for my WooCommerce store?
A License Manager Plugin is essential for any WooCommerce store that sells software or digital products with licensing requirements.
It ensures that only authorized users can access and use your products, helps prevent unauthorized distribution or piracy, and provides a streamlined process for issuing and managing licenses for your customers.
What are the benefits of using a License Manager Plugin?
Using a License Manager Plugin offers several benefits for your WooCommerce store. It helps protect your intellectual property by preventing unauthorized use or distribution of your products.
It provides a seamless and automated process for generating and assigning license keys to your customers. It allows you to track and manage license activations, providing valuable insights into user behavior and product usage.
Additionally, it helps you maintain compliance with licensing agreements and reduces the risk of revenue loss due to piracy or misuse of your products.
Conclusions
To recap, in this article, we explored the four best WooCommerce license manager plugins, both free and pro options. We discussed how these plugins can help you effectively manage licenses for your WooCommerce products, ensuring smooth operations and protection against misuse.
If you're looking for more related tutorials and informative content, I highly recommend checking out the BetterStudio blog. They cover a wide range of topics that will further enhance your understanding of WooCommerce and its various features.
To stay updated with the latest tutorials and insights from BetterStudio, make sure to follow them on Facebook and Twitter. By doing so, you'll have access to a continuous stream of valuable information that can further improve your WordPress experience.
We want to say thanks for reading this. We love your interest and engagement. We're here to answer any questions you have or help if you find any trouble with the content. Feel free to leave a comment below. We'll be glad to help you if you have any questions.
We would like to thank you again for participating in our community, and we are looking forward to helping you succeed in your WordPress website design and development.