Are you looking for the best WordPress hosting providers for Canada? 
Finding reliable and secure hosting can often be a difficult task, especially in Canada where options may be more limited. But don't worry – there are still plenty of great Canadian hosting companies out there that provide excellent service.
Hosting your WordPress site in Canada involves a few important factors. Of course, reliability is key, but you'll also want to pay attention to things like customer support.
Additionally, you should make sure that your hosting plan includes the latest version of WordPress along with any plugins or related tools that may be required.
There's no shortage of options when it comes to the best WordPress hosting services in Canada. You can choose from some of the biggest players as well as some smaller, more local hosts and we've rounded up some of the most popular ones.
Whether you are looking for reliable shared hosting, dedicated servers, or managed VPS solutions, you're sure to find the perfect fit for your needs and budget with our hosting services.
Best WordPress Hosting Overall
It is known that WHC is the most reliable hosting provider for WordPress websites in Canada. With datacenters located on both the East and West coasts of the country, you can be assured that you will have access to incredibly fast speeds wherever you live.
There are three different types of hosting plans provided by this company. The first three hosting plans include unlimited disk space and 24/7 bilingual customer support via email, phone, and chat.
There are also options for SEO as well as email marketing included in the platform, and you can set up a free trial to learn if it is the right platform for your business. This free WordPress hosting provider for Canada is suitable for small businesses that are wanting to get noticed online, and it offers a free trial.
In addition to optimizing servers to run WordPress in the fastest manner possible, WordPress hosting includes multiple layers of caching so content is served fast. Cloudflare CDN is used to serve content even faster. PHP and database versions are always updated on the servers.
To help keep your website secure and safe, Immunify360's 6-layer firewall is included with the service so you can rest assured that your website is always protected from outside threats.
There is no doubt that WHC's WordPress hosting offer is an excellent selection for those people looking for a customised solution to host their website. Being able to combine reliable hosting with exceptional security makes this a very appealing option.
Key Features:
Unlimited disk space
24/7 bilingual customer support
SEO and email marketing options included
Optimized servers for fast WordPress performance
Multiple layers of caching for even faster content delivery
Cloudflare CDN to speed up content delivery
Best WordPress Hosting for Agencies
With SiteGround, you can expect excellent customer service and high loading speeds for your WordPress site, as well as a 99.9% uptime guarantee from your WordPress hosting provider.
It has pre-installed WordPress, automated updates, and access to the SiteGround Optimizer Plugin. Despite not having any Canadian servers, its Council Bluffs, Iowa data center is close enough so you won't notice much difference.
This cheap WordPress hosting provider for Canada offers customized WordPress solutions with SuperCacher technology. Additionally, they have a user-friendly back end with a knowledge base, tutorials, and live chat, email, and telephone support.
The service can handle WordPress or other CMS. Furthermore, they are recommended by WordPress itself, ensuring users that quality service will be provided. Plus, they provide a CDN, such as CloudFlare, so users don't have to worry about Canadian servers being unavailable.
In conclusion, SiteGround is a great option for those looking for premium WordPress hosting. Its excellent loading speeds, 99.9% uptime guarantee, SuperCacher technology, and helpful customer service make it one of the best options around.
Key Features:
High loading speeds with a 99.9% uptime guarantee
Pre-installed WordPress and automated updates
Access to the SiteGround Optimizer Plugin
Customized WordPress solutions with SuperCacher technology
Provides a CDN such as CloudFlare
High-performance hosting with excellent loading speeds
Best Green WordPress Hosting for Bloggers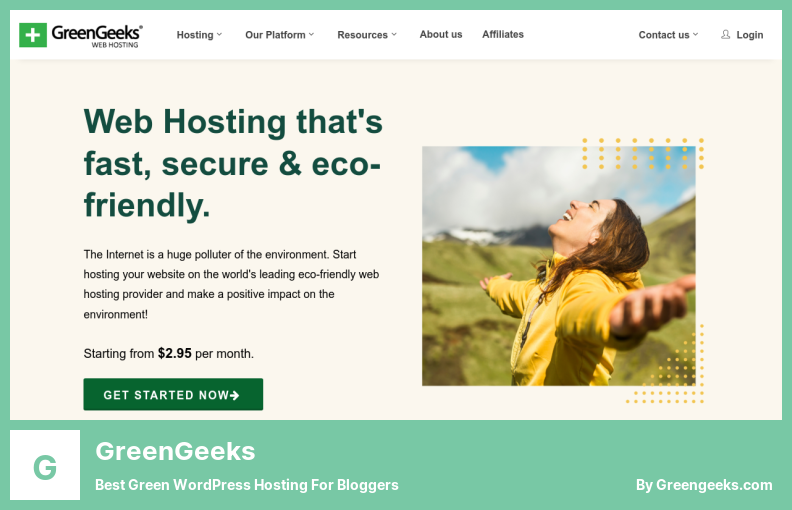 The award-winning GreenGeeks is one of the top WordPress hosting services for webmasters in Canada. With a data center located in Montreal and a facility in Toronto, it offers local hosting capacity with unlimited disk space at a cost-effective price.
They offer WordPress-specific hosting plans along with free extras like site migrations, SSL certificates, domain names, and more. They also use renewable energy three times a lot more than the electricity they consume.
The hosting plans come with SSDs used in combination with LiteSpeed and their custom PowerCacher tool, so your site works at maximum performance. Plus, customer support is available 24/7. And if you're not satisfied, there's a thirty-day money-back guarantee with no questions asked.
There are many reasons why GreenGeeks can be a good choice for Canadian webmasters, such as top-notch data centers, hosting solutions tailored specifically for WordPress, and an environmental commitment.
Moreover, all of their services are backed by excellent customer support and a money-back guarantee so you can rest easy knowing that everything is in good hands when it comes to hosting your website.
Key Features:
Top-notch data centers located in Montreal and Toronto
Unlimited disk space at a cost-effective price
WordPress-specific hosting plans with free extras
Combines SSDs with LiteSpeed and custom PowerCacher tool
30-day money-back guarantee with no questions asked
Hosting solutions tailored specifically for WordPress
Great WordPress Hosting for Business
As of today, 200,000 live websites are hosted with HostPapa, and they have been around since 2006, and they specialize in WordPress hosting for individuals as well as businesses.
The service offers unmetered bandwidth and 100GB of storage along with WordPress-specific features that make it stand out from other hosting companies.
They're the only ones that preinstall both WordPress and Jetpack, as well as offer a caching system. Plus, they update WordPress automatically and provide multilingual support.
You might be interested in using this service if you're looking for a reliable Canadian hosting company for WordPress sites. Their plans offer lots of flexibility and scalability, so you can easily grow yours.
As one of the best deals for website hosting, it comes with WordPress, Jetpack, and proprietary caching so it's easy to install and manage your website. Their multilingual support staff are well-versed in WordPress and are ready to help.
Key Features:
Unmetered bandwidth is provided
Preinstallation of WordPress and Jetpack
Automatic updates of WordPress
Flexible and scalable plans
Easy installation and management of websites
Helpful and knowledgeable multilingual support staff
Good WordPress Hosting for eCommerce
A2 Hosting supply a variety of hosting services to suit your needs, including shared hosting and dedicated hosting, as well as virtual private servers, which is what makes the service stand out from the crowd with fast loading speeds and reliable uptime in comparison to the rest of the competition.
This package, in addition to many other features, will provide you with unlimited bandwidth, unlimited disk space, unlimited email accounts, a CloudFlare CDN, SSL certification, and a cloud-based content delivery network all of which are included completely free as a part of this package.
Aside from offering a lot of great features including unlimited bandwidth, disk space, and free SSL certificates, the Shared Hosting plans on their site come with many other great features as well.
On top of that, the service has an unbeatable anytime money-back guarantee, meaning if you aren't satisfied with their services, you can ask for a refund anytime.
In general, it provides customers with a convenient, reliable, and feature-rich hosting service. Perfect for those who want fast loading speeds, reliable uptime, and lots of storage.
Key Features:
Unlimited bandwidth is provided
Unlimited disk space
Unlimited email accounts
Cloud-based content delivery network
Anytime money-back guarantee
Fast loading speeds
Best Managed WordPress Hosting
In addition to WordPress hosting, Kinsta provides data storage solutions to websites of all sizes. Web viewers can access your content wherever they are from the platform's 24 data centers, including one in Montreal, Canada. CDNs are included in every plan for free.
In addition to providing a range of resources, the service offers business owners streamlined admin tasks, and enterprise-grade tools, all of which are free.
In addition, one of the best parts is the fact that you have the option of selecting among 29 data centers around the world including Toronto, Montreal, and other North American cities in which you can store and have access to your data.
In addition, this high-traffic WordPress hosting provider for Canada also offers 24/7 customer support in English and French in five languages which can be accessed via telephone, live chat, email, or the service's website. Telephone support, however, is only available for English-speaking clients.
Its 24 data centers, CDN network, resources, and enterprise-level tools make Kinsta a great WordPress hosting choice. For website owners who want to save money without sacrificing quality, and who want great customer service, it's perfect.
Key Features:
24 data centers, including one in Montreal, Canada
CDNs included in every plan for free
Streamlined admin tasks and enterprise-grade tools
Telephone support available for English-speaking clients
Data storage solutions for websites of all sizes
Access content from anywhere through CDN networks
Frequently Asked Questions
What are the advantages of using WordPress hosting in Canada?
Using WordPress hosting in Canada has many benefits, such as improved website speed and performance, reliable customer service, and a variety of built-in features. Having a Canadian host can also make it easier to comply with Canadian laws and regulations.
Which hosting provider is best for WordPress in Canada?
In Canada, WordPress hosting is available from several great companies. SiteGround and WP Engine are two that stand out. In addition to its managed WordPress experience, SiteGround offers traditional web hosting options with excellent customer service as well.
What factors should I consider when choosing WordPress hosting in Canada?
It's important to consider server location, security features, customer service, pricing, and scalability when choosing a WordPress host in Canada. Additional features may be helpful, such as managed backups and caching.
How do I know if a WordPress hosting provider is right for me?
Research the features and services offered by a WordPress hosting provider, read customer reviews, and compare plans before signing up. The provider you choose needs to be reliable and provide quality customer service as well as the features and services you need.
Conclusion
The purpose of this blog post is to discuss the top WordPress hosting providers available in Canada today, including what each one has to offer as well as, more importantly, what services each one provides to a customer. It has been a pleasure to write this blog post.
If you are interested in more tutorials and information concerning this topic, you should definitely check out our BetterStudio blog. Remember to follow us on Facebook and Twitter in order to get the latest updates and new tutorials. 
We hope you've found this post helpful and wish you all the best as you find the right web hosting partner for your business. Let's talk in the comments!