Looking for the best WordPress hosting? Your SEO and sales can be improved by choosing the right one out of the hundreds of hostings available.
Our team has examined and tested some of the most popular WordPress hosts. We are sharing our findings here.
Looking for a quick answer? Many people recommend Bluehost as their best web hosting provider.
Below you will find an overview of the top 8 WordPress hosting services:
Bluehost is an industry leader in the web hosting space, especially when it comes to WordPress sites, hosting more than 2 million sites globally. As a matter of fact, it is one of the few hosts that WordPress recommends.
Through the use of NGINX, a custom PHP-FPM setup, and intelligent resource distribution via KVM, Bluehost uses its own VPS architecture to provide optimum WordPress performance.
A free domain name is included for the first year, so it's incredibly cheap and offers incredible value. There is no better value online hosting company than Bluehost. As they are powerful enough for most websites, and most popular WordPress themes are compatible with them, they are also highly recommended by industry professionals.  
Additionally, Bluehost's servers are housed in their own data centers, so they guarantee over 99% uptime. They are not dependent on third parties to manage their data centers. Bluehost's 30-day money-back guarantee means you don't have to worry if it's not for you.
Bluehost provides its users with the SiteLock security tool suite, detecting and removing malware and managing their firewalls.
You can build as many sites as you want with Plus and Choice Plus plans, but Basic restricts you to one site. Furthermore, the higher-tier plans offer unlimited storage (within acceptable usage limits, of course) and more server resources.
Bluehost is an excellent choice for anyone looking to quickly start a WordPress blog, an eCommerce store, or any other type of site. Bluehost offers over 70% off hosting fees, a free domain name, and free SSL certificates with all WordPress web hosting plans.
Additionally, Bluehost won't let your website become slow even during periods of spiked traffic. Their 24/7 customer service can be reached by phone, email, or live chat whenever you need help. The company offers free domains and free SSL certificates.
Key Features:
Free domain names, free SSL certificates, and free website transfers are included
Sitelock provides free malware scans, and its hosting servers are secure
Even beginners can build a website with Bluehost's custom shared WordPress setup
WordPress.org recommends them as well
There are also some fantastic deals to be found with Bluehost, with plans starting at just $2.75/month
The dashboard and onboarding process is very user-friendly
There is automatic WordPress updating
There are $200 in free marketing credits provided by Google Ads and Microsoft Adwords
Ensure that your WordPress login credentials are secure
Currently, WPEngine is the leader in providing high-quality WordPress hosting services. They are ideal for B2B websites that require high performance. Among the company's best managed WordPress hosting clients are Yelp, Asana, National Geographic, PBS, and MyFitnessPal.
Genesis Framework and 35+ StudioPress themes are included with WP Engine plans.
The company has partnered with Amazon Web Services and Google Cloud Platform to provide you with the highest level of availability, speed, scalability, and security for your WordPress website.
Another way to secure your website at the highest level is to install WP Engine's entry-level plan, which includes malware detection and removal.
Furthermore, you'll receive advanced performance monitoring so that you can view exactly how your site is performing, monitor trends, or determine how many visitors are visiting your pages.
Only a few managed WordPress hosts offer development and staging environments. The one-click staging environment is a boon to WordPress developers because it eliminates many of the common issues associated with it.
If you are just starting out with a small website or blog, WP Engine is overkill. This is a good option for people who have e-commerce sites, multiple websites, and other complex WordPress hosting needs.
Additionally, its customer service is top-notch, with 24/7 service and trackable tickets, as well as a comprehensive knowledge base. WP Engine's customer support staff can answer all your questions and resolve any issues you may have with WordPress.
Key Features:
Managed WordPress hosting provider
Offers shared and dedicated clusters of servers
Genesis theme framework for all plans
Includes free CDN
Free SSL Certificate
WordPress migrations automated for free
Loading speeds are some of the fastest in the business, even in high-traffic situations
An easy-to-use staging tool for testing WordPress plugins and other features before they are published
One of the few official WordPress.org recommended hosting services, SiteGround is an excellent choice for anyone launching a WordPress website.
In addition to free migrations and automatic updates, SiteGround offers three levels of caching – an advantage not offered by many other hosting companies – to ensure your website loads quickly.
Because SiteGround offers superior speed technologies and proactive security than other cheap web hosts, it is a bit more expensive than other traditional web hosts. For instance, they use Google Cloud for hosting to create a powerful and technologically superior service.
In addition to its Google Cloud infrastructure, SiteGround claims its servers are fast thanks to these features. We have tested their SuperCacher technology, which makes your site load faster because it keeps a snapshot of your site from the beginning. So, there's no loading time needed.
Moreover, SiteGround hosts its sites in three different data centers worldwide, so you can choose the closest one and ensure that your site runs as smoothly as possible. Furthermore, they offer unlimited databases and email accounts and daily backups and caching.
SiteGround's content delivery network (CDN) is free, and you don't have to sacrifice any performance to get it. Moreover, it's more than adequate, and it's free. The CDN has 194 locations around the world that allow anyone to access your content.
Ultimately, this is a very decent host for WordPress users, eCommerce sites switching from a bad host, and anyone wanting solid security and an easy backup system.
There has never been a complaint about support at SiteGround, which is available 24/7 via phone and live chat.
Key Features:
A Managed WordPress Hosting Service
Provides expert support and incredibly fast loading times
Free SSL and CDN included
Expert migration included, on GrowBig and GoGeek plans
Malware protection and hacker protection
Free backup and restore
Capabilities for staging environments
The 30-day money-back guarantee provided
WordPress starter kit with auto-installation capabilities
Free & advanced website builder
Access to unlimited email accounts
Unlike DreamHost, most web hosts specialize in managed WordPress plans. The company offers all kinds of plans, from bare-bones shared hosting to fully managed plans that include all the bells and whistles. WordPress.org recommends DreamHost as the official hosting provider.
You'll get DreamHost's custom dashboard, one-click WordPress installation, automatic updates, unlimited space, unlimited bandwidth, and free SSL certificates. DreamHost could be a great option if you're looking for an easy-to-use WordPress host that offers high-speed SSD storage.
With DreamHost, your site will load much faster since SSD drives are used for hosting and daily backups are performed. You will not be charged any overage fees because bandwidth and traffic aren't tracked using the service.
Apart from that, there are two shared plans – Starter and Unlimited – with higher subscription rates for DreamPress hosting and VPS hosting.
You can start your website as quickly as possible with this entry-level plan, which includes a free domain name for the first year, daily automated backups, and a drag-and-drop WordPress website builder designed for beginners.
The downside is that DreamHost's WordPress servers aren't optimal for WordPress, although their sales team says it's a marketing strategy to attract more customers. There is little difference in terms of WordPress and shared hosting, with no advantage in choosing one over the other.
Furthermore, they offer an incredible money-back guarantee of 97 days. The DreamHost service gives you the most time to try it out risk-free, and they offer 24/7 customer service by a US-based team.
Key Features:
Money-back guarantee for 97 days
Privacy protection and free domain
With 1-click WordPress installation
Official WordPress recommendation
Comes with free web application firewall
With SSL certificate
Automatically migrate WordPress sites
Professional support 24 hours a day, 7 days a week
Backups and caching on a daily basis
HostGator is a popular web hosting company with over 8 million domain names. Like Bluehost, they specialize in hosting WordPress websites.
The entry-level plans at HostGator do not include a lot of WordPress-specific features, but you can still install WordPress using a single-click installer and then configure WordPress through the WordPress dashboard.
All of their plans also include a WordPress website builder with templates, unlimited bandwidth, and AdWords credits of $100 so that your clients can optimize their websites for search engine rankings.
The best feature of their offering is the unlimited email accounts and spam protection they provide. In the rare case that uptime falls below 99.90%, HostGator credits your account.
While we have had positive experiences with HostGator's service, if you don't, you can return your package within 45 days for a full refund. This will not cover your domain registration fees, but it's still a better deal than other hosting providers.
HostGator offers live chat support 24 hours a day, 7 days a week. Despite the fact that HostGator's user base is large, the wait times can sometimes get long due to the high levels of traffic. However, it is still an option worth considering when looking for the best hosting services for your website.
Key Features:
Support is available 24/7 via phone, email, or live chat
Risk-free 45-day money-back guarantee to test out the hosting service
There are no bandwidth or disk space limits
Most affordable WordPress hosting plan
Several languages are supported (PHP, Python, Perl, etc.)
No charge for site migration
Free SSL certificate and Free Domain Included
The Kinsta Web Host is also a slightly more expensive host, but one which offers a higher degree of WordPress optimization. In addition to our experience, Kinsta prides itself on being a great solution for growing WordPress sites.
In addition to its free migrations, daily backups, robust security features, acclaimed customer support, and range of additional features aimed at catering to the needs of WordPress users, it is one of the best managed WordPress hosting providers in the world.
As a result of Kinsta's dashboard control center, you can easily review all your sites, view extensive analytics, and manage users at all levels.
Key Features:
No charge for site migration
Multiple server locations
All plans include all features
Managed WordPress hosting with multiple server locations
Customized for scalability
Regular backups as well as on-demand backups
Free SSL certificates
Sites staging
Free CDN is included in all plans
Premium DNS management
Google Cloud Platform
Powerful analytics
With Flywheel, you will have access to WordPress hosting designed to appeal to beginners. Flywheel's hosting solution is perfect for users who may not need much server power, but who would rather have a completely hands-off experience.
Security, a CDN, staging and developer tools, as well as nightly backups make it so you can (literally) rest assured that your site is always protected and that you'll never lose any data.
With their migration service, you will no longer have to worry about the often stressful site migration process. A dedicated team takes care of moving your website to their web host, so you don't have to.
In 2019, Flywheel was acquired by WP Engine. Even though they are almost identical now, the two remain separate and have different features.
There is 24/7/365 live chat support provided by Flywheel. Whenever you need assistance with a ticket, whether you want to chat quickly or reference their handy help docs, you can quickly access their support channels from within the Flywheel dashboard.
Key Features:
Manage WordPress and manage projects with Flywheel
Page loads very quickly
Offers plenty of features for agencies and solo developers
Provides robust security, including nightly backups
Includes free content delivery networks (CDNs)
Account protection with two-factor authentication
Built using Google Cloud Platform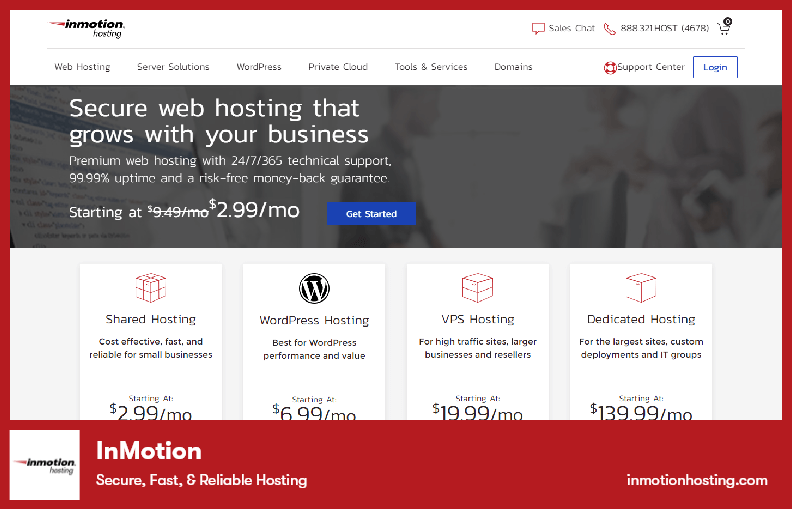 With InMotion Hosting, you get fast load times and free SSD storage, which is a unique service only offered by some providers. As well as a handful of premium WordPress plugins, it offers performance and management enhancements.
InMotion Hosting was founded in 2001 and is based in the United States. The company has its headquarters in Los Angeles and is popular for its excellent customer support services.
The company emphasizes its commitment to the environment in its marketing campaigns. Their advanced Outside Air Cooling Technology reduces carbon emissions and reduces cooling costs. The result is a reduction in more than 2,000 tons of carbon emissions each year. The Los Angeles data center has been certified green as well.
InMotion makes it easy for you to get started since you can install WordPress in one click. Besides free migration, the provider also provides malware and hack protection, so there's no need to worry about the security of your site.
Using their service is risk-free, thanks to their unmatched 90-day money-back guarantee. As well as offering the best reseller hosting packages, they also help you distribute and monetize your web hosting.
You get access to several articles and tutorials on the support center, and you get live customer support 24/7 – through live chat, phone, and email.
Key Features:
Free Website migration
Free Domain name
Free SSL
Free unlimited disk space
Hundreds of free WordPress themes
Advanced security
Outstanding performance, especially given the price
Reasonably priced shared hosting as well as managed WordPress hosting
WordPress Hosting FAQs
Are you looking for information about WordPress hosting? Listed below are some of the most commonly asked questions small businesses have when researching WordPress hosting. Please feel free to ask questions in the comments if you did not receive an answer.
What is WordPress hosting?
A WordPress hosting option is a kind of hosting designed specifically for WordPress websites. It is possible to host WordPress websites on a variety of different platforms – free, shared, VPS, dedicated, and managed WordPress hosting, for example.
How does WordPress hosting benefit you?
By using WordPress hosting, you are able to make your website faster, easier, and more secure. 

You should update your website regularly to keep it safe and performing well. Managed WordPress Hosting makes things easy for projects by automatically updating plugins, themes, PHP versions, and WordPress itself.
Do I need WordPress hosting to start a website?
You will need web hosting if you want to create a WordPress website. The hosting server is where you store the files for your website. Every website you see online uses a web hosting service.
Can I have my domain and WordPress hosting from the same provider?
No. You must get a domain name from a domain name registrar like GoDaddy, Domain.com, etc. and use the WordPress hosting provider listed above. However, suppose you don't already own a domain. In that case, it's easier to go with the same hosting provider (especially since many include a free domain).
Does my WordPress site need cPanel hosting?
Many WordPress hosting companies use cPanel as a control panel. cPanel is not required, but it does make things easier when setting up an email account, installing, etc.
What are the best ways to secure my WordPress hosting account?
Your website files are stored in your web hosting account. So you should secure your WordPress hosting account. You should use a strong password for your WordPress hosting account and avoid logging in from public computers (unless you're using a VPN). Keeping your site secure will also require you to follow our ultimate WordPress security guide.
Is it possible to switch my WordPress hosting provider later?
You can certainly switch WordPress hosting companies if you are unhappy with them. WordPress hosting companies usually have free migration services, so switching is fairly easy. You can, however, migrate WordPress from one host to another without interruption by following our step-by-step guide.
Are WordPress hosting companies able to offer professionally branded email addresses?
You can create a free business email address with most WordPress hosting companies. Nevertheless, we highly recommend using Google Apps (also called G Suite) because it is more reliable.
Are backups provided by these WordPress hosting companies?
The majority of WordPress hosting providers claim to keep daily backups of your site. Nevertheless, we recommend that our users keep their own backups using a WordPress backup plugin, as there is no such thing as too much security.
How do I choose the right data center location for my WordPress host?
Choose a location that is close to your idle customers. Nowadays, most hosting companies provide multiple data-center location options.
How much does WordPress hosting cost?
In simplest terms, WordPress is a free content management system to build your site. WordPress requires a domain name and hosting plan, and the cost depends on the plan you choose and the hosting provider you select.
Are these WordPress hosts offering a money-back guarantee?
Many WordPress hosts offer 15-45 days of money-back guarantees. So you can cancel your hosting if you are not satisfied with the service or support.
What is the best way to back up my WordPress site?
Automatic backups eliminate the worry of losing important website information. You can rest assured that your website files, MySQL databases, and emails are safe. It's critical to use the backup feature offered by your hosting provider to back up your data daily. Also, we recommend using a WordPress backup plugin to do this.
What are the differences between WordPress hosting and other forms of hosting?
With WordPress hosting, particularly managed WordPress hosting, you can ensure that your WordPress site is hosted in the most ideal environment. The main differences between it and other hosting environments lie in the setup and software configurations.
Conclusion
Review this list of the best WordPress hosting providers to increase the performance and security of your WordPress site.
We would be happy to answer any questions you might have in the comment section below. We would appreciate it if you would like to share this post on your social media accounts.