Are you trying to find the best Weather WordPress plugin for your website?
Need a quick response? Our recommendation is to use the Better Weather plugin. This plugin offers an advanced and feature-rich weather application that is compatible with Elementor, Visual Composer, and Gutenberg (WordPress page builders).
Well, let us take this possibility to showcase you to our rounded-up list of the best WordPress Weather plugins. Despite all this to that, all the WordPress plugins here are feature-rich, with good support, and easy to use and usable in all WordPress themes.
To help you in selecting the best Weather plugin, we have curated a list of Weather plugins. Is it not exactly the Weather plugin that you are searching for? These plugins are also functional for Weather Widget, Elementor Weather Widget, and Weather Forecast.
So, here are the top WordPress plugins for weather widgets in 2022:
Weather Forecasts for Up to Nine Days
WP-Forecast provides access to AccuWeather and WeatherBug's forecasts for up to nine days. Furthermore, it provides information on wind speed and humidity as well as current weather conditions.
In addition to allowing you to set the metric system, the plugin offers many translations, so you may be able to utilize it in your own language. Additionally, the plugin is free of charge.
Furthermore, WP Forecast is available in more than 12 different languages, RTL style and languages, making it easy for you to customize it to meet your needs.
---
💵 You will not be charged for it. It is FREE.
Key Features:
Weather-based on the user's location
choosing either Celsius or Fahrenheit
You can choose which information to display
the customizable forecast
Random Reviews:
Great support by mail and good updates! AccuWeather stopped sending new data and quickly after, OpenWeathermap was added. So using my OpenWeathermap API it works perfectly again.

Just started using this plugin. It works well.

Had a few issues on setup, like not understanding that latitude and longitude work when you choose DarkSky, but Location works when you pick AccuWeather only. But with the fast support, I was able to get it working. It would be nice to be a bit more visually friendly, especially on small screen mobile devices, but it does work as advertised.
Weather Widget Plugin for WordPress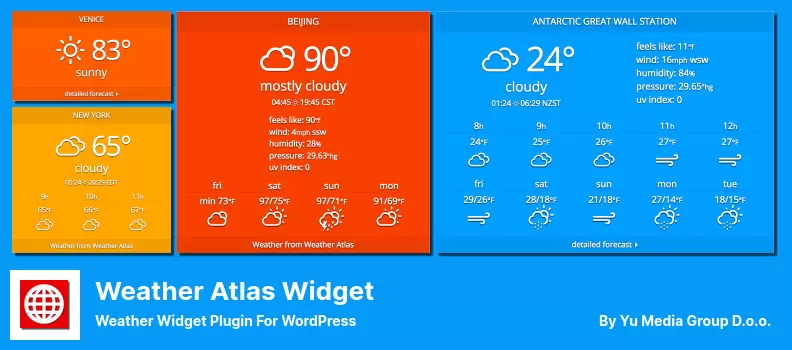 You may customize the appearance and form of the Weather Atlas Widget to fit your website perfectly. The widget is highly customizable and aesthetically pleasing.
Furthermore, you can set the text color to change automatically based on the background color and the temperature of the page. In addition, you can adjust the elements, data, and units to match your theme design.
In addition, the widget is responsive, so it can adapt to the appearance of your website on any device. Due to the bright colors and the simple design, it looks great on any web page.
Moreover, your users will be able to see detailed weather forecasts for any location around the globe, along with current conditions and hourly forecasts.
There are two predefined layouts for the widget (vertical and horizontal). As well as these two options, there are several other custom options available as well.
---
💵 Without paying, you can download the Weather Atlas Widget plugin for Free.
Key Features:
Allows users to set their preferred weather location
For any location in the world
With multiple languages and units
Multiple widget options
Provides a detailed forecast
Mobile devices are compatible with responsive web design
Random Reviews:
I've been using this for about 3 weeks now for a cycling club website. Great configuration options, but it just isn't accurate. It consistently shows 2-4 degrees warmer than local weather. This topic was modified 3 weeks, 1 day ago by

This is a good, not great plugin. My client needed a weather widget and it gets the job done, but they are not thrilled.

Excellent Plugin This topic was modified 7 months, 3 weeks ago by jfbprivate.
Simple Weather Widget for WordPress
By using the Weather Station plugin, you will be able to display weather information from a variety of weather stations.
The display format can be customized according to the look and feel of your website, so it should not be difficult to work with.
Due to its simplicity, the plugin requires no programming knowledge and can be configured quite easily. Consequently, you may be surprised by the amount of information it can display.
You have a choice of many weather apps that you can use to collect data using Weather Station. The installation is not complicated and does not require any coding skills.
Would you consider such a plugin to be completely free? It has been downloaded over 4,000 times and received a rating of 4.7/5.0 on the WordPress plugin directory.
---
💵 This WordPress plugin is Free.
Key Features:
providing access to a vast array of ultra-local and geolocalized weather data sources
A capability of collecting and displaying weather data from public or personal stations
Provides both free and paid weather services
Customizable alarms and trends
This information can be displayed as current weather conditions, indoor comfort, pollution, fire weather, solar monitoring, and storm tracking, among other things
It is free and open-source
Random Reviews:
J'utilise ce plugin pour retranscrire les données de ma station personnelle Vantage Vue. Le plugin utilise le fichier realtime.txt généré par Cumulus MX. Tout fonctionne très bien, je suis très contente. Merci.

Pulls the wrong outdoor temperature from Ambient weather if you have any additional sensors (like the temp/hum one). I posted on the support forum weeks ago and it got ignored so, it doesn't work at all. 'tempf' is the right one from JSON and reports correctly, no idea what WS3 is pulling.

I am very happy with this plugin and I have been publishing my station data for two years as the main page. Thanks for everything.
Weather Widget With Custom Location Option
Location Weather is a free WordPress weather widget that is highly customizable and lightweight.
You can add weather widgets to your website or sidebar with a few clicks. A WordPress sidebar widget can be used to add the weather to your web pages in an unlimited number of locations.
Many options are available to you, including the ability to select a widget title, display or hide dates, and set a default location.
There is also a free and premium version of Location Weather Pro, which offers a wide range of features and functions. There are several options available, including displaying temperatures in Fahrenheit or Celsius, hiding or showing data, and customizing widget background colors.
---
💵 You can get the Lite Version for free and the Premium Version for $29.
Key Features:
Multiple weather instances can be displayed simultaneously
Different types of weather data are displayed or hidden
displaying up to 16 days of forecast information
Multiple background options, including video
Compatible with page builders and block editors, such as Gutenberg and Elementor
Display the weather automatically based on the visitor's location
Random Reviews:
The app works great, and all elements I wanted to use are translatable (they were not but now are). The designer has been professional and kind to deal with. I strongly recommend this app. This topic was modified 1 month, 1 week ago by eriklupien.

After installing this plugin I created a location and tried to publish it using their widget. Nothing happened. Then I went ahead and created an API key. Bad decision. My website's laytout completely broke. Strange thing I couldn't even remove the widget, even by saving the modifications. After deleting the plugin my site is working again.

Looks good, plenty of options to edit the widget display
WordPress Weather Plugin
It is a premium plugin therefore, there are fewer ratings and reviews for Weather Forecast than for the other widgets on this list. However, considering its feature-rich offer and reasonably priced price, it is a plugin that should be considered.
An attractive weather widget can easily be incorporated into your website's design, which is entirely consistent with your aesthetics. Depending on what kind of information you wish to display on your website or in your sidebar, you can also choose the type of weather data to include.
The plugin is highly rated, has premium support included, as well as a Gutenberg block for it. In addition, you may easily add it to the page you create with Visual Composer or Elementor if that is what you prefer.
The plugin also allows you to customize the appearance of your weather widget to show the forecast for the next twelve hours or for the next week. If you wish, you can customize the widget's colors and theme to make it more appealing.
---
💵 It is loaded with free 12 months of support and updates. The price is 44.
Key Features:
A location can be entered in three ways: by name, by ZIP code, and by coordinates
Different widget configurations for displaying more or less information
Display a weather picture based on the current weather condition
Shows details of the weather in more than 30 languages
Additional data can be displayed, including pressure, humidity, elements, and wind speed
Fahrenheit or Celsius temperatures
Random Reviews:
Best out there … hands down!

Awesome design and features!

The best…
Weather WordPress Shortcode & Widget
Simple Weather has a modern look and feels, along with an easy-to-use UI that will amaze you. This can be incorporated into your website as a widget or shortcode.
It is also possible to customize the frequency at which the weather is updated and use your own API key from OpenWeatherMap.org.
In order to give a more detailed description of the weather, you may also specify a description such as sunny, mostly cloudy, and thunderstorms, for example. Furthermore, you can set how often the weather report should be updated, as well as the frequency of its update.
For those who do not wish to work with shortcodes, a widget is included in the plugin if they do not wish to include things such as night-time temperatures or upcoming weather forecasts.
---
💵 This plugin is offered for $18 with 12 months of support time.
Key Features:
Temperatures can be shown or hidden according to the time of day
Add the widget to your posts, pages, headers, and sidebars
Customize the location based on your city, country, or coordinates
Available in the Visual Composer weather widget
Multilingual support
You can choose between imperial and metric units
Random Reviews:
Nice looking and it works like a charm. Nice work

Support was consistently perfect from pre-to-post purchase. Very nice interface!

Not working anymore. Just tested by shortcode. Also tested width api.
Christmas Santa Snow Falling WordPress Plugin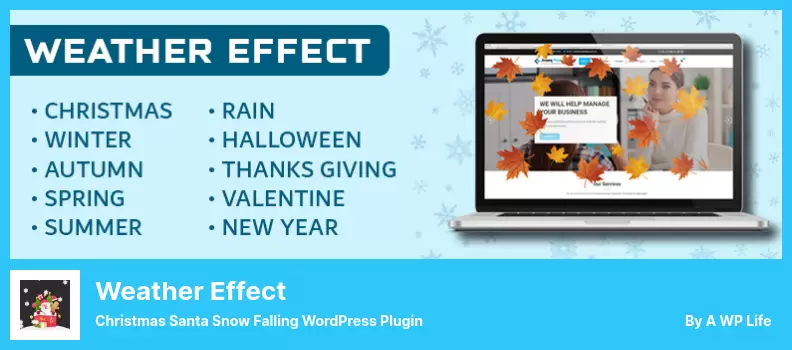 Weather Effect differs from the other plugins on this list in that it does not display the actual weather. Instead, it displays a variety of effects such as snowflakes falling on the screen in the winter, and colorful leaves in the fall.
The weather effect plugin supports many weather seasons and occasions, including Christmas, Winter, Autumn, Spring, Summer, Rain, Halloween, Thanksgiving, Valentine, and New Year.
---
💵 Lite and Premium versions of the plugin are included. The Premium version charges $15, whereas the Lite version is free.
Key Features:
You can change the speed of the falling objects, the number of falling objects, and other options
Holidays, such as Christmas, New Year's Day, and Winter
It would be nice to have more effects for weather and occasions such as Halloween, Valentine's Day, and Thanksgiving
Adding or removing certain pages or posts to the configuration
Effects for all four seasons
Random Reviews:
Perfect

Muchas Gracias

Lovely – a bit of snow falling on my website No adverse effects on my site. This topic was modified 1 month, 1 week ago by
WordPress Weather Widget and Shortcode

Always Sunny is another fully customizable plugin that provides accurate and up-to-date weather information for any location required. Using the OpenWeatherMap API, this plugin provides an intuitive, modern UI with a weather forecast widget and an intuitive user interface.
You have two options if you want to add plugin details to your website. You can place the widget in either the footer or the sidebar, and you can place the shortcode anywhere on your site.
Temperature levels and weather patterns are examples of the types of weather information that can be displayed. The plugin is especially useful for leisure and tourism centers outdoors.
---
💵 You can get all of these advanced features for $13.
Key Features:
A great-looking design can enhance your website
This is especially helpful for businesses that require more than the current temperature
The installation and implementation are the quickest
You can integrate responsive websites into your website in many ways
Random Reviews:
Nice widget!

Excellent plugin, highly recommended. Must have!

Excellent product, exactly what I needed!
A Summary Of All That Has Been Said
Thank you for being with us. in this post, we examined the best WordPress Weather plugins. They are applicable. You may have a great site by using these plugins.
I wish this resource has been insightful. The Publisher theme is recommended to you if you are seeking a good WordPress blog theme.
Let us know your ideas about the article in the comments section. We encourage you to share this article and list it on Twitter and Facebook.