Have you ever wanted to display the weather on your WordPress website, but weren't sure how to do it? Or have you tried using a weather widget plugin in the past but couldn't find one that suited your needs? Look no further because we've got you covered with our list of the 8 best WordPress weather widget plugins.
In this article, we'll provide you with a comprehensive guide to the top-rated weather widget plugins available on WordPress. Whether you're looking for a free or premium option, we've got you covered.
We'll also include some interesting statistics and facts about each plugin to help you make an informed decision.
Without further ado, let's get started and explore these fantastic weather widget plugins that will add value and functionality to your WordPress site.
Best Weather Widget Plugins for WordPress
Incorporating a weather widget into your WordPress site can be an effective way to enhance user engagement and provide relevant information to your audience.
Check out our list of the 8 best weather widget plugins for WordPress, both free and premium, to find the perfect fit for your website.
Weather Forecasts for Up to Nine Days
WP-Forecast is a free WordPress plugin that provides nine-day weather forecasts from AccuWeather and WeatherBug. It also displays information on wind speed, humidity, and current weather conditions.
The plugin includes translations in over twelve languages, making it easy to use for non-English speakers. Additionally, it offers the option to customize the metric system and RTL style and language.
WP-Forecast's user-friendly interface allows you to easily navigate through its features, making it an ideal choice for those who need to stay up-to-date with the latest weather conditions. Overall, this plugin is an excellent option for anyone looking for accurate and reliable weather forecast data for their website.
Key Features:
User-friendly interface
Responsive design for mobile and desktop devices

Free and premium versions available

Location-based weather display
Celsius or Fahrenheit options
Select which information to show
Customizable forecast display
Accurate weather data for users
Automatically updates forecast
Weather Widget Plugin for WordPress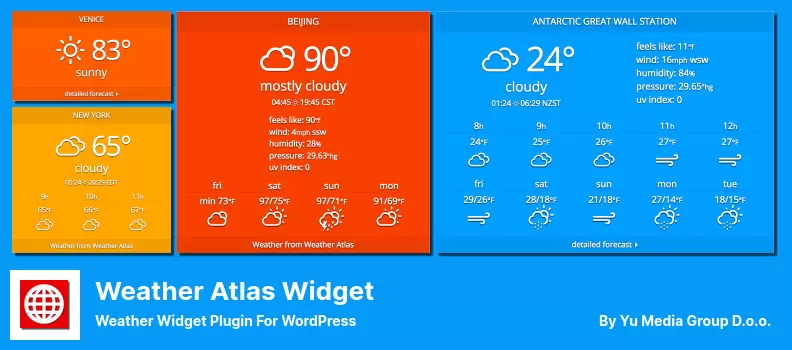 When it comes to adding weather widgets to your WordPress site, the Weather Atlas Widget is definitely worth checking out. This widget offers a lot of options for customization that can fit seamlessly with any website design.
One great feature of the Weather Atlas Widget is its highly customizable appearance and form. You can adjust the text color to complement the background color and temperature of your page. Plus, you can modify the elements, data, and units to match your theme's design.
Another advantage of this widget is its responsiveness. It will adjust its appearance to look great on any device or screen size. And because of its bright colors and simple design, it is sure to be eye-catching and visually appealing on your website.
But what really sets the Weather Atlas Widget apart is the wealth of information it provides users. With detailed weather forecasts for any location around the world, along with current conditions and hourly forecasts, your visitors will always have access to up-to-date weather information.
In addition, the widget also offers two predefined layouts (vertical and horizontal) and several other custom options to choose from, giving you even more flexibility in its placement and appearance on your site.
Overall, if you want to add a reliable and visually pleasing weather widget to your WordPress site, the Weather Atlas Widget is definitely worth considering. Its customization options, responsive design, and comprehensive weather information make it a solid choice for any website owner looking to enhance their user experience.
Key Features:
Supports multiple languages and units
Multiple widget options to choose from
Detailed forecast information available
Compatible with mobile devices
Responsive web design for optimal viewing
User-friendly interface
Customizable weather location
Global coverage for any location
Accurate and up-to-date weather data
Easily accessible on your WordPress website
Simple Weather Widget for WordPress
Weather Station is a WordPress plugin that allows you to display weather information from various weather stations on your website. This plugin's versatility is unparalleled, and you can customize the display format to match your website's look and feel with relative ease.
One of the most significant advantages of this plugin is that it requires no programming knowledge to operate. The configuration process is also quite straightforward and doesn't necessitate coding expertise. Despite its simple operation, the plugin can display a lot of information, making it an excellent choice for weather enthusiasts.
You have the option of selecting from many weather applications to gather data using Weather Station. Furthermore, the installation procedure is not difficult and does not require any coding abilities.
The fact that this plugin has been downloaded over 4,000 times and has received a rating of 4.7/5.0 on the WordPress plugin directory should give you confidence in its efficacy. With this plugin, you'll be able to display accurate weather information to your website, visitors, without going through a lot of trouble.
Key Features:
Access to ultra-local and geolocalized weather data sources
Collects and displays weather data from public or personal stations
Offers both free and paid weather services
Allows for customization of alarms and trends
Displays information on current weather conditions
Tracks indoor comfort, pollution, fire weather, solar monitoring, and storm tracking
Provides real-time updates
Offers open-source capabilities
Easy to use and install
Compatible with WordPress websites
Weather Widget With Custom Location Option
Location Weather is a free WordPress weather widget that provides an easy way to add weather information to your website. This lightweight plugin is highly customizable and can be added to any page or sidebar using the WordPress sidebar widget.
You can choose from an unlimited number of locations to display the weather information, and there are several options available to customize the appearance and functionality of the widget.
With Location Weather, you have the ability to select a widget title, display or hide dates, and set a default location. These features allow you to tailor the widget to your website's specific needs.
Additionally, the free version of Location Weather comes with many customizable options, including displaying temperatures in Fahrenheit or Celsius, hiding or showing data, and customizing widget background colors.
For those looking for even more advanced features, there is a premium version of Location Weather available. The Location Weather Pro version offers several additional options, including hourly forecasts, extended forecasts, and weather alerts. These features provide an even more comprehensive weather experience for your website visitors.
Overall, Location Weather is an impressive weather plugin that offers a great balance between functionality and ease of use. It's highly customizable and offers both a free and premium version to suit different users' needs. Whether you're looking to add a simple weather widget to your website or require more advanced features, Location Weather is an excellent choice.
Key Features:
Compatible with page builders and block editors like Gutenberg and Elementor
Display multiple weather instances simultaneously
Show or hide different types of weather data
16-day forecast information available
Multiple background options, including video
Displays weather automatically based on visitor location
User-friendly interface
Easy to customize layout and colors
Supports multiple languages
Responsive design for mobile devices
Weather Forecast is a plugin that offers an attractive and customizable weather widget to display on your WordPress website. With the ability to choose what type of weather data to include, you can easily tailor the plugin to fit your needs.
One of the standout features of Weather Forecast is its customization options. You can choose to display the forecast for the next twelve hours or the next week, and also customize the widget's colors and theme to match your website's design. This allows for seamless integration into your website's aesthetics.
Additionally, Weather Forecast has received high ratings and comes with premium support included. It also includes a Gutenberg block for easy integration, as well as compatibility with page builders such as Visual Composer and Elementor.
While there may be fewer ratings and reviews for this premium plugin compared to others on the market, its feature-rich offer and reasonably priced price make it a contender worth considering for those in need of a reliable and customizable weather widget for their WordPress site.
Key Features:
3 ways to enter location: name, ZIP code, and coordinates
Multiple widget configurations for displaying information
Display weather picture based on current condition
Shows weather details in over 30 languages
Additional data display options: pressure, humidity, elements, wind speed
Temperature display options: Fahrenheit or Celsius
Accurate weather forecasting
User-friendly design
Compatible with WordPress sites
Regularly updated for improved functionality
Weather WordPress Shortcode & Widget
Simple Weather is a weather widget plugin that can be easily integrated into your WordPress website. It offers a sleek and modern design, combined with a user-friendly interface that is sure to impress you.
You can customize the frequency at which the weather is updated and use your own API key from OpenWeatherMap.org.
This plugin allows you to provide a more detailed description of the weather by specifying descriptions such as sunny, mostly cloudy, and thunderstorms. Additionally, you have control over how often the weather report should be updated and the frequency of its update.
For those who prefer using widgets instead of shortcodes, this plugin includes a widget that displays things like night-time temperatures or upcoming weather forecasts.
With Simple Weather, you don't have to worry about complicated installation processes or excessive features that you'll never use. This plugin is designed to provide a straightforward weather display on your website, making it easy for your visitors to stay informed about current conditions in your area.
Overall, Simple Weather is an excellent choice for anyone looking for a simple and effective way to add weather information to their website without any hassle. Whether you're a blogger or running an online business, this plugin can help keep your visitors informed and engaged with your content.
Key Features:
Widget is responsive and mobile-friendly
Option to display weather for multiple locations
Ability to add custom CSS styling
Choose between imperial and metric units
Regular updates and customer support available
Show or hide temperatures based on time
Add widget to posts, pages, headers, and sidebars
Customize location by city, country, or coordinates
Visual composer weather widget integration
Supports multiple languages
Christmas Santa Snow Falling WordPress Plugin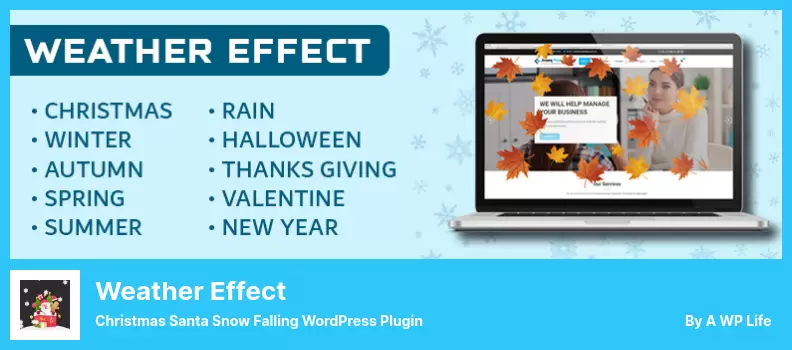 Weather Effect is a unique plugin that adds a touch of seasonal fun to your WordPress website. Unlike other weather plugins that display real-time weather information, Weather Effect brings the joy of different seasons and holidays to your website through various effects.
With Weather Effect, you can add falling snowflakes to your website during the winter months or colorful leaves during the fall. The plugin supports a variety of occasions, including Christmas, Halloween, Thanksgiving, Valentine's Day, and New Year's Eve. You can also add rain effects to your website to simulate rainy days.
Adding Weather Effect to your website is easy. Simply install the plugin, choose your preferred effect settings, and activate it to see the magic happen. Weather Effect is a great way to bring some seasonal cheer to your website and make it stand out from the crowd.
Overall, if you're looking for a simple and fun way to add some seasonal effects to your website, Weather Effect is definitely worth considering. It's easy to use, highly customizable, and will definitely grab the attention of your visitors. So why not give it a try today?
Key Features:
Holiday effects for Christmas

, New Year's Day, and Winter

Customizable falling objects speed and number
Additional weather and occasion effects (Halloween, Valentine's Day, Thanksgiving)
Configuration options for specific pages or posts
Seasonal effects for all four seasons
WordPress Weather Widget and Shortcode

Always Sunny is a WordPress weather widget plugin that provides live and accurate weather information for any location. The plugin is fully customizable, allowing users to choose between two display options: a widget in either the footer or sidebar or a shortcode placed anywhere on the website.
One of the key features of Always Sunny is its integration with the OpenWeatherMap API, which ensures that the weather information displayed is always up-to-date. Users can also customize the types of weather information displayed, including temperature levels and weather patterns.
In addition to its accuracy and customization options, Always Sunny boasts a modern and intuitive user interface. Its weather forecast widget is sleek and easy to read, making it perfect for businesses in the leisure and tourism industries that rely on accurate weather information for their activities and events.
Overall, Always Sunny is an excellent choice for those seeking a reliable and customizable weather widget plugin for their WordPress website. With its integration with the OpenWeatherMap API and modern user interface, it is sure to meet the needs of businesses and organizations of all types.
Key Features:
A great-looking design can enhance your website
This is especially helpful for businesses that require more than the current temperature
The installation and implementation are the quickest
You can integrate responsive websites into your website in many ways
FAQ
What are WordPress weather widget plugins?
WordPress weather widget plugins are small software programs that allow you to add a weather forecast to your WordPress website or blog. These plugins display current and future weather conditions, including temperature, humidity, wind speed and direction, and other relevant information.
Why should I use a weather widget plugin for my WordPress site?
A weather widget plugin can be a great addition to your WordPress site if you want to provide your visitors with up-to-date weather information. It can also help to improve user engagement and increase traffic to your site by providing users with valuable information they may be interested in.
Can I customize the appearance of WordPress weather widget plugins?
Yes, many WordPress weather widget plugins offer customization options that allow you to change the look and feel of the widget to match the design of your website. You can often modify things like colors, fonts, and layout to create a seamless integration between the widget and your site.
Conclusion
In conclusion, we hope that this article has been informative and helpful in finding the perfect weather widget plugin for your WordPress site.
We have discussed eight of the best free and premium options available on the market, each with its unique features and benefits. Don't forget to check out BetterStudio's blog for more related tutorials on WordPress plugins and website design.
If you want to stay up-to-date with our latest tutorials, be sure to follow us on Facebook and Twitter. We regularly post new content that can help take your website to the next level.
Thank you for taking the time to read this article. If you have any questions or problems related to the topic, please feel free to leave a comment below. Our team at BetterStudio is always happy to help!