Looking for the Best WordPress TikTok plugins? Do you struggle to find the best TikTok plugin?
To help you accomplish this, we have revised many WordPress plugins and gathered the best TikTok WordPress plugins. In addition, they have good support, are fast, are user-friendly, and work with all WordPress themes.
These plugins we selected are the best available for TikTok. However, other plugins may be available to TikTok Pixel, Elementor TikTok, and TikTok Video Downloader WordPress plugins.
For more general plugins we suggest you check the WordPress social media plugins that can be used for more general purposes related to social media.
Best TikTok Plugins for WordPress 🥇
Check the top TikTok WordPress plugins for 2022:
TikTok Feed Widget for WordPress
WP TikTok Feed is one of the best plugins to add TikTok Feed to your website. The QuadLayers make this plugin.
Features of this plugin include easy installation and configuration. As a result, users can easily use the WP TikTok Feed plugin, which is user-friendly. Also, the plugin is optimally coded, which has caused the plugin not to impact the speed and performance of the site negatively.
The WP TikTok Feed plugin automatically saves videos and data related to the TikTok social network. It includes features for storing information to reduce the number of requests to the server and reduce upload time.
This plugin provides tools for you to have complete control over videos. The plugin has a customizable pop-up lightbox that allows your users to see the content of your website.
The plugin has several options for customizing things like ticked video feeds' appearance, position, and layout. Another exciting feature of WP TikTok Feed is the ability to add a username or hashtag. By doing this, you will be able to pull videos from that specific category or user.
Quadlayers has released documentation on the features of the WP TikTok Feed plugin, the installation process, and how to use it. Using these documents, you can use this plugin in a principled way.
💵 The price of Free Lite is higher than that of Pro.
Key Features:
It has many options for customization
Optimally coded and optimized for SEO rules
This plugin can use shortcodes
The plugin has several layouts
It makes it easy to embed videos within your website using shortcodes
Random Reviews:
Although these guys have been trying for some time, the feed just keeps trying to load and then stops working. Upgrading to the latest version of the plugin fixes that temporarily, but then it stops loading again. Also, I can't play TT videos – something to do with the MIME type. Frustrating, but maybe TT doesn't like feed scrapers.

Despite using various hashtags, the feed option always shows 0 videos. This is the case with everyone, and rather than fixing it, the developer claims the server can't handle it. The trading feed still works, however. I'll update my review once this is fixed. Otherwise, this is a useless plugin right now.

As I've mentioned, I have a website in goddady.com, but when I try to use the plugin, only shows trends, not my website.
Instagram & TikTok Bio Links for WordPress
BioLinks Plugin is one of the best TikTok plugins. It is an effective solution to the problem of linking Instagram and TikTok social networks. Also, this plugin is an efficient and effective URL shortener.
Why is this plugin an excellent tool for website use? Because if you have a company and want to use Instagram and TikTok as advertising platforms, it may be challenging to add more than one link to your profile.
It has solved Bio Links & URL Shortener by building a website that includes all the links to your website. After that, you can copy and paste the desired link to your TikTok profile with just one click.
💵 You can purchase this plugin for $75.
Key Features:
You can create any number of page links and any number of links you want to shorten
The price is high compared to the price of similar plugins
Plugin updates do not happen regularly
Some users have trouble installing and using the plugin. Altum Code, meanwhile, claims that the process of installing and using the plugin is easy
Random Reviews:
This software is fantastic, and I received immediate assistance when I needed it. I'm very glad that I bought it from him. It was really worth it. I expected professionalism and competence.

It just keeps getting better and better. Not to mention the wonderful support, sometimes I think the author multiplies, because he always manages to help everyone as quickly as possible.

I love the features! Customer support is also top notch, and I would absolutely recommend it.
TikTok Feed Widget for WordPress

TikTok Feed Plugin is a new paid tool that has been on the market for about a month, and you can get this plugin from the CodeCanyon website.
This plugin lets you display your TikTok profile on your website. This plugin uses a shortcode maker, and you can use it to create your custom shortcode. Then you can use the plugin without any additional information.
It has a feature called the responsive layout option. This feature allows you to display ticked videos on any screen.
💵 The plugin support team helps you achieve your dream job, and you can get 12 months of support for only buying the plug-in.
Key Features:
Ability to show/hide videos
This plugin has three different layout options
It is easy to use, and even novice users can use it
There are many options for customizing and customizing the plugin. It works well on any screen size
TikTok Video Downloader for WordPress

TikTok Video Downloader plugin is an excellent tool for downloading videos from TikTok. All you have to do is add the URL of the video you want in TikTok to the plugin, and the plugin will download the video for you.
💵 You'll get all the wonderful features plus 12 months of free support with $29.
Key Features:
It is removing watermarks from TikTok videos
The plugin is responsive and works well on mobile
The plugin has space for ads, and you can use it
It supports the bootstrap framework
The plugin is fully compatible with SEO principles thus SEO-friendly
TikTok Feed Widget for WordPress
One of the best plugins for novice and novice users is the Easy TikTok Feed plugin. This plugin is designed as SEO-friendly and is an open-source plugin. Many people have been involved in its development.
This plugin displays responsive videos in your TikTok account on your WordPress website.
It is a great way to showcase TikTok videos. It can be used to monetize TikTok videos innovatively using Google AdSense and Affiliate.
One of the disadvantages of this plugin is that it is newly built and has only 70 active installations. For this reason, it has not been well welcomed by users.
💵 Plugin Easy Tiktok Feed is created by a powerful author for Free.
Key Features:
Grid layout for TikTok Feed
Carousel layout of TikTok Feed
Thumbnail layout for TikTok feed
Blog layout for TikTok feed
Masonry layout for TikTok feed
Advance PopUp for TikTok Feed
Random Reviews:
This topic has been modified 8 months, 4 weeks ago by
TikTok Embeder Block for Block Editor
Another great plugin for displaying TikTok videos on the web is the Embed Block for TikTok plugin. It allows you to embed TikTok videos into your posts or pages.
By installing and activating Embed Block for TikTok, a specific TikTok Block is added to the WordPress editor. As a result, you can add other blocks to your website in the WordPress editor.
After installing the plugin, in the tick box, you can copy and paste the address of the TikTok videos to display that video along with other information such as username and video title on the website.
Also, using Embed Block for TikTok, you can add custom CSS code to TikTok blocks and customize it to your liking. You can download and install this plugin for free from the WordPress repository. The process of installing and using Embed Block for TikTok is straightforward. As a result, this plugin is an excellent choice for beginners.
💵 Downloading it is free.
Key Features:
Adds a tick block to the Block Editor
This plugin supports the old WordPress editor in any post or page
You can use the plugin and using Custom codes to customize the plugin
Add Tiktok Pixel for TikTok ads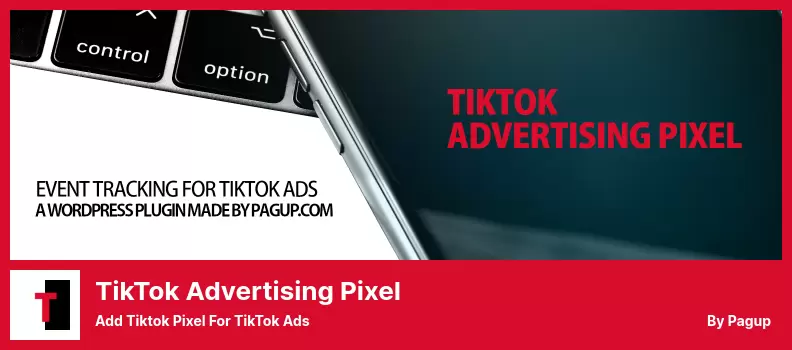 Another top TikTok ad in WordPress is TikTok Advertising Pixel. This plugin was marketed by Pageup and is different from other plugins. Unlike other TikTok plugins, this plugin uses TikTok as a powerful advertising tool instead of displaying feeds.
By taking full advantage of the TikTok Advertising Pixel plugin and targeting customers with good strategies, companies can attract many customers to their business.
You need to install and activate this plugin on your website to do this. Then follow an effective strategy to convert visitors into customers.
The developer of this plugin has created an extension for the Chrome browser called TikTok Pixel Helper. You can use it to check if the plugin is installed correctly on the website or not.
The only problem with using the TikTok Advertising Pixel is that you need to know enough coding to work with the plugin. As a result, website owners who do not have coding knowledge may have difficulty running and working with the plugin.
💵 Please take a look at this free WordPress plugin.
Key Features:
The Pro version of this plugin allows you to place the pixel properly on Woocommerce pages (Products, add to cart, checkout, etc.)
Installs the Tiktok pixel properly (between /*head/> /*/head/>) on your website to track conversions from your visitors
Random Reviews:
This plugin does not work. Poorly documented and even worse customer support. Support will tell you, 'we're not TikTok.'…no kidding. Very sketchy. And once you ask for a refund on a product that does not work, they stop communicating. This topic was modified 1 month, 2 weeks ago by admin.

Unfortunately, you can't try the basic features without buying the PRO version. So it doesn't make much sense.

We used this plugin to ensure our TikTok plugin was installed correctly on our website*. Super easy to use and well worth the investment.
The Best WordPress Plugins For TikTok Conclusion
Choosing a TikTok plugin for WordPress will enhance your website. These plugins are advanced. We are honored to supply you with this information.
There are several TikTok WordPress plugins that you can use to help promote your TikTok episode across the Internet. Also, we hope you find your qualification.
If you have questions or concerns about the matter above, please do not hesitate to send a comment. Please share this content with your friends via Facebook and Twitter if you find it applicable.