How do you find the best WordPress Search and Replace plugins?
If you do not have enough time or understanding of WordPress, we have compiled a hand-selected list of the best WordPress plugins that will save you time and energy. The plugins in this roundup come with good support and are feature-rich. The plugins are also fully compatible with all popular WordPress templates.
The search and Replace plugins we picked are the best for Search and Replace functions. In short, you can find a plugin for Find and Replace URL in WordPress Plugin, Search and Replace HTTP to HTTPS, Replace Text Function, Ajax Search and Replace, and Search and Replace URLs in WordPress Database. Pick a plugin for your site that will give it a boost.
Let's see which plugin from the following list of the best WordPress Search and Replace plugins will work best for you:
lightweight migration plugin for WordPress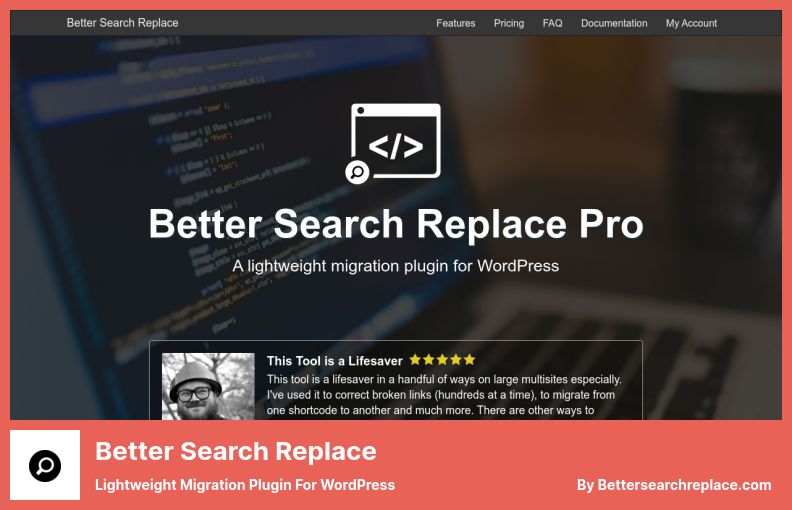 The WordPress search plugins such as Better Search Replace are designed to make checking for errors on databases easy and efficient. This plugin has the functionality of a dry run so that users can inspect the changes that will be made before they are actually made.
In addition to the year-long updates and support you will receive from Better Search Replace, you will also get priority email support from Better Search Replace.
Users will also be able to backup and import their databases as changes are made, as well as create customized profiles to make repeat searches a bit easier.
It allows you to easily configure your WordPress installation to perform backups, imports, and migrations by simply using one plugin for all of these tasks. The plugin was created from the ground up in order to work immediately, so you don't need to configure anything beforehand.
In BSR Pro, each searches and replace created by you is displayed as a diff that is easy to read to help you understand what was changed when it came to the search and replace. You will be fully aware during every search and replace over the lifetime of BSR Pro.
💵 This progressive plugin is priced at $59.00.
Key Features:
While you are importing the database, perform a search and replace
An optional URL can be provided for database backups
Search/replace allows you to see what has been changed with precision
One-year review of emails and prioritization of them
Utilizes temporary tables for the first run in order to improve reliability
A search and replace profile may be created for future use, and it may be saved unlimited times
Simple Database Backup Creating Plugin for WordPress
Using the Search and Replace plugin, users have access to searching and replacing all of the information within the database. In addition to searching for all of the data, the plugin also allows users to back up and restore the information if needed.
This feature makes the Search and Replace plugin extremely useful for developers and users alike.
Additionally, this plugin provides both localization options, as well as the ability to transfer a website from one web host to another. It is also very easy to use and allows a user to transfer a WordPress site in a very simple manner.
A search & replace feature allows users to solve database problems in a relatively short period of time by identifying the specific problems in the database.
This plugin makes finding and replacing URLs in WordPress environments easy, so your customers feel comfortable correcting the URLs.
Also, this plugin makes it possible for you to search and replace HTTP to HTTPS, so you don't need to update all the old URLs and HTTPs in the database. You can easily search and replace URLs in the WordPress database.
The plugin makes it possible for you to operate directly with the WordPress database without having to modify any database manually It is even possible to search and replace text functions across your entire WordPress website with ease.
Furthermore, the plugin not only allows you to create a backup of your database and have it restored when necessary, but it also allows you to find everything and replace it.
In terms of its features, some of them are quite remarkable, like the ability to easily restore the URL or domain names when it is time to transfer WordPress websites.
💵 Free download of the Search & Replace plugin is available.
Key Features:
The ability to work with serialized data
The option to perform a dry run or download a SQL file can be selected
Multiple WordPress sites are supported
Restore your database after backing it up
Using the WordPress database, you can search and replace data
Specify your language and it will be localized
The domain or URL of WordPress can be changed at any time
Random Reviews:
There is no better free Search & Replace plug-in. Allows you to test the changes before writing them to the database.

I want to change the .jpg to the .webp picture suffix, but I want to exclude external links.
Mass On-Demand Replace Plugin for WordPress
Utilizing the CM Search & Replace plugin, WordPress provides users with the capability to perform real-time searches and replacements within a content base.
In comparison to its competitors, CM Search and Replace's competitive advantage lies in the fact that it allows you to make changes to text within your entire website without having to enter any information into your WordPress database.
This means you can make quick and easy changes to your entire website without having to change any of your URLs or anchor text.
By using this plugin, you have the ability to replace a single word or phrase throughout the content on your entire website without having to search for it.
Instead of having to search all of your material for that specific word, the plugin will identify instances that contain that particular word automatically.
There is a plugin that users can use in the browser to define a rule to change the text automatically before this information is sent to their browsers. A user can specify the user-friendly interface of the plugin to specify the rule for replacing text in the browser.
In the case of changes to a specific type of post, a particular time period, or only specific content that appeared during that time period, changes can be made to the entire website, specific post types, or specific content.
💵 The Lite version of the CM Search & Replace plugin is free, while the Premium version is priced at $29.00.
Key Features:
A page can be excluded from the rule at any time
Decide whether the rule should apply to pages, posts, or custom post types
Changes can be saved permanently to the database through the addition of a toggle option
The filtering process will quickly filter out any posts containing swear words or suspicious links
Easily automate the process of repairing HTML errors across multiple pages
Random Reviews:
Very good, easy to use, only observation is that to translate for Portuguese or 'No' for 'No' bagunça all or site. If the developers will be able to isolate the translation per page, instead of all or site, it would be extremely helpful.

I am very grateful for this plugin. Thanks.
Search by Content Plugin for WordPress
Utilizing the ACF Better Search plugin, it is now possible to search within advanced custom fields using the WordPress default search engine to find the content that you are looking for.
The only thing you have to add to your code is to modify your SQL query, as it only modifies your SQL query to improve your search engine results. There is no change to the results page, just modifications to the SQL query.
The ability to search for whole statements rather than just single words will result in a more accurate and more accurate search result since we can search for whole sentences instead of just single words.
It can be easily used to add custom search fields to existing search fields on your WordPress website, in addition to the default field types available on your site.
ACF Search is based on the popular plugin Advanced Custom Fields and can be used to add new search fields to your WordPress site.
In terms of features, the plugin provides only a very small number of options, and it's extremely lightweight. Like any very simple plugin, it's actually a great choice for personal websites and small-sized sites.
💵 Free download of this plugin.
Key Features:
Embedding search forms can be accomplished with shortcodes and widgets
A custom algorithm is used to order the results of the search
A variety of search field types are available, including text, email, URL, and more
Quickly and easily install a simplified search form with custom fields
Search results are faster thanks to a lightweight design
Random Reviews:
Whenever we have used it, we just install, activate, and then let it work. Perfect because that is the way I want a plugin to work!

The configuration is easy and it works perfectly.
WooCommerce product search plugin
AJAX searching is supported by a live search bar, which is one of the biggest advantages of this product search plugin and is considered one of the most popular in the WordPress product search plugin.
Using FiboSearch (formerly Ajax Search for WooCommerce), you'll be able to search for products with advanced capabilities, while receiving live product recommendations, which isn't possible with WooCommerce's default search feature.
In 2021, online retailers cannot afford to lose a single customer due to Fibo's powerful search engine because Fibo's platform is helping consumers save time and simplify their shopping experience.
The fact that this Ajax search and replace plugin improves online shoppers' shopping experiences to such a degree that retailers cannot afford to lose a single customer because of Fibo's platform is evidence, of the contrary.
I'm referring to the Baymard Institute's most recent study on user experience, which shows that 96% of major e-commerce websites available today offer to autocomplete, auto-suggest, or instant search functionality.
💵 For this plugin, there is no charge.
Key Features:
Suggestions can only be displayed if there are at least a minimum number of characters
Display the product description in search results
The search results page for WooCommerce will be supported
Incorporating the product price into live search results
Images of products will display as part of live search results
Products can be searched based on their titles, short descriptions, or long descriptions
Using an algorithm, we are able to display the most accurate results possible
Random Reviews:
Found the plugin by accident. Great Ajax results, smooth operation/animations. Big plus for me is that it works well with both WooCommerce and Divi.

Great help with positioning the website.

It does exactly what it says, perfect!
Lastly, a few words about
Despite all this, we examined the best WordPress Search and Replace plugins. Almost anyone with a site can integrate these plugins.
If you found this article helpful, let us know. Regularly, we publish articles about the best WordPress blog themes and the best WordPress plugins for bloggers, and our readers vote for, refer to, and share them with others.
If you have any questions, you can ask. Spread the word about this post.