Are you tired of manually replacing outdated information on your WordPress website? Look no further! In this blog post, we will introduce you to the five best WordPress search and replace plugins – both free and paid – to make your life easier.
Did you know that search and replace functionality can save you valuable time and energy? With the right plugin, you can quickly update information across your website without needing to manually edit each page.
In this article, we will highlight the top five search and replace plugins for WordPress, based on user ratings, downloads, and personal experience.
Let's dive into our list of the best WordPress search and replace plugins, designed to give you the flexibility and control you need to manage your website more efficiently.
Best Search and Replace Plugins for WordPress
If you're looking for a way to quickly and easily replace text throughout your WordPress website, then you're in the right place.
In this section, we'll introduce you to some of the best search and replace plugins for WordPress that can save you time and effort. Don't miss out on our top picks for both free and pro options.
lightweight migration plugin for WordPress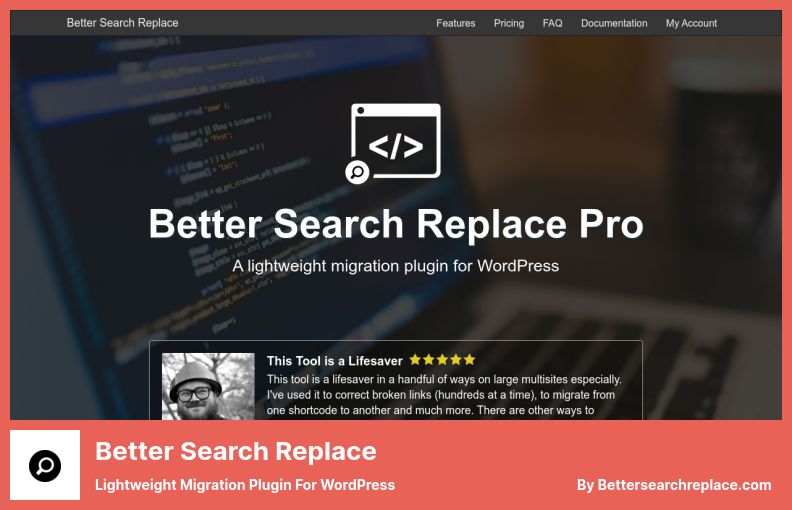 Better Search Replace is a plugin that makes it easy and efficient to check databases for errors on your WordPress website. Unlike other search plugins, it has a dry-run functionality that allows you to inspect changes before they are made.
BSR Pro displays each search and replace as a diff that is easy to read, ensuring that you are aware of every change during the search and replace process.
Additionally, the plugin is quite user-friendly, and it offers you year-round updates, support, and priority email support, in addition to being very reliable.
You can easily configure your WordPress installation to perform backups, imports, and migrations with this plugin, which was created to work immediately without any pre-configuration.
Plus, you can back up and import your databases as changes are made, and even create customized profiles to make repeat searches easier.
Key Features:
Utilizes temporary tables for improved reliability
Create unlimited search and replace profiles for future use.
Perform search and replace while importing the database
Optional URL for database backups
Precision in viewing what has been changed during search and replace
One-year review of emails with priority support
Simple Database Backup Creating Plugin for WordPress
Search & Replace is a plugin that enables users to search and replace all information within the database, allowing for easy correction of URLs in WordPress environments.
It also provides backup and restore functionality, making it easy to keep your data safe and secure. One impressive feature is its ability to restore URLs or domain names during website transfers. It is user-friendly and allows for the simple transfer of a WordPress site.
The search & replace feature helps identify and solve database problems quickly, making it useful for developers and users alike. Additionally, this plugin enables easy search and replacement of HTTP to HTTPS, eliminating the need to update all old URLs and HTTPS in the database manually.
The plugin works directly with the WordPress database without the need for manual database modification, supporting multiple WordPress sites.
A couple of features are pretty cool with this plugin, including serialized data, dry runs, SQL downloads, and restoring your database. You can also localize your site in your language. In addition, you can change your WordPress domain or URL at any time.
Key Features:
Works with serialized data
Perform a dry run or download a SQL file
Supports multiple WordPress sites
Allows for database backup and restore
Easy search and replacement of HTTP to HTTPS
Directly works with the WordPress database.
Mass On-Demand Replace Plugin for WordPress
CM Search & Replace is a WordPress plugin that allows users to perform real-time searches and replacements within their content. It provides the capability to change a specific type of post, a particular time period, or specific content that appeared during that time period.
With the plugin, you can replace a single word or phrase throughout the content on your whole website instantaneously, without having to search for it manually.
The most significant advantage of using the plugin over its competitors is it doesn't require entering any information into the WordPress database for making changes to the entire website.
This means that you can easily make quick changes to your entire website without having to change any of your URLs or anchor text. The plugin recognizes instances containing a particular word automatically instead of requiring the user to comb through their material for that word.
One useful feature that the plugin offers is the ability to exclude a page from the rules at any time and specify whether the rule should apply to pages, posts, or custom post types.
Additionally, changes made in filtering will be filtered out quickly based on any posts containing swear words or suspicious links. By adding a toggle option, it also provides an option to save the changes made permanently to the database.
Lastly, CM Search & Replace helps users to automate the process of repairing HTML errors across multiple pages to minimize any errors detected.
Key Features:
Exclude a page from the rule at any time
Decide whether the rule should apply to pages, posts, or custom post types
Toggle option to save changes made permanently to the database
Quickly filter out any posts containing swear words or suspicious links
Automate repairing HTML errors across multiple pages.
Search by Content Plugin for WordPress
The ACF: Better Search plugin improves the default WordPress search engine by allowing users to search within advanced custom fields. This enables more accurate search results by searching for whole sentences instead of just single words.
With this plugin, you can modify your SQL query without changing the results page. The plugin is great for smaller-sized websites and for personal websites that are not very complex.
In addition to the plugin's minimal functionality, it makes it lightweight and simple to use, allowing you to create custom search fields with the help of shortcodes and widgets.
You can select from various field types, including text, email, and URL. The plugin uses a custom algorithm for result ordering, and its lightweight design helps improve search results across your WordPress site.
Key Features:
Create custom search fields with ease using shortcodes and widgets
A custom algorithm used for order-matching search results
Various field types are available, including text, email, URL, and more
Simplified search page to make it easier for site visitors
Optimized for faster search results, thanks to its lightweight design.
WooCommerce product search plugin
Through a powerful search engine and an excellent live search bar, Ajax Search for WooCommerce allows customers shopping in an online store to experience an enhanced shopping experience.
Studies show that 96% of major eCommerce websites provide autocomplete, auto-suggest, or instant search functionality. This plugin offers advanced search capabilities and lives product recommendations to improve users' shopping experiences.
One of the most significant benefits of this plugin is its Ajax searching capabilities, which allow for live search suggestions as users type. It displays product descriptions and images in the search results, along with incorporating product prices.
The plugin's algorithm ensures the most accurate results possible by searching products based on their titles, short descriptions, or long descriptions. The search results page for WooCommerce is also supported, making it easy for users to find what they're looking for.
Key Features:
Advanced search capabilities with live product recommendations.
The algorithm ensures the most accurate results possible.
Live search bar with Ajax searching capabilities.
Product descriptions and images are displayed in search results.
Product prices are incorporated into live search results.
Supports the search results page for WooCommerce.
Frequently Asked Questions
What are the benefits of using a WordPress search and replace plugin?
WordPress search and replace plugins help users save time and effort when editing multiple posts or pages by allowing them to search for specific text or strings and replace them with new ones.
This is particularly useful for website owners who need to update information across their entire site or fix typos and errors quickly and efficiently.
What features should I look for in a WordPress search and replace plugin?
When choosing a WordPress search and replace plugin, it's important to consider factors such as ease of use, speed, compatibility with your theme and other plugins, and the ability to perform advanced search and replace functions.

Look for plugins that offer features such as regular expression support, case-sensitive search, the ability to search and replace text in multiple fields, and the option to preview changes before finalizing them.
Conclusion
To sum up, in this article, we discussed the five best WordPress search and replace plugins available in the market, both free and pro. These plugins can help WordPress website owners easily and efficiently search and replace text across their websites.
If you want to learn more about WordPress plugins or other related tutorials, make sure to check out BetterStudio's blog. We regularly publish informative and helpful content on various topics related to WordPress.
To stay updated on the latest tutorials, tips, and tricks, don't forget to follow BetterStudio on Facebook and Twitter. We share a wealth of valuable information on these platforms.
Thank you for reading this article. If you have any questions or problems related to this article, please feel free to ask them in the comment section below. Our team will be happy to assist you.