Want to get one of the best Behance WordPress plugins?
With the help of this list, we have collected the best Behance WordPress plugins with modern options that are easy to use. All these chosen WordPress plugins listed here are feature-rich, effortless, and integrate perfectly with each and every popular WordPress theme.
As a final thought, all the plugins listed below are for Behance. However, these plugins can also be used with Behance Portfolio, Behance Feed, Behance Widget, and Embed Behance On WordPress.
We will share some of our favorite WordPress plugins for Behance in 2022 in this post:
Showcase Behance Portfolio For WordPress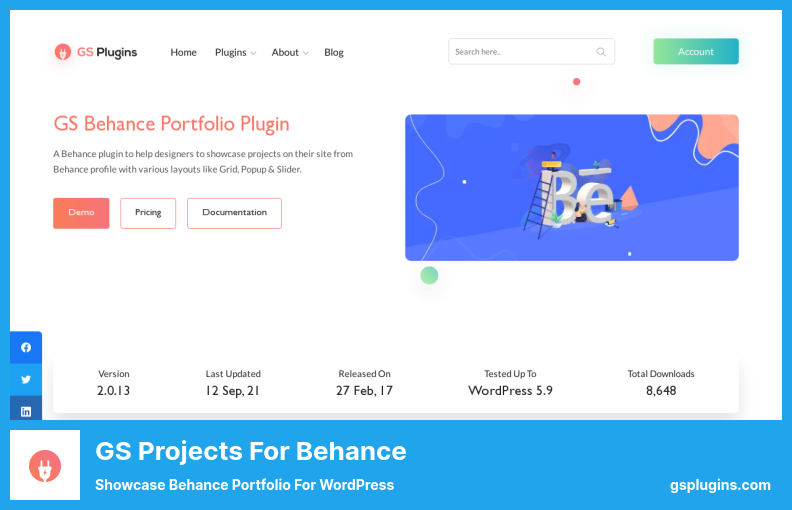 GS Behance Portfolio is a powerful portfolio WordPress plugin to display Behance projects on your website. This plugin is written with shortcodes, which significantly simplifies the loading and debugging process of the codes and the problems that occur.
You can display images anywhere on your website. It offers countless options for controlling the website and various themes to make Behance projects more beautiful.
This social medial plugin does not need the Behance API to access, capture and display the project, and without the need for the API, you can expose your projects to viewers as beautifully as possible.
It is compatible with various WordPress plugins and displays projects across multiple column options. It offers users many customization options that can be used to make the site beautiful and user-friendly.
Reputable and professional designers display their projects on this website, and many people come to this website to get ideas and visit these projects. This plugin helps you generate good traffic from these visitors to your website.
💵 Get complete documentation and a year of support when you purchase the plugin for $35.00.
Key Features:
Easy for debugging and fast loading
Regularly updating to make it compatible with the latest WP versions
Countless options for controlling the website and various themes to make Behance projects more beautiful
Ability to display the images everywhere on the WordPress website
Display projects in multiple columns options
Connect WordPress website to Behance without the need for API
Behance Works WordPress Portfolio Plugin

The BeDojo plugin fascinates every user with the features it provides. The latest trends and technologies have been used to develop this plugin.
It has a fascinating design, an essential point, and an advantage in attracting visitors. It offers many options for users to customize their WordPress sites in a user-friendly and efficient way through the plugin's admin panel.
It has three grid themes to present and display projects on the WordPress site. The support team's ability to respond and serve users is a significant contribution to the plugin's strength.
Offers beautiful animations. Working with this plugin is simple just enter the Behance API key. Grid layouts are available in small, medium, and large sizes.
There are filters for displaying projects that make communicating projects more attractive. With this plugin, projects can be provided to users with descriptions and information that can be very attractive.
It also automatically generates a URL for each project that can be used to access each project. At the bottom of the project is a function block where visitors can post comments.
💵 This progressive plugin's price is a $19.00.
Key Features:
Using different filters for displaying your projects more attractively
Offering three grid themes for presenting the projects
A strong support team for helping users with their problems
Offering grids in small, medium, and large sizes according to your WordPress site
Many options to customize your WP website
Using the latest technologies to develop the plugin
Automatically generating a URL for each project that can be used to access each project
Random Reviews:
Worked too hard and nothing but CSS is displayed. I can't figure out how to use this.

We have spent our money for nothing. The plugin has very high server requirements, it does not let us install it. The support forum does not answer our questions and we give up our money. Bad very bad.
Embed Behance On WordPress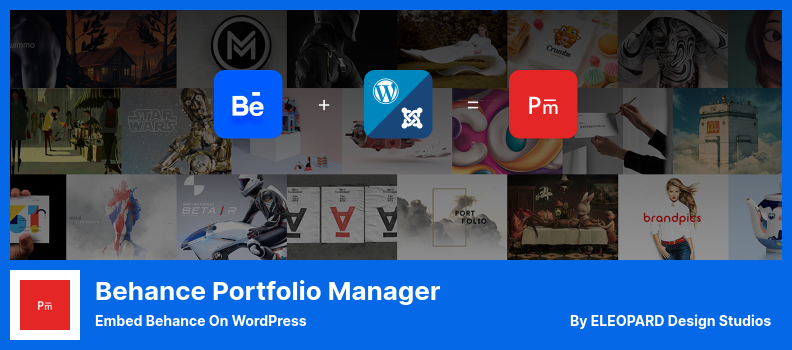 Behance portfolio manager is one plugin that helps you display your portfolio and projects on your website as beautifully as possible. You can get your Behance projects and integrate them with your site.
The layout of the projects is done in a grid, and visitors can quickly move between projects and visit them. This plugin allows the user to customize tabs and project display style.
With the powerful toolbox it provides, you can have a lot of control over managing your portfolio.
Working with this plugin is very simple. Just connect your account to the plugin. It gives you a world of different tools to work with this plugin.
You can use two mosaic and grid designs to display projects. This plugin's ability to categorize tasks and display in single and multiple views are other features to make your site more user-friendly.
It provides API keys for users to access each of the products by using the API.
💵 This plugin was developed as a Free plugin by a powerful company.
Key Features:
Providing projects in categorization orders
Ability to filter projects, so users can easily find their particular projects
The ability to present one or more undertakings of a specific or number of categories in different views
Tab customization for mosaic/grid view order
A powerful toolbox to have a lot of controls over the projects
Ability to display portfolio in single or multiple views
Random Reviews:
My opinion is that it is a fantastic application and it has great support services at the same time. I would like to commend them and wish them continued success.

My site runs much faster with this tool

Exceptional support, love the team
Behance Widget Plugin for WordPress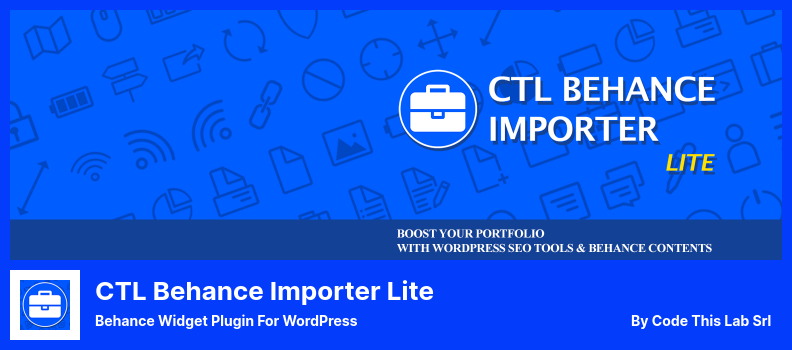 CTL Behance Importer Lite is one of the plugins that allow you to transfer your projects and portfolios from Behance to your WordPress site in the shortest possible time.
One of the unique features this plugin offers is making this portfolio into a slider and creating covers for your posts and web pages.
Behance has created a limitation for users, and each user can not send more than 150 API requests per hour. But with this plugin, you can eliminate this border.
Visitors can easily see beautiful portfolios on your site. Allows you to use all the tools provided for WordPress to index your portfolio and projects.
You can publish this portfolio as a WordPress post. This feature can help improve your WordPress site rankings.
With this plugin, your projects can be modified. The professional version of this WordPress allows you to display your WordPress site without any limit in terms of number.
It also gives you many options for modifying and customizing your project gallery.
💵 This is a Free plugin without a Pro or Premium version.
Key Features:
Creating a cover for your WordPress posts and web pages
Ability to publish your portfolio as a WordPress post
Offering beautiful themes to present your portfolio
Displaying an unlimited number of projects on your website
A toolbox with various tools to customize your projects gallery
Presenting your portfolio into a slider
Eliminating the API requests limitations per hour
Random Reviews:
Currently, Behance projects cannot be imported.
Behance Portfolio Showcase Plugin

We suggest you use the Behanceian plugin; if you do not want to spend so much money to display your portfolio, use a plugin that provides you with powerful features.
This social media plugin has a gorgeous user interface that enables you to beautifully and creatively display your portfolio.
The capabilities of this plugin are such that it covers even the needs of professionals to a great extent. It is well compatible with other popular and widely used WordPress plugins and can be efficiently run on all browsers.
Easily connect to your Behance account with this plugin, and easily integrate your portfolio on this platform with your WordPress site.
Turn Behance site visitors into your potential site visitors. Use the plugin's countless features to present a fantastic portfolio gallery on your website so that visitors absorb your website and increase your site efficiency and success.
💵 With $19.00, you can purchase the Behanceian plugin.
Key Features:
Compatible with all popular WordPress plugins
Compatible with all modern browsers
Creating multiple changeable column grids
A strong support team that will answer your questions and problems in the shortest possible time
Creating gorgeous portfolio galleries just by clicking
Easy to connect your WordPress site with your Behance account
As a conclusion
In this post, we review the best WordPress Behance plugins for 2022. These plugins will help your website grow.
We hope this article provided you with helpful information on how to find the right WordPress plugins for Behance sites. We publish content on the best WordPress blog themes and the best WordPress plugins for bloggers regularly, and they are frequently voted for, referred to, and shared by our readers.
Please don't be afraid to comment if you are unsure or stuck. We're here to help you. Just let us know. If you liked the article, please share it.