Do you own a WordPress website and want to showcase your design or art portfolio in a professional way? If so, you may be overwhelmed by the number of WordPress portfolio plugins available on the market. How do you know which one is the best fit for your needs?
Look no further, because we've done the research for you. In this article, we'll be exploring the 5 best WordPress Behance portfolio plugins, both free and pro versions, to help you make an informed decision.
Did you know that WordPress is the platform used by over 40% of all websites on the internet, and over 60 million websites run WordPress? With such a vast user base, it's crucial to select a WordPress plugin that not only meets your requirements but also has a robust community base that can support you if necessary.
Let's dive in and explore the top WordPress Behance portfolio plugins that can elevate your website's design aesthetic and showcase your talents effectively.
Best WordPress Plugins for Behance Portfolio
Introducing the Best WordPress Plugins for Behance Portfolio, tools specially designed to display your creative works in a stunning and professional manner.
If you're looking for ways to showcase your portfolio, you definitely don't want to miss out on these handy plugins – have a look and choose the one that suits your needs the best!
Showcase Behance Portfolio For WordPress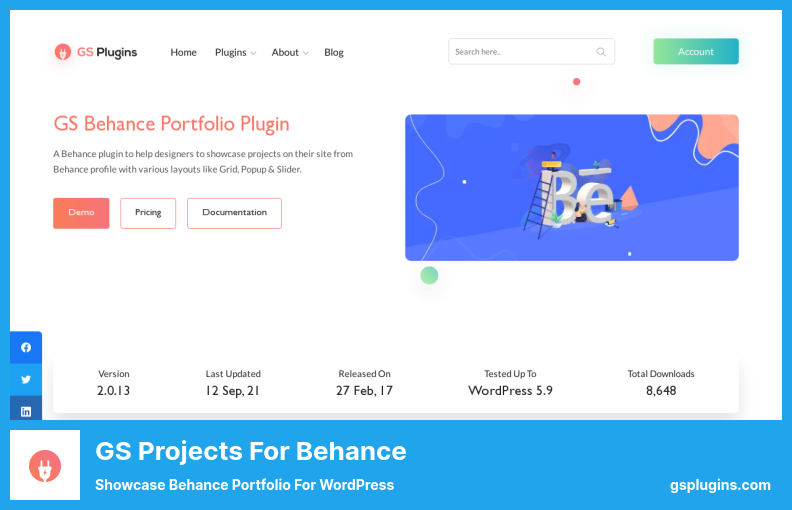 GS Projects for Behance is an excellent WordPress plugin, which allows users to showcase Behance projects on their websites. Written with shortcodes, this powerful portfolio plugin simplifies the loading and debugging process significantly.
The great advantage of this plugin is that reputable and professional designers display their projects on Behance. Thus, this plugin helps suppliers generate excellent traffic from visitors to Behance's website who are browsing for inspiration.
Apart from increasing traffic, the plugin is also highly user-friendly and offers many other compelling features to the users. You can display images anywhere on your website.
Users can tailor it using various themes to make Behance projects more beautiful. It is highly compatible with other WordPress plugins and offers multiple-column options to display projects efficiently. With a great range of customization options, it's no wonder why this plugin is so popular.
What's more, GS Projects for Behance does not need the Behance API to access, capture, and display projects. It means that without the API, they can still expose their projects to viewers as beautifully as possible. The plugin regularly gets updated to make it compatible with the latest WordPress versions, and it's easy to debug and fast loading.
Key Features:
Fast loading time is provided
The ability to display images anywhere
Countless customization options
Display projects in multiple-column options
Connects WordPress websites to Behance without the need for API.
Behance Works WordPress Portfolio Plugin

Introducing BeDojo, which is a new WordPress plugin that enhances the appearance of your WordPress website by providing easy-to-use features through the way its admin panel is configured.
This plugin provides a unique advantage to your website by making it easier to attract visitors to it by featuring sleek animations and customizable grid layouts of various sizes.
In addition to its functionality, the plugin provides filters for displaying projects in a beautiful way and gives descriptions as well as information about each project that it displays.
The plugin has three attractive grid themes to showcase your projects and attracts visitors with its fascinating design. Support is available to ensure user success, and each project is automatically given a unique URL for sharing.
Key Features:
Customizable project filters
Three unique grid themes
Strong technical support
Responsive grid sizes
Unique URL generation for projects
Integrated project descriptions.
Embed Behance On WordPress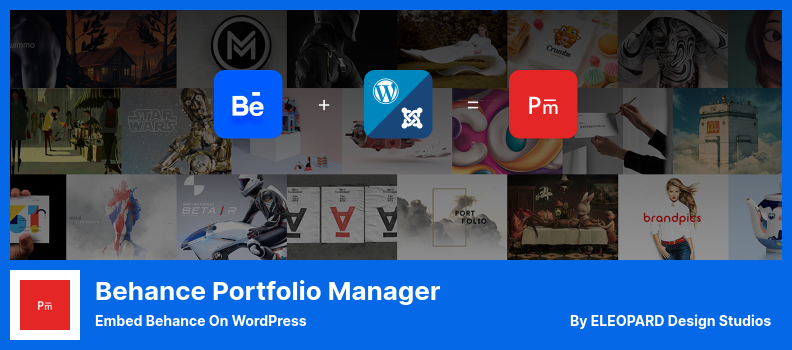 Behance Portfolio Manager is an exceptional WordPress plugin that helps users showcase their portfolios and projects on their websites in a visually appealing way. This plugin allows easy integration of Behance projects, making managing them a breeze.
The user-friendly interface of this plugin makes it easy to connect your account right away and start using the various tools provided so that you can customize your portfolio as you see fit.
The plugin ensures that your projects are displayed elegantly in a grid layout, and visitors can easily navigate through them. Furthermore, users have the option to customize tabs and choose project display style, whether mosaic or grid design.
Behance Portfolio offers a wealth of features to help you manage your projects with utmost ease. You can categorize tasks as well as present them in multiple views. Users can filter their projects for easy accessibility and also display single or multiple undertakings in unique views.
Key Features:
Projects arranged in categorized order
Filters to easily find specific projects
The ability to present projects with different views
Customize tabs for mosaic/grid view order
Powerful toolbox with complete control over projects
Display portfolio in both single and multiple views.
Behance Widget Plugin for WordPress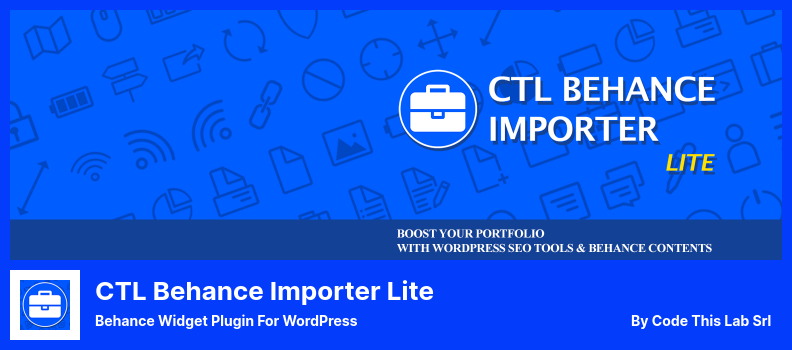 CTL Behance Importer Lite is an amazing plugin that can help you to import your Behance projects to your WordPress site easily and quickly. It is an excellent choice for those who want to create a portfolio or showcase their work on their WordPress site.
With the plugin, you have many options for modifying and customizing your project gallery. You can make your portfolio into a slider, create covers for your posts and web pages, and display unlimited projects on your website.
One of the best features of this plugin is that you can publish your portfolio as a WordPress post, which can help to improve your site rankings. Additionally, visitors can easily see beautiful portfolios on your site, and you can use all the tools provided by WordPress to index your portfolio and projects.
The plugin offers a toolbox with various tools to customize your project gallery. You can use different themes to present your portfolio and present it as a slider to give it a professional look. You don't need to worry about limitations because this plugin displays an unlimited number of projects on your website.
Finally, this plugin eliminates the API request limitations per hour that Behance has created for users. Thanks to this feature, you never have to worry about reaching the limit and can easily import your Behance projects to your WordPress site.
Key Features:
Easy import of Behance projects to the WordPress site
Create covers for posts and web pages
Publish portfolio as a WordPress post for improved rankings
Beautiful themes to present your portfolio
An unlimited number of projects can be displayed
Customizable project gallery with a toolbox.
Behance Portfolio Showcase Plugin

Behanceian is a social media plugin that offers powerful features to display your portfolio creatively and beautifully. The user interface is stunning and easy to use, making it effortless to integrate your Behance account with your WordPress site.
The plugin offers capabilities that suit the needs of professionals, and its compatibility with other WordPress plugins and modern browsers ensures efficient performance.
With the plugin, you can quickly turn Behance visitors into potential site visitors by showcasing your portfolio gallery on your website. The plugin's numerous features allow you to create a fantastic portfolio gallery that captivates your site visitors, enhancing your website's success and efficiency.
It's compatible with most modern browsers and WordPress plugins, you can set up multiple-column grids, and just click to make stunning portfolios. Plus, the plugin has a great support team that's always there to solve your problems.
Behanceian is a must-have plugin for WordPress website owners that do not want to spend too much money to display their portfolios. It offers high-end features that are easy to use and will inspire your site visitors positively.
Key Features:
Compatible with popular WordPress plugins
Compatible with modern browsers
Multiple changeable column grids
Excellent support team
Easy-to-use portfolio gallery creation
Connect Behance account with WordPress site easily.
Frequently Asked Questions
What are Behance portfolio plugins for WordPress?
Behance portfolio plugins for WordPress are tools that allow you to showcase your Behance portfolio on your WordPress website. These plugins provide a simple and effective way to display your work, making it easy for potential clients or employers to view your portfolio.
Why should I use a Behance portfolio plugin on my WordPress website?
Using a Behance portfolio plugin on your WordPress website can help you to showcase your portfolio in a visually appealing and professional manner.
It will make it easy for visitors to your website to view your portfolio and assess your skills and abilities. This can be especially useful if you are a freelancer or looking for work in the design industry.
Are there any free Behance portfolio plugins available for WordPress?
Yes, there are several free Behance portfolio plugins available for WordPress. These plugins offer basic portfolio display functionality and are a good option if you are on a tight budget. However, if you require more advanced features or customization options, you may want to consider a paid plugin.
Conclusion
So, to recap, we've found out about the top 5 Behance Portfolio plugins, free and paid. We talked about their features, benefits, and limitations to help you pick the right one. In your search for the perfect Behance Portfolio plugin for your WordPress site, we hope this article has been helpful and informative.
For more related tutorials, we invite you to visit the BetterStudio blog where you can find a wealth of helpful articles and information. Our blog covers everything from web design and development to online marketing and branding.
Don't forget to follow BetterStudio on Facebook and Twitter to get the latest tutorials, tips, and tricks straight to your social media feed. Stay up to date with all the latest trends and developments in the world of WordPress and web design.
Thank you for reading our article. If you have any questions or problems related to this tutorial, please feel free to ask in the comments section below. We would be more than happy to help you out in any way we can.