Are you thinking about getting a Shop the Look plugin for WooCommerce? Find out if it's worth investing your time and money.
Humans are curious by nature. It is not unusual to want to know more about something before investing a lot of time and money.
Customized, on-brand product collections can be created easily and cost-effectively with WooCommerce Shop the Look plugins. The Shop the Look tool lets store owners create eye-catching visuals that show customers what else they can purchase.
Shop the Look allows store owners to set rules for upsells and cross-sells, giving them greater control over purchasing decisions. Not to mention, it saves time by eliminating the need to build product displays manually.
If you're thinking about buying a Shop the Look plug-in for WooCommerce, here's everything you need to know so that your decision is informed. these plugins also work with all of the top WordPress themes.
We'll explore the benefits and drawbacks of Shop the Look and the best WordPress plugins for WooCommerce Shop the Look plugins on the market today. Whether you decide to purchase or not, you'll have all the facts you need to make an educated decision about the future of your store.
📌 Note: If you would like to improve your store's appearance and functionality, we suggest you use a modern WooCommerce theme that has the features you need as well as a beautiful design. You may also wish to check out our article on advanced WooCommerce plugins for additional information about advanced plugins for your store.
Increases Salses By Showing Complete Shoppable Outfits
If you are a WordPress site owner, you possibly know that it is possible to sell clothing, furniture, and computer parts online through a plugin known as WooCommerce Shop The Look. Using this plugin, you can make sure that your website design is responsive and that it is also customizable.
Using this WooCommerce plugin, you can display both the outfit or set itself as well as all the shoppable items on the same page so that everyone has the option to purchase everything at the same time.
By using this plugin, customers can choose their products and add them to their cart either manually or automatically. You can use this plugin to sell lookbooks and get look products in a quick and efficient manner.
It is possible to add all of the products that you have in your cart with the help of the add-to-cart button located at the bottom of the page, in addition to out-of-stock items.
Key Features:
Displays complete living room examples with tables, chairs, and lighting
Provides gaming equipment sets
You can easily sell lookbooks and order look products
Outfits can be sold for women or men
Allows you to customize and make your design responsive
Shoppable Social Media Galleries
With the help of a plugin like this, you can create shoppable galleries from your Instagram feed. Through this plugin, you can track the performance of the links you have created.
The plugin makes it easier for your customers to discover your products and buy them more conveniently since they can discover them more easily.
Using this plugin may help store owners and developers increase conversion rates by up to 270% on average as it is proven by statistics.
As a result of this plugin, Instagram images linked to products can be displayed on shoppable profiles and shoppable product cards, regardless of where the images are displayed on the page.
Additionally, this plugin will provide you with dashboard analytics whenever you use your conversion code during the check-out process to keep track of the performance of your shoppable galleries on Instagram.
Key Features:
Makes your Instagram feed instantly shoppable to increase sales
You can track your shoppable Instagram galleries
Makes your Instagram photos into picture-perfect shoppable links
Stores can display carousels and galleries of Instagram feeds
You can use all your Instagram images to persuade
Increases Traffic Through Your Website By Creating Shoppable Images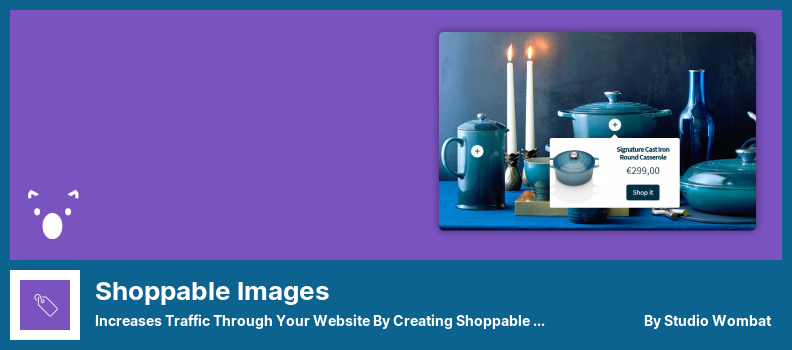 Using the Shoppable Images plugin, you can display shoppable images on your website. With this plugin, you can link to a product hotspot from any page on your website. Furthermore, as long as you have the PHP code, you can place them anywhere in your theme.
The plugin enables you to create shoppable images directly from WordPress's administrative area in only three easy steps.
Additionally, users can directly add items to their carts by clicking a button, eliminating the need for the user to reload the page upon adding a new item to the cart.
As an additional option, you can add shoppable images to your theme with shortcodes or implement them with PHP code anywhere on your website.
Key Features:
User experience can be enhanced with pop-up animations
Tag icons can be selected from a variety
You can change tag colors
Hotspots can be linked to any product or webpage
Shortcodes let you add shoppable images to posts and pages
Lets You Create Lookbooks With Your Products
The WooCommerce Lookbook plugin is a great way for those who intend to start up their own e-commerce business with WooCommerce or Instagram to begin the process of bringing their vision to life so that they can make an impact on their target market.
Certainly, with the business world moving into a digital age, the WooCommerce Instagram Shop feature offers a powerful new way for businesses to manage their marketing.
The WooCommerce plugin lets you create lookbooks so you can show off your products and sell them straight from the lookbooks.
This plugin also has the feature of displaying lookbooks anywhere that you want to. Along with the pop-up feature there is also an ad-to-cart feature made as part of this plugin.
As well as that, there is a shortcode that can be used to display the lookbooks on the front-end such that the images appear as a single gallery carousel that can be scrolled through.
Key Features:
Syncing Instagram images are customizable
Lookbooks can be fully customized by adding your own CSS code
Nodes can be designed with main color, background color, and border-color
You can combine lookbooks and display them as slides
Lookbooks are created with nodes
FAQ
What's the best WooCommerce Shop the Look plugin?
You can create a custom shopping experience offering great flexibility, options, and functionality for your customers using WooCommerce Product Bundles, WooCommerce Product Add-Ons, and Advanced Custom Fields.
Which payment gateways do these plugins support?
Almost all WooCommerce shops, like the Look Plugin, support many payment gateways: PayPal, Stripe, Amazon Pay, Apple Pay, and more. Read the plugin's documentation to find out what's supported.
Conclusion
To conclude, we would like to emphasize the fact that shop-the-look plugins are extremely important in the context of WooCommerce websites at the current time.
📌 Note: By regularly publishing articles on the best WordPress blog themes and best WordPress plugins for bloggers, we receive votes, referrals, and shares from our audience.
We have also explored some of the best shop-the-look plugins – WPShopify, Lookbookly, and ShoptheLook – available to help you create an engaging, professional-looking website.
As each plugin has many features and a variety of customization options, you are able to select the one that is best suited to your needs from the many that are available. To learn more about Shop-the-Look plugins and WooCommerce, check out BetterStudio's blog. And don't forget to follow BetterStudio o Facebook and Twitter for the latest news!