Are you a WordPress website owner looking for a way to stay updated on price drops and alerts for your WooCommerce products? If so, you've come to the right place!
The purpose of this blog post is to spotlight four of the best WooCommerce price drop notifier/alert plugins you can use to save you time and money when it comes to keeping up with price drops on your online store.
Nowadays, online shopping has become increasingly popular, and it can be quite frustrating to purchase a product only to find out later that its price has dropped significantly. That's where these plugins come in handy. They provide you with a way to track price changes and receive alerts, so you never miss out on a great deal.
This article will examine the top four WooCommerce price drop alert/notifier plugins on the market, and compare their features, pros, and cons so that you can make the most informed decision.
We will also include some interesting statistics and facts about these plugins, so you can make an informed decision about which one suits your needs best. So let's get started and discover how these plugins can revolutionize your online shopping experience.
Best Price Drop Notifier/Alert Plugins for WooCommerce
If you are looking to keep track of price drops on your WooCommerce store, check out these top-rated price drop notifier/alert plugins for WooCommerce that can help you stay informed and boost your savings.
Explore our selection of both free and premium options and find the perfect fit for your needs. Whether you're a bargain hunter or a savvy online shopper, these plugins are a must-have for any WooCommerce website.
The best WooCommerce Price Drop Notifier
TP Price Drop Notifier for WooCommerce is a handy plugin that allows you to keep your customers informed when prices drop on your WooCommerce website. It also provides insights into your customers' interests and preferences, helping you optimize your marketing efforts.
This plugin lets you track the most popular products your customers buy. You can tell which products your customers want to see discounted if you know their preferences. So you can tweak your pricing strategies and promotions to make sure you're targeting those products.
In addition, it offers a back-in-stock notification system. This feature allows customers to sign up to receive an email notification when their favorite products are back in stock. This is a fantastic way to keep your customers engaged and encourage them to make a purchase as soon as their desired item becomes available again.
The plugin works by adding a form to your product's page that asks customers for their name, email, and price range. You can choose the price minimum and maximum you'll accept, so you'll get notifications when products fall into your price range. A newsletter plugin is also available.
Another advantage of the plugin is its compatibility with most premium themes. You don't have to worry about the plugin clashing with the design of your website, as it seamlessly integrates with the overall look and feel of your online store.
The plugin also works well with different types of product variations. Whether you have different sizes, colors, or any other variations for your products, it supports them all. This means you can set up price drop notifications for specific variations, targeting your customers with customized offers based on their preferences.
Finally, you can customize how your customers get notified of price drops with the TP Price Drop Notifier for WooCommerce. It's easy to personalize your emails, so they match your brand's tone and style. So your customers are more engaged and likely to return, increasing your likelihood of them buying again.
Key Features:
Detailed customer request tracking in the admin area
Customizable dynamic email parameters
Compatibility with most premium themes
Support for various types of product variations
Personalized email notifications
Allows Your Users to Subscribe to Price Drop Alerts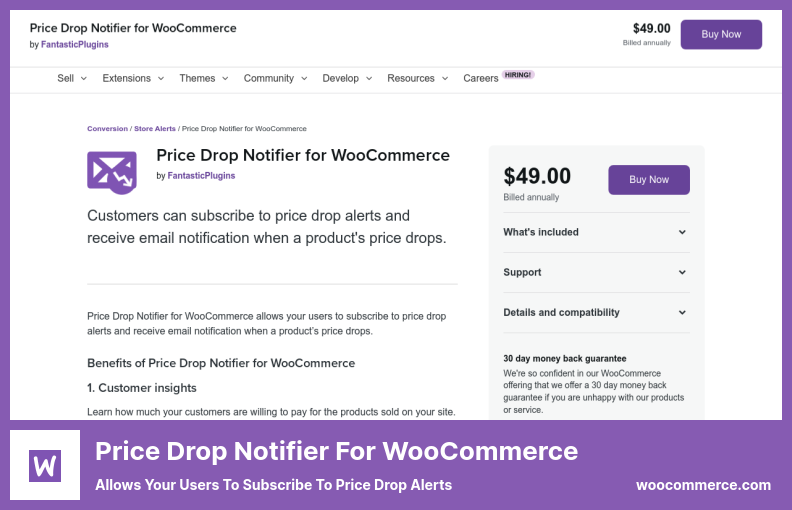 Price Drop Notifier for WooCommerce is a fantastic plugin that allows subscribers to receive notifications when there is a price drop on their favorite WooCommerce products. It not only works for simple products but also for variable products.
You can customize the plugin with a wide range of settings, making sure that you only receive notifications of price drops if you are logged in as a specific role, category, or product line.
One of the standout features of this plugin is the ability for the admin to easily view the list of subscribed price drop products in a separate post table. This makes it convenient to keep track of all the products that have active subscribers.
For added security, the plugin also offers a double-opt-in feature. This ensures that users confirm their subscriptions and provides an extra layer of protection against fake subscriptions.
Another useful feature is the option to hide the price drop subscription form when a product is currently unavailable. This helps to avoid confusion for customers and ensures that they only see relevant information.
Customers can also easily manage their subscribed products within their My Account section. This makes it convenient for them to review and keep track of all their price-drop subscriptions in one place.
Key Features:
Improved user experience

by providing relevant and timely information

Admin can view subscribed price drop products in a separate post table
Double-opt-in feature for added security
Timely notifications for price drops on favorite products
Easy-to-use interface for both admin and customers
Convenient tracking and organization of price drop subscriptions
Sends Special Reminders to Your Customers
The WooCommerce Remind Me plugin is a powerful tool that allows you to automate the sending of emails to users who have expressed interest in a specific product when they have completed the checkout process.
Using this plugin, you will be able to create customized and personalized messages designed to keep your customers engaged and informed about what's going on.
One of the standout features of the plugin is the animated bell symbol that appears on your product pages. This symbol serves as a visual cue for users to opt in for reminders, making it easy for them to stay updated on any price drops or product availability changes.
Another great attribute of this plugin is its robust email reminder system. You can easily schedule and send automated emails to your customers, reminding them about their desired products.
The plugin ensures that, whether you're notifying your customers about a price reduction or restocking a particular product, your customers are always kept in the loop about what's happening.
Keeping track of your email list is made simple with this plugin. You can easily manage and organize your subscribers, ensuring that you can reach out to them effectively.
You will also be able to determine the effectiveness of your email campaigns by analyzing the results of your email reminders via the plugin, which will allow you to assess their effectiveness.
Key Features:
Detailed reporting on reminder results
Animated bell symbol for easy opt-in
Customizable email reminder system
Email list management and organization
Allows Guests and Logged in Users to Follow Any Selected Product
Price Drop Alert for WooCommerce is a free WordPress plugin that provides a convenient way for your customers to receive automatic email notifications when product prices drop. With this plugin, you can configure it so that your clients are informed whenever there is a decrease in product prices.
One great feature of this plugin is that it allows both logged-in users and guests to view the price history of your WooCommerce products and follow specific items. This means that customers can easily track the products they are interested in and be notified when the price drops.
Another advantage of using the plugin is that it enables you to store the email addresses and details of the products followed by users within your website's database. This is incredibly valuable for improving customer retention, driving sales, and implementing remarketing strategies.
By having access to customers' information and being able to notify them when prices are reduced, you can increase the chances of retaining customers and boosting sales.
What sets this plugin apart is its simplicity. The setup process is incredibly easy, making it accessible to users with varying levels of technical expertise. Whether your customers are tech-savvy or new to online shopping, they will have no trouble setting up and receiving price drop alerts.
Both registered users and guests can benefit from this plugin. By offering price drop notifications to both types of users, you can reach a wider audience and provide a seamless experience for all customers.
Key Features:
Customizable email templates to match your brand's design
Select specific products to receive price drop alerts
Automatic email notifications for subscribed users when the price is lowered
Price drop alerts are available for both guests and registered users
Seamless integration with your WooCommerce store
Access to price history of products for users
Frequently Asked Questions
What are WooCommerce Price Drop Notifier/Alert Plugins?
WooCommerce Price Drop Notifier/Alert Plugins are tools that notify customers when the price of a product they are interested in drops. These plugins help customers stay updated on price changes and can help them save money on their purchases.
Why should I use WooCommerce Price Drop Notifier/Alert Plugins?
Using WooCommerce Price Drop Notifier/Alert Plugins can be beneficial for both customers and online store owners. For customers, these plugins provide a convenient way to track price changes and ensure they don't miss out on any discounts.

It allows them to make informed purchasing decisions and grab the best deals. For store owners, these plugins can help increase customer engagement and loyalty, as well as drive sales by offering personalized promotions based on customer preferences.
What features should I look for in WooCommerce Price Drop Notifier/Alert Plugins?
When choosing a WooCommerce Price Drop Notifier/Alert Plugin, there are several key features to consider. Firstly, it should have a user-friendly interface that is easy to navigate and set up.
Secondly, the plugin should have customizable options, allowing customers to set their own price thresholds and notification preferences.

Thirdly, the plugin should support multiple products and categories, so customers can track price drops for a wide range of items.

Finally, it should have reliable and timely notification delivery, ensuring customers receive alerts in a timely manner.
Conclusion
To recap, in this article, we discussed the four best WooCommerce price drop notifier/alert plugins, both free and pro options. We explored how these plugins can help website owners stay updated on price changes and make informed purchasing decisions.
If you found this article helpful and want to learn more about WordPress and WooCommerce, be sure to check out the BetterStudio blog. There, you'll find a plethora of related tutorials and guides to help you optimize your website and improve your online business.
For the latest updates and tutorials, make sure to follow BetterStudio on Facebook and Twitter. By doing so, you'll have access to the newest articles and insights that can help you stay ahead in the competitive world of eCommerce.
Thank you for taking the time to read this article. We hope you found it valuable and informative. If you have any questions or problems related to this topic, please feel free to leave a comment below. We're here to help and provide assistance whenever you need it.