Looking for the best WooCommerce price alert plugins?
Finally, all the best WordPress plugins are feature-rich, have good support, and are user-friendly. These plugins have been tested to work with all the latest WordPress themes and plugins.
The following WordPress plugins were explicitly designed for WooCommerce Price Alert. They can also be used for WooCommerce Price Notification and WooCommerce Price History.
📌 Note: To enhance the functionality and the appearance of your WooCommerce site, it is advisable to select a useful WooCommerce theme that offers both the features you need and a beautiful design. Also, for more information about advanced WooCommerce plugins, please refer to our article on advanced WooCommerce plugins.
Best Price Drop Notifier/Alert Plugins for WooCommerce 🥇
Check out the top WordPress plugins for WooCommerce Price Alert in 2022:
The best WooCommerce Price Drop Notifier
You can use the TP Price Drop Notifier for WooCommerce plugin to alert your customers when prices drop and track your customers' most popular products so that you can optimize and analyze your marketing efforts.
With this plugin, you'll be able to determine what products your customers are interested in seeing discounted and add a "back in stock" notification system. This way, they will be notified when their favorite WooCommerce products are back in stock.
Also, customers can subscribe to price drop notifications for WooCommerce products and receive an email alert when a product's price drops.
To add a blank form to your product's page, you would need to enter several details, such as your customer's name, email address, the minimum price your customer will accept, and the maximum price they would accept, as well as a tick box for the newsletter option.
💵 You can download the free Lite and the premium versions for a small fee like $35.
Key Features:
You can view all customer requests in your admin area
Parameters for dynamic email are available
Compatible with most premium themes
Works with various types of variations
You can customize your email notification
Random Reviews:
Excellent plugin! Exactly what I needed
Allows Your Users to Subscribe to Price Drop Alerts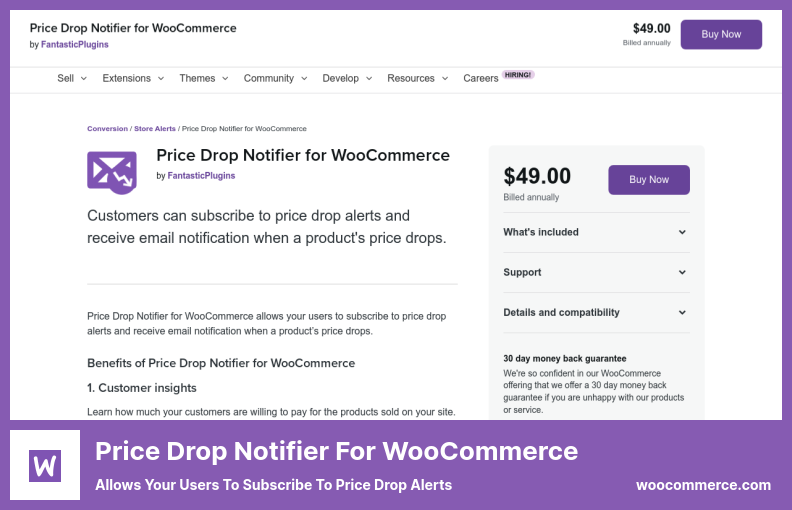 Like TP Price Drop Notifier for WooCommerce, by using Price Drop Notifier for WooCommerce, a premium plugin by Fantastic plugins, customers will receive free price drop notifications when they have subscribed to products with price drops.
When subscribers enable 'price alert' on their favorite WooCommerce products, the plugin will notify them when a price drop occurs. With this tool, simple and variable products can also be analyzed.
As well as restricting price drop notifications to specific user roles and roles within your organization, you may also limit them to particular product categories and product lines.
💵 Professionals built this plugin and sold it for $49.
Key Features:
The admin can view the user's subscribed price drop products by viewing a separate post table.
A double-opt-in feature is available for an added layer of security
The price drop subscription form can be hidden when the product is currently unavailable
Customers may review their subscribed products within their My Account section
Sends Special Reminders to Your Customers
Through the WooCommerce Remind Me plugin from Ozibal, you can send an automatic email reminder to users who have indicated that they wish to be reminded of a particular product that should be discounted.
You can send customized messages to your clients to remind them about their appointments through this plugin.
Suppose a product becomes available in stock or the price decreases when the automated email is sent to the user. In that case, the plugin automatically sends an email to that user. Unfortunately, like the Price Drop Notifier for the WooCommerce plugin, there is no free version of this plugin.
💵 At $31, you can purchase this advanced plugin.
Random Reviews:
It works great with variations. The plugin comes with great support. Br>Best for you!
Allows Guests and Logged in Users to Follow Any Selected Product
The free WordPress plugin Price Drop Alert for Woo Commerce lets your clients receive automatic email notifications when product prices drop. It can be configured so that your customers understand when product prices have decreased.
This plugin allows logged-in users and guests to view the price history of your WooCommerce products and follow specific items. You will be able to store the email addresses and details of the products followed by users within the website database.
It is vital to improve customer retention, drive sales, and drive remarketing to retain customers, drive sales, and have their information. Unfortunately, users are not notified by email once the price is on sale.
💵 That's a Free Plugin.
Key Features:
You can select products for which you wish to receive price drop alerts
The subscribed user will receive an automatic email notification when the price is lowered
The setup process could not be simpler
Both guests and registered users may be notified of price drops
Let's conclude
This was a list of the best WordPress plugins for the WooCommerce Price Alert. Within hours, anyone can create a complete site with a ready-made plugin.
📌 Note: We have published a post on the best WordPress hosting providers that may interest you. We have also put together a post on the modern WordPress security plugins for your consideration.
We hope this post helped you decide on a WooCommerce Price Alert plugin.
Please do not hesitate to contact us if you have any difficulty. Send a comment. Please share this article on Twitter and Facebook if you found this helpful content.