In search of a WordPress plugin for Print On Demand?
For your convenience, we tested many of the best WordPress plugins for Print On Demand so you can find the most comprehensive plugin. We could choose only the best plugins by reducing the list to a small amount. We did not include plugins that were not mobile-friendly or Speed Optimized. These plugins are also fully compatible with all the top WordPress themes.
To help you choose the perfect Print On Demand plugin, we have composed the following stack of Print On Demand plugins. Nonetheless, these plugins can also be used on WooCommerce Print On Demand and Print On Demand Dropshipping.
Wealso suggest you check our step-by-step guide for disabling the print screen button on WordPress if you want to create a print-on-demand business and you want to stop content theft on your site.
The following modern Print On Demand WordPress plugins will do you well in 2022:
The First Print-on-demand Drop Shipping Plugin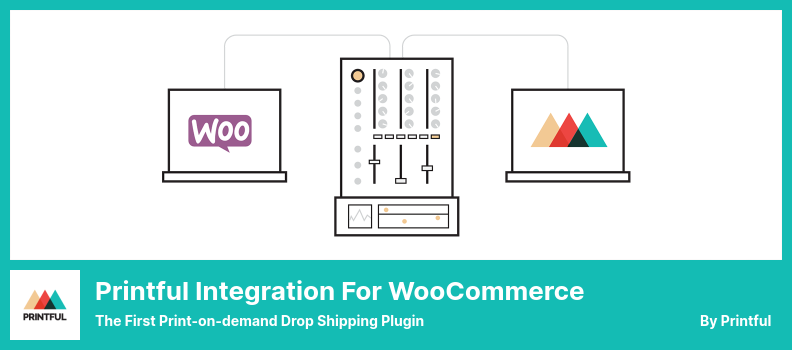 By combining their dropshipping platform with their print-on-demand services, the Printful Integration for WooCommerce plugin also provides fulfillment and shipping services to customers. It allows online store owners to fulfill orders.
Furthermore, this plugin allows you to warehouse clothing accessories, home, living products, and other items.
You can use this plugin to display your store's product catalog conveniently so that your customers will have an easy time browsing.
This WooCommerce print-on-demand plugin handles the shipping and delivery of your customer's orders after they place an order and complete their payment.
This plugin allows you to fulfill and ship your orders under your brand with custom labels, coupons, discounts, etc. No minimum order amount is required, so you can place orders without worrying about minimums.
Along with using direct-to-garment printing, the plugin automates the process across several platforms, including Ecwid, WooCommerce, Shopify, Squarespace, Etsy, and PayPal.
💵 Free advanced plugin!
Key Features:
Tax settings and shipping rates are automated
There are discounted samples provided
Free design templates are provided
Provides order fulfillment and delivery services
Gives you the ability to control your profit margins
Random Reviews:
My plugin stopped syncing after adding 88 products. After contacting the support team, I followed the instructions several times without successfully resolving the issue. Despite the error that Printful had to contact my server, I believe it isn't the case because I used different integration plugins, and none of them had any issues adding products.
A Print On Demand Drop Shipping Platform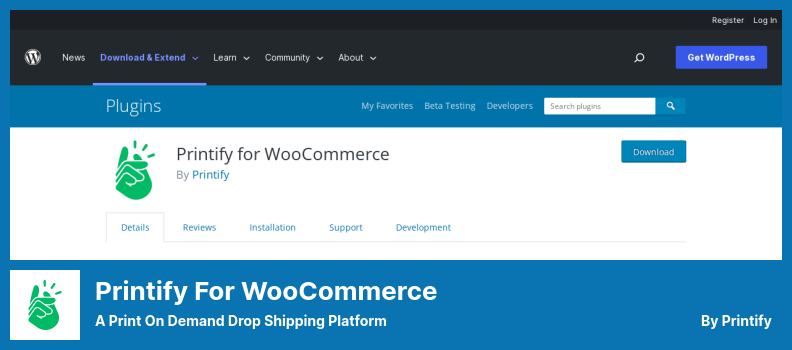 The Printify for WooCommerce plugin is one of the most popular online print-on-demand platforms. There are more than 250 items that can be used to create custom prints with this plugin.
Furthermore, this plugin provides a wide selection of more than 150 products, including apparel, accessories, home décor, and much more.
With this plugin, with just a few clicks, it is very simple to build a successful eCommerce store on popular platforms such as Etsy, Shopify, Wix, and eBay.
This plugin allows you to sync your store automatically to all these platforms and others once it has been configured.
With this plugin, you can print and ship your customized labels to your customers while still managing all aspects of order fulfillment and shipping.
This plugin enables you to search for all major print providers at one time and to filter them by parameters such as location, price, and others.
💵 There are two versions of this plugin: Lite and Premium. The Premium version costs $24/month and the Lite version costs $0.
Key Features:
Custom products can be sold through your WooCommerce store
You can create custom-printed products using a mockup generator
Access to all major print providers is available

Creating custom products with your design is possible
Random Reviews:
Printify and Woocommerce are perfectly integrated if appropriately used with this plugin. Likely, most people rating 0 stars could not figure it out and ragequit. To be fair, the instructions are lacking. Instead of figuring out Printify's 1st party documentation, google for a 3rd party guide.
Connect Your Website to The Invition Platform
You can easily print and ship your products from your online store using a WooCommerce plugin, Invition Print & Ship.
Through this plugin, whenever your customer places an order and makes a payment, their order will be automatically forwarded to Invition's printing and shipping system.
Invition is an online shopping platform that requires significant experience and expertise in online commerce and web design. It can process customer orders and connect orders for partners via APIs to the platform.
With this print-on-demand dropshipping plugin, the status of your order will be automatically changed after shipping, and you will receive tracking information by email once your order has been shipped.
With this plugin, you can generate automatic product variations concerning the brand and type of product you choose. Using this feature, you can produce different variations of the same product for different brands and types of products.
💵 Currently, this plugin is Free and doesn't have a Pro or Premium version.
Key Features:
Shipping confirmation and tracking codes are emailed to customers
Syncs product prices and stock levels
Provides automatic rendering of product images
Selling printed smartphone cases with your design is possible
The design you create can be sold on many different devices
Deal With Overseas Print On Demand Companies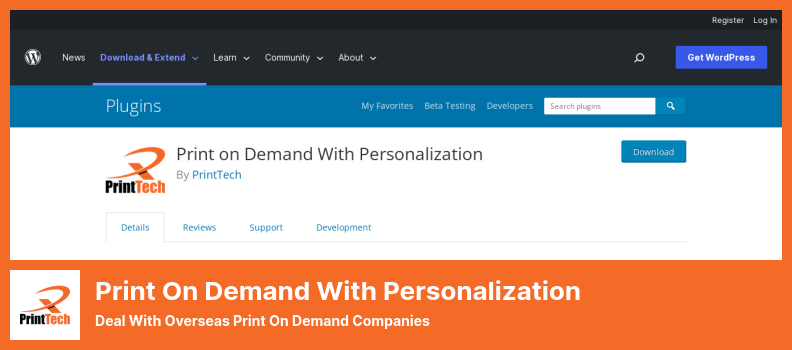 Users of the Print on Demand With Personalization WordPress plugin will have the ability to connect their eCommerce store to multiple suppliers across a variety of suppliers to source products that meet their needs.
With this plugin, you will not have to be concerned with maintaining printing activities such as Direct Garment, Screen Printing, Dye Sublimation, Embroidery, etc.
Furthermore, the ability to pick, pack, and fulfill orders from anywhere worldwide will provide added flexibility. Customers can order various items, including coffee mugs, dish towels, tumblers, T-shirts, hoodies, cutting boards, pillows, and wine glasses.
This plugin allows you to add USA-based products to your shop easily and immediately begin selling them on platforms such as Etsy, WooCommerce, Amazon, and others.
Your customers will appreciate the ease of use of the push button integration and the ability to start the process immediately.
💵 Free plugin available for download.
Key Features:
Your PrintTech/IconEcom account shows your product cost
Provides printing services using a variety of printing methods
Customers can choose from a wide selection of apparel
Provides integration with Etsy, WooCommerce, and Amazon
A variety of international shipping options are available
As part of Invition, a WordPress and Shopify plugin called Invition Print & Ship Zakeke Extension allows for the customization of online products.
With this plugin, you can sell customized items and allow your customers to design their items on your website.
With this plugin, you can offer your customers a comprehensive collection of products, and they can place orders directly on your platform. Everything is set up so that you can sell smartphone cases.
You can customize your product on a mobile device and a desktop computer. You will find the customizer intuitive and responsive on both devices. Zakeke handles the order processing, and Invition handles printing.
With Zakeke connected to your online store, you can import your API information directly from Invition and begin adding products immediately from Invition.
💵 Plugin & Support Free! You will enjoy the advantages of this plugin.
Key Features:
An extra status is provided for each order
Print images are available for download
Product added to WooCommerce, auto-imported to Zakeke
Changes order status to Invition Print & Ship status is possible
The Printy6 plugin allows you to create customized product mockups and print them on demand so that you can create your branding campaign.
Since this print-on-demand drop-shipping plugin does not require significant upfront investments, you will save time and money for your business. Your only payment will be if the product is sold, so you will never run out of inventory.
This plugin allows you to choose from various products and customize practically anything you like, including t-shirts, shoes, mugs, phone cases, socks, and hats.
Using this plugin, you can sell online using an online retail platform. This plugin will automatically upload items created on your site into your store.
Furthermore, this plugin will automatically sync the order data to this plugin so that the remainder of the order is managed. This will result in increased eCommerce sales.
💵 This plugin is free. There is no charge for it.
Key Features:
Provides free shipping around the world
Profits can be made with the newest products on the market
The process of selling custom-printed products can be completed in minutes
The product you offer can be sold at no cost to you
An approach toward a conclusion
This is our list of the best Print On Demand WordPress plugins. You can use these plugins to improve your site.
📌 Note: We strongly suggest checking our list of expertly selected modern WordPress hosting providers to enhance your website's performance. You may also wish to consult our list of modern WordPress security plugins to enhance your website's security.
We hope this article will be helpful to you.
Leave a comment in the section below. Share this post on social media. You can keep up with our newest articles by following us on Facebook and Twitter. We'd love to hear from you.