How much do you know about the events that occur on your WordPress website? How would you know if someone is trying to hack into your website? Would you notice if one of your website authors changed a post?
Any unwanted change can damage your website's image. This is why you need to monitor your WordPress activity log. On the other hand, if you don't pay any attention to events that occur on your website, hackers will have a much easier time getting into your website.
One of the major problems with WordPress websites is that it is difficult to monitor them. Although, there is a solution.
There are many plugins designed to help you monitor your WordPress activity log. In this article, we tend to teach you how to monitor your WordPress website. At the end of this article, you can easily monitor your website.
Why Monitor WordPress Activity Log?
You shouldn't confuse monitoring your users with spying on them. If a website owner doesn't monitor user activity or doesn't have any content moderation with low monitoring level, he may lose control over his website and without his knowledge illegal content may get published on his website.
There are a few reasons why you should monitor your WordPress activity and they are:
Website security: The first reason to monitor your WordPress activity is to improve your website's security. So when unauthorized want to gain access to your website you can block it, or you can change your passwords as soon as you see suspicious activity on your website.
Fixing errors: Another reason to monitor your activity is to find and fix errors. By monitoring your website's activity you can identify any error that occurs. For example, if installing a plugin is causing errors on your website with monitoring your website's activity you can find the error and delete the source.
Content management: If your published content has any errors you can simply edit them. Of course, only by monitoring your website you can identify these errors.
Support: Another benefit of monitoring your website is monitoring your user's activity. Should they need any assistance you can easily help them.
1. Review Your Content
Content is the beating heart of any successful website. WordPress websites are a combination of multiple pages and your old content must be updated after a while. Also, you must schedule your new posts. WordPress websites have many features and can be used for an online store, news, or even blogs. Updating your old content and publishing new content can improve your ranking on Google.
Paying attention to the quality of your content is very important for your credibility. Only in this case, your audience can trust you. Keeping the quality of your content is only achievable by constantly monitoring your website's activity. Many website owners leave their website as it is and they expect to make a profit or bring hundreds of views each day.
To keep the quality of your content, reviewing your published content is very important. In WordPress websites changes that usually are applied to the content are:
Creating pages, uploading different media, and publishing new posts
Changing titles, published date, changing URL and backlinks, personalized fields
Adding, deleting, or editing published content
Changing the status of a post. For example, you have published a post before and an admin has moved it to draft
Reviewing changes applied to your website becomes important when there is a chance of breaking your website or causing any errors. For example, changing a content URL can cause an error 404 for the older URL. You can restore these pages or redirect them.
All of these changes are happening constantly on any WordPress website. So this isn't an ordinary problem and we should accept it. But never forget about and keep monitoring your website changes. For example, if an important section of a page is deleted, you must find out why and restore back to its original state. Only by monitoring your website changes, you can find out who and when made a specific change.
2. Review Added or Deleted Users
Many big websites allow their audience to sign up on their website. On the other hand, some users may want to delete their accounts. Popular websites are usually dealing with this matter. Therefore, they need to pay a lot more attention to their added and deleted users.
You need to know how many users have entered the website at a specific time frame and how many users have deleted their accounts. Reviewing your new users and leaving users can give you accurate statistics about your website's quality. Even when you enable your website's registration, you still need to know who exists your website and why.
You need to know why new users visit your website. Also, you need to know why users stay on your website, and what is the reason behind it? You can find the answer(s) to this question only by monitoring your WordPress activity.
3. Review Failed Login Attempts
The WordPress login page is the most important page on your website and it should be the most secured page. You must block strangers from accessing your dashboard. There are many ways to enter a WordPress website. However, hackers usually use the login page to enter a website. Because this page is the only obstacle between them and your dashboard.
So if unknown users want to use this page to access your website, you need to be aware of their failed attempts. Obviously, they won't be successful for the first time. However, with the help of a few applications and using brute force technique they may break your security layer and enter your dashboard.
If by monitoring your WordPress activity log you notice a few notifications about unknown users' failed login attempts, you can assume that they are hackers trying to access your WordPress dashboard. Therefore, you need to improve your security layers. However, by reviewing the activity log you can find out the source.
This way, you can tell how many times they have tried to access your dashboard. You can even identify the location and time of the attack. This is done by tracking their IP. The first step you need to take is to block their IP and make sure you change your WordPress password(s).
4. Review Theme and Plugin Changes
Admins can edit themes and plugins. Although, making changes to the code can lower the website's performance.
Therefore, an admin needs to identify any errors and fix them as soon as possible. If an admin installs or deletes a plugin, it could damage the website's functionality. Monitoring WordPress activity can help you identify errors and quickly fix them.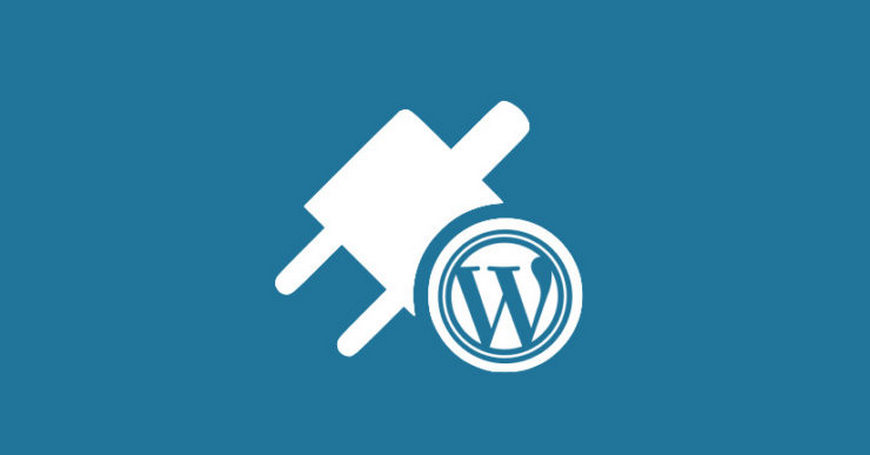 When an admin accidentally makes some changes to themes and plugins, only by monitoring the WordPress activity log you can identify the changes and fix any errors it may have caused. For example, when a web page loads very slowly it could be because a plugin is not compatible with your WordPress, and only by monitoring your WordPress activity you can find the source.
5. Review WordPress Settings
Reviewing WordPress settings is very similar to installing and removing plugins incorrectly. An admin not only needs to monitor themes and plugins, but he also needs to review WordPress settings. The WordPress core and its settings are two important factors for reviewing WordPress activities. Your website runs on these two factors. For example, any changes made to the WordPress core may interfere with your theme and plugins.
There are a lot of settings on a WordPress website. If there are any problems with these settings, your website may not function well and it certainly has a negative effect on your SEO. Changing settings can also change the pages of your website. For example, from settings, you can disable the comment section of WordPress.
Changing settings must be done very carefully. If you see any changes in your settings that you don't remember doing, assume that hackers have gained access to your website. Therefore, you need to be careful at all times and constantly review your WordPress settings.
6. Review User Profile
An admin should review his new and old users every once in a while. In addition, an admin needs to review user profiles and be aware of their changes.
When users create an account on internet websites, they can personalize their account. For example, they can change their profile picture. Users cannot edit other users' profiles. Although, an admin can make changes to the user profile.
WordPress users cannot constantly edit their profiles. However, if they keep on editing their profiles they may not be able to access their account again. Therefore, an admin should always be aware of these changes.
In these cases, users may need to contact an admin to solve their problem. Also, admins should review the user's permissions based on their user roles.
7. Review WordPress Multisite Changes
One of the key features of WordPress is the ability to review multisite at the same time. With the help of this feature, you can review multisite that are in the same network.
All of these websites are managed by one general dashboard. But the whole network should be managed and reviewed by experts. They can review plugins, themes, and other settings in WordPress. Each website needs to be managed by one admin, so they can apply the necessary changes to their website.
WordPress Multisite requires more security layers. Therefore, configuring the settings can be time-consuming due to its importance of it. When you are managing multisite you need to be careful of hackers and your user's activities. If your website is multisite, you need to pay a lot more attention to monitoring your website's activity. Activities that you need to review are:
Which websites have been recently added to multisite and which websites have been removed? If you are the main manager of this website, you need to personally review this and block anyone else from reviewing this option.
In WordPress multisite, you need to monitor each of your website users. Adding and removing users must be monitored by admins.
A report about changes should be given to the manager. Changing or fixing settings for one website can have a huge impact on other websites in multisite.
To monitor the multisite website's activity you can use a plugin to review users' activities.
How to Monitor WordPress Activity Log?
As mentioned at the beginning of the article, reviewing WordPress is no easy task. However, there are a few plugins designed that make the whole process easier and you can review your website's activity.
Using these plugins is very simple and luckily they are offered for free. With these plugins, you can even review changes to WooCommerce and bbPress. These plugins can also notify you via email. Whenever any changes occur on your website the plugin automatically sends you an email.
A few Plugins to Monitor WordPress Activity Properly
To make things easier, we have compiled a list of the best WordPress activity log plugins that we have compared, so you can be sure you are choosing the right one. But Simple History Plugin and User Activity Log are the popular ones. Below we discuss each of them separately.
Simple History Plugin
This plugin is very user-friendly. One important feature of Simple History is its speed. This plugin is also compatible with unique plugins (User Switching, Limit Login Attempts, and Redirection). With Simple History, you can download an RSS feed to read the highlight of changes that occurred on your website.
You can download and install this plugin for free. This plugin displays any recent changes that occurred directly on your dashboard or on a separate page.
Simple History can display changes with history and date. Also, it keeps a record of hackers attempting to enter your website.
Some of the Simple History features are:
With the help of this plugin, you can see who changed a post, added a new page, or deleted a post or a page.
You can see who added, updated, or deleted an attachment.
You can review the changes that occurred in tags and categories.
Simple History allows you to see who edited, approved, or removed a comment.
With Simple History, you can get information when someone updates, removes, or add a widget in a sidebar.
You get notified if a plugin is disabled or activated.
With Simple History, you can review user profiles and get information about added, updated, or removed users.
To install the Simple History plugin on your WordPress website, follow the steps below:
1. Enter your WordPress dashboard and head over to plugins and click on add new.
2. Type Simple History in the search box and install the plugin.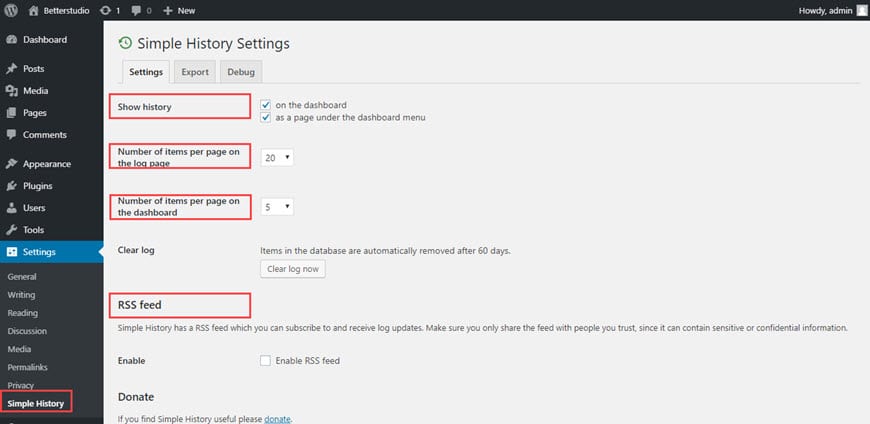 Once you have configured the plugin, you can use it to monitor the WordPress activity log.
If you want to configure Simple History, from settings click on Simple History. A few options will appear on the screen and each performs a task:
Show History: In this section, you can enable or disable your dashboard history.
The number of items per page on the log page/dashboard: You can set the number of items per page or dashboard.
Clear Log: With this option, you can clear your log. Once you click on it, it begins to delete the past 60 days' log.
RSS Feed: You can update your RSS feed and enable it to help you review changes that occurred on your website.
Once you have configured Simple History make sure to click on save.
User Activity Log
Another useful plugin to monitor WordPress activity log is User Activity Log. You can download and install this plugin for free. The most important feature of this plugin is the option to enable receiving an email. When a change has occurred in WordPress you receive an automated email from this plugin.
If there are a lot of activities on a website, monitoring them can be very difficult. However, the User Activity Log makes the whole process very easy for you. Also, if you want to monitor your login page to increase your security, you can use the User Activity Log. By installing this plugin, you can review your user's activities.
Other features of this plugin are:
Whenever an admin enters the WordPress dashboard you receive an email.
You can view users logging in.
If anyone wants to hack your login page, you get notified via email.
Whenever a post is edited, updated, or removed you get notified.
You get a notification if a plugin is disabled or activated.
If your website's activity is high and you have chosen different admins for each task, with the User Activity Log you can view their activity log.
You get notified if any changes are made to tags and categories.
You get notified if user comments are approved, edited, or removed.
Uploaded media is very easy to monitor with the help of the User Activity Log.
Other features of the User Activity Log are, menus, widgets, themes, users, settings and etc.
To install the User Activity Log on your website, follow the steps below:
1. This plugin is offered free in the WordPress.org directory. Click on it and click on install now.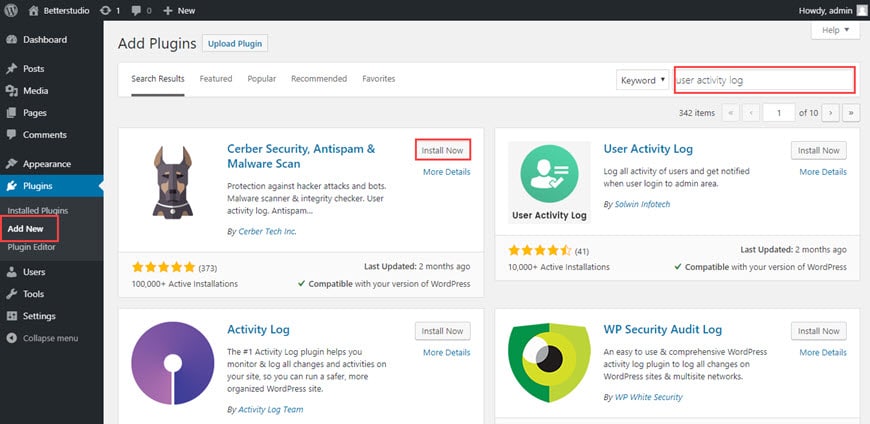 Once the plugin is installed you need to configure it. Head over to settings and click on Activity Log.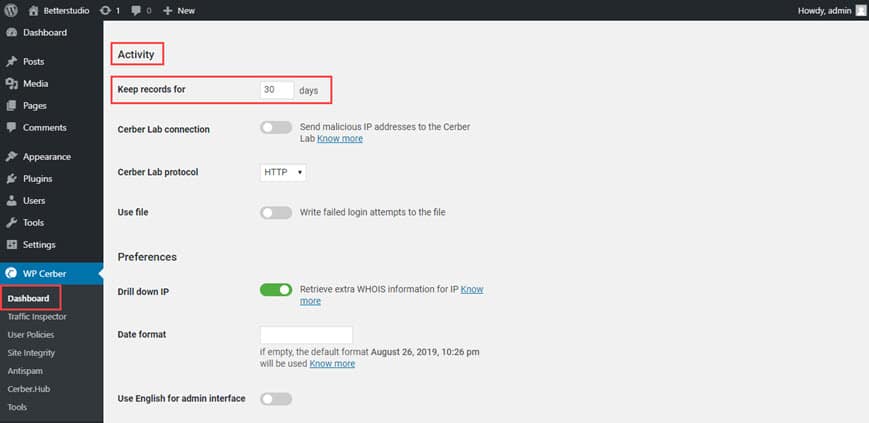 Then head over to the general tab. You can select how many days you want this plugin to keep the logs. You can dedicate a unique and separate table in your database to Activity Log.
If your website's activity is too much and you have multiple admins, it's best to choose 30 days for your logs. Also, you can manually change the number if you wish.
Now if you want to receive emails whenever changes occur on your website, go to the notifications tab. From notifications events, you can configure it to your needs.
For example, if you want to get notified if users use a wrong password, you need to configure the plugin like the below: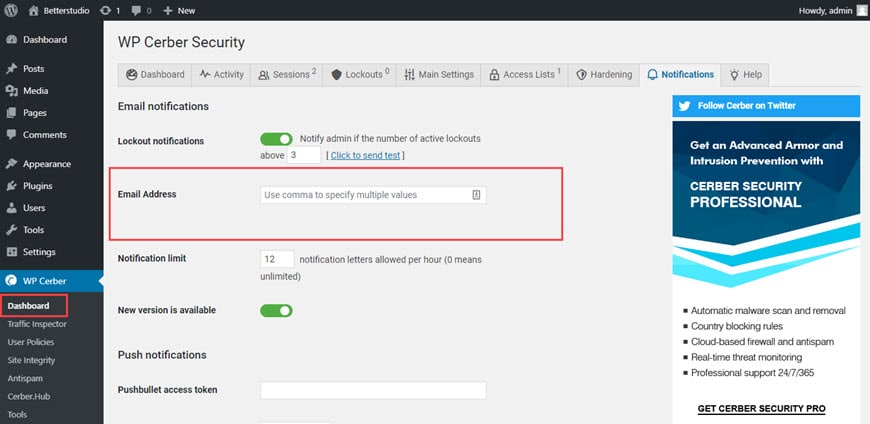 To enable email notifications, make sure you click on "Yes" in the Enable".
To review WordPress activities in the User Activity Log, you need to head over to Activity Log and click on it. A page similar to the image below will open up. You can review every single change that occurred in your WordPress on that page.