Have you ever wanted to create your own website but didn't know where to start? Don't worry; you're not alone. With so many options out there, it can be overwhelming to choose the right platform and learn how to use it effectively.
That's why we've compiled a list of the nine best WordPress training courses for beginners in 2023 (both free and paid).
WordPress is the most popular content management system (CMS) in the world, powering over 42% of all websites on the internet. It's user-friendly, customizable, and has plenty of plugins and themes to choose from.
However, learning how to use it can be a daunting task, especially if you have no prior experience. That's where these training courses come in handy.
In this article, we'll break down the top nine WordPress training courses for beginners in 2023. We'll explore both free and paid options, as well as cover what each course entails, its price, and its benefits.
By the end of this article, you'll have a better understanding of which training course is right for you and be on your way to creating your first WordPress website.
Best WordPress Training Courses & Certificates
Complete WordPress Online Training Course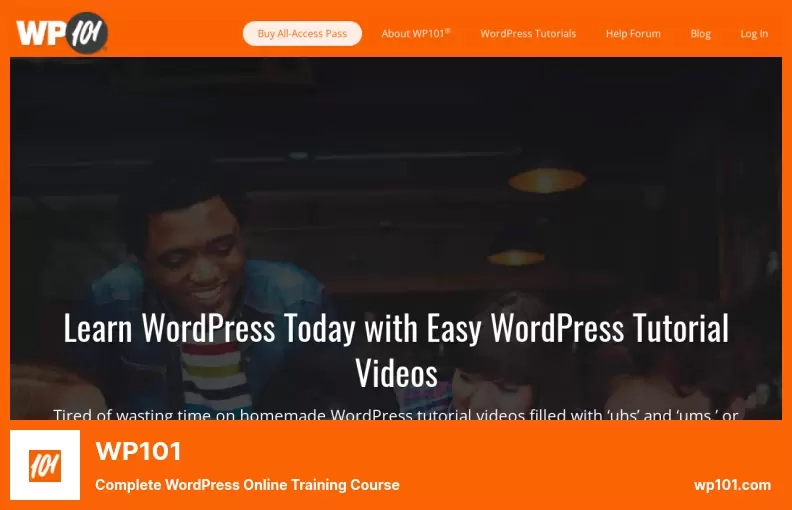 WP101 is a video tutorial course designed for beginners who want to learn about WordPress. With over 3 million users, the platform provides step-by-step guidance on how to use WordPress effectively. The course includes videos that are easy to follow and take roughly 90 minutes to complete.
In this training program, you will learn about the WordPress dashboard, creating posts and pages, theme customization, using widgets, and installing plugins. WP101 is highly praised by top professionals in the WordPress community, and it is even used by companies such as Bluehost and Namecheap to train their employees.
One of the highlights of WP101 is its member forum, which offers additional support besides the courses. You can direct any questions you may have about WordPress to the founder, Shawn.
To access the courses, you can subscribe to WP101 for $19 per month, $49 per year, or $89 for a lifetime membership. If you are new to WordPress and want to learn the basics, WP101 is highly recommended.
Overall, WP101 is an excellent choice for beginners who are interested in getting started with WordPress. With its simple and concise videos, you can quickly grasp the basics of using WordPress and start building your website.
Key Features:
WordPress 101 Course: Learn how to install WordPress, use the Gutenberg Editor, and customize your site
WordPress 101 Classic: This separate course is for beginners who don't want to use the Gutenberg editor
WooCommerce QuickStart: Learn how to set up your online store with WooCommerce. This video tutorial will explain how to add products to sell
Woocommerce 101: How to run your business successfully and introduce new sales techniques, including coupons
A high-quality video guide
Updates frequently, so all materials are always current. This eliminates WordPress compatibility issues
Learn WordPress step by step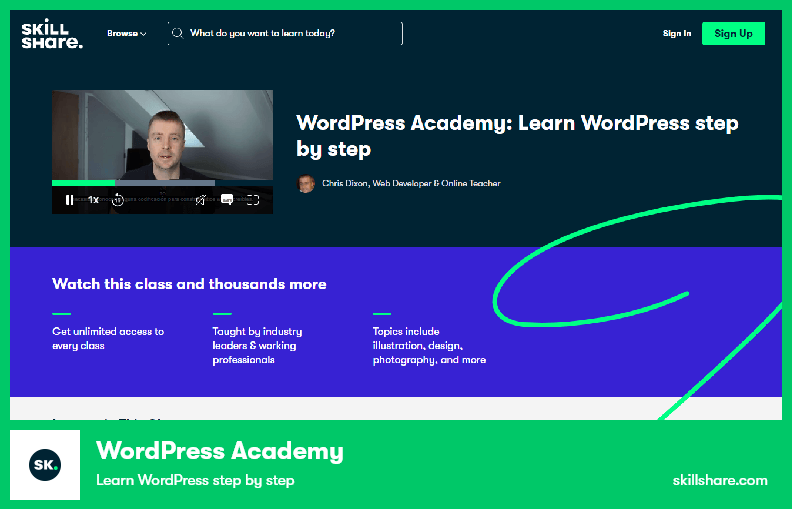 WordPress Academy is an eight-hour video training course offered by Skillshare WordPress Academy that provides 84 lessons on various WordPress topics.
This course covers everything from finding the best WordPress themes to improving your site's SEO, working with WordPress Multisite, and popular WordPress page builders.
In these 84 lessons, you're going to learn about the following topics:
– The leading place to find the best WordPress themes
– About backing up your site
– Improving WordPress SEO
– The PHP language
– Working with WordPress Multisite
– Working with popular WordPress page builders
One notable feature of this course is that it dives into more advanced WordPress concepts by covering how WordPress themes are created. Skillshare membership is required to access the course, but signing up for Skillshare gives you a free seven-day trial. After the trial, membership costs $32 per month or $168 per year.
Overall, if you're looking to expand your knowledge of WordPress and take on more advanced concepts, the WordPress Academy course could be just what you need. It's an informative and engaging course that will help you improve your website's design, functionality, and overall success.
Key Features:
You will learn the basics before moving on to more advanced topics
The tutorials cover a wide range of topics
Skills for going freelance or looking for jobs in this field
Try it for 7 days for free
Apply the concepts you learn by completing class projects
The Complete WordPress Website Business Course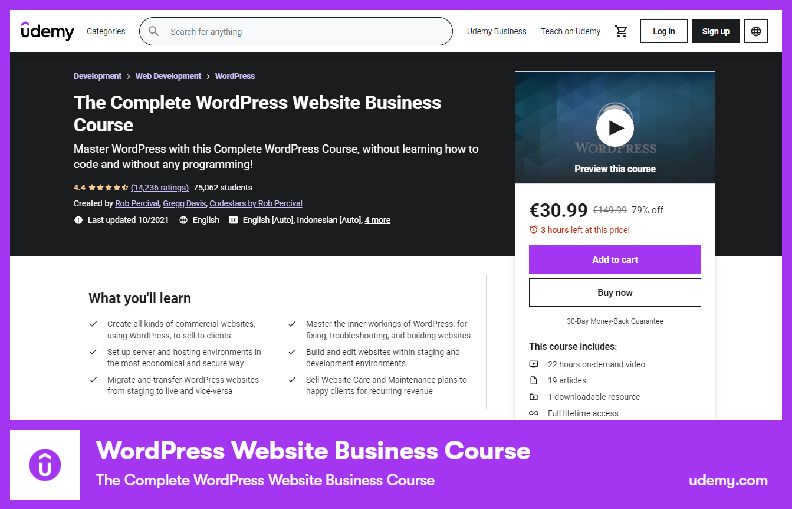 WordPress Website Business Course is an excellent course that teaches beginners how to use WordPress without needing any coding knowledge. The course provides a comprehensive learning experience from beginner to master level, covering all aspects of the WordPress platform.
Experienced professionals teach students in real-world scenarios, providing practical insights that can be applied in real-life situations. The course offers both videos and articles to present the material, making it easy for everyone to follow along.
With 22 hours of video content and 115 lectures divided into 13 chapters, learners will feel confident in their WordPress knowledge by the end of the course.
The course covers essential topics like installing WordPress, creating different types of websites, designing a homepage site, and even setting up an online store. It also delves into the intricacies of transacting, marketing, emails, and email marketing, as well as securing and improving website performance.
Upon completing the course, students are awarded an official certificate of completion that they can use to validate their WordPress skills to clients and employers. Additionally, buying the course gives lifetime access to all lessons, and updates are regularly made to keep up with changes to the WordPress platform.
Overall, the WordPress Website Business Course offered through Udemy is a fantastic option for anyone seeking to learn WordPress quickly and efficiently. It has everything a beginner needs to become a WordPress master, and the certification can help boost your credibility in the eyes of potential clients or employers.
Key Features:
More than 75,000 people have learned WordPress through this course
Learn how to use WordPress to create all kinds of commercial sites to sell to clients
Install and manage server and hosting environments with ease
Migrate WordPress sites between staging and live environments
Become an expert at fixing, troubleshooting, and building websites with WordPress
Provide recurring revenue to happy clients with Website Care and Maintenance
WordPress Online Course from beginner to Advanced
Learn WordPress With Lynda is an exceptional online learning platform that offers a vast library of courses encompassing diverse topics. If you are interested in gaining mastery over WordPress and want to learn at your own pace, then Lynda.com is the perfect choice for you.
The platform offers thousands of courses on WordPress, authored by different experts covering various topics. You can choose courses based on your interests, difficulty level, and length. The cherry on top is that every course comes with downloadable materials, videos, and guidance from experienced teachers who know their stuff.
Lynda.com has an unparalleled amount of content available, which makes it one of the best WordPress schools out there. However, keep in mind that quality education comes at a price, and Lynda has never claimed to be inexpensive.
In conclusion, "Learn WordPress With Lynda" is an outstanding option for anyone looking to gain expertise in WordPress. With its extensive library of courses, expert instructors, and downloadable materials, you are sure to get the most out of your learning experience.
So, if you're ready to up your WordPress game, give Lynda.com a try today!
Key Features:
A comprehensive collection of WordPress tutorials
It is a low-cost way to access a lot of content
Courses are searchable by skill level
Depending on what you wish to learn, you can find courses specifically tailored to your needs
Complete WordPress Training for Beginners and Developers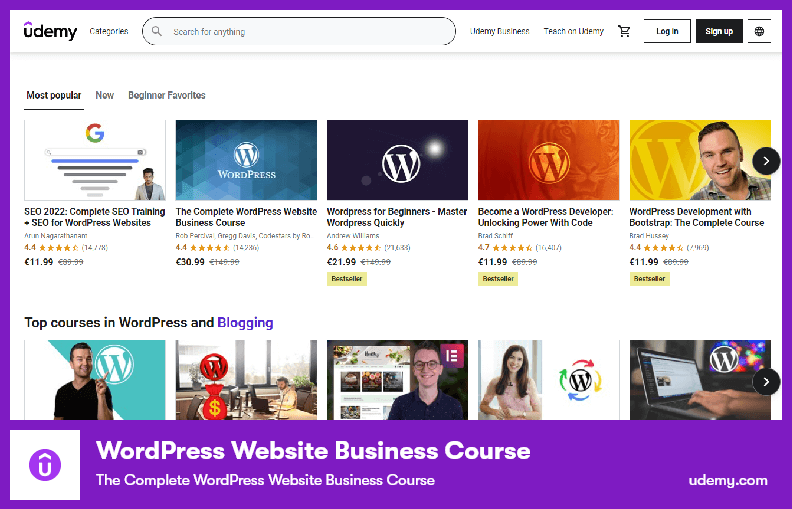 Learn WordPress With Udemy is an online learning platform that offers various WordPress courses for beginners, including SEO masterclasses, theme and plugin development, and eCommerce using WordPress. With numerous courses available, you can select the one that suits your preferences and requirements.
Each course on Udemy has user reviews that help you determine the quality of each course before enrolling. You'll find courses ranging from one to two hours to ten or more hours, with some being free while others have a price tag of up to $199.99.
Whether you're looking to create a website, drive traffic through SEO optimization, or develop WordPress themes and plugins, Udemy provides an excellent platform for comprehensive learning. With its vast array of courses and user reviews, Udemy is worth considering for anyone looking to expand their WordPress knowledge."
Key Features:
You can learn about WordPress web development on Udemy by looking at the tutorials and training available
Create dynamic websites without falling into the intricacies of coding by creating a website from the ground up and using an array of plugins
Develop your web development skills for full-time or part-time employment
With certifications in WordPress development
WordPress Training by Yoast Academy
Learn WordPress With Yoast is an excellent option for those looking to familiarize themselves with the platform. The program offers four courses that cover all the basics, from setting up your server and choosing themes and plugins to ensuring your site's security.
One of the standout features of Yoast Academy's course offerings is their emphasis on helping you choose the right editor based on your individual needs. The videos provided in this section are incredibly helpful and will undoubtedly save you a lot of time and frustration.
Another free course available through Yoast Academy covers WordPress SEO for beginners. This course provides valuable insights into how to rank higher in search results, making it easier for potential customers to find your site.
If you're willing to invest a little more time and money, Yoast also offers two premium packages packed with even more useful information for both beginners and experienced WordPress users. What sets these packages apart is the opportunity to receive exclusive SEO tips from one of the world's leading WordPress experts.
Overall, Learn WordPress With Yoast is an outstanding option for anyone looking to improve their website's functionality and increase traffic. Whether you're a beginner or a seasoned pro, there's something here for everyone, making it an investment well worth considering.
Key Features:
Video instruction for 3 hours
With 23 quizzes to reinforce what you've learned
About how to create your own WordPress site
Upgrade for access to premium SEO courses not available anywhere else
You can get started with these quick, easy, and free videos
Yoast provides a certificate and badge when you complete a course you can display on your website or resume
Free WordPress Quick Start Course by WP Apprentice
WP Apprentice is a tutorial designed for absolute beginners who want to learn the basics of WordPress. The tutorial provides a quick and straightforward introduction to selecting a hosting provider, installing WordPress, using the dashboard, and creating content on your WordPress site.
The WP Apprentice tutorial covers all the essential features of WordPress such as themes, plugins, and widgets comprehensively. Watching the ten videos will give you the necessary skills needed to set up your first website.
WP Apprentice's training course is perfect for individuals who are just starting with WordPress and have little or no prior experience in web development. With its simple and concise teaching approach, it makes learning WordPress easy and enjoyable.
The tutorial videos provide step-by-step guidance and ensure that users understand each concept before moving on to the next. This approach ensures that beginners can build their WordPress site with confidence, knowing that they have a solid foundation in place.
Overall, WP Apprentice is an excellent resource for beginners who want to learn WordPress. Its clear and concise tutorials make it easy for anyone to get started with WordPress quickly. If you're looking for a beginner-friendly tutorial that covers all the essential features of WordPress, then WP Apprentice is an excellent choice.
Key Features:
You won't lose anything by trying out the course
A beginner can easily pick up the basics, which is helpful for a first-time user
This tutorial will give you an overview of all the main features of WordPress
It contains everything you need to get started blogging with WordPress
The Gutenberg editor
Has no cost at all
Learn How to Create a Website from Scratch with WordPress in 1 Day
BitDegree WordPress Tutorial is a series of 17 concise and easy-to-understand tutorials that explain all the basics of starting your own WordPress website. With this tutorial, you can quickly learn everything you need to know to create your website within an hour or less.
These tutorials cover a range of topics such as basic skills and tips for starting and running your own business. They also provide valuable insights into marketing, passive income, and how to become your own boss. This makes BitDegree WordPress Tutorial a great choice for anyone who wants to enter the world of online business.
What sets BitDegree WordPress Tutorial apart from other training courses is its brevity and clarity. Each tutorial is short and to-the-point, providing you with all the essential information you need without overwhelming you with excessive details. This approach makes it easy for beginners to follow along and learn quickly.
Moreover, BitDegree WordPress Tutorial is incredibly accessible. As long as you have internet access, you can easily access the course from anywhere in the world. There's no need to attend classes or workshops, which makes it perfect for those who have busy schedules.
In conclusion, if you're looking for a comprehensive and easy-to-follow WordPress tutorial, BitDegree is definitely worth considering. It's suitable for beginners and provides valuable information on starting and running your own online business. Plus, with its concise and accessible style, you'll be up and running with your new website in no time.
Key Features:
It takes only 75 minutes to complete
You can create a website in a day if you follow the tutorials that cover key points of website creation
What to do after your website is functional to make your site profitable
Maintaining Your Website Independently Over Time
Created by Alex Genadinik, a software developer
For those new to the industry, additional tips are useful for running their website as a business
Create a Website Using WordPress Online Course
Create a WordPress Website Course is an excellent option for beginners who want to learn how to build a website with WordPress. This course is available on the Coursera eLearning platform and offers a comprehensive guide to creating a website using WordPress.
The course features a split-screen format with a WordPress work area on one side and a video of the instructor on the other side. The instructor will guide you through a two-hour project and teach you valuable skills, such as how to install plugins, manage your WordPress website, and customize colors and typography.
One of the best things about this course is that lessons are brief, making it possible for you to complete the entire course in a short amount of time. Additionally, you'll have access to the WordPress dashboard so you can apply the concepts taught by the instructor.
To get started, all you need is to create a Coursera account using your email address, and you'll be on your way to mastering WordPress. Whether you want to create a personal blog or a professional website, Create a WordPress Website Course is an excellent resource for beginners who want to learn how to build a website with ease.
Key Features:
Two hours of videos to help you learn WordPress
Become an expert in WordPress from the start
Through project-based learning
How to set up a WordPress website
How to get your website's subdomain and setup SSL certificates for WordPress
WordPress themes, plugins, and permalinks explained: Have a look at a few real-life examples to reference in your interview
WordPress Training Course and Tutorials FAQ
The following are frequently asked questions that are relevant to learning WordPress. If you already know the answers to these questions, you can skip them.
How Do I Choose the Best WordPress Online Course?
You should look for these key things when selecting a WordPress course:
1- If you're choosing a good WordPress course, look for an instructor who's experienced with WordPress.

2- Understanding how WordPress works is useful, but mastering it faster can be achieved by building a site yourself.

3- A download resource can be helpful when building your own site to review and apply what you've learned.
If you are a web designer or another professional who uses WordPress, certifications can help you advance your career.
How difficult is it to learn WordPress?
No, suppose you consider taking a video tutorial course to get started with WordPress. In that case, you will not need any prior experience with programming. What you will need is a decent computer.
What are the best ways to learn WordPress?
Suppose you are interested in learning about how to create a website. In that case, I suggest you take a high-quality online course and then construct your website immediately after you have completed that course. That's all!

You might want to take an additional WordPress development course if you want to create a complex site. This course will teach you how to code in WordPress, so you can customize it to your heart's content.
Is it possible to learn WordPress by myself?
The answer is yes! However, if you aren't a technical person, you may experience frustration as many did. Search engines will be used a lot to find solutions to problems and information.
What are the benefits of taking a paid WordPress training course?
Paid WordPress training courses often offer more comprehensive and in-depth instruction, as well as access to expert instructors and community support. They can also provide a structured learning experience with clear goals and objectives.
Conclusion
To recap, in this article, we have discussed the top 9 WordPress training courses for beginners in 2023 that are both free and paid. These courses cover a wide range of topics, from basic WordPress functionalities to advanced programming techniques.
If you found this article helpful, we encourage you to check out the BetterStudio blog for more related tutorials on WordPress and other web development topics. We regularly publish informative content to help our readers improve their websites and online businesses.
Also, don't forget to follow BetterStudio on Facebook and Twitter to stay updated with the latest tutorials, news, and trends in the web development industry.
Thank you for taking the time to read this article. If you have any questions or problems regarding the topics covered in this article, feel free to leave a comment below. Our team is always ready to assist you and provide the solutions you need.