Are you looking for the best WordPress plugins for Frontend Posting sites in 2022?
This article will cover the best WordPress plugins for Frontend Posting on the market that will take your website to the next level. All the plugins listed here come with various features and functions. Other than that, they are all compatible with top WordPress themes.
Despite all of this to these WordPress plugins, we made this list for Frontend Posting plugins. This collection of WordPress plugins also covers Guest Post Plugin, Frontend Publishing, Post Approval Plugin, Create Frontend Pages, Front-End Profile Editor, Let Users Post Content, and many other related plugins.
Best Frontend Posting Plugins for WordPress 🥇
Now let's check out the most popular Frontend Posting WordPress plugins in 2022:
A Frontend Posting WordPress Plugin
The Frontend Post Submission Manager Lite is a free frontend posting and guest post plugin that allows users to upload posts from the frontend, logged in, or unlogged in. This plugin includes a wide variety of configuration options to customize Post submissions.
The drag and drop form builder allows you to customize the available forms according to your preference. The plugin supports various field types through which you can add unlimited custom fields.
Furthermore, it has custom fields displayed in the backend, 5 beautiful pre-designed templates, supports guest posting, has a secure form submission with Google Captcha integrated, and can provide a preview of the form before the submission is made.
Additionally, many field types are supported, including text fields, text areas, radio buttons, checkboxes, date pickers, file uploaders, etc.
💵 It charges $13 for the Premium version of the plugin. The Free version is also available.
Key Features:
Upload images directly into the Post Content Editor
Dashboard for frontend post-management
Types of custom posts are supported
Various types of fields can be added to a custom field
It is possible to create an unlimited number of forms, each with different restrictions
There are 20+ beautiful templates already designed for you
A custom taxonomy support is available
Random Reviews:
A fantastic plugin, the best right now!

I prefer not to compare it with other plugins, but this is the better one

Excellent plugin and great support*
A WP Front User Submit / Front Editor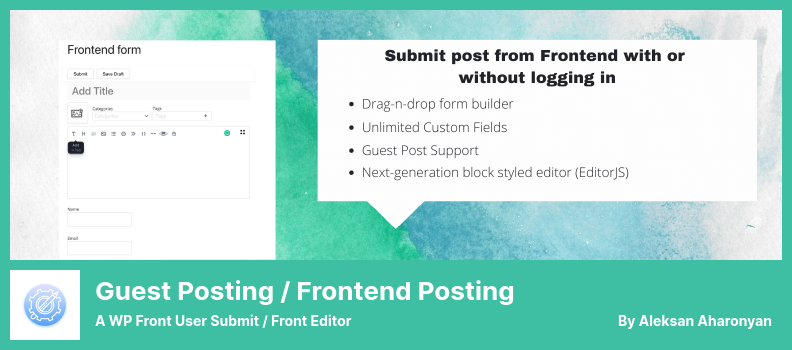 Guest Posting / Frontend Posting is also a free WordPress frontend posting plugin in the same vein as Frontend Post Submission Manager Lite. Users may select various options for submitting posts from the front end.
With its drag-and-drop form builder, you can customize the forms according to your preferences. It accepts various field types, allowing you to add unlimited customized fields.
This plugin enables users to manage their accounts via the front end. At the same time, administrators control user access through the back end.
By using this plugin, users will be able to attach files and upload featured images directly from the front end of their blogs, which will appear as part of the post content. You can let users post content.
Furthermore, this plugin is a free frontend submission / front editor/frontend publishing / guest-post plugin designed to facilitate the publishing process directly from the front of WordPress.
Sometimes Gutenberg -> Front Editor or Front Editor->Gutenberg does not work correctly with this plugin.
💵 You can use the lite version for free, and the premium version for a $149.
Key Features:
Post types that can be customized
Using WP Media Uploader to create a gallery
Selection from more than one category
Posts by Guest Authors
Providing customized field support
The WP Media Uploader is used for uploading images
Important warning
A custom taxonomy is supported
Using WP Media Uploader to upload a thumbnail
Random Reviews:
It looks like there are custom fields in the description. But it says custom domains are included in the paid plan when you install it. If it wasn't for this it would have deserved 5 stars. This topic was modified 10 months, 1 week ago by

Thanks so much for this plugin, it fixed lots of problems for me.

Thank you for finding the solution I was looking for.
A Frontend Post WordPress Plugin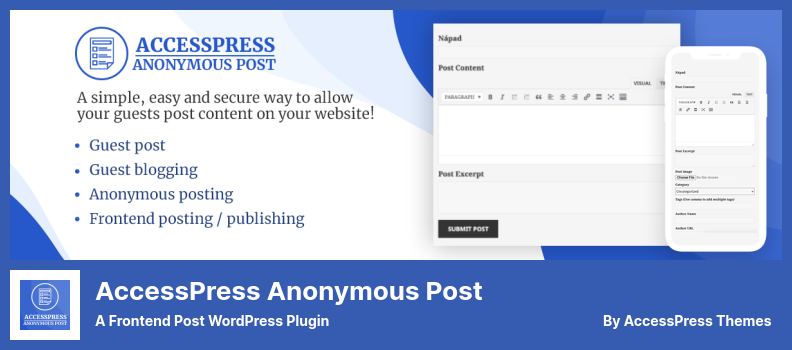 As a result of the AccessPress Anonymous Post plugin, you can now contribute anonymously through this post-approval plugin (guest posts, frontend posts, and posts that do not require logging in).
Using this plugin, visitors (guests) and non-logged-in users can simply submit a standard WordPress post with social networking functionality.
This plugin will help you create Guest Posts using WordPress, User Posts using WordPress, Anonymous Posts using WordPress, Frontend Post Plugin, Guest Author Plugin, Frontend Form Post Feature, Guest Blogging Plugin, and User submitted posts using WordPress.
As a participant in the frontend, you may post as an unlogged user or log in as a logged-in user, including Tags for your post. Additionally, the administrator receives a notification when a post is successfully submitted by participants.
💵 #The Premium version charges $38, whereas the Lite version is free.
Key Features:
99% spam prevention with full-featured Google Captcha
A beautiful design with four form templates available
You may create as many custom fields as you wish, including all the forms fields
Multi-image, multi-video, and multi-audio uploads without requiring registration or logging in
A form builder that allows for drag and drops
Options for customizing administrator and user email notifications, along with their respective email addresses
The ability to create custom post types and taxonomies
Random Reviews:
If you use the new Block system to create posts, this plugin will not work.

It is working great and without any issues. The team is friendly and always willing to help. They are a good company and I am happy to work with them. Great job!

The free version of this plugin is very easy to use and offers all the options you need to make basic frontend submissions. It is an excellent solution!
A Membership, Profile, Registration & Post Submission Plugin For WordPress
It may come as no surprise to you that WP User Frontend is one of the most popular frontend WordPress plugins; use it, you can create frontend pages.
Like AccessPress Anonymous Post, It offers a frontend dashboard, a frontend profile editor, a frontend publishing platform, and a frontend uploader for users' profiles, submissions, and memberships.
Along with the ability to create unlimited posts, this plugin provides users with forms that can be used to edit their profile and post directly on the site, eliminating the need to log into the backend admin panel.
The users of this WordPress Profile Plugin will also be able to edit their profiles from the frontend using the default fields without accessing the backend.
The users of PRO will be able to add unlimited fields to their profiles. Sometimes, it is not possible to trash or duplicate forms.
💵 Premium version charges $39, while the Lite version is free.
Key Features:
Send a notification of updates
A custom taxonomy is supported
There are more than 20 modules available
Formulations involving multiple steps
Customized 18 fields

The conditional logic principle

Form builder for profiles
Restriction on menu selection
Providing post-expiration facilities
Random Reviews:
This is the last revision

I would definitely recommend this plugin to anyone looking for an easy way to manage and optimize images.

Reps are a great resource.
Final thoughts on the most popular Frontend Posting plugins!
The plugins above are the best for Frontend Posting. However, all of these plugins are great for improving your website.
📌 Note: Additionally, you may find our list of top WordPress security plugins useful for enhancing the security of your website. We also recommend that you take a look at our expertly selected WordPress hosting providers.
We hope we have provided you with sufficient information to select an appropriate theme for your website.
Have we left any plugins out of the list above? Please let us know in the comments below! We will be happy if you share this post on social media. Stay up to date with our newest articles on Facebook and Twitter!