Are you searching for the best WordPress plugins for Airbnb?
In this article, we'll review the top WordPress Airbnb plugins, demonstrate their key features, and guide you on utilizing each one for Airbnb. This round-up of best WordPress plugins will assist you in finding something that precisely meets your needs Also we make sure these plugins are working properly with all popular WordPress themes.
All these topics are meant to be used for Airbnb. The following plugins can be used for Airbnb Reviews and Hotel Booking.
Best WordPress Airbnb Plugins 🥇
Add a header to begin generating the table of contents
Our choices and suggestions for the best Airbnb WordPress plugins in 2022 are as follows:
a Responsive Booking Plugin
By using the VR Calendar Sync Pro plugin and syncing your calendar with Airbnb, HomeAway, Google, and other iCal Calendars, it is also equipped with a Booking Module that enables you to accept payments via PayPal and Stripe.
You can import up to two iCs and iCal URLs into a single, responsive calendar that looks terrific on your website. With the plugin, you can display merged and updated availability information for up to ten office units through a single user interface.
Further, bookings like hotel bookings can be made directly on the site using standard web payment methods like Stripe and PayPal.
Bookings can be accepted immediately or pending approval by an administrator. A booking can be terminated instantly, and a new booking can begin immediately. Unfortunately, there is no free version of this plugin.
💵 With $44, you can get this plugin plus 12 months of support time.
Key Features:
There is a possibility of combining several iCal-ics links into the primary calendar
You can change the colors of the calendar
You may customize the rows and columns of the table
Supports a total of ten calendar formats
Multilingual support is a crucial feature, as well as WPML compatibility
Each calendar will come with a shortcode
Random Reviews:
It was showing a calendar error, but the developer solved the issue within hours via email. Integration with Airbnb, Homestay, and .ics files makes this plugin really great. Plus the Stripe integration is the cherry on top.

The calendar was not syncing correctly. I set up a support ticket with developers on their website and they responded within a few hours and gave me the latest version of the plugin to install which solved my issue. Good customer support.

Thanks to support, I was able to resolve my issue with Milky Jogue via

Skype video chat

and Desk Sharing. I really appreciate your great support!

*
Display Your Airbnb Reviews On Your WordPress Site
The WP Airbnb Review Slider is a WordPress review plugin that you can use to incorporate Airbnb reviews into your website using a shortcode or widget.
It is easy to display your Airbnb reviews on WordPress sites in a nice slider or grid layout. If your customers can verify the source of the reviews and testimonials, they are more likely to answer them.
Furthermore, the Airbnb logo and a link to the original review are displayed on all reviews. In addition, there is a setting that allows you to change the number of reviews displayed per row and the number of rows to display.
Airbnb will check for new reviews daily, so you can easily display them either by using a shortcode on your website or through the widget. You may create an unlimited number of review templates.
💵 It is free to use, but it charges for the Pro version.
Key Features:
Custom CSS can be added to the templates by using the review templates
You can choose to hide reviews without any text if you do not wish to see them
Floating badges and reviews can be added to your website if desired
You may order the reviews by date or by randomization
The template can be displayed using a variety of options
Random Reviews:
We can show them our past reviews and help them trust us. Brilliant!

config is easy and the product works as advertised. thanks*

Great, easy! Works great.
Display Your Airbnb Reviews for Free
Like WP Airbnb Review Slider, the Widgets for Airbnb Reviews plugin provides responsive widgets for Airbnb reviews and 35 widget layouts, and 16 widget styles. It also includes review data from Booking.com, Hotels.com, TripAdvisor reviews, and other popular review sites.
By using this plugin, your Airbnb reviews can be displayed with our free responsive widget in minutes. With this plugin, travelers will be able to see their Airbnb reviews in an attractive pre-made Airbnb widget.
You can quickly gain customer trust and improve your ranking in search engines by displaying widgets and filtering customer reviews.
You can display your best Airbnb reviews on the platform, which serves as social proof for your business. If the reviews are favorable for your business, the greater the possibility that you will attract new customers and increase sales.
💵 There is a premium and free version of this plugin.
Key Features:
As soon as a new review is received, the widgets are updated
You may use CDN's assets in any way you wish
Several companies can be managed at the same time
Supports Google Reviews, Facebook Reviews, Yelp Reviews, Amazon Reviews, Tripadvisor Reviews, and other sources can be viewed
It is possible to display the results from multiple review platforms within a widget
Random Reviews:
It is always a bit strange when you install a plugin for the first time – it may be easy or not. When I created an account and had the code displayed on my site, I was ecstatic.

The plugin is easy to use and very useful. Thanks!

I have many designs that I can display on my website.
Enable Awesome Booking System for Your Site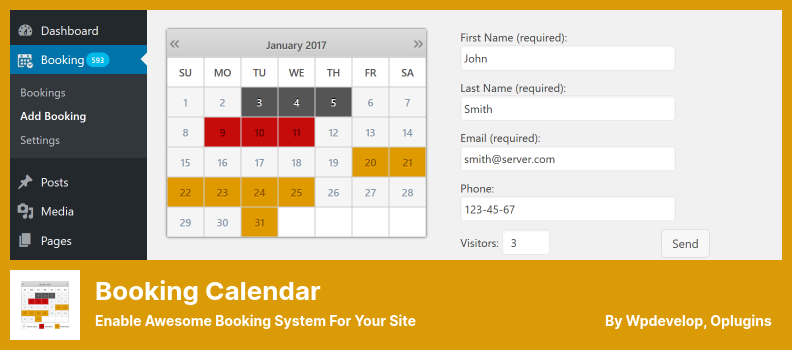 Like VR Calendar Sync Pro, a booking calendar is automatically displayed at the top of your website with the Booking Calendar plugin. ICS feeds from popular sites such as TripAdvisor and HomeAway may be imported via shortcode for booking purposes.
You can easily create a booking system by using this application, which will show the availability of properties or services on your site and allow users to make bookings using an easy-to-use and intuitive booking system.
With our free Booking Calendar version, you can offer your website visitors the possibility of checking the availability of properties like apartments, houses, or hotel rooms and making a reservation within a minute for a full day or a particular time frame.
A user will be able to easily understand and use this booking panel. An administrator will be notified via email when a new booking is received. They will be able to accept or decline the booking.
Unfortunately, you will need to make corrections whenever you update the free version since the plugin and its associated files will be replaced during the upgrade procedure.
💵 Currently, two versions of the program are available: $47 Pro and Free Lite.
Key Features:
Information about the settings and bookings are kept in the WordPress database, so third-party accounts are not required
There is a large selection of calendars to choose from, as well as the option of customizing them
You can easily integrate it into your website once you have installed it
You can view your bookings in a simple calendar view or in a table list of your bookings
The time slot booking process is handled through the time picker found on the booking page
Random Reviews:
Truly a Wonderfull Plugin, and the customer support is amazing! They truly do help you to achieve your goals and are willing to work with you until you have exactly what you wanted, Definitely one of a kind in their market.
This topic was modified 1 week, 4 days ago by

You did a great job!

It's easy to use with an extremely streamlined interface and experience. It also has incredibly fast support.
An overview of the report
It was on the list of best WordPress plugins for Airbnb. Despite this, these plugins are incredible for improving your site.
We hope you have found this list of Airbnb plugins useful. In a few of our posts, we provide information regarding the best WordPress blog themes and the best WordPress plugins for blogs. These articles are widely read, voted for, and shared by our website visitors.
Feel free to leave us a comment below if you have a query. Please consider sharing this article on Facebook and Twitter.