Are you looking for ways to streamline your Airbnb management through WordPress? Whether you are a seasoned Airbnb host or just starting, managing Airbnb reservations and property details can be overwhelming without the right tools.
Luckily, WordPress provides several plugins that can make managing your Airbnb property a breeze. In this post, we will cover the 4 best WordPress plugins for Airbnb, both free and paid, so you can keep your Airbnb property running smoothly.
In this post, we will introduce you to the 4 most essential WordPress plugins for Airbnb hosts to manage their listings. From pricing optimization to property management, these plugins offer a range of features to make it easy to host on Airbnb.
Did you know that Airbnb has more than 7 million listings in over 220 countries? That's a lot of competition. Therefore, it is essential to have an easy and efficient way of managing your listings, and these plugins are the perfect solution.
Are you ready to boost your rental income and manage Airbnb reservations more efficiently? Here, we'll dive into the details of each plugin and explain how you can use them to simplify your Airbnb management.
Whether you're looking for a solution to improve your pricing strategy, streamline your property management tasks, or simply save time when managing your Airbnb listings, these plugins can help you achieve your goals. Let's get started!
Best Airbnb Plugins for WordPress
If you're a WordPress website owner and operate with Airbnb, then you'll want to know about the best plugins available to maximize your property's potential.
In this article section, we've researched and tested out the top four plugins for Airbnb, both free and paid, so you can boost your site's features and meet your business goals. Take a look and discover which plugin will work wonders for you!
a Responsive Booking Plugin
In addition to Airbnb, HomeAway, Google, and other iCal Calendars, VR Calendar Sync Pro lets you sync your calendar with other iCal calendars such as Room & Board.
The booking module of this service allows you to accept payments via PayPal and Stripe; bookings can either be accepted pending approval or accepted immediately as soon as they are submitted.
Although the plugin does not yet have a free version, it is a feature that allows you to offer hotel-like booking on your website directly through the plugin in order to make it easier for your customers.
This plugin combines iCal-ics links into the primary calendar and includes customization options, ten calendar format support, and multilingual compatibility. Each calendar comes with a shortcode.
Display Your Airbnb Reviews On Your WordPress Site
With the WP Airbnb Review Slider plugin for WordPress, you are able to seamlessly integrate your Airbnb reviews into any page of your website and display them as slides.
Using this plugin, you will be able to display your Airbnb reviews using a beautiful slider or grid layout in either a shortcode or widget format, depending on your preference.
In order to reach more customers, guaranteeing that you are getting reviews from trusted sources is critical. By integrating Airbnb's daily updates into your website, it's simple to ensure that you are telling the truth.
You can create an unlimited number of templates to showcase your reviews. All reviews come with the Airbnb logo and a link to the original review. You can set the number of reviews displayed per row as well as the number of rows on your website.
Key Features:
Hide reviews without text
Add floating badges and reviews
Arrange reviews by date or randomization
Display templates in a variety of options
Easy integration with WordPress.
Display Your Airbnb Reviews for Free
Widgets for Airbnb Reviews is a plugin that provides customizable widgets for displaying Airbnb reviews on your website. The plugin offers 35 different widget layouts, and 16 different widget styles, and incorporates review data from popular review sites such as Booking.com, Hotels.com, and TripAdvisor.
One of the most significant benefits of this plugin is that it can help improve the credibility of your business. By displaying positive reviews on your website, you can quickly gain customer trust and attract new customers. Moreover, the more favorable the reviews, the higher the chances of increasing sales.
The plugin is easy to use and requires no coding. It provides free pre-made widgets that can be set up in minutes. You can also filter and manage customer reviews by using this plugin to display only the reviews you want visitors to see.
With this plugin, you can manage reviews from different sources, including Facebook, Google Reviews, Yelp, Amazon, and TripAdvisor. The plugin immediately updates the widgets as soon as new reviews are received, ensuring your visitors always see up-to-date information.
One notable feature of this plugin is that it allows you to use CDN's assets as you wish. Additionally, you can manage multiple companies at the same time and display results from different review platforms within a single widget.
Key Features:
Supports Yelp, Google, Facebook, Amazon, TripAdvisor, and other review platforms
Instant update of widgets after receiving new reviews
Easy to use CDN assets in any way you choose
Manage multiple companies simultaneously
Display results from multiple review platforms within a single widget.
Enable Awesome Booking System for Your Site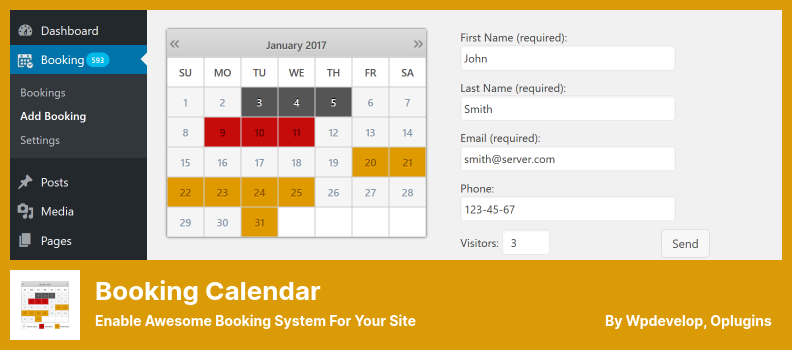 Booking Calendar is a plugin that automatically displays a booking calendar at the top of your WordPress website. ICS feeds from popular sites such as TripAdvisor and HomeAway can be imported via shortcode for booking purposes.
This plugin makes it easy to create a booking system that shows the availability of properties or services on your site and allows users to make bookings using an easy-to-use and intuitive booking system.
It's really easy to use and understand because the booking panel is easy to use. The admin gets notified when there's a new booking, and he or she gets to accept or decline it. You don't need a third-party account to keep track of settings and bookings since they're stored in WordPress.
One of the best features of the plugin is the ability to customize the calendars. With a large selection of calendars to choose from, it's easy to integrate the plugin into your website.
You can view your bookings in a simple calendar view or in a table list of your bookings. Plus, the time slot booking process is handled through the time picker found on the booking page.
Key Features:
No third-party accounts are required
Customizable calendars are available
Easy integration into the website
Simple calendar or table list view of bookings
User-friendly time slot booking process.
Frequently Asked Questions
What features do these plugins offer?
WP Booking System offers a booking calendar, payment processing, and customizable forms. WPForms allows users to create custom booking forms to collect information from guests.
My Rental Site is a full website builder designed specifically for vacation rentals. WP Airbnb Review Slider pulls in reviews from Airbnb listings to display on a website.
What are the benefits of using WordPress plugins for Airbnb in 2023?
Using WordPress plugins for Airbnb can improve the overall functionality and user experience of your Airbnb website. With the right plugins, you can easily add features like property management, bookings, and payment processing. This can help you streamline your workflow and attract more guests to your rental properties.
How can I choose the right WordPress plugin for my Airbnb website?
Before choosing a WordPress plugin for your Airbnb website, consider your specific needs and goals. Think about the features you need to manage your rental properties effectively, such as booking management, payment processing, and guest reviews. Research different plugins and read reviews from other users to find the best fit for your website.
Conclusion
In this article, we have discussed the 4 best WordPress plugins for Airbnb (free and paid). We have gone through each plugin's features and benefits, helping you choose the best one for your Airbnb website.
For more related tutorials and helpful tips, visit BetterStudio's blog. We offer a vast array of articles that can help you improve your website and digital presence.
Don't forget to follow BetterStudio on Facebook and Twitter to stay up to date with the latest tutorials and news.
Thank you for reading our article, and we hope it has been informative and helpful. If you have any questions or problems regarding this topic, please feel free to leave a comment below, and we'll be happy to help you out.