Have you ever encountered a pesky 404 error on your WordPress website? It can be frustrating for both you as the website owner and your visitors.
But fear not, because in this blog post, we'll be introducing you to the 5 best WordPress 404 redirect plugins for 2023 – both free and pro – that will solve this issue and ensure a smooth user experience.
Now, you might be wondering why you should invest in a 404 redirect plugin. Well, did you know that a single broken link on your website can negatively impact your SEO rankings? Not to mention the potential loss of valuable traffic and potential customers.
With these plugins, you can easily redirect your visitors to relevant pages or custom URLs, reducing bounce rates and keeping them engaged on your site.
Let's dive into the world of WordPress 404 redirect plugins and discover how they can benefit your website. Whether you're a beginner or an experienced WordPress user, this article will provide you with an overview of the top options available in 2023.
So, let's get started and ensure that your website is error-free and user-friendly!
Best 404 Redirect Plugins for WordPress
Looking for the best 404 redirect plugins for your WordPress website? Look no further! We've rounded up the top options, both free and pro, to make sure you have the right redirect solution in place. Check out these must-have plugins below and take control of your 404 error pages today!
The Best WordPress SEO Plugin and Toolkit
All in One SEO is an outstanding and simple-to-use search engine optimization plugin for WordPress. With this plugin, you can easily establish 301 redirects, monitor 404 issues, and repair broken links and pages. It even comes with a built-in redirection manager.
One of the key features of All in One SEO is its ability to track redirects. It creates a detailed record in your WordPress dashboard, including information about the user's browser and referring website. This allows you to keep track of any 404 redirects that occur on your website and quickly address any issues.
Another great feature of All in One SEO is its ability to redirect multiple URLs to the same page simultaneously. This is especially useful when transferring your content to a new website or switching domains.
You can simply copy and import your old URLs and new destination URLs into the plugin, making the process quick and hassle-free.
Setting up temporary or permanent redirects is a breeze with All in One SEO. You can easily do this by entering your old URLs and new destination URLs into the designated fields. And whenever you remove or change a URL, you can even set it up to automatically redirect visitors and search engines from the old URLs to the new content.
Key Features:
Optimize your local SEO and rank better on Google Maps.
Offers a wide range of customization and modification options to meet all your needs.
Easily add title tags, meta descriptions, keywords, and more for on-page SEO optimization without any coding required.
Enjoy fantastic support from the developer team, always there to assist you.
The Most Popular Redirect Manager For WordPress
Redirection is a highly recommended WordPress plugin for handling redirects and managing 404 error messages. It is widely used and highly rated by users. The main advantage of this plugin is that it is completely free.
With Redirection, you can easily set up 301 redirects and keep a record of any 404 error messages on your website. This helps you to efficiently manage broken links and other link-related issues that may arise. You can also view the error log in WordPress and export it for further analysis.
One of the key features of Redirection is its customizable logging feature. It allows you to track redirects and gather information about the user, their browser, and the source they came from. This helps you to understand where you should focus your efforts in improving your website's performance.
Another great feature of Redirection is its fine-grained permissions. This means that you can easily modify the plugin according to the specific needs of individual users.
Whether you want to match query parameters precisely, ignore them, or send them directly to the destination application, Redirection has got you covered.
Key Features:
Customizable logging feature to track redirects and gather user information.
Error collection for identifying areas of improvement and redirecting in bulk.
Fine-grained permissions to tailor the plugin to individual user needs.
Precise matching of query parameters, ignoring them, or sending them directly to the destination.
Free and frequently updated plugin for efficient redirection management.
Allows You To Easily Create Your Own 404 Error Page Without Any Effort
404page is a WordPress plugin that stands out from others by focusing solely on creating 404 error pages without providing redirection. Unlike the default 404 error pages in WordPress themes that can be uninspiring, 404page allows you to create unique and attractive 404 pages to keep your visitors engaged.
When a visitor lands on a broken link or nonexistent page on your website, it's essential to lead them to a relevant page or catch their attention with a creative 404 page. This is where 404page comes in handy, enabling you to create world-class 404 error pages without the need for coding or modifying template files.
One of the standout features of 404page is its simplicity and ease of use. It does not gather or store any user information or cookies, ensuring privacy and data protection. This plugin is also highly compatible with almost any WordPress theme, making it a versatile choice for website owners.
If you're a theme designer, 404page allows you to include native support for it in your theme, providing a seamless and consistent experience for your users. Additionally, it doesn't transfer any data to remote servers while using the plugin, ensuring that your website remains secure.
Key Features:
No user information or cookie storage.
Excellent compatibility with most themes.
Native support for theme designers.
No data transfer to remote servers.
Easy-to-use interface for creating attractive 404 pages.
301 Redirects is a powerful WordPress plugin that allows you to effortlessly set up 301 and 302 redirects for your website's 404 error pages. With this plugin, you can redirect your visitors to web pages, topics, customized links, or even index pages, providing them with a seamless browsing experience.
One of the key features of 301 Redirects is its ability to provide detailed information about the redirection process. You can track problem pages in real-time, ensuring that you're always aware of any issues and can take immediate action.
This not only helps you keep your website running smoothly, but also allows you to provide a better user experience for your visitors.
Importing and exporting redirect policies is another handy feature of this plugin. If you're switching from another redirection plugin, 301 Redirects makes it easy to migrate all your redirect settings without any hassle.
By redirecting users from a 404 error page to another relevant page of your choice, 301 Redirects ensures that your website follows the best SEO practices. Additionally, it helps you retain visitors' attention even if they accidentally land on an unappealing 404 error page, reducing the chances of them leaving your site.
With 301 Redirects, you have multiple options for selecting a redirect destination. Whether you want to send your visitors to a specific topic, webpage, media, or even a unique link, this plugin gives you the flexibility to choose the most suitable option for your needs.
Key Features:
Works seamlessly with translation plugins like Weglot, TranslatePress, Gtranslate, and Loco Translate.
Specific widget to view the 404 error log, helping you stay on top of any issues.
Lightning-fast redirection, ensuring a smooth browsing experience for your visitors.
Import and export tool for easy management of mass redirection.
Detailed tracking and real-time information about problem pages.
Multiple options for selecting a redirect destination, including topics, webpages, media, and unique links.
Provides a positive user experience by redirecting visitors from unappealing 404 error pages.
Helps your website follow best SEO practices by implementing 301 and 302 redirects.
Easy migration from other redirection plugins.
Enhances visitor retention and engagement on your site.
Redirect, Log and Notify 404 Errors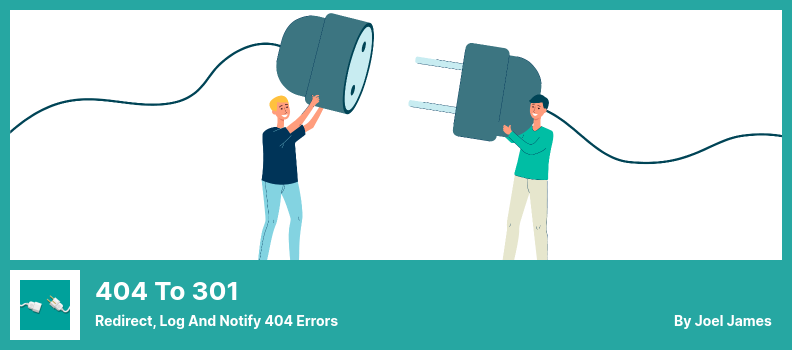 The 404 to 301 plugin is an essential tool for any serious WordPress website owner looking to improve their site's search engine optimization. This plugin tackles the pesky issue of 404 errors, which search engines absolutely despise.
By utilizing this plugin, you can redirect webpages, log any 404 problems, and even receive email notifications when visitors encounter a 404 error on your site.
One of the standout features of this plugin is the ability to receive email notifications whenever a visitor encounters a 404 error page on your website.
This allows you to quickly identify and rectify any issues, ensuring a seamless user experience. Additionally, the plugin keeps a record of every 404 error, making it easy for you to track and resolve them.
Managing 404 errors on your WordPress site becomes a breeze with the 404 to 301 plugin. It simplifies the process by redirecting the sites to the new location you specify. This means you won't have to spend hours manually fixing broken links or dealing with frustrated visitors.
The plugin offers various redirect types, including 301, 302, and 307, giving you the flexibility to choose the most suitable option for your needs.
Not only does this plugin help you handle 404 errors efficiently, but it also boosts your site's search engine optimization.
By informing Google that all 404 pages have been redirected, you can improve your site's ranking and visibility. This is crucial for attracting more organic traffic and increasing your site's overall performance.
Key Features:
Choose from different redirect types (301, 302, 307)
Receive email notifications for all 404 errors
Configure specific redirects for each 404 path
Completely free to use with regular updates
Boost your search engine optimization by redirecting 404 pages
Monitor and record any errors that occur.
Frequently Asked Questions
What are WordPress 404 Redirect Plugins?
WordPress 404 Redirect Plugins are tools that help to redirect users who encounter a 404 error page on a WordPress website. When a page or post is not found, a 404 error page is displayed to the user. These plugins allow website owners to redirect users to a relevant page instead of leaving them stranded on the error page.
Why should I use a 404 Redirect Plugin on my WordPress site?
Using a 404 Redirect Plugin on your WordPress site is important for several reasons. Firstly, it improves user experience by redirecting users to relevant pages instead of presenting them with a generic error page.

This helps to keep users engaged and reduces bounce rates. Secondly, it helps with SEO, as search engines penalize websites with too many 404 errors. By redirecting these errors, you can maintain a healthy website structure and improve your search engine rankings.
What are some features to look for in a WordPress 404 redirect plugin?
When choosing a WordPress 404 redirect plugin, look for features such as easy installation and setup, customizable redirect rules, the ability to track and monitor 404 errors, support for wildcards and regular expressions, and compatibility with your WordPress theme and plugins.

It's also important to consider whether the plugin offers additional functionality like automatic email alerts, bulk redirects, and the option to redirect to custom URLs or specific categories.
Conclusion
In conclusion, we have explored the top 5 WordPress 404 redirect plugins for 2023, both free and pro options. These plugins offer an effective solution for managing 404 errors and redirecting users to relevant content on your website.
Whether you are a beginner or an experienced WordPress website owner, these plugins can help you improve your site's user experience and reduce bounce rates.
If you found this article helpful and want to learn more about WordPress and website optimization, I encourage you to check out the BetterStudio blog. There you will find a plethora of related tutorials and guides to help you make the most out of your WordPress website.
To stay updated with the latest tutorials and tips from BetterStudio, make sure to follow us on Facebook and Twitter. We regularly share valuable insights and resources to help our readers enhance their online presence.
Thank you for taking the time to read this article. If you have any questions or need further assistance with the topics discussed, please feel free to leave a comment below. We are here to help you succeed in creating a successful and user-friendly WordPress website.