Looking for the best WordPress plugin for horoscopes?
Let's get started; we will guide you to choose one of the best WordPress plugins for Horoscope. All of our plugins are feature-rich, have excellent support, and are easy to use. Also, they support all the advanced WordPress themes.
We have compiled a list of Horoscope plugins for you, as well as plugins for Astrology and WordPress Daily Horoscope Plugin.
Listed below are 2022's top horoscope WordPress plugins:
A Platform for Services Like Daily Horoscope
The Horoscope And Tarot plugin offers various services, including daily horoscopes, weekly horoscopes, monthly horoscopes, fortune cookie readings, and coffee cup readings.
This plugin is much more than just a plugin. It is a portal to incredible online services that you can take advantage of daily.
You can make this plugin available to your users to allow them to learn about themselves through their horoscope in a fun and easy way, as well as gain a deeper understanding of their prospects.
You will benefit from this plugin in the following ways: enhanced customer engagement, increased traffic to your website by implementing it daily, you will see more users visiting your website, and they will be more likely to tell others about it, which will lead to higher sales.
💵 This plugin comes in a Lite and Premium version. The Premium version costs $49/month, whereas the Lite version costs nothing.
Key Features:
A daily horoscope API provides visitors with a summary of the day ahead.
Provides recommendations based on the visitor's health profile
There may be information relevant to the visitor's career on the site
A shortcode can be used to display the Horoscope section on a page or in a post
The visitors will be informed about their lucky number and color
Random Reviews:
Using this plugin, I can bring my audience's horoscopes to life.

There are excellent features, and it is easy to use. The app is easy to install and compatible with all windows. It also has many great themes to choose from.
a Window to The World of Wide Varieties of Horoscope Reports
Undoubtedly, the Horoscope and Astrology plugin is one of the most popular Vedic astrology platforms. In addition to being a widget, this plugin provides access to an entire world of horoscopes and astrology reports that you might never have imagined existed before.
If you install this plugin on your website, you can offer your visitors accurate Indian Astrology reports.
Moreover, you will experience greater user engagement, more significant revenue share, more traffic to your website, and more opportunities for generating income through paid advertisements.
This plugin allows users to generate free and accurate astrological predictions using the company's astrology engine. Additionally, these reports are authentic and will draw more visitors looking for predictions based on Vedic Astrology.
💵 You can choose between the Pro or Lite version of this plugin. The Pro version costs $(Needs Quote), while the Lite version costs nothing.
Key Features:
You will have a more significant opportunity to receive advertisements
Provides you with a steady source of income
Engagement of your users can be increased
It is possible to obtain income from paid reports
Provides your users with accurate Indian Astrology reports
Random Reviews:
Paying INR 30,000 is required for the API and the free services; then, you are given 50% of the revenue and your leads.

The plugin was straightforward to install and works seamlessly with my website. Thanks to the team!
Add Sun Sign Monthly Horoscopes
With the Monthly Horoscopes plugin, you can add monthly horoscopes for your sun signs to your WordPress site's posts and pages. Furthermore, this plugin can also be used with blogs and news magazines online about astrology.
This plugin is easy to install on your website, so you can get it and install it right away. Follow the instructions, and you will be ready to use your website.
Furthermore, depending on the number of months, you can display a monthly horoscope on your website. As soon as the previous month ends, around the 25th, a horoscope for the following month is available.
Using the API on MyAstrologyCharts.com, this plugin retrieves data from the website. There is a requirement for WordPress 4.4 and PHP 5.2 to install this plugin.
💵 It is now FREE for you to download and install.
Key Features:
You may display any number of monthly horoscopes on your site
Provides access to MyAstrologyCharts.com via a service
It is possible to add monthly horoscopes for each sun sign to your WordPress site
Horoscopes are published around the 25th of the previous month
A Daily Horoscope Widget for WordPress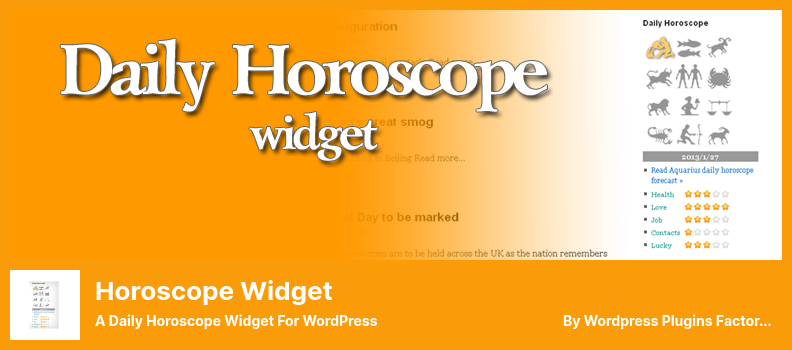 It is possible to display your daily horoscope on your blog or website using the Horoscope widget WordPress Plugin. A complete collection of horoscopes for each zodiac sign, as well as astrology forecasts, is available in this plugin.
This WordPress daily horoscope plugin allows users to retrieve content from an XML file on the server. You can use this plugin whether your site is an eCommerce website or a lifestyle website.
With this plugin, you can modify the code in the horoscope-wp-widget.php file to customize the appearance and functionality of the horoscope. However, to make the change effective, it is necessary to have a basic understanding of HTML.
It is impossible to place a widget in both the sidebar and the post simultaneously – if it is placed in both places simultaneously, there will be a JScript error.
💵 Free support and many features come with this modern plugin. You can download it for free from the plugin website.
Key Features:
Forecasts for every zodiac sign and daily horoscopes
You can change the look and feel of your horoscope
Suitable for all shops and lifestyle sites
There will be a pull of content from a local XML file
Random Reviews:
You will see Taurus if you select Pisces; Taurus will show Gemini if you select Taurus; Scorpio will show Capricorn if you select Scorpio.
To summarize, we can say
The evaluation of plugins is crucial. We discussed the best WordPress Horoscope plugins.
📌 Note: Additionally, you may find our list of top WordPress security plugins helpful in enhancing the security of your website. We also recommend you look at our expertly selected WordPress hosting providers.
We hope that you found this helpful.
Please let us know if you have any comments, feedback, or concerns. If you enjoyed this article, please share it on Facebook, Twitter, or other social media platforms.