In today's internet world, if you want your voice to be heard or content to be seen and go viral, you need to have skills and the right SEO tactics.
There are literally hundreds of SEO plugins out there, but which one is made for you? Which one you can use?
If you are using WordPress, you have probably heard about the Yoast SEO plugin, but are there any solid alternatives to Yoast SEO?
In this article, we would introduce a powerful and fast SEO plugin called SEO Framework and compare it with the best SEO plugin out there.
What is SEO Framework?
SEO Framework plugin was developed by a Dutch company. The main developer was working on a client's theme and realized it's lacking advanced SEO settings. So, he decided to write his own SEO plugin.
Initially, the plugin was released for the WPMU community and it got amazing feedback. Then he decided to release it for the WordPress community. That's when the plugin took off and it now has over 100,000 active installs.
SEO framework is not just another SEO plugin, it comes with many convincing features that motivate you to download it and start using it.
SEO Framework vs Yoast SEO
Yoast SEO offers a variety of flexible options when it comes to titles, meta descriptions and provides tips regarding your content. It tells you if the text is readable, does it have links, how well keywords are used, etc.
Yoast is very useful for those who are new to writing and more specifically copywriters. The Yoast SEO plugin is very user-friendly and the wizard system used in it checks for default settings and configures them.
Other famous features of Yoast include sitemap and breadcrumbs. We have talked about breadcrumbs in SEO in an older article.
The premium version of Yoast SEO contains even more features. For example, the ability to track more than one keyword in the text.
Yoast SEO is mostly known for its content analysis feature. The plugin automatically reads the text and gives you tips on how to improve it. Other key features of the Yoast SEO plugin are:
Content & SEO analysis
Title and meta descriptions
Breadcrumbs
Google Search Console
Etc.
As mentioned above, Yoast SEO is a perfect plugin for beginners who are just starting out as a writer and those who are new to SEO. Simply install the plugin and follow its instructions to get your content out there.
On the other hand, SEO Framework is an interesting alternative to Yoast SEO. This plugin is developed by a Dutch company and it could be a great alternative for WordPress users who are looking for a fast plugin for SEO.
The developers of the SEO Framework made sure that speed is the main priority for them. Features that aren't necessary and slows down a website are not included in this plugin. However, both free and premium extensions are available to be added to the plugin.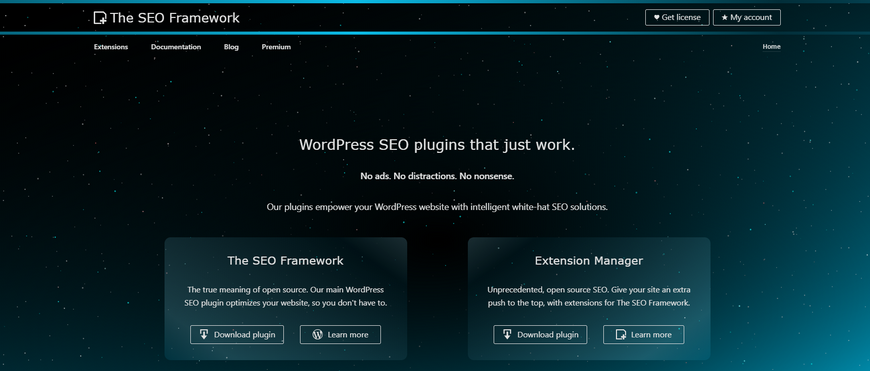 For example, AMP pages or removing HTML tags that refer to your brand.
SEO Framework mainly focuses on simplicity. Thus, it's very easy to use and it has a simple interface. There are no ads in this plugin and once the installation is finished most of its settings are already configured for most users.
Unlike Yoast, SEO Framework focuses on the subject instead of the keyword. Therefore, the writer is encouraged to write even more text.
The SEO Framework includes all the basic SEO functionalities such as metadata and structured data and allows its users to adjust how shared links are displayed on social media. This feature is premium in most SEO plugins.
Other key features of the SEO Framework plugin are:
Title and meta descriptions
Canonical URLs
SEO score bar
Open Graph information
XML sitemaps
Etc.
The SEO Framework plugin is a simple yet powerful plugin. It may not have extensive features that Yoast offers. Some users prefer this because they already know what they want and what they need to do. However, if you are a beginner, we recommend using Yoast SEO, but if you are an advanced user, we highly recommend the SEO Framework plugin.
How to Install SEO Framework?
To install the SEO Framework plugin, you can either download it from the official WordPress website or directly through your WordPress Dashboard. Here, we will talk about directly installing it through the WordPress Dashboard.

Login to your WordPress Dashboard and hover over Plugins and click on Add New. In the search box type in "SEO Framework", click on install then activate the plugin.
Once the plugin is activated, it's icon will appear on the left-hand side menu of the WordPress Dashboard. Click on it to open its settings.
Most of its settings are already configured. Unless you are advanced in SEO, we recommend not changing them.
To use SEO Framework, simply create a new post or edit one of your existing posts. At the bottom of the page, you can see the Post SEO Settings box. Use them to prepare your content for search engines.
Much like Yoast SEO, this plugin ranks your content based on colors.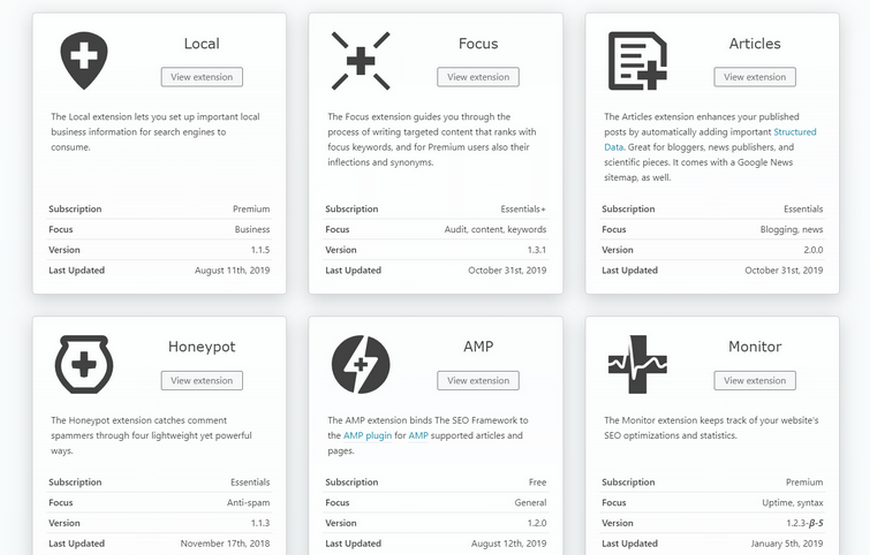 To add more features to the SEO Framework, you have to install the Extension Manager plugin. You can add a total of 9 extra features to the plugin. The extra features are:
Local SEO: The local feature lets you set up important local business information for search engines.
Focus: The focus feature guides you through the process of writing targeted content.
Articles: The article feature improves your published posts by adding structured data to them. This is great news for bloggers.
Honeypot: The honeypot feature prevents spam comments.
AMP: The AMP feature connects the SEO Framework plugin to the AMP plugin for AMP supported articles and web pages.
Monitor: The monitor feature keeps track of your SEO optimizations and statistics.
Incognito: The incognito feature hides all development comments from the SEO Framework plugin.
Origin: The origin feature redirects attachment-page visitors back to the parent post.
Title Fix: The title fix feature makes sure your title output is configured and it even checks your theme.
Conclusion
There are a lot of SEO plugins out there and most of them are offered with almost the same functionalities, but which one is made for you? In this article, we've introduced SEO Framework a fairly new plugin in the WordPress SEO industry.
This plugin has managed to earn the trust of more than 100,000 WordPress users. While Yoast SEO is a great plugin but its features may not be for everyone. Most Yoast SEO users are beginners in writing or new to the SEO world.
The features offered in Yost SEO are perfect for beginners but if you are an advanced WordPress user and are familiar with SEO then you may need to start using SEO Framework.