Trying to find the best WooCommerce Image Zoom WordPress plugins?
For that reason, we have reviewed many plugins and selected the best WooCommerce Image Zoom WordPress plugins. This WordPress plugins list will help you find the plugin for your must-have contemporary needs. Additionally, the plugins are compatible with all WordPress themes.
We have put together a list of the top WooCommerce Image Zoom plugins to help you select the best WooCommerce Image Zoom plugin. However, these plugins can also be used for Image Zoom, Product Image Zoom, Product Gallery, and Zoom Magnifier.
Furthermore, we encourage you to read our review of the best WooCommerce plugins to add more features to your store and be able to earn more revenue by installing them. Also, our article for best WooCommerce themes can be helpful for redesigning the store and making it modern and userfriendly.
Best Product Image Zoom Plugins for WooCommerce 🔍🛒
Add a header to begin generating the table of contents
Therefore, here are the best WordPress plugins for WooCommerce products Image Zoom in 2022:
Enhance Your Product Images, The Key Features Of Your Product Page
You can manage the thumbnails of your products in a simple slider for a sleek, clean aesthetic using Yith WooCommerce Product Gallery & Image Zoom.
The plugin allows you to provide the functionality of zooming and a lightbox to your product images, so the customer can view details of your products in greater detail. This plugin also allows you to manage your thumbnails in a simple slider for a sleek, clean aesthetic.
Using this plugin, you can zoom on your product images, set the zoom position (for example on the left side, inside the image, outside the image, on the right side), disable zooming on mobile devices, set the image zoom window size, and determine whether you want the image to be blurred when zoomed in.
---
💵 Lite can be downloaded for free, Pro can be purchased for $(Needs Quote) price.
Key Features:
You may customize the color of the lightbox overlay
Customize the appearance and colors of the WooCommerce image zoom icon
Activate the slider on the product gallery
Lightbox icon sizes, colors, and positions can be customized
Display the lightbox when you display your product images
The number of thumbnails to be displayed in the slider can be modified
Activate the slider arrows when the mouse hovers over
You can disable the zoom feature for specific products or categories
Lightboxes can be disabled
Random Reviews:
I tried the plugin with all the plugins and it worked. It can't be beat. br>

After a week they reply with something not helpful, then after you respond in an hour they won't reply anymore (3 weeks to date)*

A list of all plugin features can be found here
Awesome Image Zoom For Images In Posts/Pages And For WooCommerce Products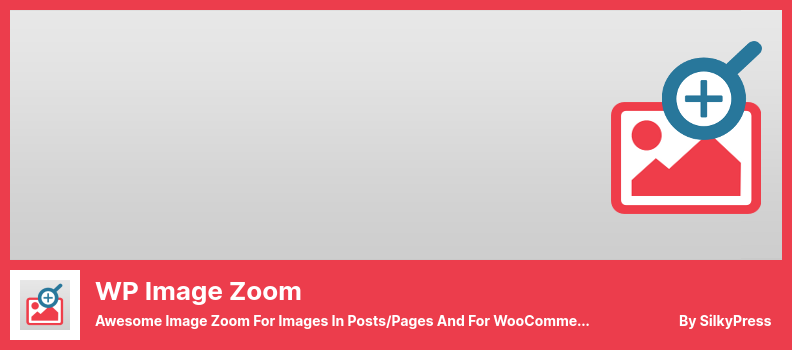 Using the WP Image Zoom plugin, you will have extensive, robust, and modern zoom options at your disposal. Using this plugin, you can create magnifying glasses for your images directly from your WordPress admin interface, which is a very intuitive tool.
Displaying your images in full size ensures that your customers can see the details of your images. This should lead to a better user experience and more revenue for your business.
The 'zoom' CSS class should be added to images in a page or post that uses a page builder if you wish to zoom them.
WP Image Zoom Pro can be used to prevent this issue when zooming an image in a gallery. By default, Zooming an image works fine only with Image elements. When zooming an image in a gallery, the zoom is applied only to that first image in the gallery.
---
💵 It is available to purchase (Pro) or to use for free (Lite).
Key Features:
Zooming will occur after the mouse is moved over an image with an elegant delay
There are three different zoom levels: an inner zoom, around the lens, and an outer zoom (with a zoom window)
Compatible with MarketPress – an eCommerce plugin for WordPress
You can zoom in and out of lightboxes and carousels
The zoom window will adapt to the browser's width (responsive)
Random Reviews:
It works great and the look is great. Fast and very helpful support

I highly recommend this plugin. Support has been very fast

It does what it's supposed to do! • Wonderfully functional!
The Most Necessary Feature For Your Site
It is critical to ensure that your website functions effectively by installing plugins such as WooCommerce Product Image Zoom.
If you are able to provide your customers with detailed information regarding your products, you will be more likely to convert them. You can easily set zoom features for product images using WooCommerce Product Image Zoom.
In the advanced settings panel, you can configure Woocommerce Product Image Zoom PRO in the advanced settings panel according to your needs.
With this image zoom plugin, you can display a larger product image upon mouseover, plug, and play. There is no need for any additional settings since it is lightweight and compatible with all WordPress themes. It is easy to use, developer-friendly, and modifiable.
---
💵 Although it's free to use, it charges a $39 for upgrading.
Key Features:
You can zoom in three different ways
Product gallery video and images are shown as LightBox popup sliders with product image zoom
Using a mobile device, when the large product image is clicked, the gallery image will replace the large product image
Zooming of WooCommerce product variation images is supported
There is an ability to zoom magnifier
Zoom window and zoom lens size can be modified
Zoom is to be excluded for specific products and categories
With smooth zooming and fade in and out speeds
Zoom lenses come in two types
Random Reviews:
Excellent, amazing, and nice

My gallery images do not appear after installing this plugin. There is only one image displayed for each product. Basically, I need a plugin that displays all gallery images for products in a separate box. However, after installing this plugin it hides all gallery images for each product. How do I resolve this? I am using the woodmart theme.

Thank you, WpBean. The free version looks professional, is fully functional, and works right out of the box.
Allows You Add A Carousel In Woocommerce Default Gallery Section
You can display rotating product galleries within the default Gallery section of your website with the Product Gallery Slider for the WooCommerce plugin. Using this plugin is a great way to increase sales of your products on your website.
This plugin has several features, including a responsive layout, navigation support, autoplay slider options, a gallery layout (horizontally scrolling slider), thumbnails, a product video gallery, and several other features.
The Product Gallery Slider for WooCommerce also allows you to adjust lightbox settings for thumbnail images, display zoom settings for WooCommerce images, and change the caption for images. It is compatible with most premium themes and can work in RTL languages.
---
💵 The premium version charges $51.75 and the lite version is free.
Key Features:
Having worked with most of the premium themes
A navigation support system
Video support for the gallery
A responsive design
A gallery layout [vertical (left, right) and horizontal]
Slideshow Hide option for thumbnails
Options for auto-playing the slider
Turning on and off the lightbox for thumbnail images
There is an infinite loop
Provide support for WooCommerce's default zoom option
Random Reviews:
Plugin has been great for quite a while now. Still great!!

Hello, nice plugin – does exactly what I wanted; support is even better than expected! vanbrel

HOPE THIS STOPS THE FEEDBACKS.
Allows To Add Unlimited Additional Images For Each Variation Of Product
The Variation Images Gallery for WooCommerce plugin allows you to upload an unlimited number of additional images when adding variations.
Further, this plugin allows your customers to showcase your products in a variety of ways, enabling visitors to view a number of different views of your products, thereby increasing sales.
You can display additional images for every product variation when using the Variation Images Gallery for the WooCommerce plugin.
Using this plugin, you can download an unlimited number of additional product pictures for each variation. With this plugin, your visitors will see a different set of product pictures each time they select a different product variation, such as product color, image, or style of the product.
---
💵 While the Premium version costs $29, the Lite version is free.
Key Features:
Each variation of a product may include unlimited additional images
Slider for thumbnail images
Video support available in the gallery
The Variation images delete option
(Left/right/bottom) Position of thumbnails
Option for controlling the zoom button position
Compatibility with the Elementor Page Builder Product Gallery Addon
Variation images have the option of zooming in and out
An option for Drag & Drop custom sorting
Random Reviews:
The first time I opened a support ticket, they didn't answer me for a few days, which was very frustrating for me. But with several subsequent tickets, I learned that they have public holidays. They are actually very helpful when I ask them anything they help me. Thanks RadiusTheme.

This is the best plugin I've used for woo galleries, and the support is always fast to respond to my pre-sale questions

Thanks for your amazing work RadiusTheme. You are the only free Woocommerce plugin I could find that allows unlimited photos for each product variation.
Lastly, a conclusion
You can choose one of these plugins to make your site look better. We tried to give you all the information about the best WordPress WooCommerce Image Zoom plugins.
Thank you for reading this article. I hope you learned something from it.
Don't worry if you are stuck or unsure; we are here. Just leave a comment. Please consider sharing this article on Facebook and Twitter.