Are you tired of using complicated screenshot tools just to save a simple image from your Chrome browser?
Let's take a look at 6 of the most popular Chrome screenshot extensions of 2023 so you'll never have to struggle to take a screenshot again.
Did you know that over 63% of internet users worldwide use Google Chrome as their primary browser? With so many Chrome users, it's essential to have a seamless screenshot experience.
We'll discuss how to simplify the screenshot process in this post because taking screenshots is crucial for education, career advancement, and everyday life online.
From simple and straightforward to feature-packed and customizable, we've got you covered. So sit back, relax, and let us guide you through the world of Chrome screenshot extensions!
Note: You can read our step by step for taking screenshots in Google Chrome for more information.
The Best Screen Capture & Screenshot Tool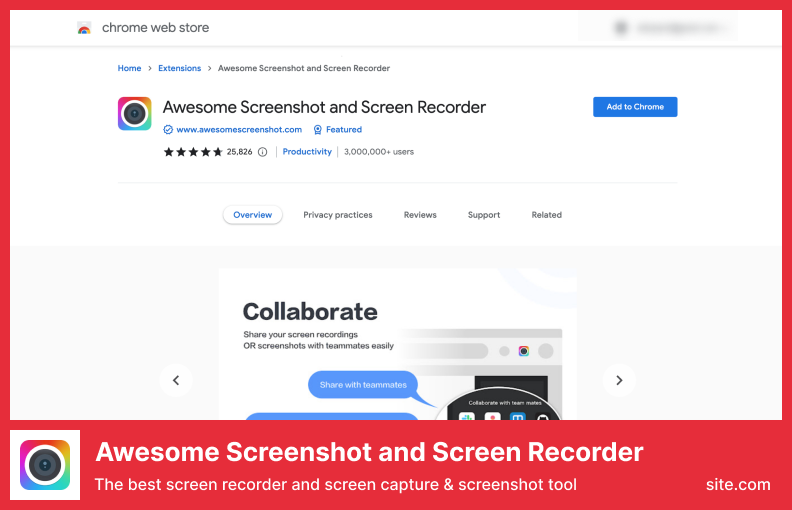 Honestly, Awesome Screenshot and Screen Recorder could be considered one of the best chrome screenshot extensions.
Awesome Screenshot Chrome extension gives you access to a ton of powerful features and functions you'll need in everyday life.
The Chrome extension offers the option of taking screenshots, commenting on them, blurring them out, and annotating them in order to deliver the best experience.
The extension can be used in order to instantly share screenshots with anyone who has it installed in their browsers; this is one of our favorite features of it; we use it all the time.
This tool has a simple and easy-to-navigate user interface and also offers screen recording capabilities via a screenshot screen recorder to upload to tools like Trello, Jira, etc.
When you install this Chrome extension, you will be able to take screenshots of all parts of the page you are currently viewing or only portions of it.
The screenshot tool allows you to choose the background color, font, and size of the screenshot, as well as add text. Isn't it great?
Pricing: Free & Paid; starts from $5/month.
Key Features:
The size and crop of an image can be changed
The screenshot can be highlighted to emphasize important points
Sends screenshots to Jira, Slack, Trello, Asana, and GitHub
You can blur sensitive information on your screenshot
Annotating the recording is easy at any time
The Fastest Way to Take a Customizable Screenshot
Users can instantly capture a screen and share it with their colleagues for further analysis with Screen Capture, a Chrome extension.
This full-page screenshot Chrome extension In the same way, we captured screenshots and videos, and attached a microphone to the screenshots so we could record voice messages right into the screenshots. Taking screenshots and videos isn't the only way you can use it, either.
The possibility exists as well for you to convert your text into a video that would assist in promoting your business and raising your sales if you were to use the appropriate tools in order to do this. If you would use these tools, you would be able to convert your text into a video.
If you share a screenshot URL with colleagues, it loads and then you can view it when they open it. It's best to take screenshots after reloading the page after it's been installed.
Pricing: Free
Key Features:
The full page can be screenshotted, not just the visible portion
A screenshot can be taken of any part of the page
Changes can be edited and discarded
You can save PDFs and PNGs
Copying screenshots to the clipboard is possible
a Simple and Convenient Screenshot Tool
A great tool for taking screenshots in a very easy and convenient way that won't take up a lot of your time would be Lightshot if you are looking for a quick and easy way to do so.
A screenshot can be taken easily with the Lightshot screenshot Chrome extension, thanks to its straightforward yet powerful interface that is free of unnecessary features and unbelievably light for such a large application.
This software lets you make screenshots of any part of a web page while you're browsing and share them with others in seconds.
Using this tool, administrators can save screenshots on a disk or upload them to the cloud where they can be accessed remotely.
It might be helpful to use a search engine to find similar screenshots, or you may simply want to copy them directly to your clipboard if you prefer.
Pricing: Free
Key Features:
A screenshot can be taken and shared
Any portion of the page can be selected
You can edit screenshots as you take them
You can save or upload screenshots
A similar screenshot can be found by searching
Used By Several Million Users On Different Platforms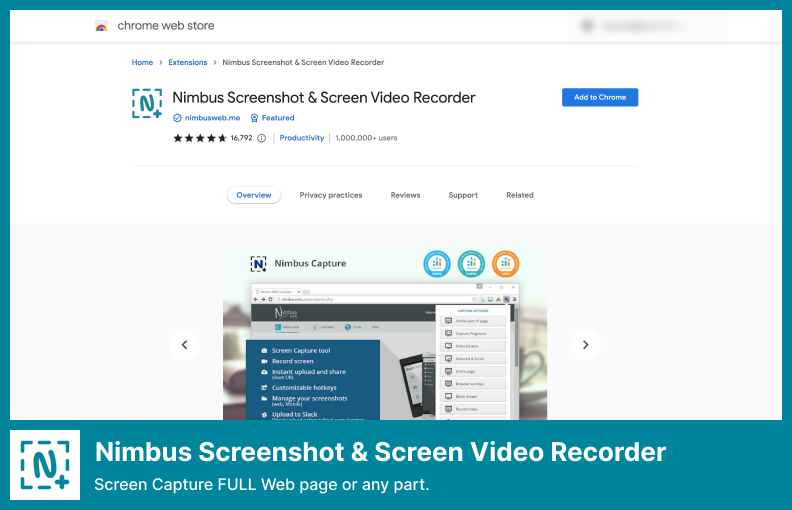 You can take screenshots and videos of any segment or the entire website with the Nimbus Screenshot & Screen Video Recorder Chrome Extension.
You can also record videos right from your webcam, edit screenshots, and add annotations directly from the page.
The tool also converts WebM videos into MP4, GIF, and TIFF files apart from being able to convert WebM videos to other formats, including MP4. What makes the tool so useful is the fact that it can convert screencasts to several different file formats.
In addition to providing a variety of options for enhancing your simple images and captures, this Chrome screenshot shortcut extension also comes with options for changing the background color, adding text, and more.
Many features come with this tool, such as the ability to capture screencasts and screenshots in the cloud and share them online.
Pricing: Free & Paid; starts from $4/month.
Key Features:
You can capture the entire screen or parts of it
Screencasts and screenshots can be annotated and edited
A video recorder can record your screen and webcam
Screencasts can be trimmed and cropped
Videos get converted to gifs and mp4s
The Best Way to Share Your Screen
The most efficient way to share your screen is with a Chrome extension such as Ninja Capture since it performs all the necessary tasks in one simple step.
You can utilize this Chrome extension to share your screen or video conveniently from your device. Additionally, it is possible to take screenshots of entire web pages as well as sections of them.
With this screen capture extension, you can grab any visible portion, the entire page, a selected area, or all of it with one click. The extension is available in Google Chrome.
The extension lets you record audio, which allows you to foster a good relationship with your audience; this was very useful in our experience.
It can even be enhanced with a webcam, so you can interact meaningfully with your audience and your presentation so they're able to understand what you're saying.
Pricing: Free & Paid; starts from $14.99.
Key Features:
Screenshots can be captured, annotated, and shared
Improves communication through screen capture and sharing
Screen captures can be easily shared via email
Videos are recorded in ultra-HD quality
Files can be uploaded to cloud-based applications
Take Webpage Screenshots Entirely
Taking screenshots using Chrome is easy and Fireshot is one of the most popular Chrome screenshot extensions available today.
You can grab screenshots from anywhere in the world with an extension for Chrome that captures and edits screenshots from anywhere.
In addition to adding emojis to your images with this Chrome extension, you can also include text annotations to your images so that you can personalize them.
Through the extension, screenshots can be exported as PNG, JPEG, BMP, and GIF files as well as to Chrome's default PNG, JPEG, and PDF export options.
Pricing: Free & Paid; $39.95/onetime.
Key Features:
You can save screenshots as PDF, PNG, and JPEG
It is possible to capture only a visible part of the web page or just a selection
PDFs can be created from all tabs
It is possible to export captures to an external editor
You can add page information to screenshots
FAQ
What are Chrome Screenshot Extensions?
Screenshot extensions for Google Chrome allow you to easily capture screenshots of any webpage you visit inside the browser, making it possible to quickly save images, webpages, and other information to your computer for further editing or reviewing later on.
How do I use Chrome Screenshot Extensions?
To use a Chrome Screenshot Extension, open the webpage you'd like to capture in Google Chrome and click the extension's icon in the upper right corner of the browser. From there, you can select whether you'd like to save the entire page, just visible parts, or even the full page with all its content.
Are Chrome Screenshot Extensions free?
Yes, most of the popular Chrome Screenshot Extensions are free to download and install directly from the Chrome Web Store; however, some premium versions may require payment if you want certain features.
What are the benefits of using Chrome Screenshot Extensions?
You can save important information, like research materials or product reviews, with Chrome Screenshot Extensions. Also, it's easy to take multiple screenshots at once, which saves time.
Conclusion
In conclusion, taking screenshots is an essential aspect of many tasks and activities. And with the 6 Chrome Screenshot Extensions in 2023, you have a variety of options to choose from to capture exactly what you need. Each extension offers unique features and benefits, so be sure to choose the one that best fits your needs.
📌 Note: Don't forget to check out our article on the useful WordPress themes for bloggers and our list of the best WordPress hosting companies.
We hope this article has provided you with some information about choosing the best screenshot extension for you. Check out our BetterStudio blog for more related tips and updates.!
Thanks for reading. We have Facebook and Twitter pages you can like and follow to stay up-to-date.