A lawyer's life is busy, or at least we hope so. The greatest method of marketing is Online marketing at the moment. But how can a busy lawyer or a reputable law firm with little experience have a website that helps grow their business?
There are law firm website builders that can be used to create a site as a law firm or quickly create a site for a law firm client of yours. Today every business needs an online presence.
In this article, we would like to introduce the top 10 law firm website builders in 2021. In our previous article, we briefly discussed how to create a law firm website, but let us explain how to use different website builders to create a professional-looking law firm website.
WordPress was released in 2003 and quickly gained worldwide popularity. This website builder is very flexible and filled with features. At first, WordPress was designed for bloggers but since its open-source, a lot of developers across the globe started working on it and expanded its features and capabilities.
WordPress is very user-friendly and anyone can use it and master it in a short period.
WordPress today can be used to launch different websites, including websites for lawyers. WordPress comes with different templates, plugins, design customization options, code editing features, etc.
With this law firm website builder, you can find the right pre-designed law firm theme for your website with a simple Google search. WordPress's themes are both free and premium.
The free themes are probably enough for most users. However, if you are looking for a more stable and rich feature theme, we recommend purchasing a premium theme.
Also, you can add features to WordPress using plugins. There are a lot of useful plugins for every law firm website that's built with WordPress needs, and they are:
WordPress is a free website builder that allows you to create a website without having to invest too much money into it. Although you still need to invest in your hosting and domain plans.
There are a lot of hosting companies that offer cheap WordPress hosting plans. For example, the Bluehost plan will cost you $3.95 per month.
Wix is the next law firm website builder on our list. However, Wix isn't limited to creating law firm websites, with this completely code-free platform you can create any type of website you need.
Wix has dedicated Finance and Law section templates where you can simply choose the best design that you prefer.
You can use Wix in two main ways to create a law firm website. Either you can use the Wix Editor to choose a template and start working on it until you get to the website that best suits your law firm.
Or you can use the automatically created website by Wix ADI (Artificial Design Intelligence).
How does Wix ADI work?
Well, it asks you a few questions and starts searching the internet to find any related information about your law firm. Then, it creates the website using the information it has gathered. Although, you can still edit whatever website Wix ADI creates for you.
Besides, Wix App Market works similar to WordPress plugins. You can add free or premium plugins to your Wix website. There are a few widgets that enable you to have a better interaction with visitors and clients as a lawyer.
For example, Callback, Contact Management +CRM, Book Appointments Online, Live Chat, Wix Bookings, and many more.
Besides being a general and law firm website builder, Wix allows you to connect a blog to your law firm website to publish weekly posts that would help you with SEO.
Wix is partially free. It offers a free plan which can be used to create the website. However, using the free version isn't that professional for any type of business, because it comes with Wix ads and may distract your visitors.
The paid packages start from $4.50 and go up to $24.50 which is the most expensive package Wix has to offer.
Heek is the next law firm website builder that's designed specifically for lawyers and law-related topics.
Heek is the fastest-growing website builder in the law firm industry. It has all the essential tools a lawyer needs to create a law firm website and reach out to more clients. Users creating websites with Heek have full control over the website.
Heek is very easy to use, simply open the website, choose your field, answer some questions and Heek will display different designs. Once you have chosen the one you like, you can start working on it.
Heek offers two packages. One of which costs $19.9 per month and for the other package you have to contact Heek and ask for a quote.
Heek designers and SEO experts take care of your website in the second package and hand over a professional law firm website to you. So, not only Heek is a law firm website builder, but it can also be considered as a web development company.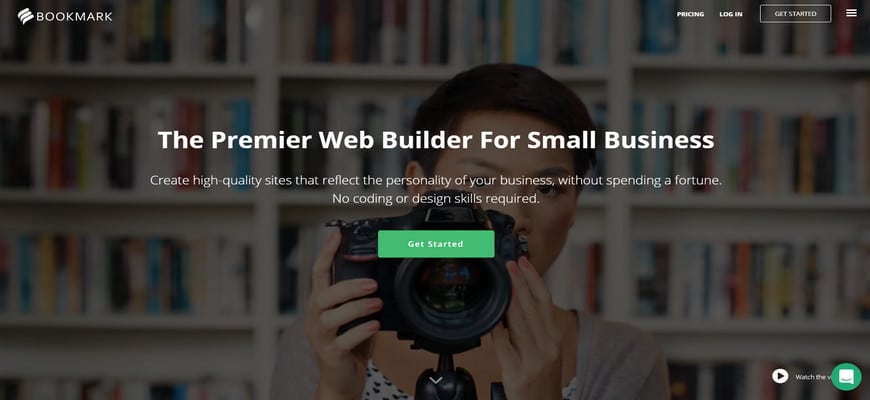 Bookmark is an AI-based website builder. It can just be the right law firm website builder for you. The platform is very user-friendly and it comes with a simple dashboard and a lot of design customization tools.
Much like any of the website builders mentioned above, you don't need to have any programming knowledge to launch a website with Bookmark.
The AIDA (Artificial Intelligence Design Assistant) can create a complete website in a few minutes for you, based on the information you feed it. Besides, Bookmark comes with pre-designed blocks that you can customize and import into your website.
These blocks are texts, links, maps, buttons, quotes, social network buttons, contact forms, feedback forms, etc.
If you are busy and don't have enough time to spend on your website, this platform may be the one for you. Other than the free plan, Bookmark offers two other paid subscription plans that start from $11.99 and goes up to $24.99 per month.
uKit is one of the best law firm website builders that you as a lawyer can use to create a professional-looking website.
uKit is the perfect solution for small law firms and private attorneys that would like to launch small to medium size websites. uKit platform is mobile-friendly and comes with the drag and drop feature.
This platform offers a large category of themes that you can use to make your law firm website. By default, these themes are responsive and optimized up to the latest standards of SEO.
Besides, it comes with a live chat widget integrated so you can stay in touch with the clients you may need live support.
Furthermore, to increase your website's security, uKit offers you a free SSL certificate with every plan that you purchase. The plans start from $4 and go up to $12 per month. Also, there is a 14-day trial that allows you to try each subscription without any cost.
One of the most versatile and popular law firm website builders in recent years with a proven track record is Weebly. Due to the top features it offers, Weebly has been a go-to website builder for lawyers.
Even if you are a complete beginner, you will have a lot of fun creating a website.
Some of the features Weebly offers are design components, professional templates, powerful SEO tools that are capable of working with third-party programs. Besides, Weebly has a mobile app that allows you to update and check your website without having to have access to a computer.
This website builder is affordable and very user-friendly. In addition to the features we mentioned above, it comes with the drag and drops feature, click-to-edit text, and a lot of more editing options.
One of the key features of Weebly is that it allows you to connect your third-party domain name or host to it. So, you don't necessarily have to purchase the domain name or your host from them.
If you are feeling confused and having a difficult time creating your website, then we highly recommend going to GoDaddy for help. GoDaddy has an award-winning support team and is one of the most trusted and highly recommended website builders in the world.
Even if you would like to create a law website, with GoDaddy law firm website builder you can create a gorgeous looking website in a short time.
Their website builder can be used to keep things minimal or create special effects. GoDaddy allows you to choose from their available web design, modify it and personalize it. Besides, GoDaddy can also take care of your domain names and hosting.
uCraft is a simple yet powerful drag and drop website builder that's is more than enough to create a law firm website. uCraft comes with design tools, logo customization options, responsive templates and other useful features that allow you to personalize your law firm website. So, this platform can highlight your services and present your brand and personalized website.
uCraft themes are responsive and niche-based. You can choose the theme you are after from the template gallery provided by the uCraft website.
Besides, it supports the WPML tools so you can translate your website into several languages and reach out to more potential clients. This is very important if you are practicing international law.
Furthermore, uCraft comes with articles app that allows you to create blogs, news websites, and other useful resources to interact better with clients. One of the key features of uCraft is the logo maker that comes with it.
If you don't have a logo already, by using this law firm website builder you can create a free logo for the website and better personalize it.
uCraft comes with a few different subscription plans. They have a free plan and their cheapest plan starts at $10 and their most expensive and complete package which is BigCommerce costs $69 per month.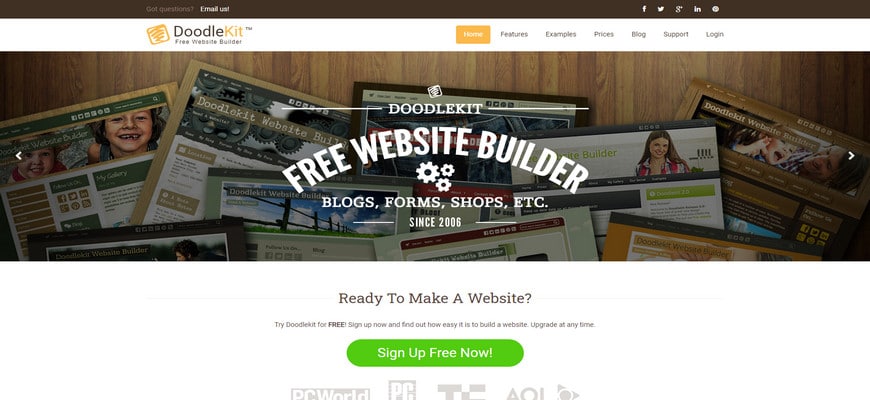 Doodlekit is intended for almost everyone in the law industry. Whether you are solo or a firm, you can tackle creating a law firm website with Doodlekit without any problems.
Doodlekit is very easy to use and comes with many features. You pick as many templates as you want from their template builder library and edit them with their website builder.
Besides, you have the option to share a template with other Doodlekit users. This website builder is optimized for SEO, mobile, blog, security and many more.
With numerous elements and powerful features, PageCloud can create any website for any type of business. Especially if you are a lawyer or an attorney, you can take advantage of this website builder and spread your message, and reach out to more people in the community and potential clients who are having legal issues and need help.
PageCloud comes with the drag and drop feature so that you can personalize your website in no time at all. Only the starting phase may take time for some people who have absolutely no knowledge of creating a website.
PageCloud comes with search engine optimization and hosting, text and image editing, and security for every section of a website created with PageCloud.
Also, PageCloud comes with a professional support team that can help you with any issues you may have. For some advanced users, PageCloud is the best law firm website builder in the market.