Do you know that backlinks can destroy your site's SEO as it can improve it? How to remove bad and unwanted links? How to minimize the negative impact of spam links?
Linking to the site is one of the most important Google criteria for ranking websites. Backlinks are referenced as other site links on your site. Each backlink is a kind of voting to your site and its content. For this reason, Google considers the number and quality of backlinks one of the most important factors.
Since some sites have used irregular ways to create and enhance their links in recent years, Google is sensitive about the site's links searching.
How to Remove Bad and Unwanted Backlinks?
This search will check the number of backlinks, site validity, link to the site's topic and other criteria, and so on; it measures the validity of your accounts.
Google's new algorithms give some links to a positive rating and other negative ones. Hence, sites must have a high degree of control over their external link making. It's not easy to control the external links of a site. Because sites with low credibility and malicious activity history may link to your site.
Even some rivals try to reduce the credibility of your site by doing so. The question is, how can we manage our backlinks better? How to remove bad and unwanted links? In the following, we will point out the points that are needed to keep your site secure.
What kind of backlinks are bad? Why should we remove them?
Some external links are considered invalid by Google for some reason, and if they are not properly managed, they may place your site on the Google Fraud List.
External links act exactly like a double-edged sword. If your backlinks are valid and of high-value websites, they can have good results for your site. On the other hand, if the sites are invalid and unethical, they will definitely hurt your site and may even cause irreparable damage to your business.
For this reason, you should be able to analyze the external links of your site and after validating them, you should remove the links that are not valid. This way, Google figures out, that it should not use these links at your site. Malicious backlinks may have some of the following features:
On the sidebar of the blog, the site and the forums are placed as daily links.
Purchased from backlink sales sites.
Placed in Spam sites.
Placed in spam sites Comments.
They are used unfairly, in high numbers, and do not have a normal appearance.
Backlinks are located on sites with foreign languages (outside of your business area).
 For example, linking from an English-language site to a site whose primary language is Chinese is unnecessary and abnormal.
In order to prevent these types of links from harming your site, firstly you need to identify them and then delete them. You can use the Google search console to do this.
How to find bad backlinks?
Now that we know about the importance and dangers of backlinks, it is better to find ways to check and correct them. To see the external links of your site, go to the Google console and select the links to your site option in the search traffics section. In this section, you will see a list of site external links and you can see that every link on the site, blog, social network, or forum has been given to your site.
Even anchor text links can be easily seen in this section. But this tool does not provide information about the amount of credit for each link and its impact on your position.
You can use Moz or Ahref to validate the links. The advanced features of these two sites are free, but by purchasing the subscription, you will get very detailed information about your site links.
In the Moz site, by visiting the inbound links section, you will see a list of links to the site, along with the page authority and domain authority of each site, and the amount of spam on each link.
In this section, you can find links with low credibility and list them to request disavowing it. You should check all links and referencing site. You should check out if the links are spam or from the invalid site.
Use MOZ and Ahref tools to check links
There are a lot of online tools that you can use to look for and remove unwanted backlinks.
In order to identify valid links from non-validated ones, you need to check each link individually. In the list that you receive from MOZ or Ahref, you will have all the link statistics.
Be sure to check out each link, because each one in turn take affects the validity of your site. Then create a list of links with a high spam score that has a low page and domain authority.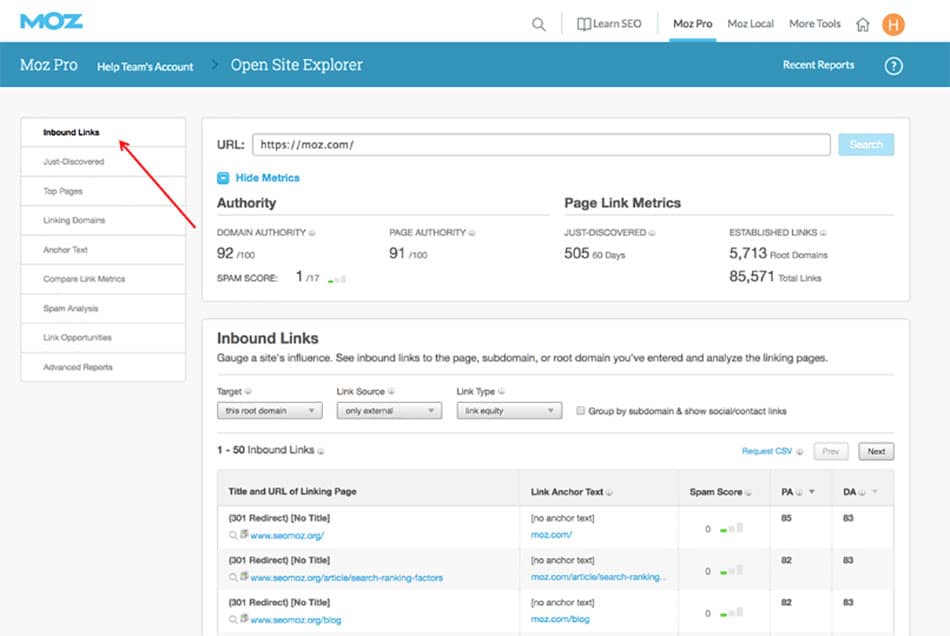 Note: If you cannot purchase the Moz or Ahref account, use the Webmaster Tools utility to download external site links from the search traffics section, the link to your site section, and download the latest links option. Then check every single link. To review each link, you need to consider the criteria listed below:
Checking relevance
The relevance of links to the content of the site and the language of the site is one of the criteria for measuring the value of a link. For example, if your site is about SEO, surely there is a link from a site relevant to SEO to your site that will be more worthy than a backlink from an advertising site.
In addition, if your site is in the Chinese language and only works in China, a link that has been used from a Spanish site to your site will be less credible.
Google may consider some of these links as spam. While checking site links, be sure to check the amount of relevant content from the source site with your business activity. Because multiple backlinks from irrelevant sites harm your site.
Anchor text
 Anchor text should also be related to the page subject. For example, your page might have been linked by the "Mobile News" phrase about the WordPress template. Google might consider such links as spam, it is better to disavow them.
Using follow and no-follow links
The following links have a more impact on the SEO of the site. However, if you are monitoring the design of the backlink page, it is better to use both types of links to make the text more natural. Also, remember that Google is changing its usage about follow and no-follow links. In the future, the difference between these two types of links may be lower.
Links and Domains
Spam backlinks have weak and fake domains. Some domains are known as spam by Google, and receiving backlinks from such domains may have a negative impact on your site. So check the addresses carefully. Search them on Google and see if Google still displays or penalizes this domain. If these sites are deleted by Google, disavow these backlinks as soon as possible.
Use the Google Disavow Tool
Now that you have created a complete list of malicious links, you must declare to Google that you are not seeking credit from these links. Google Disavow Tool is one of the most important Google tools for this purpose. Use the following steps for removing invalid links.
Save all the links you want to delete in a .txt file. Put each link in a separate line so that Google Robot can recognize them well.
Then go to the console site and choose your site.
Click Disavow Links. Directly go to this page by this address google.com/webmasters/tools/disvow-links-main.
You can upload your .txt format file by clicking the Disavow links option.
After uploading the file, select the submit button. Be careful after doing this, it takes about 1 to 4 months for Google to remove invalid links from your results.
This is a good way to remove unwanted backlinks.
Conclusion
Due to the impact of external links on the rating of a site, At the beginning of your site, it's better to keep track of the backlinks. If you see invalid links in your backlinks list, you can remove them using the Google Disavow tool as quickly as possible.
With proper monitoring, you can always maintain your site's credibility. Have you encountered malicious backlinks too? How do you prevent their negative impact and how do you recognize them? Share your experiences with us in the comments section. In this article, we discussed how to remove unwanted backlinks from WordPress.