Nowadays, image theft is the number one problem for photographers who run a business on selling their images online. Whilst copyright laws are universal and accepted by every county in the world, there are still some people who ignore this law and go about doing their work.
You as the person who created the text, images, and videos or any other content that you see on the web are the copyright owner. One of the biggest issues with images and text is that they can easily be copied without anyone knowing the original source of it.
There are many ways to prevent website images from being copied. But what if you want to disable the print screen in WordPress in particular? Well, as always, there are a lot of WordPress plugins in the repository that can satisfy your needs.
In this article, we would like to introduce disable print screen WordPress plugins.
How to Disable Print Screen in WordPress?
There are many plugins in the WordPress repository that you can add to WordPress and prevent any kind of image theft and more. For example, the Content Protector Pack plugin is designed specifically to protect your website's images, source code, and JavaScript. This premium plugin pretty much protects every aspect of your WordPress websites.

But what if you are looking for a free solution?
CopySafe Web Protection is a free disable print screen WordPress plugin that can protect your data and images by using small encryption. CopySafe Web Protection uses a third-party plugin to disable print screen.
Whenever a visitor loads content on your website that is protected by this plugin, they will get redirected to a download page where they download copy-protected page addon.
This add-on protects the specific content you have selected. Once the installation is over, the user will be redirected back to your website and the content they have initially clicked on to explore. The download pages come with the plugin and they can be fully customized however you wish.
This plugin can be downloaded directly from the WordPress Dashboard or the official WordPress website. Once the plugin is installed and activated it will appear on the left-hand side menu of your dashboard.
By clicking on it, you will be redirected to the plugin's configuration page. First, you have to create or upload a class file. Class files are a set of rules that CopySafe Web Protection plugin uses to protect your content.
You can download the demo class provided by the developers themselves. Simply, unzip and upload that into the designated folder or directly upload it from the dashboard.
In the settings, you can see the upload folder, different modes, and browsers allowed to view the protected content without having to download the addon.
Keep in mind, you will need to have WordPress classic editor to use the plugin. To use the plugin, once you have uploaded a class file, simply go to a post you want to protect and click on the C icon next to Add Media.
Once you click on C, the CopySafe Web window popup and you can choose a class you would like to add to the post. Once a class is selected, a simple code will be added to the post.
Make sure you update your post once you are done with it. This is how a protected page will look like whenever someone visits the page without having the right addon.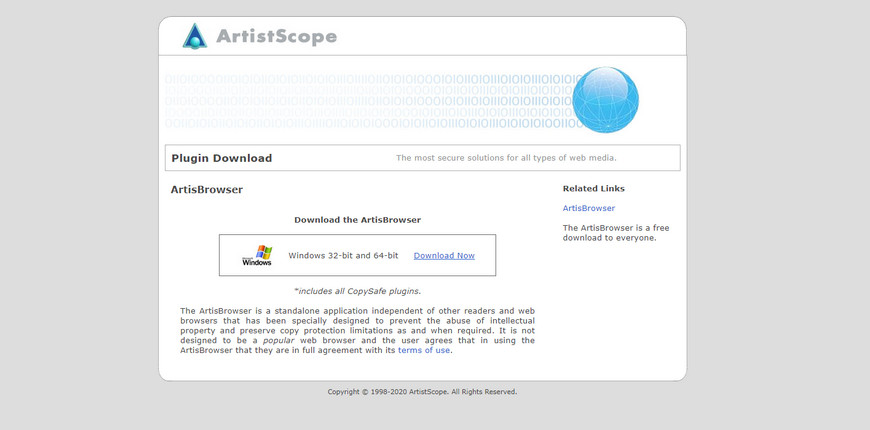 How effective is CopySafe Web Protection?
As mentioned above, this plugin may be hard to work with at first. However, once you get around it a little bit, you may realize that it is indeed very easy to use and powerful at the same time.
So, why CopySafe Web protection is considered to be one of the best disable print screen WordPress plugins?
It's completely free.
Its images cannot be copied or used on other websites.
As soon as CopySafe Web images are loaded, copy protection (its addon) is activated.
Every data and media will be protected with one tiny encryption.
Etc.
However, as good as this plugin may seem, it comes with limitations as well. CopySafe Web is not supported on Mac. You may ask if it's a plugin then how is it not supported on a Mac? Well, the addon that unlocks the content is in .exe and only supported by Windows.
Conclusion
In this article, we discussed how to disable print screen WordPress using a plugin. We introduced an all-in-one premium plugin and a free plugin that you can use. Both of these plugins are powerful and considered the best.
You can choose the plugin that works best for you and satisfies your needs when it comes down to protection and more specifically protecting your images. CopySafe Web Protection is a free plugin that can satisfy your protection needs. However, it doesn't support Mac.
On the other hand, Content Protector Pack is a plugin that works around WordPress itself and it doesn't require any extra installations. Simply, download, install and activate it.
The Content Protector Pack fully protects your website, even goes out of its way and add a watermark to your images and blocks right-clicking on your WordPress website.
Moreover, we recommend you take a look at the best WordPress blogging themes and also the WordPress print plugins.