Are you seeking the best & most top-rated WordPress plugins for 3D Printing and Viewer?
We carefully examined many plugins and compiled the best WordPress plugins for 3D Printing and Viewer to assist you. We excluded plugins that were not mobile-friendly and speed-optimized. Finally, the plugins are entirely compatible with all the top WordPress themes.
We selected plugins for 3D Printing and Viewers. Yet, these plugins are also helpful for 3D Model Viewers, WooCommerce 3D Product Viewers, WordPress 3D Image Viewers, and 3D Content.
Best Plugins For 3D Printing & 3D Viewer for WordPress 🥇
Check out the following list of the best 3D Printing and Viewer WordPress plugins in 2022:
Your Customers Can Order Customized 3D Models
Suppose you intend to start a business that offers 3D printing, then the 3DPrint Lite plugin may be suitable for you. It is a 3D printing and viewer tool for WordPress.
Using the 3D model viewer, customers can upload 3D digital models to your website and order customized 3D products with it. Furthermore, they can choose filament color, size, and size for the finished product.
The plugin will offer a cost estimation after selecting a product option. Suppose the assessment value matches the buyer's budget. In that case, they can submit a 'Request for Quote' document, which will be immediately sent to the administrator.
Additionally, the administrator can provide an approximate quote or not respond to the request entirely. There is a free and a premium version available.
💵 As a Lite plugin, the price is $0, and the Pro plugin has a price of $39.
Key Features:
STP and IGS protocols are supported
Provides enhanced functionality and usability for eCommerce websites through the integration of WooCommerce
You can upload your own digital model to order a customized 3D model
The STL, OBJ, and ZIP formats are also supported, as are the FBX files
Random Reviews:
If you have an online store or want to calculate the printing price, this is your plugin. Excellent support, regular updates, and a fantastic price. Buy it, you will not regret it.
a Simple WordPress/WooCommerce Product 3D Viewer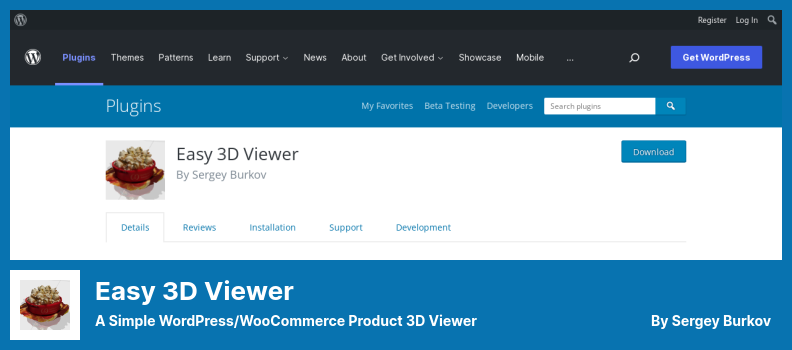 Like 3DPrint Lite, the Easy 3D Viewer is another integral WooCommerce plugin. In addition, this plugin allows the user to edit scene settings, model settings, lighting, shadows, shine, and transparency of the final image effortlessly and straightforwardly.
Furthermore, this plugin allows users to arrange payment and request a quote if the estimated cost falls within the user's budget.
There is a free and paid version of this plugin and versions compatible with STL and OBJ files. The free version can integrate with WooCommerce and supports STL and OBJ formats.
💵 With the Lite edition, the plugin costs zero, and the Pro edition will cost you $72.
Key Features:
Offers a 3D product viewer for WooCommerce stores
Users can utilize it to prevent the downloading of unwanted models
Assisting with model repair as well as several different types of products
Compresses models to improve loading times
You may also consider displaying a WEBM or GIF instead of a 3D model
Random Reviews:
A very straightforward application and the premium version is not as expensive as I had expected. The support was excellent.

Nice plugin, but keep in mind that you can download any files uploaded to the viewer for free!
Phanes 3D Printing Calculator Platform
Integrating the Phanes 3DP Calculator – Legacy plugin into your WordPress or WooCommerce website can turn your website into an online store to sell 3D printing services.
This plugin's greatest strength is that it allows you to add as many filament attributes as you would like. Additionally, the plugin makers do not pay commissions on the products you sell using their plugin.
The plugin is easy to use and offers a variety of features and free and paid components. It offers a 3D image viewer for WordPress websites and lets clients instantly view quotes and evaluate their options for free. The plugin is only compatible with STL models.
They can post directly on the website to view their final 3D models.
Unfortunately, this free module is limited to accepting payments via PayPal only, which is the only drawback.
💵 Premium version costs $99, Lite version is free.
Key Features:
You will be able to access all significant currencies when purchasing the paid version
You may use the basic currencies
Addition, editing, and deletion of predefined filament materials are possible
The premium version offers a variety of additional features
Random Reviews:
Too much money – 179.4 dollars per year!!! You'll lose a lot of customers…

Found an awesome 3D printing plugin.
The Most Artist-friendly Toolkit for Creating Interactive Webgl-based
Like Easy 3D Viewer, with the Verge3D Publishing and E-Commerce plugin, Verge3D can be used to both create 3D content and promote commerce. It can generate product configurations, 3D presentations, 2D portfolios, an online presence, a web game, and even educational applications that utilize 3D models and audio.
Using the plugin, you can display your 3D models to tens of thousands of potential clients and users more efficiently and beneficially.
Additionally, the plugin lets viewers view the 3D model from multiple angles simultaneously, enabling smooth zooming.
It can be used on any device, regardless of whether your audience uses smartphones or television. The plugin can be easily accessed if your audience uses a smartphone or a TV.
Unfortunately, it does not appear that the WPLMS courses automatically resize the viewport according to the input given during each course.
💵 There is no cost to use this plugin. It's FREE.
Key Features:
You can create three-dimensional content using both 3ds Max and Blender
Verge3D elements are directly hosted on your server
You do not need prior experience with graphics software or 3D programs to reach a high level of quality representation
You can view a sneak preview of the scene in the browser using Sneak Peek
Random Reviews:
Verge3D is the most affordable way to create a 3D product configurator in WooCommerce. Highly recommended.
The final thoughts on choosing a 3D Printing and Viewer WordPress plugin
We discussed the best WordPress 3D Printing and Viewer plugins. You may wish to enhance your site. Also, you may use them.
📌 Note: We have published a post on the best WordPress hosting providers that may interest you. We have also put together a post on the modern WordPress security plugins for your consideration.
We hope these plugins help you attract customers' attention to your website.
You may even have a different 3D Printing and Viewer WordPress plugin in mind, so leave a comment as that will expand the scope of this article. We would appreciate it if you shared this article on Facebook or Twitter if you found it helpful.