Would you like to know about blog hobs? Among the usual marketing tools bloggers use to increase the reach of their blogs are email newsletters, paid advertising, and social media newsletters. However, many bloggers fail to realize that blog hops are one of the most effective free marketing tools.
As a result, this article will provide you with a basic understanding of blog hops and their benefits. You will also learn why and how to join a blog hop about your niche, the key aspects of a successful blog hop, blog hop meaning, the method by which you can locate a blog hop, etc.
What is a Blog Hop?
Blog hops are linked lists shared between a group of blogs so that people can 'hop' from one blog to another while seeing the same list on each blog. They can also be called 'link parties' or 'link-up parties.'
There are several blogging communities that host link-ups or link parties. Their primary objective is to connect bloggers in a particular niche with a secondary objective of sharing readerships among participants.
Why should you join a blog hop?
There are several reasons why you should consider participating in blog hops. If you have never participated in a blog hop before, you may not understand the fuss. 
Below are some of the main benefits of participating in blog hops.
The opportunity to discover new blogs can be found by participating in blog hops. This allows you to explore other blogs in your niche and discover blogs you might not have found on your own. 
Connecting with other bloggers gives you a great opportunity to make new friends. Participating in blog hops allows you to meet new bloggers and make new connections. You never know who you may meet and what new friendships might be formed.
You can use this strategy to increase traffic to your blog posts and increase the number of people reading what you have to say.
Increasing your readership and promoting others' posts is one of the benefits of participating.
Finding new bloggers who write in a similar style to yourself might even be possible. Discovering new blogs is a great way to expand your network and gain a larger audience.
You can promote your blog posts Blog hops are a great way to promote your blog posts. By participating in blog hops, you will have the opportunity to link to your latest blog posts at the end of the hop.  
As a blogger, you should never stop promoting your content! Blog hops are a great way to encourage your fellow bloggers' work. When participating in blog hops, you should always leave a comment on each post you visit.
In addition to showing your appreciation for the authors' efforts, this will assist you in becoming more involved with the blogging community.
Key Aspects of a Successful Blog Hop
After knowing what a blog hop is and whether or not you would like to participate, here are a few things to consider:
A specific topic or generic?
How do you plan to devote your time? Will you choose a broad area, such as interior design, or something more specific, such as craft decoration?
Consider broader topics to generate awareness about your blog hops as you begin to receive applications. Once you start to receive applications without having to promote the blog hops so much, you could delve much deeper into niches.
Start times should be clearly stated
It is important to be very specific with the dates and times and the time zone.
The number of participants
It is essential to consider the number of blogs you want to participate in. You may receive many requests in an open blog hop, but you have control in a closed blog hop, although you may not receive a response.
Invite as many as possible. Ideally, you should include 6-10 blogs when you publish them on your site–very few people can read more than that.
Do not complicate things.
Having too many limitations will result in fewer people applying, which will, in turn, result in the articles not being as valuable for the readers as they would have been. Keep the requirements loose and make them mandatory only if necessary.
Providing promotion
After the event has been completed, ensure that you promote it on social media and your homepage and ask participants to do so.
They will likely have no hesitation in doing so if they have not already done so because they will benefit from the additional exposure.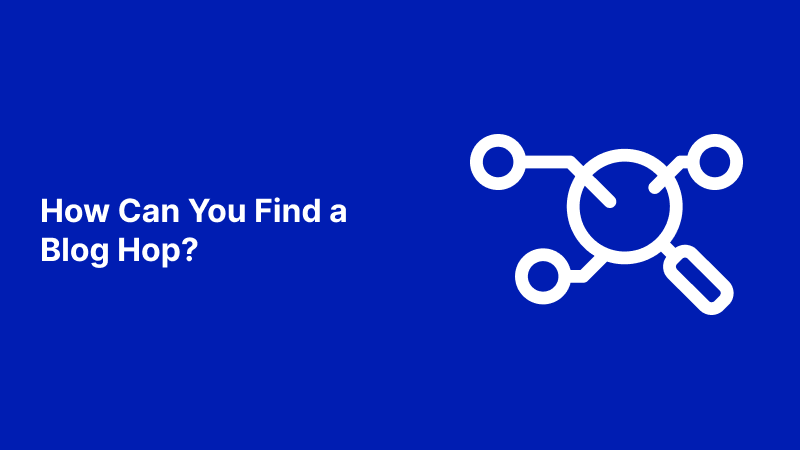 How Can You Find a Blog Hop?
Having decided that you would like to participate in a Blog Hop, what should you do next? Consider contacting any group you are a member of to find out if any new groups have been formed.
In case you are not part of a blogging group or a group based around your niche, you may wish to type the following into Google:
"blog hops" + your niche
An example would be the following search result, which returns all of the travel blog hops.
"blog hops" + travel
Some of them may be 'closed' Blog Hops, wherein you will need to contact them directly to determine if you will be accepted.
How Does Blog Hop Work?
A blog hop may take many forms. Some may be one-time events, such as the Cheerful Love Blog Hop. The purpose of this blog hop is to celebrate the release of Sixth Street Sundries' latest honey bee stamps.
It is worth noting that most blog hops aren't one-time events. For example, Author Toolbox Blog Hop organized a monthly blog hop until 2021 – currently, it has been suspended indefinitely.
In all blog hops, however frequent, bloggers sign up to participate. They must post something related to a specific topic within a specific period.
As topics such as personal experiences in a particular industry are broad, other contributors are less likely to post the same information in the future.
The bloggers publish their posts as soon as they have completed them and send their links to the blog hop hosts. The organizer will then post the links to each post in a single article or on a dedicated blog hop website.
Those who participated in the blog hop will read the articles published by their fellow bloggers and leave comments on them.
Some specific rules can be applied during some blog hops. For example, the organizer may require that bloggers share all the posts during the hop.
Blog hops are generally organized with hashtags and posts on social media. Furthermore, the organizers may require you to include a brief description of the blog hop within the body of your article.
The blurb serves as a marketing tool for the blog hop and a means of promoting yourself to other creators and their audiences.
Blog hops can include additional guidelines, such as who is permitted to participate. For instance, you might be required to fall within a specific industry to be eligible for participation.
There is also the matter of word count, which is another popular guideline. Most blog hops require participants to keep their content to a certain number of words.
It is essential to follow this guideline so that the readers can focus on reading the entire blog hop instead of reading only one post.
How to organize your own blog hop?
The benefit of hosting your blog hop is that you network with other bloggers and build a stronger community around your site. If you are considering hosting your blog hop, here are some tips for getting started.
Consider choosing a topic that your readers will be interested in. You should ensure that the topics you choose are important to your readers because you want them to join in the discussion.
You should clearly explain the rules of your blog hop to your readers. They will appreciate knowing what they can and cannot do when participating.
Creating a blog hop badge promotes your blog and the blogs in your community.
Make your blog hop a success by concluding with a final post that ties everything together. The final post should also contain a call to action so that readers will know how to engage with your blog after the hop has ended.
Make sure your readers are subscribed to your email list to receive regular updates about future events and blog hops.
Conclusions
This article has described blog hops and how to organize them. While it might seem daunting when you first start, blog hop will become more accessible. It will be worthwhile to observe your visitor numbers increasing each month.
Please feel free to leave any other questions regarding blogging in the comments section. We hope you found this article to be helpful.
Thanks for reading. Please share this article on social media. You can also follow us on Facebook and Twitter.