If you are about to launch a website or you're planning to speed up the indexing of your web pages, you may be wondering how to introduce a WordPress page to Google? In this article, we will answer how to reindex WordPress pages..
Search engines use crawler robots to categorize and rank websites. These robots regularly review and analyze different pages of a website to rank them and display them to users in search results.
This process is performed on a regular basis. But for newly launched websites this process may take weeks for robots to identify its content.
On the other hand, for website's that regularly update their pages and content should ask Google's robots and other search engines to review their websites again to display changes in the search results. In this case, it's very important for WordPress websites to ask Google's robots to reindex WordPress pages.
In this article, we aim to ways to submit site post to Google, ways of requesting re-review for web pages and sitemap in search console.
Why Introduce a WordPress Page to Google Manually?
When you create a new page or post on your website, it may take some time for Google to reindex WordPress pages and posts, even if we want to index our updated URL it will still take the same amount of time.
However, if you manually ask Google to review and index your URL, Google will queue your website immediately and Google robots will index your links one by one and show you the results. But when is the best time to manually ask Google to review our website?
1. When we add a new page or post to our website.
2. When we make some changes to our pages and posts.
3. When one of our pages doesn't show up on search results and we think it hasn't been indexed.
For number 1 and 2 you can simply use the sitemap to automatically send your request to Google but if you can't find one of your pages on search results you will have to manually ask Google to index your link.
How to Submit a WordPress Page in Search Console?
Before, you were allowed to index any web pages to Google whether it is your URL or someone else's via this link, https://www.google.com/addurl/
Google has recently removed this page. From now on, you can only request a review through Google search console.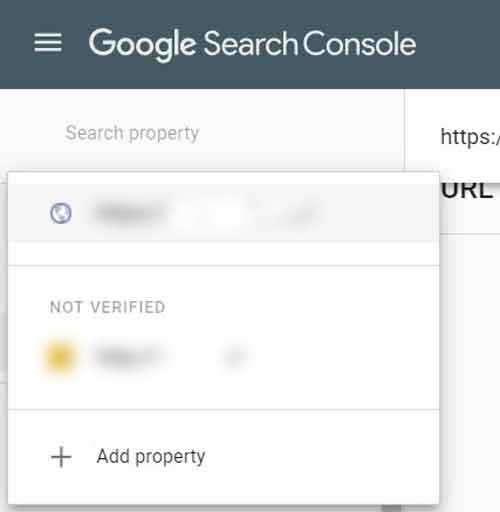 To introduce a WordPress page to Google you must follow these steps:
Go to search console
If you haven't added your website to search console, then from the drop-down list select "add property".
Make sure you enter your full URL if it has an SSL certificate (https) or begins with www
To preview your website, locate "inspect any URL" on top of the page to check your website URLs and make sure they have been indexed.

Enter the URL you want to check if it's been indexed or not. If your URL has been indexed in Google you will see "URL is on Google" message.

If your URL belongs to a page or post that has been recently updated and you wish Google to index it again, simply click on "REQUEST INDEXING". In this section, you can see crucial information.
Has your content been viewed by Google robot? Has it been able to index it? can your page be indexed? Errors encountered during the process will also be displayed to you. This method is very simple but it can be very time consuming if you have many pages.
If your page hasn't been indexed you will see "URL is not on Google" message, then you will have to manually send a request to Google.
How to Submit a Sitemap to Google?
If by doing the previous methods you are still unsure your URL has been indexed or not, you can try another method. By submitting your sitemap to Google all of your URLs will be automatically indexed.
If you use WordPress, by installing Yoast SEO and activating sitemap you can create a powerful sitemap for your website. This plugin will automatically add any new URLs and if any of your posts have been changed or modified it will identify it.
For submitting sitemap in Google, you have to go to Yoast SEO settings in your WordPress dashboard. In the sitemap, section click on preview sitemap you can view your website's sitemap. After that head over to search console.

If you have submitted sitemap before you can view in the submitted sitemap. But for submitting a new sitemap simply copy your sitemap URL "your domain/sitemap_index.xml" and paste it in "add a new sitemap" section. Replace domain name with your actual domain name and then click on submit. You will only need to submit your sitemap once after that Google will automatically index any URL your website has.