All of us, depending on our needs, visit many websites and weblogs. But have you ever paid attention to the links or permalinks? Do they all follow the same structure? Undoubtedly, all of them do not have the same structure, but among them, you can see some with the same structure.
URL standing for "Uniform Resources Locator" is a permanent link (permalink) to your page and posts that guide addressees to your website. Permalink doesn't change during time. For this reason, choosing permalink is an important part of website optimization in terms of SEO. You'd better choose your permalink consciously as much as possible.
Because changing it in the middle of the way will cause lots of problems. WordPress Content Management System has a general structure for permalink by default, which is not optimal in terms of SEO of course. After finishing an article WordPress considers a permalink for the text automatically, including some numbers and words. As an example notice this permalink: Yoursite.com/?p=10467. 
Number 10461 shows where this content has been saved. The example we provided here is a sample of WordPress default links which is not optimal at all.
Which addresses are SEO optimized?
Permalink is one of the factors guiding addressees to your website. You can change the permalink of content from the WordPress dashboard and in the settings section whenever you want.
Google robot checks permalink as well as site contents and searches for keywords. Google has already pointed out that permalink is one of the factors for website rankings in this search engine, and these links should be optimized accordingly. An organized and unique structure for permalink makes search engines easily guide addressees and visitors to your website. This leads to your higher google ranking and website visit.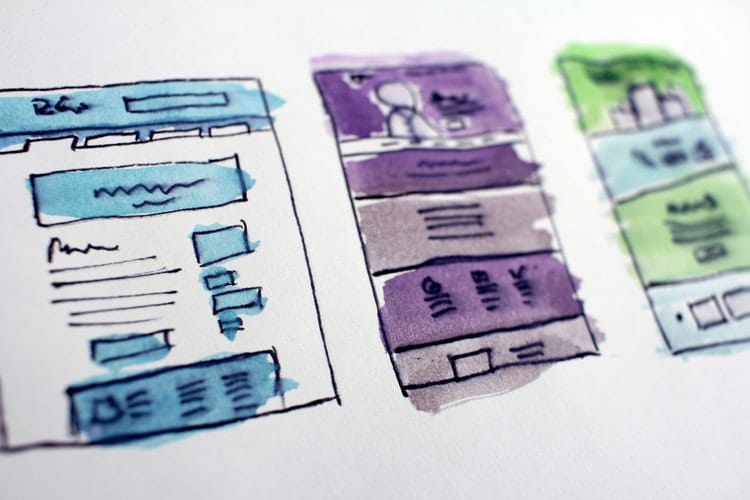 An optimized address preferably comprises of text and presents the subject matter easily. You'd better not use Persian in your permalink. Because Persian words appear as long codes while copying.
It's better to describe the subject matter in 3 or 4 English words. By observing the subject in the link, the addressees understand that this link is connected to a real website and describes their intended subject. Such links also are short and have a beautiful appearance.
How to Choose Permalink in WordPress?
In another article, we have explained how to change WordPress permalinks. However, we will briefly talk about them below.
If you want the permalink to be easily accessible for google, it's better to use keywords of the text in its structure. Suppose that you've written an article on your website with the subject of "what is WordPress?". Permalink for such a subject must be   www.yourdomain.com/what-is-wordpress   rather than www.yourdomain.com/?p=123.
By noticing these two links it is easily noticeable that The first example is a better choice. Do not forget that a permalink should be legible and apprehensible. Permalink should exactly demonstrate the content of an article and text.
If you wish to change the settings of permalink in WordPress, you should go to settings and then permalinks. In this section, there are different structures for permalink that you can choose one of them according to your needs.
Plain: the plain choice is the default mode which is not optimal in terms of SEO at all and there is no trace of the keyword of the text in it. This link constitutes just a couple of numbers and letters which is the content address in your WordPress database as a matter of fact.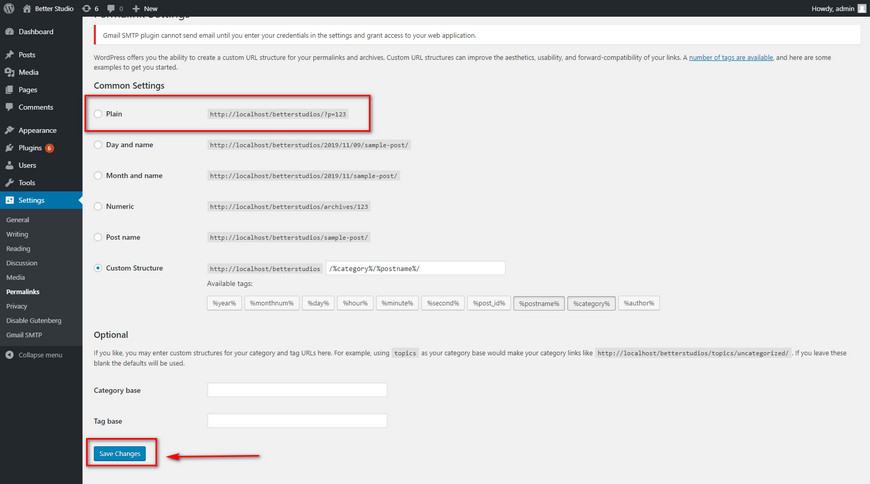 Day and Name: Day and Name structure show the name and exact publication date of the content which is a good choice for your content followers and is also optimal in terms of WordPress and search engines.
Month and Name: this choice is similar to Day and Name structure with the difference that instead of day, the month of Post-publication is visible in the permalink.  
Numeric: in this model, there's no trace of the main keyword of your article. This link is in the form of a number that shows the location of content stored in the database and is not optimal in terms of SEO WordPress. You'd better forget this choice.
Post Name: One of the most popular choices is the Post Name structure. This structure puts the title of your article in the permalink.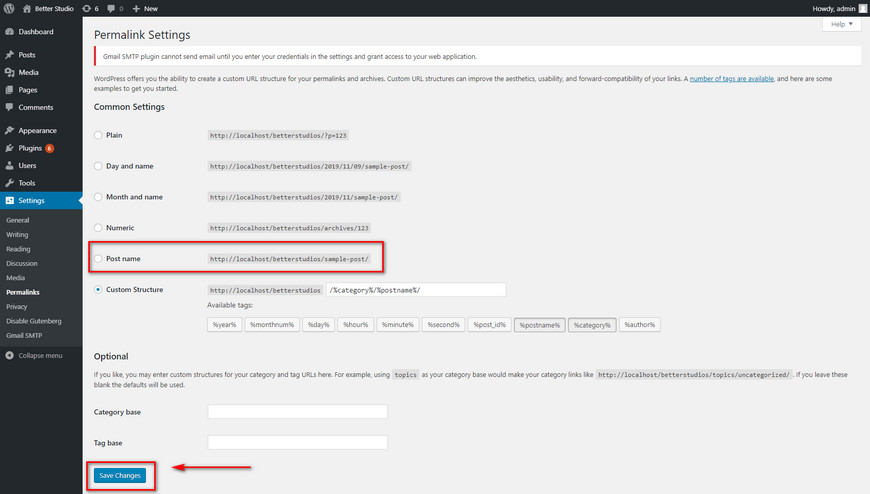 Custom Structure: by choosing a custom structure you can build an exclusive and unique structure for your website links. If the various range of contents is uploaded on your website and you want to provide an ordered classification for easy access to them, this option is a proper choice.
Our suggestion is to always choose the permalink of the article manually and according to its content. All of the above choices put Persian words in the link.
It's better to describe the article (without using prepositions) in 3 or 4 subjects. In that way, all of the contents will be published in the best way. In order to choose permalink in every article, you should just click on the content title in the Gutenberg environment. The permalink will appear above the title and you can easily edit it.
Use SSL license to inhance SEO
For better SEO, use a valid SSL license for coding your website. SSL is a security protocol and the abbreviation of the Socket Secure Layer.
With this protocol, you can code The data between the user and your website. This protocol protects the user's data. Google has announced that SSL will be considered as an important factor in website rankings.
An important point for older websites
If you've already published lots of contents and most of them are registered in google index, do not change to the permalink at all. When you change the permalink of content, your old address will disappear and as a result, you'll miss the link-share-based inputs (including social media shares).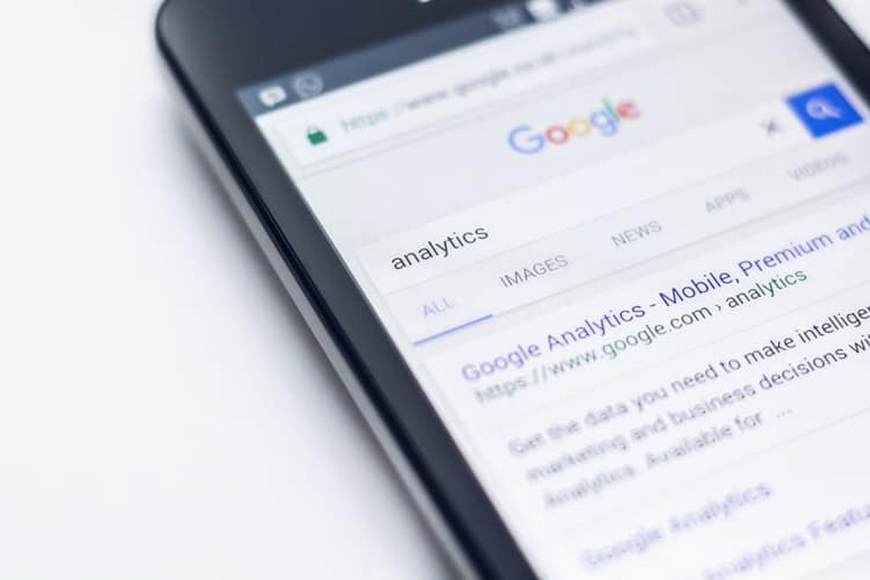 All of the users using the old links will face a 404 error. If you want to change the permalink of the contents of your website under the conditions, you'd better lead all of the old links to a new link with 301 redirects. For older websites, this process is very time consuming and needs vast resources.
Conclusion
Permalink optimizations occur from different ways and Google updates its conventions continuously. It's best to think about permalink for SEO before publishing any content. Permalink optimization leads to visit increase, better addressees' guidance, and obtaining a high rank in search engines.