Are you having trouble finding the best font for the Twilight poster? If so, this article will be of assistance to you.
A direct adaptation of Stephenie Meyer's best-seller, the film features dark gothic atmospheres, mysterious costumes, and the forbidden love between Bella and Edward revealed for the faithful readers of the story.
Here's a look at Twilight's logo and see whether it can be recognized quickly, even though its font helps it stand out.
To begin, let us briefly discuss the Twilight font.
Twilight Uses What Font?
There is no exact font for the Twilight trailer, but it is mostly like "Twilight New Moon."
While searching for a font similar to that used in the Twilight posters, we came across the Twilight New Moon font by Alphabet & Type. If you are familiar with this font or a similar one, please provide us with your feedback.
This elegant font contains 216 different character combinations, making it a perfect match for Twilight New Moon.
Using this online tool, you can convert text into beautiful graphics with just a push of a button in a short period. It is available in various styles to attract your audience's attention.
If you are planning to work on previous or upcoming projects, you may want to consider using this attractive font.
Download Twilight Font for Free
The following links to the placard font you have been looking for. It is in zip format and must be extracted to be used in your designs.
Because this font contains all of the characters found in Twilight, including alphabets and numbers, you will not need to download a Twilight font generator.
You can see a preview of the alphabet of Twilight New Moon font below.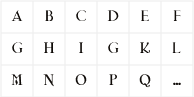 Twilight Font
The Following Are Alternative and Similar Fonts to Twilight:
Narnia Bill
Ambient
Zeit Geisterbahn
Zephyr by Gábor Kóthay
Vineyard Vines
Lusitana Font
How to Use Twilight Font
Several articles are provided in this section to help you download, install, and use Twilight poster font on platforms and devices that may be difficult to use. If you have any additional tutorial requests, please do not hesitate to contact us.
What is The Licensing Process For Twilight Font?
The font can be used for personal and commercial purposes.
What is The Name of The Designer of The Twilight Font?
"Alphabet & Type" designed this font.
It was in December 2014 that Andreas Eigendorf, a font engineer, and Stephan Müller, a type designer, formed a new company in Berlin called type-technology and knowledge hubs.
The expertise and proprietary tools of Alphabet Type allow type designers and foundries to incorporate their typeface designs into fully functional software programs.
A Description of The Twilight Font
As a result of Summit Entertainment's production of the Twilight Saga film series based on Stephenie Meyer's four vampire novels in the 1983-89 period, the series was very successful.
Since the release of Twilight on November 21, 2008, the series has generated revenue of 3.4 billion dollars worldwide.
According to the box office records, New Moon, the sequel to Eclipse, made an estimated $72.7 million on November 20, 2009.
Final thoughts on Twilight font
This post has revised the Twilight banner font to improve your design.
This article is intended to provide you with helpful information.
Please feel free to contact us with any comments, feedback, or interest.
Be sure to share this post!