Are you looking for the perfect font for the Transformers placard? If yes, you are on the right blog post.
Here is our introduction to the Transformers Movie Font. Transformers is an American movie made by one of the most renowned directors in the world, Michael Bay.
Because of this film's outstanding graphics and story, it received tremendous success at the box office. This is why the font used to design the logo is well-known around the globe too.
Prepared to find the Transformers font? Let's get started.
Which Font Does Transformers Use?
"Transformers Movie" is the font name of the Transformers promo poster.
Various 216 attractive and excellent characters are available, including Latin Extended-A, Latin-1 Supplement Currency symbols, Latin Extended-B, and lowercase letters.
Since it contains only regular font styles, it can be used in car logos and product advertisements.
You can also use this font to create unique and modern logos for animated movies and TV dramas, website templates, blog designs, and many card designs.
Download the Transformers Font
Transformers poster font is compressed and must be extracted before it can be used in your design. The font TTF file is in zip format and must be unzipped before it can be used.
It is unnecessary to download a Transformers font generator or text generator because you may use this font in your designs that are copied and pasted into Transformers. This placard font contains all the characters in Transformers, including alphabets and numbers.
You can also download a transparent PNG or SVG version of the Transformers logo for personal use.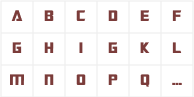 Transformers Font
SVG
Transformers Logo SVG
PNG
Transformers Logo PNG
Here Are Some Alternative and Similar Fonts to Transformers:
Engebrechtre
Induction
Bivoac
Blockheads
Here is How You Can Use Transformers Font
These articles provide instructions on downloading, installing, and using the Transformers poster font family on platforms and devices that are difficult to use. If you would like to submit additional tutorial requests, please get in touch with us.
What is Included in The Transformers Font License?
There is no restriction on using Transformers Movie fonts for commercial or personal purposes.
Transformers Font Was Designed by Whom?
The Transformers Movie typeface was designed by "Alphabet&Type."
In December 2014, font engineer Andreas Eigendorf and type designer Stephan Müller founded a new kind of company: a font production, type technology, and knowledge hub based in Berlin.
Alphabet Type's expertise and custom tools help type designers and foundries turn their typefaces into fully functional software. Alphabet Type works with a wide variety of customers.
From type foundries like Lineto, Optimo, OH no Type Company, Schick Toikka, Source Type, TypeMates, and URW, they also collaborate with design agencies such as MetaDesign, and Strichpunkt.
Here is Information About Transformers Font
Transformers is a 2007 American science fiction action film based on the franchise of the same name. It was directed by Michael Bay and produced by Don Murphy and Tom DeSanto.
Shia LaBeouf stars as Sam Witwicky, a teenager caught up in a war between the heroic Autobots and the villainous Decepticons. Tyrese Gibson, Josh Duhamel, Anthony Anderson, Megan Fox, Rachael Taylor, John Turturro, and Jon Voight also star.
Peter Cullen and Hugo Weaving voice Optimus Prime and Megatron, respectively. The film became the fifth highest-grossing film of 2007, grossing $709 million worldwide, with an estimated 46 million tickets sold in the US. It received mixed reviews from critics, praising the visual effects, musical score, action sequences, and La beouf's performance.
In the direction of a conclusion
In this article, we examined the information about the Transformers poster font and the link to download it. Download and use the font, but please pay awareness to the license information.
It's our hope that we've given you enough information.
Do you have any questions about the Transformers font? Let us know in the comments.
Are you interested in supporting us? Please share this post on Facebook and Twitter.