Would you like to know what the banner font looks like for My Hero Academia? You have come to the right place.
Additionally, Futura Display Font includes basic Latin currency symbols and general punctuation and is available in a regular size and traditional style.
The maximum advance height is 1185, and the maximum advance width is 1000. Moreover, the ascender and descender orders are according to 935 & -250. So, with those aspects, you can indeed utilize it for small to large tasks.
In this article, I will explain how to download the font for My Hero Academia in 2022.
What Font Does My Hero Academia Use?
The font "Futura Display BQ" is very similar to the My Hero Academia poster.
We would be grateful if you could share your thoughts if you are familiar with this font or one similar. You should also be noted that there is no similar font you can use instead.
It can also be used to create magnificent designs and pair them with other fonts even more effectively. The manga series title itself can be used with this amazing font in conjunction with another basic and stylish font.
Download the My Hero Academia Font
If you wish, you may download the header font TTF file from the website provided below for free.
In addition, it is important to understand that by downloading this font you will not need a My Hero Academia banner font generator or a text generator, as the font can be used to create designs that are copied and pasted into My Hero Academia font.
A font which includes all the characters used in the television series My Hero Academia as well as alphabets and numbers.
The My Hero Academia logo is also available for download in transparent PNG or SVG formats by clicking on the links below.
FONT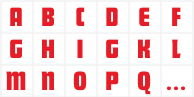 My Hero Academia Font
SVG
My Hero Academia Logo SVG
PNG
My Hero Academia Logo PNG
Using The My Hero Academia Font
It is the purpose of these articles to explain how to download, install, and use the My Hero Academia placard font family on platforms and devices that may be difficult for you to use. In case you have any questions or would like to submit additional tutorial requests, please contact us.
What is The License for The Font My Hero Academia?
This font can only be used for personal purposes unless otherwise specified. If you intend to use it for commercial purposes, please contact the font's creator for the font's full license.
Who Designed the My Hero Academia Font?
The Futura Display BQ font was designed by " URW++".
In Hamburg, Germany, there is a type foundry called URW Type Foundry GmbH.
It is a foundry with more than 500 font families that designs custom typefaces for corporate clients and develops non-Latin fonts on behalf of these customers. Monotype Imaging acquired the company in May 2020.
In 1971, Gerhard Rubow and Jürgen Weber founded Rubow Weber GmbH, a management consultancy. Later, Peter Karow joined the company, and the company's name was changed to URW Software & Type GmbH.
Here is Information About My Hero Academia Font
My Hero Academia is a Japanese superhero manga series written and illustrated by Kōhei Horikoshi. It has been serialized in Shueisha's shōnen manga magazine Weekly Shōnen Jump since July 2014.
The story follows Izuku Midoriya, a boy who was born without a Quirk but still dreams of becoming a superhero himself.
Wrap Up
It is my pleasure to have you on our website today. In this article, we have reviewed the My Hero Academia trailer font available to you, with the download link and its use license. Using the My Hero Academia font, you will be able to create well designed designs.
I sincerely hope that you have found the font you were looking for. Now that we have reached the end, if something is still unclear you may ask your question in the comments section.
We would appreciate if you could share our content on your social media accounts if you would like to support our team.