Have you noticed that your email list is growing? However, your open and click-through rates have stayed the same?
If this is the case, your list needs to be cleaned.
Email verification tools will assist you in identifying invalid or dangerous emails in your inventory, helping you increase deliverability. As a consequence, your reputation as an email server will remain intact.
This article compares several Email Verification Tools and separates the best ones for you. 
Below are nine tools that you may find helpful when removing your mailing list from your email list:
Steps Taking to Protect The Reputation of Your Emails
The MillionVerifier, an email verification tool, was created by Tamas Szabo, a leading expert in email verification. It is an affordable and highly accurate tool for verifying emails.
The most significant advantage of MillionVerifier is its affordability, as well as its competitive pricing and excellent customer service, which are its most important advantages.
It offers 100% refund policies, and lives chat support for all new clients. Questions are usually answered within 60 minutes by our customer service agents. Furthermore, when you subscribe to EmailAcademy, you will receive free access to EmailAcademy.
A free email marketing course and toolkit can be found at EmailAcademy, which is available to anyone. Still, regardless of whether you're new to the world of email marketing or want to learn more about it, this toolkit will prove extremely useful.
MillionVerifier Pricing:
10,000 verification credits: If you choose the 10,000 verification credits plan, it means By using this service, you will be able to verify up to 10,000 emails automatically each day, and it costs 29 dollars.
25,000 verification credits: The cost of 25,000 verification credits is 39 dollars. If you choose to pay for this plan, you will be able to automatically verify up to 30,000 emails every day.
50,000 verification credits: The cost of 50,000 verification credits is 59 dollars, and you will have the right to check more than 50,000 emails daily.
Key Features:
Very competitive prices
An outstanding level of accuracy in the verification
Guarantee of 100% money back if you are not satisfied
The verification credits are non-expiring
Verify new emails in real-time
Delete temporary and disposable emails from the system
Easily Validate Your Email Address in Bulk or On a Per-email Basis
MyEmailVerifier will help you verify email addresses and improve email deliverability without committing to a monthly subscription you may not utilize.
You can use MyEmailVerifier to identify email addresses in real-time via APIs, with fast turnaround times and spam trap detection based on role-based criteria.
You can verify 100 addresses with a free account without spending any money. If you sign up for free, you can ensure that MyEmailVerifier lives up to its promises.
Provide a video testimonial or participate in the official discussion board. You will earn additional verification credits and will be able to share your experiences on social media as well.
The best part about Myemailverifier's prepaid plan is that you only pay for what you use, avoiding unused credits. There are no TOXIC DOMAINS in your email list because it removes all the spam and bot-created emails.
Besides reducing hard bounces, this tool also reduces spam complaints, removes unengaged users, identifies whether email addresses are valid, increases the likelihood that the sender is who the sender claims to be, and ensures list hygiene is followed.
Sending mass emails to an unknown group of contacts requires a bulk email list verification service. This tool also provides this service for you.
MyEmailVerifier provides Email Data Validation and Email Verification, the premier service provider for bulk email verification and email data validation worldwide.
Using this bulk email verification tool, you will have access to 24/7 customer support via live chat or email, so you will not have to wait long for assistance.
myEmailVerifier Pricing:
100 email credits: For every 100 emails you check daily, you will be charged $1.44 if you choose the 100 credit plan.
1,000 credit plan: For only $2.88 per month, you can check the 1,000 lists of email addresses daily.
5,000 credit plan: It will be possible for customers to verify 5000 emails daily for a monthly fee of $12.66 if they want to do this.
20,000 email credits: The subscription fee for this service is 43.2 USD per month, enabling you to check 20,000 emails daily.
Key Features:
Each email address list is verified syntactically by the email verifier
Real-time APIs that are high-performance and reliable
Easy to detect invalid mail exchangers with email addresses
Check your domain's email address for free
Turnaround time is the shortest possible
Detection of role-based accounts
Identification of temporary unavailability
The Safest and Most Accurate Way to Check Your Email
Emailable provides you with a tool that can be used to improve the deliverability of your email marketing campaign and boost its return on investment.
With its industry-leading API, Emailable can be easily integrated into a website or app to verify bulk emails. It is popular among large companies for verifying bulk emails, as well as smaller companies.
Customer support is available 24 hours a day, seven days a week, via chat or email, so you will get assistance immediately. Still, you don't have to wait long for a live person to respond.
You can find almost any answer to any question by browsing the vast knowledge base of Emailable. Also, Google Cloud backup guarantees high scalability, low latency, and global data availability.
In addition to immediately removing junk email addresses from your mailing list, this tool offers APIs for including email validation services in your applications.
With Monitor, it provides, you will never have to worry about list cleaning again. Monitor automatically syncs and verifies your lists every other day to ensure you never miss a beat.
Emailable Pricing:
5,000 credits plan: By paying $30 monthly every day, you will have the choice to check for 5,000 emails.
10,000 credits plan: This plan includes checking 10,000 emails a day every month for 50 dollars.
25,000 credits plan: It includes checking 25,000 emails daily every month for 125 dollars.
50,000 credits plan: With a monthly subscription of 225 dollars, you will be able to check 50,000 emails each day.
Key Features:
Make sure only deliverable addresses are on your list
Create custom configurations for removing emails
Securing inbox placement and improving delivery
Prevent invalid emails from being added
A customizable attribute list
Easily integrate with existing websites
Email Verification With Full Functionality, But At Half The Price
With EmailListVerify, you will have the same features at a more attractive cost as one of the best email verification services.
It verifies emails as any respected email verification service would by validating domains, SMTPs, spam traps, hard bounces, syntax errors, etc. According to the company's own data, which is based on 5 billion verified emails, it can ensure 99% deliverability of emails.
You can integrate EmailListVerify with your favorite email services, such as Mailchimp, AWeber, MailerLite, and Gist.
Invalid emails can reduce your deliverability and open rate, thus lowering your reputation score and your deliverability. Get rid of them, enhance your email marketing campaigns, and increase your available and clickthrough rates.
When you subscribe to a monthly plan, you will save more than 50% on additional credits and will not have to purchase them separately.
EmailListVerify Pricing:
1,000 email plan: The monthly subscription fee for this service is four dollars, and 1,000 email checks are provided daily.
5,000 email plan: It costs 15 dollars per month to subscribe to this service, allowing you to check 5,000 email accounts daily.
50,000 email plan: The service offers a premium package for 89 dollars per month, allowing you to check 50,000 emails daily.
100,000 email plan: It is also possible to upgrade to a premium package with 100000 emails per day for 169 dollars per month.
Key Features:
Identify spammers with spam traps
Delete short-lived trash emails
The invalid syntax is removed by the syntax error checker
Identify and remove duplicate emails
A zero false positive rate is guaranteed
Validation of Emails in an Accurate, Fast, and Secure Manner
With numerous verification processes and integrations, ZeroBounce is used by major corporations such as TripAdvisor, AllState, and Comodo.
With ZeroBounce, you can spot emails with hard bounces and addresses that flag emails as spam aggressively. Additionally, you can remove fake and incorrectly spelled email addresses from your inbox.
The application allows bulk email list validation. You can upload your entire list for processing. Additionally, it supports Single email verification. This means you can verify emails one by one that you feel might be invalid.
You can use ZeroBounce's verification API to integrate it into your site's forms to prevent wrong email addresses from being added.
The ZeroBounce team adds vital customer information to all valid email addresses on your list. This data could include a subscriber's name, gender, geolocation, and more.
Integrating with ZeroBounce is easy, thanks to its seamless integrations with popular email providers and services. You can even interface with Zapier to integrate with more services and tools.
As part of ZeroBounce's freemium plan, you may verify up to 100 emails for free each month. After purchasing credits or subscribing, you will no longer be able to obtain these free verifications.
You can try ZeroBounce's verification process for a few days by entering one email address in the verification field on the homepage.
ZeroBounce Pricing:
2,000 email plan: A package offering 2000 emails per day is available for 16 dollars per month if that is what you want.
5,000 email plan: If you require 5000 emails per day, you will have to pay 39 dollars per month for this level of service.
10,000 email plan: Depending on your needs, you will need to pay 65 dollars per month to check 10000 emails daily.
100,000 email plan: If you check 100000 emails a day, the cost may be as high as 390 dollars a month, depending on your requirements.
Key Features:
Email verification with a secure server
With an accuracy rate of up to 98%
Customer service is available 24/7 throughout the year
Send emails that reach inboxes
A monitoring system for blacklists
API keys with multiple users
Increase Campaign Performance and Deliverability in No Time
Seagate Box and EE use Email Checker, another primary email verification tool. The two companies have processed more than 19 billion emails and prevented more than 1.3 billion bounces due to their services.
It allows for the removal of invalid domain names and syntax errors from email addresses. It can also remove temporary email addresses and correct typos and errors.
For example, you may change the spelling of 'gmail.cm' to 'gmail.com.' The catch-all verification feature removes emails from your list with a high bounce rate.
You can integrate your app with Email Checker's List API to automate sending and downloading clean lists daily. This feature is intended for businesses whose subscribers and customers receive thousands of new emails daily and wish to automate email sending and downloading.
As a further use for this API, e-commerce applications can use it to detect incorrect emails entered by customers during the checkout process.
Email Checker Pricing:
2,500 email plan: The service cost can range from 27 dollars a month if you check 2500 emails daily, depending on what you need and how many emails you access.
5,000 email plan: It costs 49 dollars a month if you check 5,000 emails daily, depending on your needs and how many emails you access.
10,000 email plan: You will pay 79 dollars a month depending on how many emails you access and your usage if you check 10,000 emails daily.
25,000 email plan: It will cost you 189 dollars per month to use the service of 25,000 email checking per day.
Key Features:
Prevent invalid emails from being added
Choose which attributes to include
Quickly integrate into existing websites
Email authentication failures identified
Multiple Levels of Validation for Full Email Functionality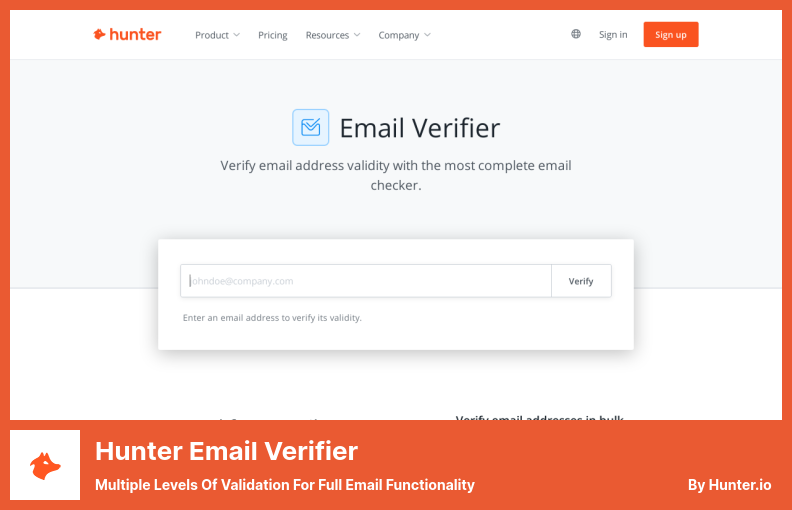 Hunter Email Verifier is a simple tool that assists you in verifying your email addresses. With the Hunter email application, you can access various tools that will enable you to upgrade your email account.
Among these tools is an email finder tool for finding the email addresses of people and companies you wish to interact with. Email verification is one of Hunter Email Verifier's areas of focus, especially regarding bulk emails and API emails.
A list of email addresses can be uploaded to Hunter Email Verifier, which will then verify the addresses multiple times, comparing them with its database of more than 100 million professional email addresses. As part of the free plan, you can search 25 emails per month and check 50 addresses.
This Email Verifier has been validated at several levels to ensure accuracy. This process includes using the format specifications and responses from mail servers and comparing its results with a unique database of professional email addresses included in the package.
Hunter Pricing:
1,000 Verifications: To receive a service that allows you to check 1,000 emails daily, you must pay 49 dollars per month.
Growth Plan: By subscribing to this service for 19 dollars per month, you can check 5,000 emails daily for 99 dollars.
Pro Plan: A monthly subscription fee of 199 dollars will allow you to view 10,000 emails daily as part of your subscription.
Business Plan: With a 399 dollar monthly subscription, you'll be able to access 60,000 emails a day if you subscribe.
Key Features:
Automate the verification of email addresses in bulk
A set of APIs for email verification
Easily verify with one email
An extension for your web browser
User-friendly Email Verification and List Cleaning Tool
Among the email verification tools available, the Bouncer is one of the most popular as it is affordable and GDPR compliant. With its intuitive user interface, you can get started immediately, regardless of your technical expertise.
Using this email list checker, you can maintain effective communication and efficiently eliminate miscommunications. This Email list checker can help you get in touch with real people and communicate regularly and promptly.
Aside from Mailchimp, Moosend, Woodpecker, ConvertKit, GetResponse, etc., Bouncer can also be integrated with other marketing tools.
If you encounter any support issues with the service or attempt to integrate it into other marketing tools, contact Bouncer's outstanding customer support team through chat, email, or video call.
Bouncer Pricing:
5,000 email plan: If you subscribe to this service for 30 dollars per month, you will have access to 5000 emails checking daily.
10,000 email plan: This service is available for 50 dollars per month and allows you to check 10,000 emails daily.
50,000 email plan: This service will cost you 200 dollars per month, which includes checking 50,000 emails per day.
100,000 email plan: To utilize this service, you will be required to pay 300 dollars per month, which includes checking 100,000 emails daily.
Key Features:
A premium support plan is available for purchase
Bounce rate estimation for free on any email list
Obtain 100 free email verification credits to experience Bouncer's power
Verify your email list with marketing platforms you love
Real-time Email Verification API & Reliable Email List Cleaning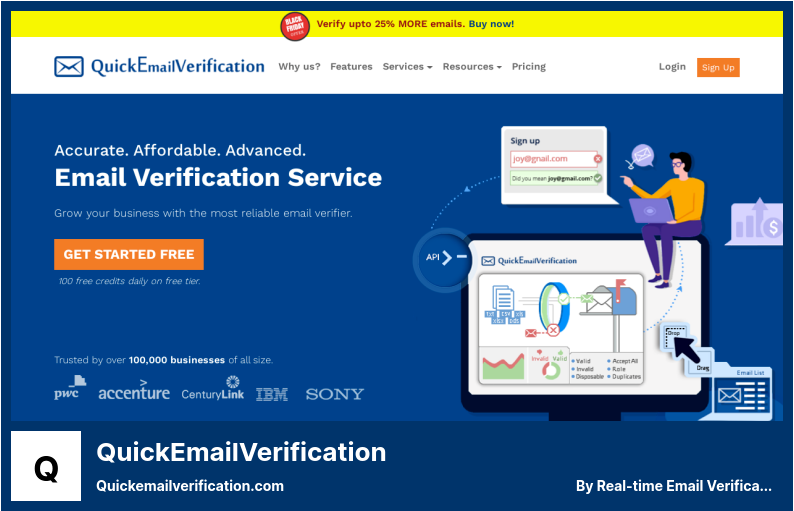 Providing affordable and secure email verification solutions to over 90,000 businesses of all sizes, QuickEmailVerification is recognized as the market leader in email verification providers.
In addition to verifying existing lists of email addresses, QuickEmailVerification can also be used to verify emails in real time via its API. Whatever method you choose, you can expect stellar performance and accuracy.
Your sales team's confidence can be increased by providing them with accurate email addresses. This can also help you to increase their conversion rates if you provide your sales teams with valid email addresses.
By verifying your email address, you can reduce your wasted time spent on bounced emails and improve the results of your marketing campaigns.
Also, QuickEmailVerification is offering 100 credits free of charge every day, making it a fantastic choice for small business owners and entrepreneurs just beginning out.
The free plan includes all the features you need, including the ability to upload multiple formats, block graylisting, and store detailed verification reports in an encrypted form.
QuickEmailVerification Pricing:
100 email credits: It is free to use.
500 email credits: Subscribers pay 25 dollars per month to check up to 500 emails per day
1000 email credits: Subscriptions are available at $50 per month to monitor up to a thousand emails daily.
5,000 email credits: If you consume 5,000 credits every day, you will be charged 160 dollars
10,000 email credits: if you consume 10k credits daily, you will be charged 260 dollars.
Key Features:
A generous free plan is available
Complies with the General Data Protection Regulation (GDPR)
All user data is encrypted and stored in a secure manner
Build an online store or mobile app that collects real emails
Build your service platform with our email verification API
Last words
In this article, we discussed the best email verification tools of 2022. To upgrade your business to the next level, read our article and use our list.
If you utilize an email verification tool, you can maximize your brand's email marketing strategy. This will cost you per month or on a credit plan, but it is essential to the success of your email marketing strategy.
This list intends to provide you with information that will assist you in improving your website and achieving your business goals.
Let us know if you find this article helpful by sharing your comments. Also, please share it with your friends if you find it useful.