Many independent and small companies use WordPress to manage their content. Before installing and starting to work with WordPress, you need to select your WordPress disk space and bandwidth carefully, so that you would not run out of resources, in the middle of the road. But, how much space and bandwidth do you need to install WordPress?
To launch any type of website, including a WordPress website, you need to have a hosting plan. In the first step, you need to know which hosts are most suitable for your site. Your hosting plan has to support the disk space, bandwidth, and basic features that your WordPress website needs.
What is Disk Space and Bandwidth?
If you are looking for a suitable host for your WordPress website, you must think about the space required. This space is not just for storing WordPress files, It also must have space to host files, images, content, backups, and even emails. So when choosing the amount of space, you need to pay attention to all of these.
How Much Disk Space does a WordPress website need?
The amount of space that we need to install WordPress 4.9.5 and above, is approximately 8.9 MB. However, the space occupied by uploaded files is about 825 MB, and when you install a plugin, another 100 MB will be added to the above amount. On average, each WordPress template occupies 25 MB and MYSQL database occupies 85 MB of your disk space.
So, to launch a WordPress website, you need an average of 1GB of free space. Most WordPress hosting plans offer 1GB of disk space and more. But if you want to manage a WordPress network simultaneously, you'll need many more resources to support them.
Considering whether your site is a simple blog, a store, a corporate enterprise, or a multimedia platform, you will need different amounts of free space to implement your plans. The more elements, scripts, images, videos, and contents you want to publish, the more space you'll need to store them in.
What is Bandwidth?
Besides disk space (and even more so), you need to consider your bandwidth usage. Bandwidth refers to the amount of data exchanged between users and the server throughout a month. As an example, if you have a page with a size of 2 MB, each visit to this page will take 2 MB out of your bandwidth. So, per 100 visitors a day, you need 200 MB of daily and 6 GB of monthly bandwidth.
Choosing the right amount of bandwidth is very important. Especially on high-end sites and download sites where large amounts of data are exchanged between users and the server. If you were to use up your monthly bandwidth, your site would go down immediately.
How Much Monthly Bandwidth does my WordPress Site need?
Your monthly WordPress size usage is dependent upon the number of visitors to your site and the size of your pages. Remember that 90% of sites, only use 5GB in monthly bandwidth. So, if you buy a 100 GB bandwidth plan as a small site, you'll find most of it to be useless by the end of the month.
Only sites that have millions of views during the month need huge (or unlimited) bandwidth plans. So, don't fall for the kind of advertising that encourages smaller sites to spend big on server resources.
Average WordPress Site Usage
You need to regularly check your remaining disk space and bandwidth, making sure WordPress still has enough room to breathe. Reaching the limits of your resources will have catastrophic effects on your website (including downtime). There are many solutions to solve this problem.
Using My Simple Space plugin is the easiest one. This plugin adds a simple widget to your WordPress dashboard and offers all the details necessary to manage your resources.
To download and use My Simple Space follow the steps below:
Log in to WordPress Dashboard > Plugins > Add New
In the search box type in My Simple Space
Click on Install Now then Activate

Once the plugin is activated it will display crucial information about your disk usage in the WordPress Dashboard.

The second method is to get information through cPanel. Simply enter cPanel, and check your usage summary in the Disk Usage section.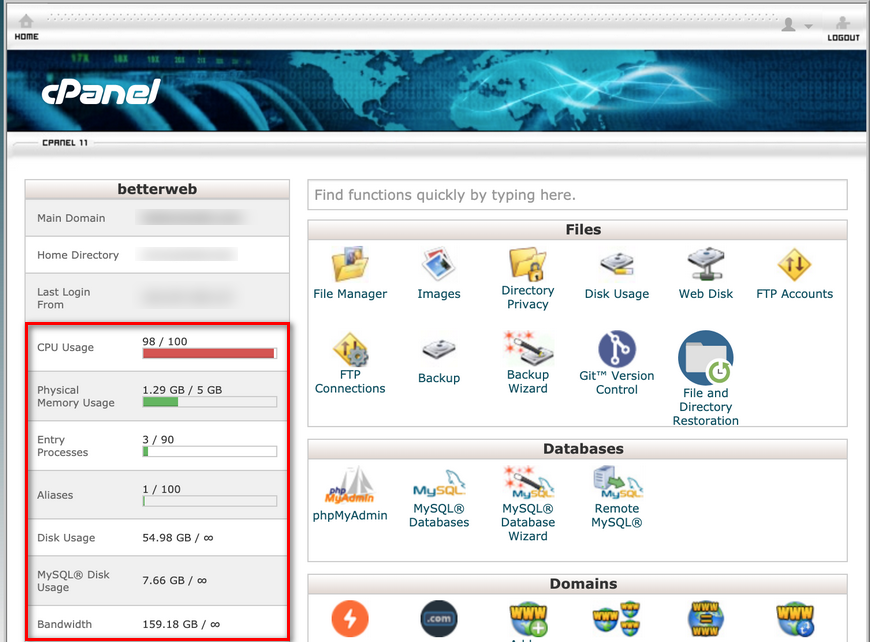 Estimate Your Required monthly Bandwidth
To estimate your monthly bandwidth, follow these steps:
Estimate the average page size of your site in kilobytes (KB).
Multiply the average page volume by your average monthly site's views.
Multiply the result of the second step by the average of the site's views per visitor.
If you don't know the size of your pages, use sites such as GTmetrix and Pingdom.
How to save WordPress Disk Space
After choosing the right hosting plan, you should always keep an eye on the number of used resources, and make sure that your limits are not exceeded. To optimize your resources, you can use these suggestions:
Optimize all site's images. Optimize your images from the very beginning, before uploading them on the server. You can use tools like Adobe Photoshop. You can also use plugins such as Imagify to optimize images on WordPress.
If you are to change your site's theme, make sure that the previous theme is deleted. Also, remove and deactivated useless plugins. Remember that all files removed from the control panel, will be moved to the trash folder and occupy disk space. Make sure the files are cleaned up completely.
Compress CSS and JavaScript files.
Make sure that your hosting provider is also allocating separate space to your backups. Otherwise, the backups will be stored on the site's main disk and will soon occupy all available space. You can also use a WordPress backup plugin and move your site backups to third party storage services like 3Amazon S, FTP, or SFTP.
Conclusion
In this article, we discussed WordPress size, disk space, storage space, and how much storage do I need for my website. Besides, how you can find out how much your WordPress website is using and how you can save WordPress disk space.
There are multiple ways of finding out what is your WordPress disk space and WordPress size. For example, by installing the My Simple Space plugin on WordPress you can find out the WordPress storage space and other crucial information of your website.