For various reasons, you may want to reset your WordPress settings and environment.
For example, if you want to make a big change to your WordPress website, it is best to reset and start from step one rather than changing your current WordPress website.
In this article, we would like to teach you how to reset WordPress. In addition, we discuss why we may need to reset WordPress.
Resetting WordPress is not a process you can tackle without any precautions. Before anything, you need to plan the whole process. What awaits you after resetting your WordPress? What do you lose by resetting WordPress?
Before we get to resetting WordPress, we must clarify the whole process and face a number of issues. You may also know that WordPress doesn't have any built-in features for this purpose.
Why We May Need to Reset WordPress?
You may ask yourself what is WordPress reset? Resetting WordPress means all of your settings and changes both in your website and WordPress database will revert to step 0.
This allows WordPress to reinstall itself using the untouched core files. In simpler words, a WordPress reset can be defined as below:
Any activity on your website is saved in your database. Resetting WordPress means deleting your database.
What is the purpose of resetting WordPress? There are many reasons to reset your WordPress website. But some of these reasons are more common. For example:
You want to rebuild your website.
If you cannot access your website and you want to reset your website using one of your backups.
Due to some unfixable errors, you may need to reset your WordPress website.
Deleting demo files.
Even if you are absolutely certain about resetting WordPress, we recommend not to rush it. Don't forget to get a full backup from your WordPress website (content, themes, plugins and etc.). If you change your mind in the middle of the process, you can use the backup and restore the website.
How to Reset WordPress Using Plugin?
To reset WordPress, you can do it with or without a plugin. Below we discuss how to reset WordPress step by step by using a plugin.
1. Install Advanced WordPress Reset Plugin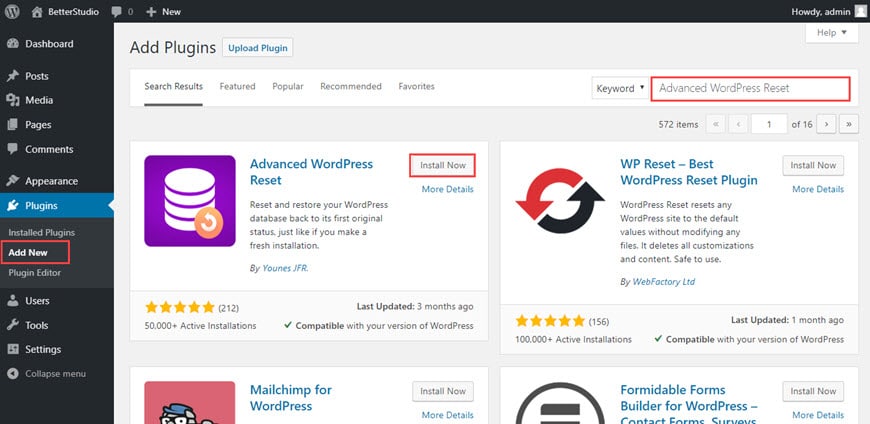 Advanced WordPress Reset is a plugin we are going to use to reset WordPress. To install this plugin, from your WordPress dashboard click on Plugins.
Type in Advanced WordPress Reset in the search box and search it. Then click on Install and finally, Activate.
2. Reset WordPress Database
The second step is to reset your WordPress database. After installing the Advanced WordPress Reset plugin, from WordPress dashboard hover over Tools and click on the plugin to configure it.
Keep in mind, this plugin deletes everything on your website. Posts, pages, users (except Admin) and etc. Once you reset your database only a blank page is left behind.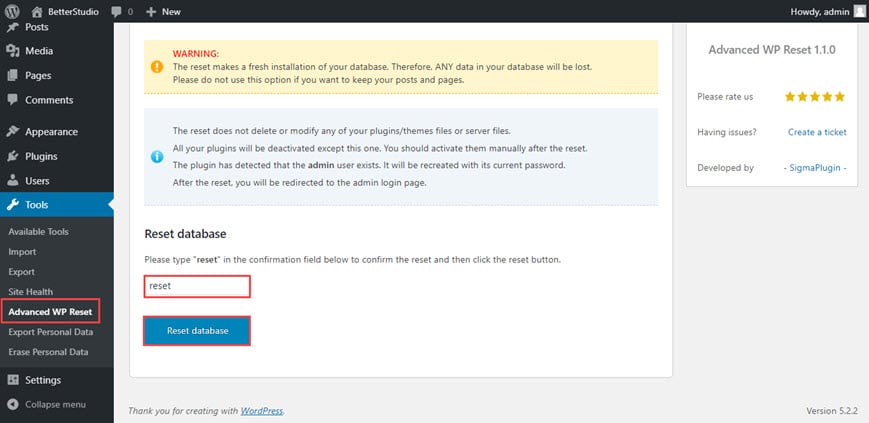 To reset database, type "reset" in the Reset Database field and click on Reset Database. Once you click on Reset Database the process starts.
3. Check the Results
After resetting the database, you need to check the results. Once the whole process is finished you should see the "Your Database has been reset successfully!" message. To make sure your database is deleted, from your WordPress dashboard click on Posts.
If this process is done correctly, you should see the default post "Hello World!".
None of your plugins will be deleted. Advanced WordPress Reset plugin only deactivates your plugins.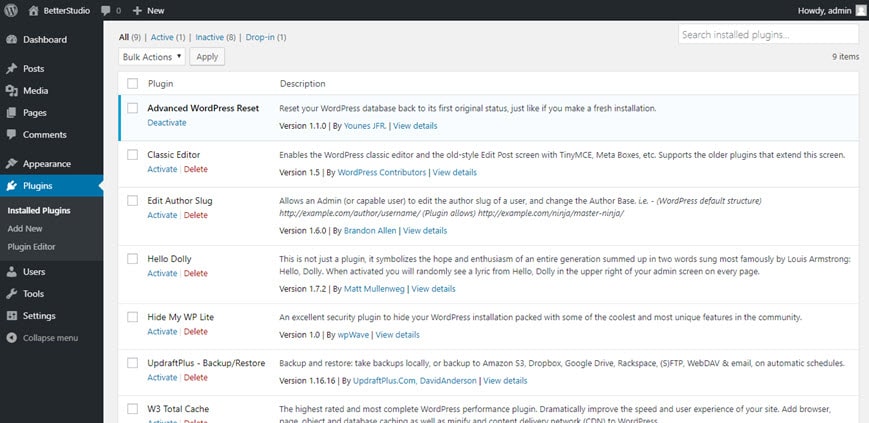 How to Reset WordPress Manually?
Other than using plugins, you can manually reset WordPress.
1. Delete Database

The first step in a manual way is to delete your database. This is very important because all of your content and configurations are saved in your database. Without following this step, you cannot reset your WordPress.

To delete WordPress database, login to your cPanel and from MySQL Databases section click on Databases.
On this page, you can see a list of available databases. Look for your website's database.
Make sure you copy its name in a notepad. Then from the Actions columns click on Delete to completely delete your website's database.
2. Create a New Database
The next step is to create a new database for your website. Without a database, you cannot upload any content on your website. In addition, you can't access your WordPress dashboard.

To create a new database, you need to login to your cPanel. From the MySQL Databases section click on Databases and look for Create new database. Click on it. Type in your deleted database's name for your new database.
After creating your database, refresh the page until you can see your recently created database. Locate Add a User to a Database. From the drop-down menu select your previous database user.

If in the Add user section you failed to find your previous user, you can simply create a new user with the same username and password. You can create a user in the Add a New User section.
To access this information, you can connect to your website with an FTP client and look for wp-config.php file. Open it. Under MySQL Settings, you can find your previous username and password.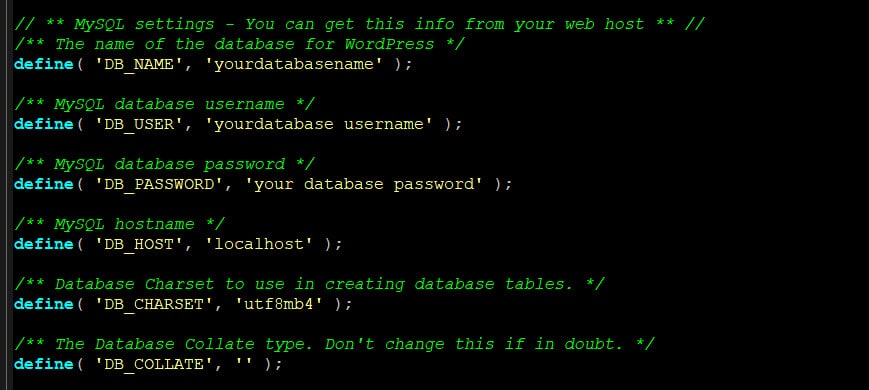 3. Delete Unnecessary Files
After deleting your database and creating a new one, you need to delete your unnecessary files. Themes, plugins, and uploads that you saved in your previous database. Deleting this data is crucial for having a new website.
When you reinstall WordPress your previous files will be overwritten. However, your themes, plugins, images, and videos won't be deleted. All of these data are stored in the wp-content folder. You can delete these data by connecting to your website with an FTP client.
With an FTP client, connect to your website. From public_html route, look for the wp-content folder. In this folder, you can find uploads, themes, and plugins. Delete everything except themes.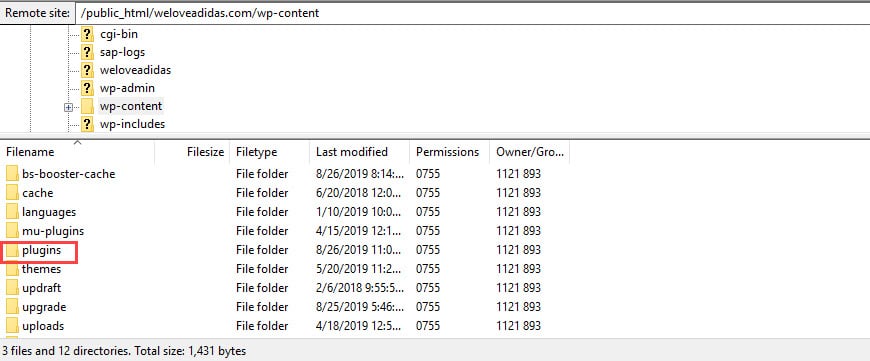 Open your themes folder. Delete every theme except the one you want to use on your website.
4. Run the Database Installation Script
Now that you have deleted every unnecessary information, it's time to run the database installation script. To run this script, you need to add wp-admin/install.php to the end of your domain name. Next, you need to type in the required information such as language, name, log in details and etc.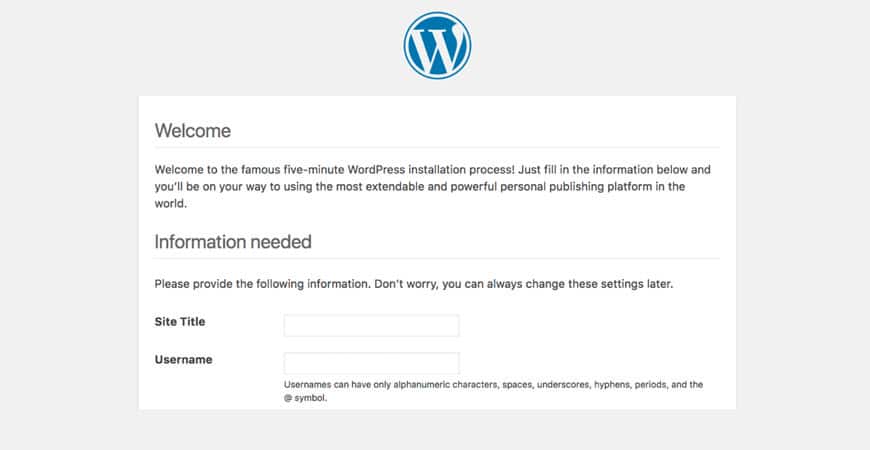 If you don't follow this step, your database will be empty. Therefore, you cannot upload anything to your database. Once you enter the required information, click on Install. In the end, you receive a success message.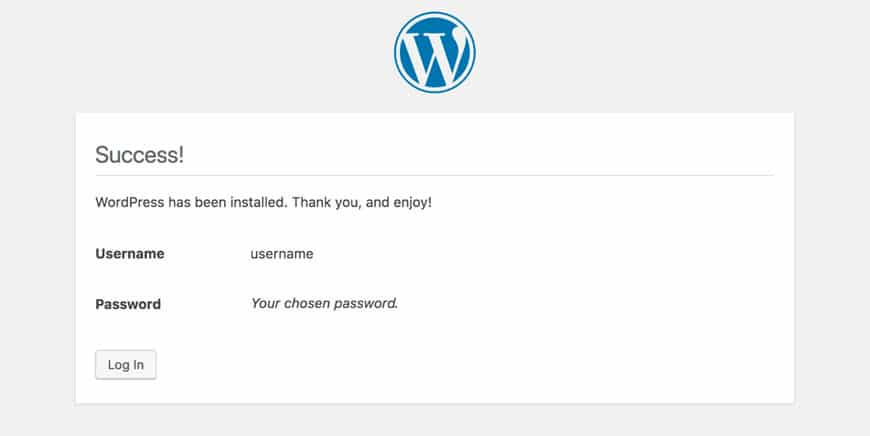 This is everything you need to do. Finally, click on Log in, to enter your WordPress. Now you have a new website.
Conclusion
A lot of WordPress users believe resetting WordPress is nonsense. But for some users, this is the only way to get their website(s) back. If you want to rebuild your website or you get unfixable errors there is no way but to reset WordPress.
We discussed two main ways to reset WordPress and we recommend using a plugin to reset WordPress. You only need to install a plugin and the resetting process is taken care of.