Google Optimize is a free tool that helps you run A/B test on your WordPress site. To Google Optimize WordPress you need to Install and completely setup your Google Optimize account. Then install a free plugin such as MonsterInsights to track it.
If you are to create an effective landing page, it's important to perform a proper A/B test and find the best solution. No budget or any specific resources are required to use this test. Because in 2016, Google has introduced Google Optimize and it's totally free to use.
Unfortunately, many website owners don't know the importance of A/B test. According to Google, 45% of businesses still don't use A/B tests to optimize their websites.
In this article, we intend to explain how to A/B test WordPress pages using Google Optimize.
What Is an A/B Test?
A/B is also known as split testing and bucket listing. It is a way of comparing different elements on a page (or any type of data).
A/B test enables website owners to compare two different versions of content in one single page.
Using the results they get from A/B testing, UX and SEOs can then decide which content will have a better impact on users and get better feedback from them. In fact, A/B testing is a great way to determine the best strategy for your advertising and marketing future.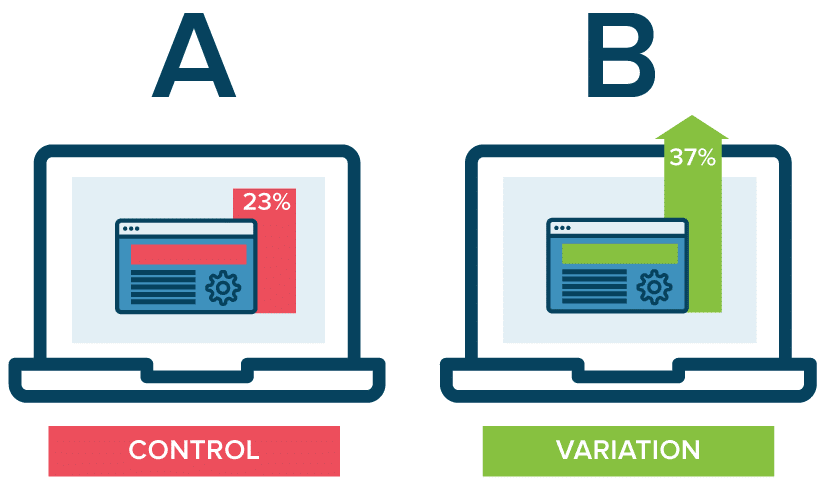 Here are some examples of A/B testing:
Test different headings.
Test new content for landing pages or layout pages.
Test different designs for call-to-action.
Displaying a different idea such as using call-to-action in contact form widget.
Digital marketers and website owners use A/B on the landing page to find out which version of the landing has a higher conversation and click rate. A/B test can be applied on titles, links, call-to-actions, reviews, images, and texts.
How to Google Optimize WordPress? (and Run an A/B Test)
Here we go step by step to explain how to Google Optimize WordPress and run a successful test.
1. Install and Setup Google Optimize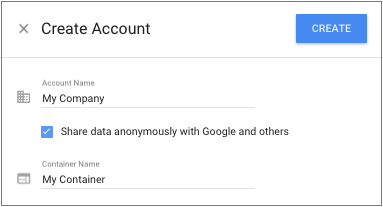 Google Optimize doesn't have a plugin for WordPress. But as we mentioned above, it's very easy to use. To be able to A/B test WordPress pages you need to use Google Analytics.
First, visit Google Optimize website and create an account. When you see your dashboard in Google Optimize, you will see you have an account and a container.
Then you will have to connect Google optimize to the Property of your Google Analytics account, to set it up, simply click on "Link to Google Analytics" on the right column.
Then you will have to select the website you wish to use this service for and click on "Link". This will connect Google Optimize to your Google Analytics.
Then click on "Create Experience" to begin the test's setup.
Then you will have to name your experience and enter the desired page URL to do the A/B test. You must also determine your experience. Google Optimize will then create your experience and you will be redirected to its page.
Next, you will have to click on "Create Variant" to create a new variable.
In the next step, Google Optimize will ask you to name the variation you have created. Make sure the name you select is related to your A/B test.
Then click "Done", and your variant will be displayed in the Experience page. Google Optimize will allow you to use a powerful editor to run your A/B test.
You can also use drag and drop to make some changes. By clicking on "Add Experiment Objective", you can see your Google Analytics reports. If you set a new goal in your Google Analytics you can view it here.
2. Add Google Optimize to WordPress
Once you are done with installing and preparing your Google Optimize, your experiment is ready. To be able to connect your WordPress to your Google Optimize account, you will need to download and install "MonsterInsights" plugin on your WordPress. This plugin has over 2 million active users.
MonsterInsights is a free plugin. However, if you wish to use the A/B feature of it, you will have to upgrade to a premium account and enable Google Optimize.
To install Google Analytics addons, follow these steps:
You will have to go to your WordPress dashboard, then click on Add-ons, Insights and install and activate Google Optimize.
After installing and activating Google Optimize, head over to Settings, Insights and enable Tracking and click on Google Optimize at the bottom of the page.
You will need to head over to Container Setup and add container ID to your Google Optimize and save it.
This is the last step of activating Google Optimize on your WordPress. You can now run your A/B test.
3. Perform A/B test on WordPress
After installing and activating MonsterInsights plugin and connecting it to your Google Optimize, you can perform your first A/B test.
To do this, you need to head over to your Google Optimize dashboard and open the Experience page. By clicking on "Run Experiment" you can manually do the test.
However, you can also schedule it by clicking on "Create Schedule". Of course to ensure the quality of this test it is recommended that you give it enough time to gather necessary data from your visitors.
If the test time is too short or you don't have enough visitors, you will not get a good report. On the other hand, if the test time is too long, it's possible that many other variables affect the end result. So it's important to set the right time to run each test otherwise we will get bad results.
The result of your A/B test depends on the traffic to your website. Thus, it may take a few days to several weeks.
After the test, Google Optimize will display different versions of your website to different users, and after a while, you will be able to see the results in the "Reporting" tab, and you can measure the impact of each variation based on the goals you have set.
Why Do We Use Google Optimize?
Google optimize just like other Google tools such as Google Analytics, Google Tag Manager and Google Search Console offer a variety of features to optimize your website and increase your conversion rate.
There are different tools to A/B test WordPress, but Google Optimize made the whole A/B test very simple and it's easy to use.
If you have lots of traffic coming into your website and you use tools other than Google Optimize, you will be forced to pay a lot of money every month to manage such a huge influx.
In addition, they may have many other features that you will never use even though you are paying for them. Google Optimize is free to use and a tool specifically made for A/B testing.
Conclusion
A/B test is the best experiment for websites with lots of traffic and bad conversion rate.
This test can dramatically increase your conversion rate. With A/B test you can carefully review the behavior of your website's visitors and provide the content they are looking for, based on the information you have gathered.
By regularly doing this test you can ultimately increase the number of sales produced by your website.
To use this test, you will need to have Google Optimize. Also, by having Monster Insights plugin installed on your WordPress you can simply view your Google Analytics data and perform A/B test.