Duplicating a page is a subject almost every WordPress user has thought about. By duplicating a page in WordPress you don't need to start from the beginning, you just need to edit it.
But, how can you create a WordPress duplicate page without losing its settings? In this article, we will discuss the reasons and ways to do it.
Why Clone or Duplicate a Page in WordPress?
When you create a new website or update your current website, you always need a structure for all of your web pages. Pages that mostly have the same setting and design.
The idea of duplicating a page in WordPress becomes stronger when you are a brand, or when you want to launch an online store or a blog. In addition, you may also want to duplicate your posts. For example, you want to duplicate your old posts and update their content.
As you know, by default, in WordPress you cannot duplicate multiple pages at once. Also, manually duplicating your pages with their settings is a time-consuming process.
Imagine you are creating multiple pages with the same design, structure, settings and etc. It's a very time-consuming and rather boring process. Although duplicating 2 or 3 pages is manageable, if you want to duplicate a lot of posts and pages, then you need to look for alternative ways.
Fortunately, WordPress developers have found a solution. A solution where WordPress users would duplicate pages and posts without any trouble.
How to Create WordPress Duplicate Page or Post?
The first solution we are going to talk about is using a plugin. Using a plugin always simplifies tasks in WordPress. Duplicate Post is a popular plugin WordPress users use. The first step you need to take is to download, install and activate the plugin.
After activating the plugin, head over to your WordPress dashboard, Posts and then All Posts. Immediately you can notice new options next to your posts. New Draft and Clone are the two new options added by the duplicate post plugin.
If you click on the Clone, you can simply and quickly copy a post and you don't need to open the editor to copy any settings.
If you click on the New Draft, not only your post is copied, you can also use the editor to edit your post.
These options are also available in your pages tab. If you click on pages in your WordPress dashboard, you can see the available options and they work exactly the same. By clicking on Clone, you can copy your page and by clicking on a New Draft you can copy your page and edit at the same time.
Not only you can copy your pages and posts one by one, but you also can bulk copy pages and posts as well. You just need to select multiple posts and pages.
Then from the bulk menu click on the clone to bulk copy the pages. Yes, it is that simple. Just keep in mind, in bulk copying you can not edit your posts. If you want to edit them, you need to click on New Draft on each post and page that you wish to edit.
How to Duplicate a Custom Post Type in WordPress?
By default, Duplicate Post plugin allows you to copy your pages and posts in WordPress. However, you can personalize these settings. To do so, head over to duplicate post setting from your WordPress dashboard.
With this plugin, you can copy post types. Also, you can identify what you would like to copy with this plugin. You can even duplicate and limit user roles.
Duplicate post settings have three main tabs. The first tab is What to copy. In this tab, you can select what you want to duplicate when copying a page, post and etc.
The next tab is Permissions. By default, the WordPress admin and editor can copy posts and pages. In this tab, you can change the permissions to your liking.
Also, by default, this ability is enabled for posts, pages, and post types. If you are using post types in your website, you can see them in your settings. However, you can enable or disable this feature in the settings as well.

The last tab in this plugin is Display. In this tab, you can identify where you want Clone and New Draft options to be displayed. By default, these options can be found in posts and pages.
Don't forget to click on save changes after personalizing duplicate post settings.
How to Duplicate a Post Manually in WordPress?
As we mentioned above, when you want to duplicate several posts and pages in WordPress, it is best to use a plugin. Plugins can take care of your WordPress tasks in no time at all.
However, if you want to duplicate 2 or 3 posts or pages, then you don't need to install duplicate post plugin. You can manually duplicate them.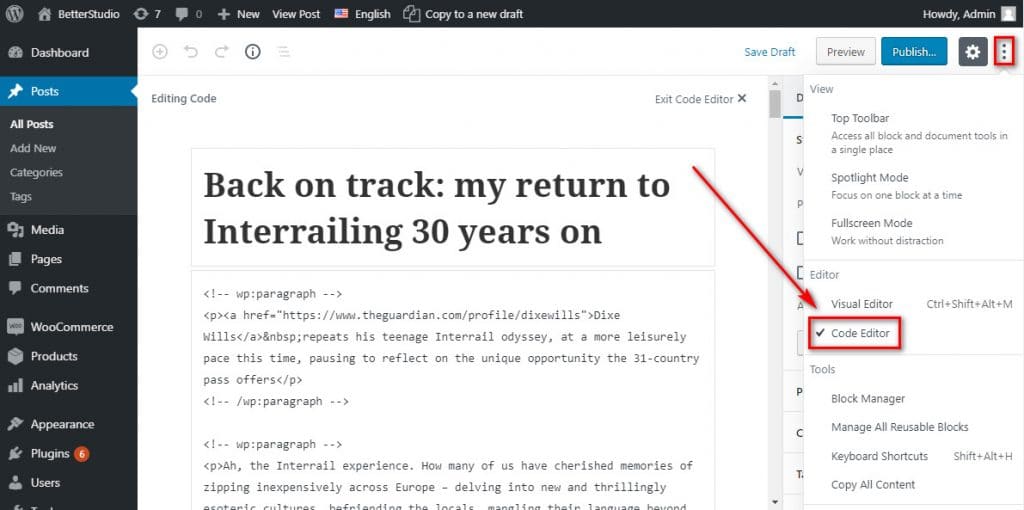 To duplicate a post in WordPress, first, open the post that you wish to duplicate. Then click on Source code editor from the toolbar to view your post source code. Now you just need to copy your content. Then create a new post and switch to the code editor.
Now paste the content you have copied from your previous post. To view your changes, click on the preview in the toolbar editor.
You can see that you have simply duplicated your post with the same settings and structure. To duplicate a page, you can also follow the steps above.
Keep in mind, both ways work only if you haven't used Elementor or Visual Composer or any other page builders. Many page builder plugins come with the export feature, which you can use to export your settings and structure of your posts and pages.