Gutenberg is the new WordPress editor and is not released as an addition anymore. In WordPress 5, Gutenberg has replaced the classic editor to be the sought after default editor of WordPress.
Gutenberg has changed the old structure of WordPress posts, separating each post to different blocks such as paragraphs, images, etc. But after updating WordPress, the blocks work only with your new content, and your old entries follow the previous structure (as in classic editor). But how can you use Gutenberg properly in previous posts?
What is the Gutenberg editor? Gutenberg vs old editor
Before we start to talk about Gutenberg, we'd better understand the previous structure of WordPress. Before Gutenberg, WordPress used a simpler editor named TinyMCE, which was also known as the classic editor. A separate and more complicated version of the editor was also available as an additional plugin, which added more features to the default WordPress editor. (This extension, called TinyMCE Advanced is still available.)
Gutenberg is the new WordPress editor and has replaced the classic editor. Gutenberg uses the block structure instead of a simple TinyMCE structure in creating content. Using the block structure will provide a lot more features to the writer. It will also give the content a more attractive appearance.
Gutenberg provides a new and user-friendly environment to writers and a more compelling post structure to users. The simplicity of working with Gutenberg can also help your website in terms of SEO and speed optimization.
Gutenberg also adds new features to WordPress. considering the lean structure of TinyMCE, you have to install numerous plugins to be able to embed and use more advanced features. Gutenberg lets you create professional structures (including embedded tables and videos) without any need for additional plugins.
TinyMCE created a structure similar to the Microsoft Word software for the users. But Gutenberg builds a structure similar to the Page Builder plugins, such as the Visual Composer. For this reason, users neither need to install multiple additions nor need to increase server's requests.
Edit WordPress old posts in Gutenberg editor
After updating to WordPress version 5 or installing Gutenberg in lower versions, only new posts would be written in the block structure.
Don't worry! Your new entries will maintain the previous structure and will be shown to the users in the same way. upon opening old posts, Gutenberg offers a structure similar to the classic editor. So you can edit the old posts with the classic editor use them like before.
But we want to turn these posts to a block structure.
Manually Convert WordPress old posts to Gutenberg's Blocks
Blocks are not perfect, but they give you a chance to manage your elements much more efficiently. To convert old posts to Gutenberg, follow these steps:
Open one of your old posts. (In the picture below, you can see the old entries within the classic editor as a block.)
By clicking the box on the top, different options will appear. Click on the three dots below the item and select Convert to Blocks.
Now you can see your post in blocks and you can add and retract elements from it.
Bulk Convert WordPress old posts to Gutenberg's Blocks
If you would like to bulk convert old posts to Gutenberg's blocks, you have to install the Bulk Block Converter plugin. The Bulk Block Converter plugin can scan your website and look for classic content. Then, it gives you the option to either convert them individually or in bulk.
To download and install this plugin, simply follow the instructions down below:
1. Log in to WordPress dashboard
2. Hover over Plugins and click on Add New
3. In the search box type in Bulk Block Converter

4. Click on Install Now then Activate
5. Once the plugin is activated hover over Tools and click on Block Conversion
6. In the recently opened window click on Scan Content. The plugin begins to look for old content on your website. Once the scan is finished you will see the following page: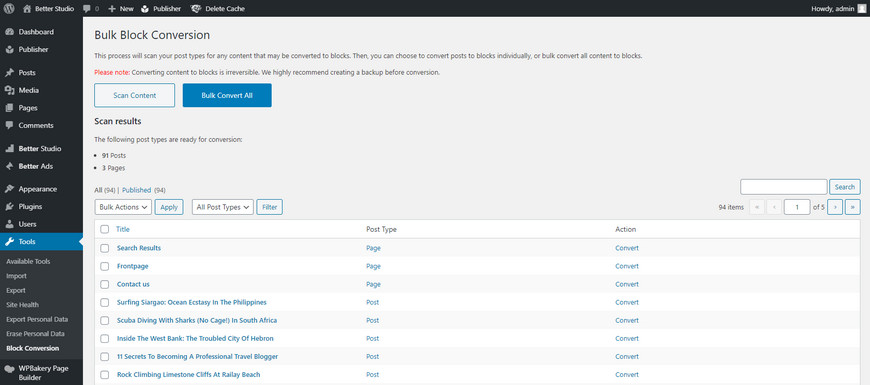 Then choose the posts you would like to convert and click on Bulk Convert All.
Conclusion
In this article, we discussed how to convert WordPress classic posts to Gutenberg and how to convert them manually and with the Gutenberg editor itself.
Furthermore, we discussed how to bulk convert old posts to Gutenberg blocks.