Instagram is one of the most popular social media platforms in the world. Currently at #6 with 1 billion (yes billion!) active users worldwide. It combines the long text possibilities of Facebook with the optimal and minimal approach of Twitter. It also puts images at the forefront. A form of content, proven to be very successful with internet users.
See Also: Our easy-to-use Social Counter plugin for WordPress
For these advantages, many businesses have turned to Instagram as a marketing platform. The image-based approach makes it easy to show off your product, and with the right visual idea, make it visible to a very wide audience.
If you are getting into this concept and want to start your own Instagram marketing plan, first learn the basic rules (the ones your kid probably already knows). Instagram101: Don't let them crop your pictures. You spend time and resources to create the perfect picture, making details of your product visible, and then Instagram takes a chunk of it away!
To have your picture shown as it is, you need to optimize the image, so that it fits Instagram's size requirements.
Table of content:
What are Instagram Image Sizes and Dimensions?
Before 2015, Instagram only used square images on its platform. Since they have broadened their horizon to include landscape and portrait images. Although these images also have a singular size and every image gets cropped and resized into these dimensions automatically.
Here are the Instagram image sizes, including portrait and landscape size in Instagram:
Landscape Size in Instagram
The Instagram landscape size is 1080px by 566px (aspect ratio of 1.91:1). Your picture needs to be 1.91 to 1 in terms of ratio to fit within this frame.
Pictures that are smaller than 1080×566 will get magnified and their quality will drop.
Portrait Size in Instagram
The Instagram portrait size is 1080px by 1350px (aspect ratio of 4:5). Crop your images to fit the ratio.
If your image is bigger in size, Instagram will make it smaller to fit within the 1080×1350 frame, and if the ratio is wrong it will get cropped.
Instagram Square Size
The Instagram square image size is 1080px by 1080px (aspect ratio of 1:1). This kind of image nicely fills the screen and still leaves some room for your caption to be visible.
Click to see them in original sizes
As you can see in every option the width of an image (1080 pixels) is always fixed and the height is moving to fit the criteria.
If you upload a smaller picture, It will be stretched (and downgraded in quality) to fit Instagram post size.
If the image is wider or longer than the normal Instagram post size, It will be cropped. If it is within the same ratio but bigger in size, Instagram will automatically resize it.
How Do I Upload Portrait or Landscape Photos on Instagram?
After choosing the image from your phone, there will be a cropping icon at the bottom left corner. Instagram decides which option (horizontal or vertical) is suited for your photo. If your photo is not already fitted to the screen, you can drag it, to make the perfect crop.
What is the Best Image Size for Instagram Marketing?
All being said, it's still better to upload photos at a 1:1 ratio (1080×1080). It may be limiting, but don't forget that Instagram would crop your image to square on previews (e.g. profile pages) anyway. Also 1:1 image fills the phone screen nicely, while landscape images leave a lot of space free.
If you don't care about cropping, go for the portrait, giving users the closest thing to a fullscreen experience. Although this would hide your text on most screens. 
Instagram Story Size
Instagram stories are fullscreen. So you need to upload them at a 9:16 ratio (1080×1920). Also, shoot your videos vertically. Stories are a great way to reach your audience. They are also more intimate.
So maybe you want to take a more quint approach (on oppose to the full-on design and marketing approach for profile images) to create a sense of closeness. Use it for quick office snaps or use editing tools to highlight something your audience will find interesting.
Instagram Profile Image Size
Instagram profile image is uploaded as a square (1:1). Although Instagram will turn it into a circle. Thus, the corners of your photo should be empty.
Profile images are 110 x 110 pixels on smartphones and 180 x 180 on browser. There is also a 40 x 40 thumbnail version for feeds, search results, so on.
It's always better to upload your picture in the same ratio (1:1), but a bigger size. Instagram will scale it down to the sizes above, and the quality will stay the same.
If your photo is not square, it's better to crop it yourself. We will give you some tips to crop Instagram images perfectly later on. As a general rule, always prepare your image yourself. Don't let the Instarobot make decisions for you.
Instagram Highlight Cover Size
Instagram highlight cover is pretty much like profile picture. As we mentioned it's better for the highlight cover to be bigger than 180 x 180 pixels.
Also always upload it as a square (1:1) and remember that Instagram will crop the corners to create a circle.
You can easily create a highlight by going to your profile page in the app and click on "new" under "Story Highlights". Then choose your highlights from past stories and click "next".
Here Instagram will ask you to choose a title and "edit cover". Click on edit cover and then click on the little picture icon to choose from your phone gallery. You can also choose from one of the stories and crop it in the way you like.
IGTV Cover Size
Instagram let's you choose a cover photo for your IGTV videos. The cover photo will be shown in the IGTV app, Instagram on web and Instagram app (explore section and profile feed).
Each of these places shows the cover in a different size. To show the cover picture properly, you need to optimize the picture for these circumstances.
IGTV cover on IGTV App: In the app IGTV cover is 1080 x 1680 pixels. Although IGTV shows some details inside the cover box (such as the name of the channel and the title of the video). This would take considerable space from the bottom. So, keep the important part on top.
IGTV cover on Instagram.com: On the profile page you can see the IGTV section that will show your IGTV videos and their covers. The covers happen to be narrower than the normal 9:16 ratio. It is approximately 1680 x 945 in terms of ratio. The website also shows the title underneath the cover. So make some room.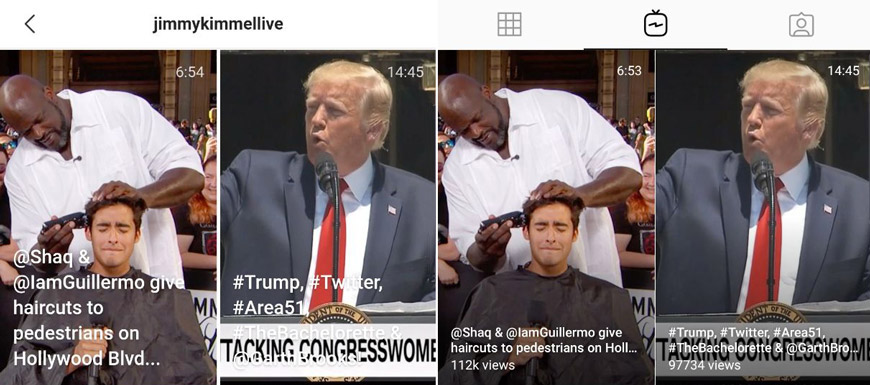 IGTV Cover on Instagream app: On Instagram app you can also see IGTV videos on profile feeds and explore page. On the main profile page, Explore page, and hashtag pages, the cover is shown as a square and is cropped from top and bottom.
There is also a new section on the profile in which you can see all IGTV videos as a feed. The proportions there, are similar to the ones on the website, 1080 x 1680 pixels.
The best solution: Considering all the variations in IGTV cover sizes, it's best to create an image in 9:16 ratio which has a lot of room from bottom and top and some room from the side to get cropped. Because ultimately that's what will happen.
Make your picture in 1080 x 1680 and highlight a square of 945 x 945 in the middle of it. Put most of your best content there. As that's the only place that will be left untouched in every scenario.
IGTV Video Size
IGTV is Instagram's solution for uploading longer videos on the platform. You can upload up to 10 minutes of video (compared to only 1 on the main posts).
IGTV videos are vertically full-screen on smartphones. So, the video should have a 9:16 ratio. The standard size is 1080 x 1920 pixels. But you can upload bigger if you want.
Keep in mind that you should keep the video size just under 650 MB.
Instagram Video Size
Instagram videos come in 4 sizes. You can share them in square, landscape or portrait forms. You can also share them within a Carousel format.
Here are in short Instagram video sizes:
Square video: 600 x 600 to 1080 x 1080 (1:1)
Portrait video: 600 x 750 to 1080 x 1350 (4:5)
Landscape video: 600 x 315 to 1080 x 608
Carousel videos: 600 x  700 to 1080 x 1080