If you are planning to create a WordPress website, one of the first steps you need to take is to choose and install a free WordPress theme. A theme is the key factor of a site's appearance and its design is exactly what motivates visitors to spend more time on your website.
Are there any free WordPress theme installation service that you can use to launch a website in a day? Here we have compiled 4 of the best options for you.

Other than being a WordPress installation service, wpbeginner also offers free WordPress theme installation services. Installing WordPress on the host is taken care of by their tools and the theme and settings will be configured however you wish.
Furthermore, wpbeginner improves your website's security and prevents hackers from accessing your website, and even optimize the website for SEO. Having an optimized website leads your web pages to score a better ranking on Google.
Having a high-ranking website improves your authentication and ultimately can increase your website's traffic.
Wpbeginner can also help you choose the right theme for the website. As mentioned above, a theme is the most basic step of having a website. If your website has the right theme that matches the content you are publishing, it will encourage visitors to spend more time reading each of your content.
Imagine you are going to launch a news WordPress website and using a personal blog theme to support it. Then the features are misplaced and your audience are disappointed.
There are a lot of reasons as to why wpbeginner is a great source for your WordPress needs, one of which is its browser cache management. Browsers cache some data of your website on their memory and ultimately this can dramatically improve the loading speed of your website.
This process prevents unnecessary requests to be sent to the server and slow down the performance of the website. As a result, the website runs more smoothly and loads faster than usual.
All of these services are offered for free and supported by a team of experts who are available to help, should you face a problem. Most websites fail after a few months of their initial launch and when they look back as to why it happened, they come across the factors above.
To use wpbeginner's free theme installation, you need to use a hosting plan from their partners including Bluehost, HostGator, GreenGeeks, SiteGround, and DreamHost.
Templatic is another website that offers free WordPress theme installation services. By using the services this website has to offer you can also improve the loading speed of your WordPress website. These services are given to you for free, considering you have purchased a hosting plan from BlueHost.
In addition, you can choose a WordPress theme according to your content. Templatic also takes care of basic SEO needs.
Templatic also offers to install must-have plugins for free. For example, Yoast SEO and Akismet to prevent comment spam and Total Cache to store cache and improve the performance of your website.
By using the contact us form provided by the hosting provider on your website, you can simply interact with your visitors.
By using the BlueHost services, you can use the free WordPress theme installation service it has to offer. Normally, the services cost around $50-$100 but due to the partnership program they have with Bluehost, you can use MagniumThemes without paying any extra money.
By purchasing a plan from BlueHost you can install one free theme on WordPress. To install two themes, you need to purchase a second account.
Themes designed by MagniumThemes are fully compatible with any website. For example, they work great for a newspaper website, magazine, sports, business, etc.
4. Install a WordPress Theme Yourself (DIY)
As mentioned above, when it comes to launching a WordPress website the most important step is to choose and install the right theme. Installing a WordPress theme is very easy and it doesn't require any programming knowledge, we will go over it down below.
Using Free WordPress Themes
From the left-hand side menu in the Dashboard, click on Appearance > Themes > Add New Theme.
If you know the name of the theme you have in mind, simply search it in the box. If you don't know any theme you are looking for, simply use the categories and look for the right theme based on your content.
Download WordPress Themes
If you are planning on purchasing pre-designed themes from a web development company, first, you need to download and upload it on the website. To download and upload it follow the steps below:
1. First, download the zip file.
2. From WordPress Dashboard go to Appearance > Themes > Add New.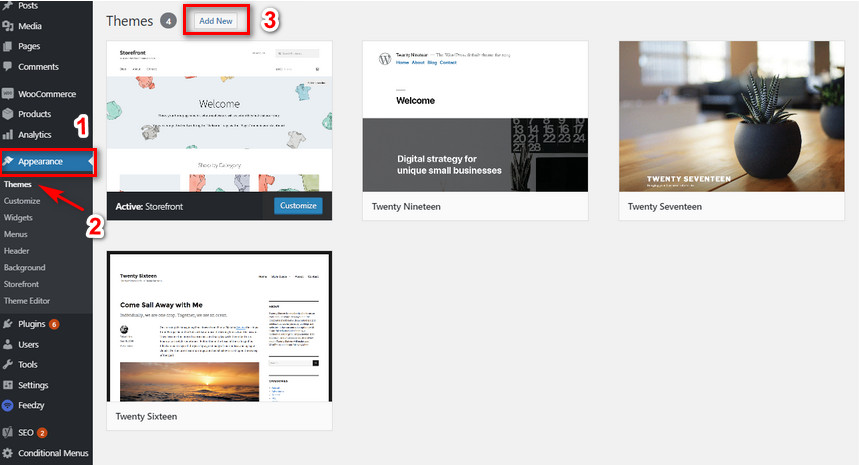 3. Lastly, upload the theme you have downloaded.
Install a WordPress Theme via FTP
If you have already downloaded a WordPress theme on your computer, you can use an FTP client to upload it on your WordPress server. However, this method isn't risk-free and if it's done wrong, it could lead to having a completely broken WordPress website.
Thus, this method is recommended to advanced users. Using an FTP client like FileZilla is the key to this method.