Knowing how to delete a WordPress blog is very important if you no longer upload any blog content. You may need to start new activities on your website and there is absolutely no need for the older content.
In addition, you may have also reached your goal and there is no need to keep the website. In all of these cases, you need to know how to delete a WordPress blog.
Often websites like Google keep your website's cache for a long period of time. It's best to completely delete your website from the internet.
In this article, we would like to teach you how to delete a WordPress blog.
You may have created your website with WordPress.org and a dedicated host or your host could be WordPress.com.
Each of the options above is CMS but totally different. Thus, to delete a WordPress blog you have to follow different methods.
Why Should I Delete a WordPress Blog?
Most websites are built specifically for a short period of time. Since creating and deleting a WordPress website is very simple most people use this CMS..
Creating a blog in WordPress creates responsibilities for the author. In some cases, bloggers prefer not to write anymore. This happens frequently for those who use free services.
Maybe the website was a project or you want to migrate it to another domain. Either way, you have to completely delete the website.
If you want to delete a WordPress blog you have to completely delete it from search engines as well. In this article, we are going to discuss just that.
Delete a WordPress Blog (WordPress.com)
WordPress.com is a free blogging service that you can use to create a blog and host it on WordPress servers. Let us explain how you can delete a WordPress blog.
First Step: Getting a Backup
Make sure you get a backup of your WordPress site before deleting your blog. This helps you to restore the blog should you change your mind in the future.
To backup and download it from WordPress, follow the steps below. WordPress won't allow you to download all the data at once. Therefore, it should be done step by step.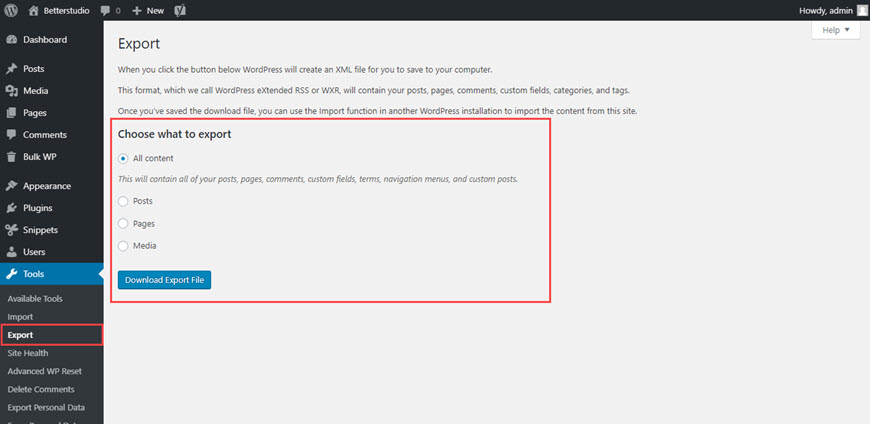 To get a backup, log in to the WordPress Dashboard and from Tools click on Export. To download posts, pages, categories, tags, and comments choose All content and click on Download Export File. You have to separately download the uploaded media.
In our previous article, we have explained in detail how to fully backup your WordPress website.
Second Step: Deleting the Blog
From your WordPress Dashboard click on Tools and from the opened menu click on Delete Site. By clicking on this link WordPress asks you for a reason, you can choose Another Reason.
Then a message gets displayed telling you all of the data will be deleted. If you haven't backup the website, by clicking on Export My Content it will export all the available content.
Finally, check I want to permanently remove and click on Delete Now.
After this step, a confirmation email will be sent to you. WordPress sends this email to make sure you are the person who is trying to delete the website, by clicking on the link, the website will be permanently deleted.
Keep in mind, if you have any upgrades on the website, first, you have to delete them.
If you don't you will get the following message:
"You have active premium upgrades on your site. Please cancel your upgrades prior to deleting your site."
By clicking on Manage Upgrades you can either delete them or migrate them to a new website. Once this step is taken care of, proceed to delete the website once again.
Third Step: Delete a WordPress Blog (If you are using a personal domain)
If you have purchased your domain from WordPress.com there is no possible way to delete the website. You can only delete the website once the domain has expired. If auto-renew is enabled for the domain, make sure you cancel it.
Proceed to make your blog private until the domain name has expired. Then, delete the website.
To make your blog private, login to the WordPress Dashboard, and from the Settings menu go to Reading and change the Site Visibility to "I want to make my site private".
In addition, you can migrate your website's domain to another hosting provider. However, this could take a few days.
Delete a Self-hosted WordPress (WordPress.org)
Deleting a WordPress blog from a host is very simple. Follow the following steps.
Just like the previous method, make sure you get a full backup of your website.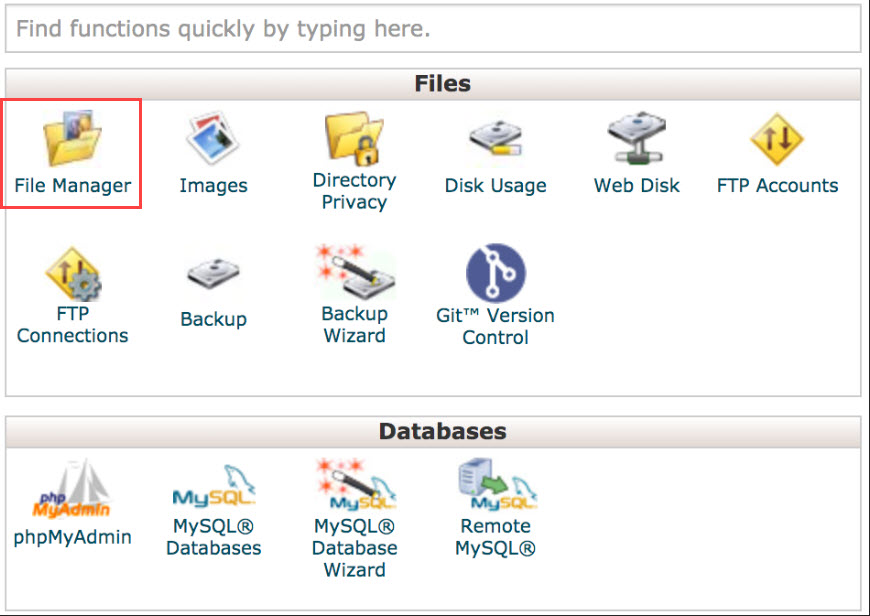 Login to your hosting panel (cPanel) then from the Dashboard click on File Manager.

Head over to the Root Directory and delete every folder.
Now you have deleted a WordPress blog. Keep in mind, if you are no longer using the host make sure to cancel auto-renew.
Delete a WordPress Blog from Google
Even if you have deleted a WordPress blog from your host search engines may still display them on the results page. This happens because the Google algorithm has indexed the content of your website. Thus, the content remains on their server for a period of time.
However, once you delete the website search engines will stop indexing the website. If you would like to delete the indexed content from Google, follow these steps:
First Step: Submit a Request
To request removal from Google head over to their site and enter your website's URL and click on Request Removal. However, to access this page you need to be logged in to your Google account.
Second Step: Configure the .htaccess File to Redirect
Another method to remove a website from search engines is by configuring the .htaccess file.
You can access this file with an FTP client or directly from your cPanel. This file is usually in the root directory (public_html).
Once you have located the file, download it and open it with an editor like Notepad++.
To redirect the website, use the following code:
Header set X-Robots-Tag "noindex, nofollow"

This code makes your website not to be indexed by search engines.
Delete a WordPress Blog from Archive.org
There are three main methods to delete a website from Archive.org.
First Step: Installing the Virtual Robots.txt Plugin
Install the Virtual Robots.txt plugin and from Settings click on Virtual Robots.txt.
In the opened window, copy and paste the code below and click on Save Changes:
User-agent: ia_archiver
Disallow: /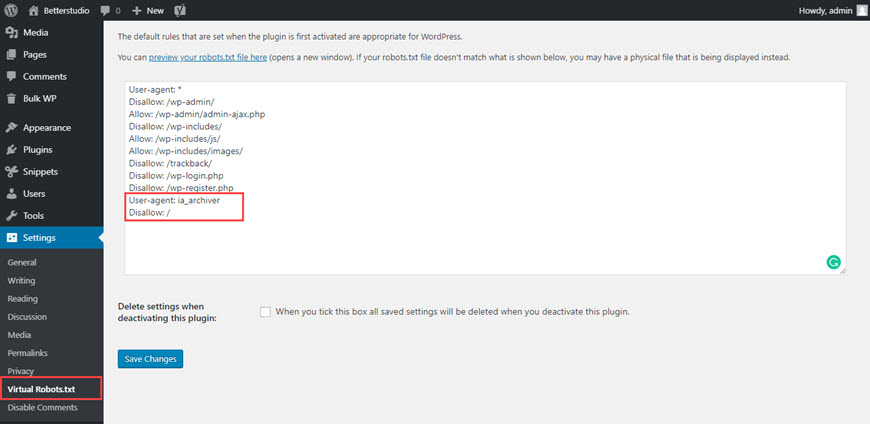 Second Step: Create a DMCA File
To delete a website from Archive.org you can send them an email but before you have to create a DMCA file.
To create this file, go to this site and enter your information. Once that is done click on Generate DMCA Notice.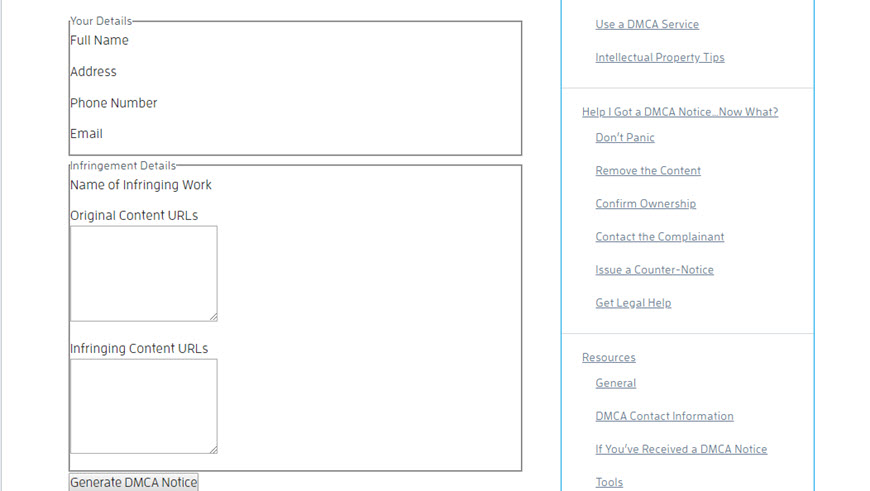 Once it is generated, make sure you save them somewhere on your computer.
Third Step: Send a Request to Archive.org
To send the right email, make sure you follow the following format:
Subject: Request for removing the website from archive.org
Text:
 To whom it may concern, 
 I am (your name) owner of the following website: 
 (type in your website's name and host) 
 I am officially requesting the removal of the above-stated site/domain from web.archive.org and Internet Archive Wayback Machine. 
 I have included my formal DMCA Takedown notice: 
 (now paste the DMCA generated text here) 
 Regards, 
 (Your name again) 
By following the mentioned steps your website will be removed from Archive.org in 72 hours.
Conclusion
In this article, we discussed how to delete a WordPress blog. The first step would be to get a full backup of your website in case you need to relaunch the website again in the future. Then proceed to delete your files from the hosting server and proceed to submit a request on Google search console to fully remove your website pages from Google.