In today's business world more revenue is being generated through the internet. Ways of attracting the targeted audience and an increase in revenue are changing day by day and new strategies are being introduced. Marketing managers and members of the marking department are looking for catchy ways to attract more audiences and ultimately gain more traffic for their websites.
In this search for new users, they can totally forget about the fact that they can turn their current website visitors (traffic) into potential customers, and this is one issue they should focus on at any stage they may be. This is exactly where the term CRO comes in mind.
Conversion rate optimization is one of the most basic concepts in the digital marketing world, and also often forgotten. Don't forget that in addition to gaining more traffic to your website, you should also convert these visitors into your original and/or permanent customers.
In this article, we will answer some of your questions about CRO. What is conversion rate optimization? How do you use conversion rate optimization? Tag along with us to learn about CRO and ways of implementing it into your website.
What is conversion rate?
Conversion rate is basically turning your website's plans and goals into reality with the help of your current users. The conversion rate is the percentage of users who take the desired action on your website. These actions can be shopping, signing up for your newsletter or viewing a specific post and page.
The goals you set may be different for each website. Also, the type of goal that is being defined and set for each website depends on your business model. Ultimately, the higher the conversion rate the higher the chance of attracting more audiences and turning them into potential customers. 
The conversion is divided into two groups, macro, and micro and it usually depends on the goal(s) you have set for your website and how well they do. As you can probably tell by the names, macro includes larger goals such as buying, signing up for a service and more. And micro conversion is for smaller goals, such as signing up on the website, creating an account and adding a product to your cart.
How do you calculate conversion rate?
Let us answer this question with one simple example. assume that the number of your website visitors is 100 people in a day, and about 50 people take desired action on your website (making a purchase, signing up on your website, etc.) here the conversion rate is equal to the number of goals that have been implemented divided by the total number of visitors within a specified time. (50%)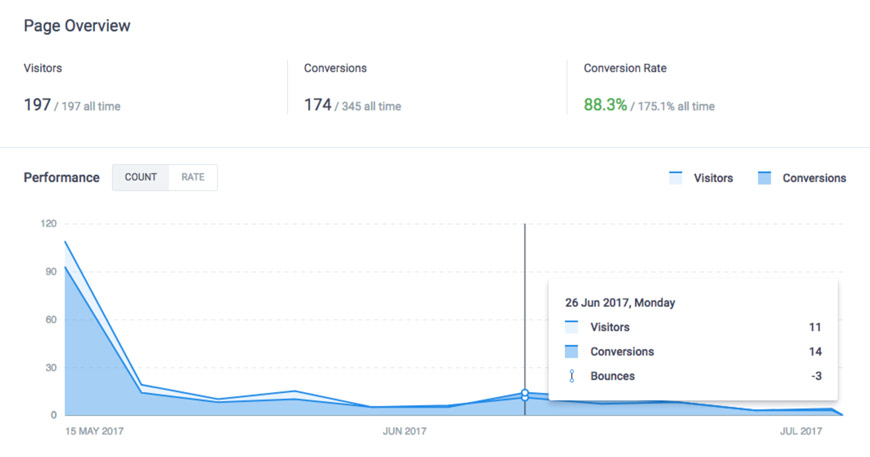 How are conversion optimization and SEO related?
Conversion optimization and search engine optimization are completely two different categories. Although, they both affect each other in a way. The question is how conversion optimization and SEO are connected? Conversion rate optimization makes users eager to visit your website and ultimately turn them into permanent customers.
In addition, optimizing the conversion rate has a direct impact on the optimization of your website's SEO. Some experts believe before implementing any SEO strategies, you must first optimize the conversion rate.
What are the benefits of optimizing conversion rate?
Many businesses have limited staff and already are out of resources. why should they consider optimizing conversion rate?
Finding the right customer: Conversion rate optimization makes it a lot easier for you to find the right customers for your business. Conversion rate optimization (CRO) doesn't mean that your website will get a lot of visitors, what it actually means and does, is to help you find permanent customers out of your daily visitors.
Return on investment: Return on investment (ROI) is actually calculating the profit you're making from investing in a business. The high conversion rate means you make the maximum profit from the resources that you already have. CRO helps you make more profit without having to invest in having more audience. This is ROI which is achieved through CRO.
Efficient scalability: The number of your customers may not match the number and size of your business and they may not grow side by side. CRO helps you to expand your business without losing your resources and current customers. 
Better user experience: CRO helps your audience have a better user experience, whilst searching on the website. This makes them feel closer to what they're looking for, therefore, it will lead them to spend more time on your website.
Gaining their trust: In order for users to use their personal information and credit card information, they first need to trust the website. Your website can generate a high number of sales. therefore, you need to gain your audience's trust through your website.
Ways to optimize convertion rate
We went through why CRO is important. We will introduce you to the most important methods of achieving it below. however, there are many more methods that we will discuss in future articles.
Adding call-to-action and lead follow in content
Adding call-to-action is one of the most efficient ways to optimize the conversion rate. Call-to-action or CTA for short is a process that encourages users to become more interactive. CTA can be in the form of lead-follow which will direct users and visitors to new pages. As a result, the goals of your website will be achieved.
Improving your landing page through A/B test
A landing page is a page on your website that is designed to convert your visitors into potential customers. Another method of CRO is the A/B test. In this test, you usually set up two different scenarios from your landing pages that you want to test on your website and after calculating the conversion rate, you may choose the most valuable one to actually utilize.
For example, publish two pages on your website as a demo, and by using CTA you will find out which one has a higher conversion rate and an overall better outcome. This test will help you create better content that will have the most results for you. 
Improving UX through images
The proper design of user interface and user experience are two main factors that make users eager to visit your website. Web pages that are dull and have no taste will have fewer views and users generally tend to stay away from dull and plain websites.
Using images and a good user interface will ultimately lead to achieving a higher conversion rate on your website. Also, the use of images will improve your website's SEO. Remember to use keywords in the alt-tag and the caption of your image.
So, did you learn what is conversion rate optimization (CRO)? Which method did you follow? And did you achieve your goals? Share your experiences with us.